This post may contain affiliate links. If you use these links to make a purchase, we may earn a small commission. As an Amazon Associate, All Garage Floors earns from qualifying purchases. You can read our full disclaimer here.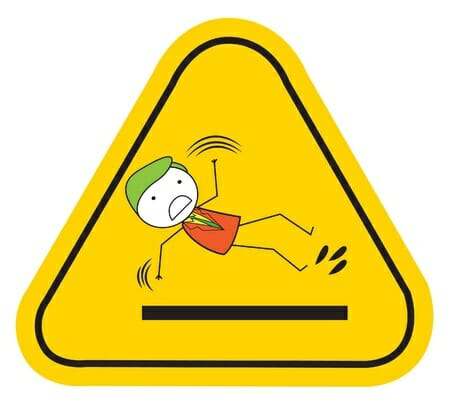 How to fix a slippery garage floor is a topic that comes up frequently each winter.  Once that first snow falls or the rainy season sets in, the surface of some garage floors can resemble an ice rink when walking on them.  With that in mind, we decided to list some quick remedies as well as some more permanent solutions to making your slippery garage floor safer to walk on.
Quick fixes to a slippery garage floor
One of the first solutions we recommend for those living in snowy climates is to use a containment mat.  They are incredibly effective at collecting water, snow, road salts, and deicing fluids that can dowse a floor and create a slippery mess.  They do a great job of keeping your garage floor dry, they are easy to use, and can simply be stored away until the following winter.
For rainy climates or areas with light snow falls, non-slip garage floor runners are very popular to use.  You can line them up next to your car to provide a safe non-slip surface to walk on to the front of your garage or create a path to the house door.
One of our favorites is the Drymate Garage Floor Runner.  They are a thin carpet-like mat that is designed to hold gallons of water.  They come in a size of 29 inches wide by 9 feet long and provide for an inexpensive solution to a slippery garage floor.  Like the containment mats, they can easily be stored away until you need them again.  You can get the current pricing here at Amazon
.
One drawback with this mat that some people don't care for is that it can take a few days or more to dry out if it has been completely saturated with water.  You can easily accelerate this process however by hanging it out to dry.
Another popular solution is the indoor/outdoor carpet runners designed for inclement weather conditions.  A nice advantage to these is that you have many options to choose from in terms of length, width, and shape in order to line areas of the garage to your liking.  These can provide for a nice looking and slip-free garage floor solution.
These runners are made of 3/16" Olefin fabric with a non-skid marine backing, they are also stain resistant, easy to clean, and come in light and dark grey.  They won't fold up nicely like a Drymate Runner, but you can still roll them up to store away.  You can find current pricing here at Amazon
.
For those of you who don't want to deal with a carpet mat that takes time to dry, there is always the easy option of non-slip runners made of synthetic rubber and PVC vinyl.  These are very popular for garage floors that get slippery from a lot of water and snow.We recommend a couple of options by Rubber-Cal.
The first is a simple black pebbled synthetic rubber mat.  It provides a nice non-slip surface that is 1/8" thick by 4 feet wide and is available in a variety of different lengths to fit your needs.  The surface dries quickly and it is easy to clean.  Once winter is over, it can be rolled up and stored until it is needed again.  You can get the current pricing here at Amazon
.
The second choice that Rubber-Cal offers is their Coin-Grip floor runners.  These are nice because they offer a more custom look and are available in three different colors to choose from.  Like the black pebble mat, they provide for a nice non-slip surface to walk on in the garage, they are 4 feet wide, and available in a variety of lengths to choose from.  You can view the current pricing here at Amazon.
Permanent solutions to slippery garage floors
For a more permanent solution to a slippery garage floor you need to consider garage flooring options that will create a non-slip surface.  These will virtually eliminate the need for non-slip mats, carpet runners, and in some cases even containment mats.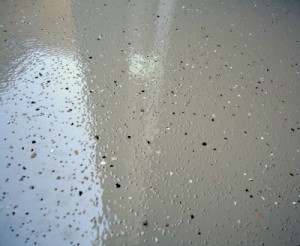 The first of these would be garage floor paint or an epoxy garage floor coating with anti-slip grit added.  The anti-skid additive is applied to the mix of the final coat to create a surface that is soft enough to walk on in your bare feet, yet gritty enough to prevent slip/fall accidents in slippery conditions.
Painting your garage floor and adding the anti-slip grit is the least expensive alternative.  The drawback however is that painted garage floors need to be redone every year or so depending on traffic.  An epoxy garage floor coating on the other hand can last for years depending on the system you choose, but it is the more expensive alternative of the two.
A nice option that falls between these two is applying an acrylic sealer with the anti-skid added to provide a sealed, anti-slip garage floor.  You can find a good example of this product in an article that we wrote here.  Just add the anti-slip in the final coat to provide for a nice slip-free garage floor finish that is fairly inexpensive to apply.
Another option that will provide a permanent solution to a slippery garage floor is interlocking garage floor tiles.  These are an easy DIY installation that is designed to deliver an anti-slip surface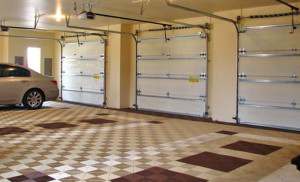 and will provide for a custom flooring option that will last for years.
The most popular interlocking tile type for winter garage floors is the self-draining tiles.  They provide the best garage floor traction and allow for water and snow to drain below the tile and run out the garage or to a floor drain.
And finally you have the option of covering the entire floor with garage floor mats.  Our favorite for both looks and function is the Small Coin mat by Better Life Technologies.  These are priced right and the small coin design makes for a nice anti-skid surface to provide for a garage floor covering that won't be slippery during the winter.
Providing an anti-slip surface makes for a safer garage environment and provides for a more functional garage during the winter months and wet seasons.  So whether you have a single or multi car garage, use these tips and solutions to a slippery garage floor to create the safest floor according to your needs.