This post may contain affiliate links. If you use these links to make a purchase, we may earn a small commission. As an Amazon Associate, All Garage Floors earns from qualifying purchases. You can read our full disclaimer here.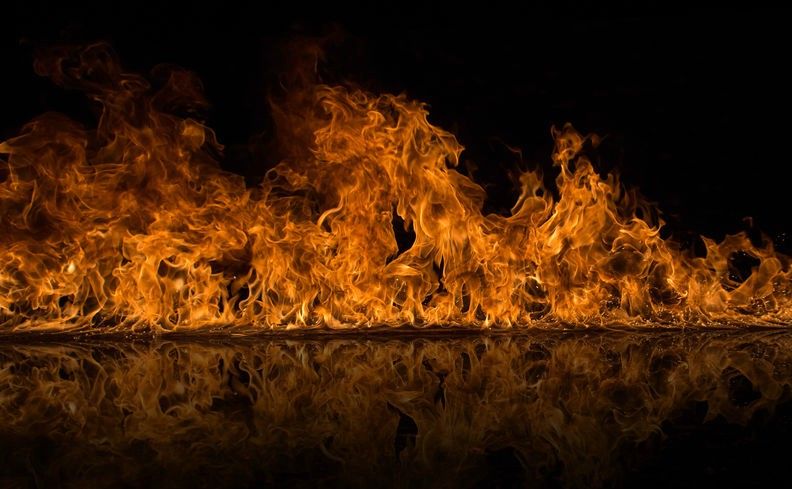 HellFire® Concrete Coating… Seriously, who wouldn't be interested in learning more about a coating for workshops and garage floors with a name like that? So, when Legacy Industrial offered to send a sample for us to review, we couldn't resist. What we soon discovered is that HellFire® is a floor coating with a vintage industrial look, that includes some desirable characteristics which should meet the needs of particular garages.
We'll start by saying that if you want a decorative garage floor coating with color flakes and high gloss, then this is not for you. HellFire® is not a coating that is targeted towards that type of market.
However, if you like the idea of a no-nonsense, working man's coating that makes cleanups easy as well as protect and seal the concrete of your shop floor or garage, then this is a product that deserves your attention.
Due to popular demand, HellFire is now available in kits with a high performance polyurethane clear coat. Look for more details further below in our review.
What is HellFire® Concrete Coating?
HellFire® is a proprietary single-part, moisture cured, aromatic polyurethane coating and sealer with good U.V. resistance and a very distinct, aluminum-metallic looking color.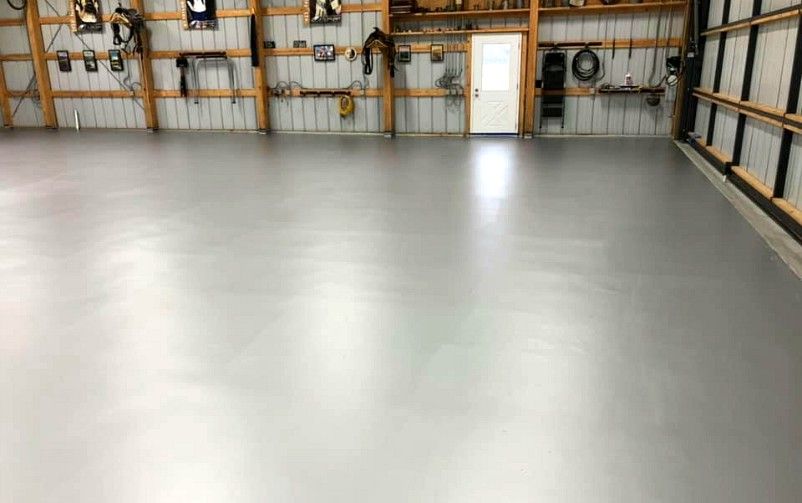 It is uniquely strengthened with the addition of metallic additives, which according to Legacy Industrial, enables it to exceed many performance characteristics of competitive coatings. This includes high heat resistance, good substrate penetration, high chemical resistance, and long wear.
Furthermore, it can be applied to clean metal to prevent rust and oxidation. It is so robust in fact, that it is also used for marine vessel oxidation control and marine deck covering.
Designed for fast recoats and a long pot life, the single-part formulation means that there is no mixing of A and B components to worry about. The moisture in the air is what provides the catalyst to start the curing process.
In short, HellFire® has been designed as a coating that provides excellent protection and is easy to apply. If you can paint a wall, you can apply this to your garage floor.
This type of coating is not necessarily new to the market. If it sounds similar to Rust Bullet, then you would be correct. Legacy Industrial realized the popular niche for a coating such as this and decided to make available what they feel is a superior product.
A High Chemical and Heat Resistant Polyurethane Coating
The aromatic formulation of HellFire® provides for excellent chemical resistance – more so in fact, than some very good high performance clear coats. We were very impressed with this, as you will see from our test results further below. Common automotive fluids have very little effect on the coating, including some very strong solvents.
In addition, the metallic additives in HellFire® are what help to provide for the very high heat resistance compared to other coatings. One of the benefits to a high heat rating is that it will not experience hot tire lift.
For example, epoxy coatings can begin to soften at 140 degrees. This is why hot tires can be a problem and cause some lesser expensive floor coatings to peel up. HellFire® has a sustained heat resistance of 350 degrees. Your car tires will never come close to getting that hot and as a result, they cannot soften the coating and pull it up.
This high heat rating also means that HellFire® is more resistant than other coatings to the effects of light metal fabrication such as welding spatter and grinding. Most garage and shop floor coatings can develop burn marks, pock marks, and blisters from such exposure.
If you take a look at the video below, you can see a comparison of 100% solids epoxy under flame compared to the HellFire® coating. Notice how the epoxy bubbles and burns. HellFire® is under the flame for twice as long with no effect.
100% solids epoxy vs. Hellfire
Does that mean it's burn proof? No, not at all. It's not marketed as such either. A hot piece of metal is still going to damage the coating.
However, if you are doing metal fabrication high enough off the floor, then most errant welding spatter and debris that falls may cool close enough to 350 degrees in order to prevent such damage.
Of course, the best way to protect the floor is to use a welding blanket, particularly with torch cutting or welding close to the floor.
The silver-gray metallic additives are also what gives HellFire® Concrete Coating its distinctive color. It has a light aluminum-gray pigment with a slight metallic look and a satin finish. Legacy Industrial calls it Saber. It's reminiscent to us of the silver painted aircraft of the post WWI era.
When applied to your garage or shop floor, it takes on a somewhat vintage look that is different from your typical light gray colored coatings. It definitely is not glossy, but the satin finish does provide a surface that is very light reflective.
Colors other than gray are not available due to the color properties of the metallic additives. However, Legacy Industrial does offer a slightly darker gray called Citadel. It requires mixing in 2oz. per gallon of a color additive which will be included with the shipment at an additional cost.
Easy DIY Application for a Workshop / Garage Floor Coating
Polyurethane coatings are considered thin to begin with and this one is no different. With a 52% solids content, it has a dry film thickness of 2-3 mils. Coverage rates are 300 – 400ft² per gallon depending on the porosity of the concrete.
Legacy Industrial recommends three coats for residential garage floors and four coats for auto-service shop floors. Their soft-skid media can be mixed into the final coat to provide non-slip grip at the surface that is still easy to clean.
This video shows the easy installation of HellFire coating
According to them, most garage floor applications are averaging 400ft² per gallon over a total of three coats. The coverage rate is much less for the first coat, but the subsequent coats make up the difference since material will not be lost due to concrete absorption.
HellFire® requires clean and porous concrete for application. Due to its good ability to penetrate, all that is required is an acid etch. Grinding is acceptable prep as well, but Legacy Industrial states that the coverage rate of the first coat will be reduced even further due to the concrete absorbing more product.
As stated earlier, application is much easier than standard epoxy coatings since no mixing of A and B components is required. The long pot life also allows you to take your time. You can just pour it out of the can into your paint tray as you go.
Once the first coat is applied, subsequent coats can to be applied within 1-3 hours of each other. If you wait longer than 6 hours, you will need to degloss and rough up the surface first before reapplication.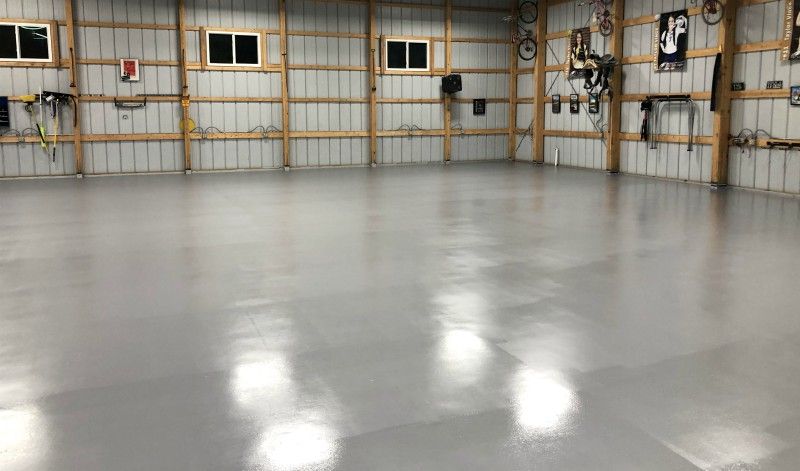 Because it is moisture cured, the amount of time you have to wait between coats is dependent on the moisture (humidity) in the air. The more humid it is, the faster it will cure and vice versa. Three coats can easily be completed in one day.
In addition, HellFire® can be applied in temperatures as low as 35 degrees. Unlike epoxy which requires a minimum of 55-60 degrees, this is a big plus for those who need to coat their concrete during the cooler fall and winter months.
HellFire® Concrete Coating Benefits
Excellent chemical resistance to oils, solvents, fuels, and road salts
High abrasion resistance for long wear
High heat rating – better resistance to damage from metal fabrication
No hot tire pickup, peeling, or flaking
No primer required
High U.V. resistance
No mixing of A and B components
Long pot life with fast recoat times of 1-3 hours
Can be applied in temperatures as low as 35 degrees
You can review the facts sheet and technical data sheet in the links below.
What not to expect from HellFire® Coating
As we stated earlier, HellFire® is not meant as a decorative coating, though some will find that they really like the utilitarian, industrial look to it. It also is not intended for color flakes with a clear top coat, though some people have done just that because they liked the aluminum-gray look.
HellFire® is technically designed as a high heat resistant maintenance coating that seals and protects concrete from a variety of chemicals and other abuses.
Legacy Industrial does offer their high performance Nohr-S clear polyurea as a clear top coat option in order to provide a glossy finish. However, you have to keep in mind that even though Nohr-S is a very good coating, you will not retain the same chemical resistance and heat resistance that HellFire® provides.
HellFire® is not a high build coating that is going to hide concrete imperfections either. This is common for all durable, thin mil coatings. Though it may look like it's doing this when initially rolled on, the wet film thickness shrinks as the solvents evaporate, thus revealing imperfections such as small divots, chips, and cracks.
In addition, it's not a low VOC formulation and cannot be shipped to California if you live within the SCAQMD jurisdiction. This is due to their very stringent environmental regulations for this area of the state. It will have a smell when you apply it that will take a few days to completely disappear. It may be strong for the first few hours after application, but it quickly dissipates after that.
Lastly, though it has high U.V. resistance, it is not 100% U.V. stable. Aromatic moisture cured polyurethane coatings are extremely chemical resistant. However, they are susceptible in varying degrees to U.V. light.
Sharp eyes may have noticed "Version 2" that is printed on the can. The first version reacted to U.V. light at a rate similar to epoxy. Legacy Industrial wasn't satisfied with that and worked hard to develop a second formulation that has much better U.V. resistance. Hence, Version 2.
*** Update ***
Due to popular demand, Legacy Industrial is now offering HellFire in kit form. This includes a high performance moisture cured polyurethane clear coating developed just for HellFire. The kit comes with enough coating materials for two coats of HellFire and one coat of clear.
Though HellFire was designed as the working man's coating, some people were still requesting a clear top coat with a high gloss look that shows less marks.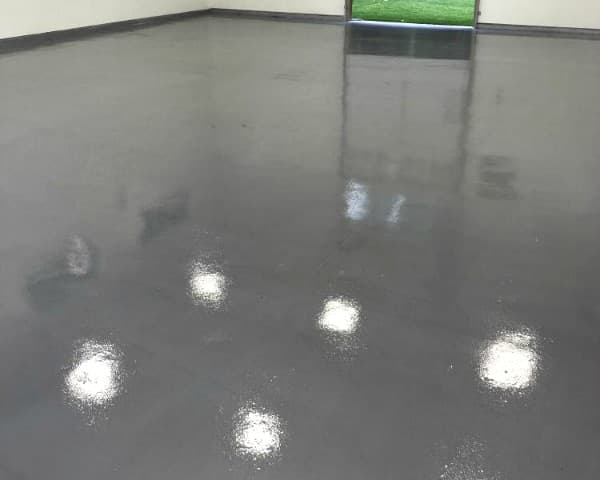 As a result, HellFire ClearCoat was developed to provide a glossier look for even better light reflection and to help alleviate transfer marks that can be left on HellFire. This can happen occasionally from sliding metal wheels and other objects on the surface as we discuss in our testing below.
Besides the glossier look, HellFire ClearCoat is extremely U.V resistant and has excellent stain resistance to many chemicals including solvents, fuel, and automotive fluids. Though this is on par with other high performance clear coats of this caliber, it's not going to be quite as resistant to some chemicals as HellFire alone.
With a dry heat resistance of 350F°, this means hot tires will not affect it. However, you need to remember that this is not the same type of rating that is resistant to flame like HellFire.
Lastly, HellFire ClearCoat requires humidity of 60% or greater in order to activate and cure properly. Depending on the forecast, this might be an issue for some people, particularly in the south west. However, Legacy Industrial states this not a problem as long as you humidify the space above 60% before you begin to apply the clear.
Our Review of HellFire® Concrete Coating
Legacy Industrial sent us one quart of HellFire® Concrete Coating. This gave us the ability to judge for ourselves the application process, as well as how it would stand up to our own unscientific tests.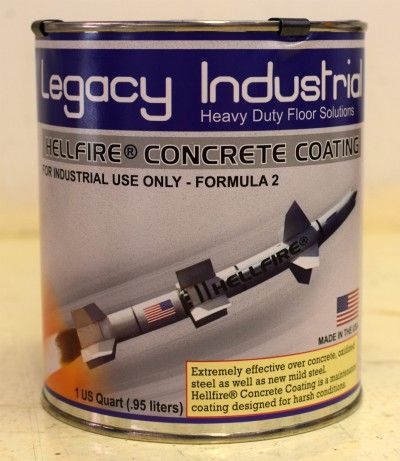 We have a particular garage in our family that we use for testing and reviewing different garage flooring products and accessories. Though it is currently covered with RaceDeck interlocking tiles, it allows us to easily pull up small sections of the flooring to expose the concrete underneath.
Fortunately, the concrete has previously been prepped with a light grinding. Though it has imperfections and small cracks in the surface, it makes for a good test bed for us.
After pulling up a section of the tiled floor, we made sure the concrete was clean and went over the surface with a shop vac. We then gathered together our supplies and opened up the quart of HellFire® to mix.
As you can see, it's important to scrape the bottom of the can to gather up all the metallic additives that have settled. You want to mix the coating until you get a color that does not have a lot of darker looking streaks in it.
It will never take on a creamy solid look like paint, so don't worry that it doesn't look like that. For anything larger than a quart can, a paint mixer with a low speed drill is the recommended mixing method.
We then poured some of the contents into a paint tray and applied the first coat of our test section with a quality 3/8 paint roller. When we finished, we poured the remaining contents from the paint tray back into the can and resealed it. You can't do this with epoxy.
It's important to note that you should not pour out HellFire® from the can onto the floor like you can do with some coatings. The solvents in polyurethane require that you apply them thinly. If you pour the contents onto the floor or try to apply thick coats, the solvents will flash and create bubbles in the coating as they escape and evaporate.
With the relative humidity at just over 50%, we had to wait only 2 hours before each recoat. When ready, all we had to do was affix a new 3/8" paint roller and remix the coating in the can before pouring it into a new tray liner.
Once we were done with the third coat, we waited 72 hours before parking a vehicle on our test section. We waited for a full week before conducting any tests.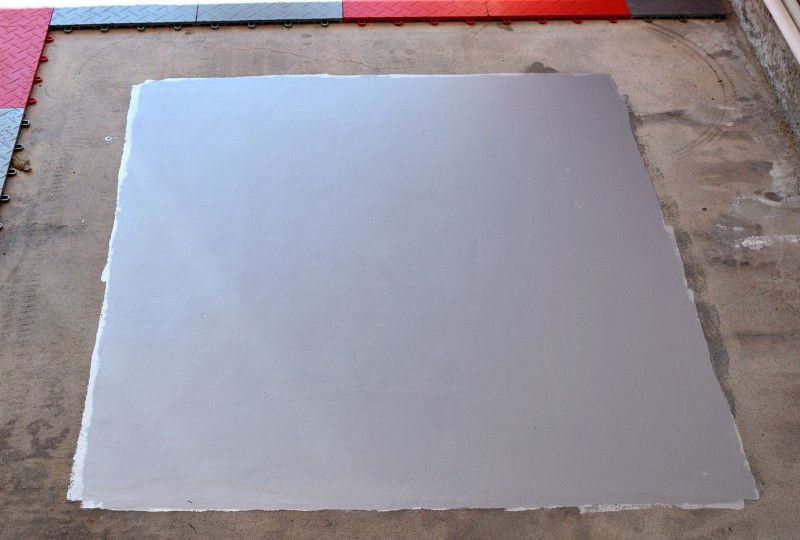 We found that HellFire® truly is very easy to apply. It rolls on nicely, particularly with the recoats. We even tested the pot life by letting a small portion of the coating sit in the paint tray.
It took almost an hour before it began to skin over, so we know pot life won't be an issue as long as it doesn't sit long without being disturbed by a paint brush or roller. Other coatings will begin to thicken and be unworkable regardless.
One note to make is that coatings with metallic additives like this can develop roller marks or lines if you are not careful. Rust Bullet is one such coating that is known for this trait, so we were eager to compare the two.
What we found was that HellFire® was not as susceptible to roller marks as Rust Bullet can be. The key is to keep the roller wet and then back roll for your final pass as you go. If you press down too hard or the roller is not wet enough you will get some roller marks. Even if you do, we found that they are harder to see and require that you catch them in a particular light.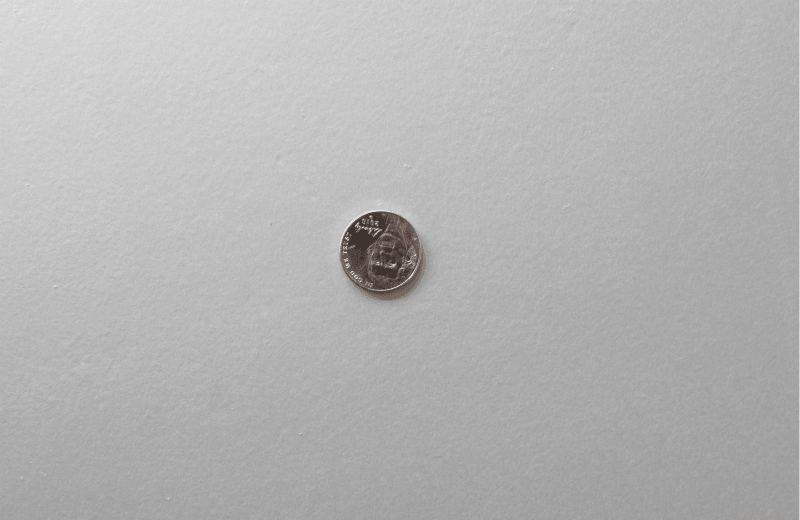 As we stated earlier, this coating does not hide concrete irregularities. Small divots and other imperfections on our test floor are visible. This is common and should be expected unless you perform good repairs to the surface first or have a fairly blemish free concrete surface to begin with.
Overall, we can see why this will be good look that some people desire.
HellFire® abrasion and stain testing
Our stain testing of HellFire® Concrete Coating is what really impressed us. As you can see from the three images below, we subjected the coating to a variety of chemicals. These included MEK solvent, used oil, automatic transmission fluid, brake fluid, anti-seize compound, automotive coolant, and gear oil.
Click on the photos for a larger view
We let these chemicals sit for 24 hours before wiping them up with a paper towel. We then sprayed the area with some 409 cleaner and wiped up the remaining residue with a clean rag. The MEK had evaporated before the 24 hours was up.
Looking very closely, the only indication of any damage is a very faint mark where the brake fluid sat. Unless it was pointed out, others could not find it. In addition, we also rubbed in gasoline and acetone. It did not affect the surface and we only got a little bit of color on our rag from the acetone scrubbing.
This is very impressive and even outshines some very good high performance clear coats that we have worked with in the past.
Something to note is that the chemical stain testing was done immediately after we had a couple days of rain. The vehicle that was parking on the coating had left some dirty tire prints all over it due to the inclement weather. As you can see from all the pictures above, it had cleaned up nicely before we took pictures and conducted tests of the coating.
The next thing we did was some abrasion testing. HellFire® has a high test rating for abrasion in their data sheets which means it will take a long time to physically wear out. However, we wanted to check how it would perform to some hard abuse.
This is where we had some interesting results. Besides sliding tools and jack stands across the surface (with not much harm), we also subjected it to our 3-ton steel floor jack that weighs in at 72lbs. We bounced it around a lot without issue, but when we purposely slid it back and forth fairly hard across the coating multiple times, dark marks began to develop in the coating.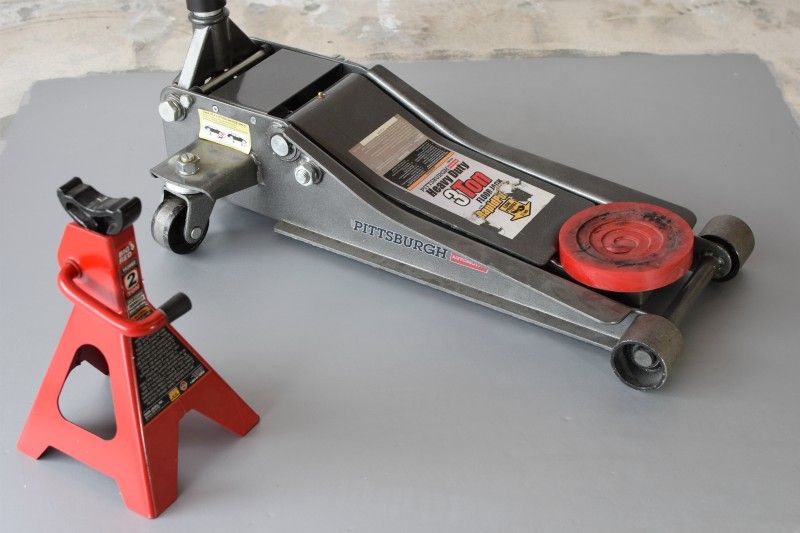 Under closer examination, we found that what we were seeing was not dark scratches from abrasion. Instead, it was metal transfer marks from the wheels of the jack. In other words, the bare steel from the jack wheels were leaving metal marks on top of the coating.
This seems to be a result of the bare metal of the wheels reacting to the metal additives in the coating under hard friction. We tried removing the marks with a variety of cleaners to no avail. This is how we discovered that HellFire® was not affected by continued hard rub downs of acetone and other strong solvents.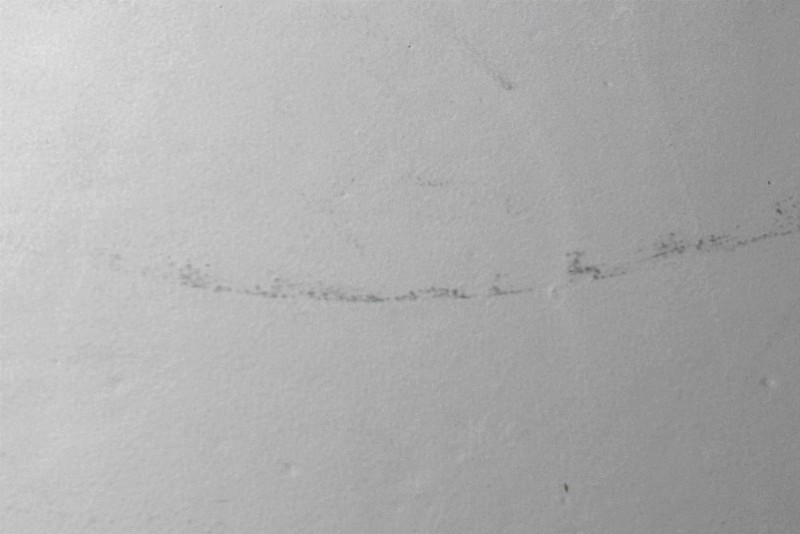 Interestingly enough, when we contacted Legacy Industrial about this reaction to the wheels, they said that they have not had any complaints regarding this. It could very well be that people are not purposely abusing the coating like we do when testing and have not experienced what we did.
The fact that the coating did not show any wear by abrasion of the wheels was great. However, it now became a challenge for us to find a way to remove these marks.
After some research we found that lightly scrubbing some Bar Keepers Friend with a soft scrub sponge actually removed most of the metal transfer. The key was the oxalic acid in the ingredients that broke down the metal marks. Success!
Hard scrubbing did dull the coating some. We found that the key was light scrubbing of just the mark with the soft scrub pad and then a final light scrub with the sponge side did the trick.
Final Thoughts
First things first. If your priorities are for a garage floor coating that will tend to look unblemished with a fairly new look for years to come, then this is not for you. HellFire® is not going to accomplish that task.
Keep in mind that the addition of HellFire ClearCoat will provide the more traditional garage floor coating look, but the clear coat will not provide some of the additional benefits of HellFire alone.
However, if your priorities for a garage or workshop floor coating are more for easy cleanup and overall protection than it is for decorative looks, then we think this could be a very good option. The link below is a quick video review by a happy Legacy Industrial customer who used HellFire for just that.
HellFire® Concrete Coating is going to seal and protect your workshop and garage floor from strong chemicals, road salts, and abrasion while maintaining great heat resistance. It will be easy to clean and still maintain its performance under hard use.
We feel that the cost of HellFire® is very reasonable for what you get as well. In fact, it currently costs less per gallon than its closest competitor, Rust Bullet. In addition, it's less expensive than some high performing epoxy and polyurea systems as well.
Lastly, the single-part moisture cured formulation makes it easy to apply with no worries about it afterwards. If at some point you want to restore the looks, all it takes is roughing up the surface with 120 grit sandpaper, wiping it down with denatured alcohol, and then apply a fresh coat.
For further information or questions, we recommend contacting Legacy Industrial directly. They will be happy to help you and provide any other additional information that you may not be aware of.