This post may contain affiliate links. If you use these links to make a purchase, we may earn a small commission. As an Amazon Associate, All Garage Floors earns from qualifying purchases. You can read our full disclaimer here.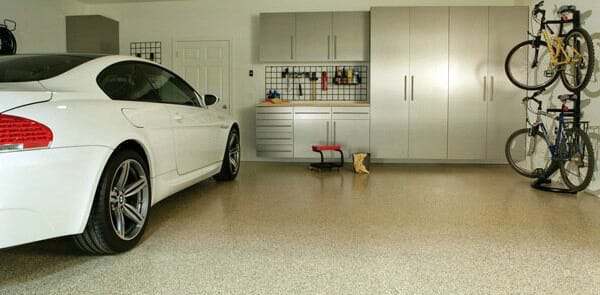 As a rule, when it comes to garage floor coatings we are hesitant to call any one product the best. There are many reasons for this. The most prevalent is that coatings come in various formulations and each has their own unique properties that may provide the best choice for a particular job. However, when it comes to DIY polyurea garage floor coatings, we think we may need to break our rule.
Legacy Industrial has introduced a new polyurea coating called Nohr-S that we feel is going to set the DIY floor coating industry on its ear.
Why choose a polyurea coating?
Polyurea garage floor coatings can have a few benefits over their epoxy counterparts. Fast return to service, excellent impact resistance, suitability for cold weather applications, and U.V. stability quickly come to mind.
The big problem with polyurea floor coatings, however, is the fact that they are not very DIY friendly. Because of their very short pot life, they need to go down fast and with an expert hand.
Up until last year, the only manufacturer to offer a DIY polyurea product had been RockSolid. Even then, it was not considered a commercial quality coating. In fact, they recently changed their formula to a proprietary Polycuramine blend that is easier to apply, but it loses many of the benefits of a true polyurea product.
While you can find polyurea coatings for garage floors that are available to the general public, we don't know of any that are truly considered a DIY product that would at least include a long pot life and possibly no mixing of A and B components required.
Nohr-S, however, has conquered both of these issues to deliver a commercial quality polyurea coating that can be applied by the average DIY enthusiast.
What is Nohr-S?
Nohr-S is a commercial quality, single component polyurea concrete floor coating and sealer. It is used primarily for garage floors, warehouses, automotive service centers, laboratories, food processing plants, high traffic areas, and fire houses.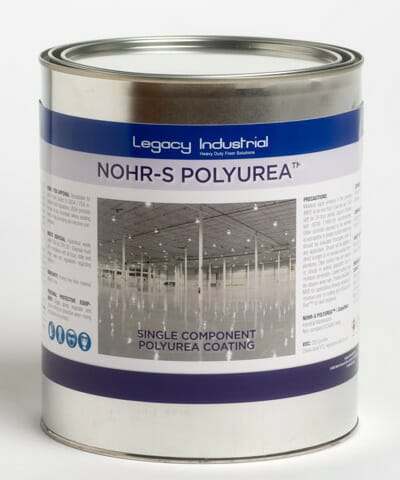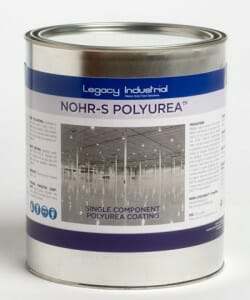 The cutting edge formula is derived from the same formula that a Scandinavian coatings manufacturer has used for coating marine vessels and oil drilling platforms in the North Sea.
This is some serious stuff that is a bit different from your typical polyurea coatings.
Single component means that there is no mixing of A and B components together like most other floor coatings.
Proper mixing of Part-A and Part-B components has been the bugaboo of more than one DIY project that has run afoul. This eliminates those worries and checks off one of the primary factors that lead to floor coating mistakes.
Nohr-S also has an unlimited pot life. This means that you don't have to rush so fast to get it down, thus reducing cosmetic application errors as well as reducing anxiety about applying high performance garage floor coatings. As long as you keep a wet edge going on the floor, you can slow the process down enough to get the proper results.
Now that you know more about what Nohr-S is and why it's different from your typical polyurea floor coatings, let's discuss more of the benefits and what makes this coating so tough.
Benefits of Nohr-S polyurea coatings
A Nohr-S garage floor coating system provides similar characteristics to a premium epoxy and polyurethane garage floor coating in terms of durability, chemical resistance, abrasion, and stain resistance. It also has other added benefits that make it unique.
Benefits include:
Unlimited pot life
No mixing of A and B components
No primer required
Fast recoat times (1 – 2 hours)
Can be applied in temperatures down to 35 degrees
Self-leveling gloss finish
Excellent resistance to hot tire lift
Excellent chemical resistance (no damage from fuel and solvent spills)
Excellent abrasion resistance (long wear life)
100% protection against road salts and deicing fluids
100% U.V. stable (no yellowing)
100% more flexible than epoxy (better impact resistance)
Excellent clear sealer for bare or stained concrete
Can be used for outdoor decks, balconies, and patios
Here is a link to Nohr-S Facts and Usage information.
We were able to get a hold of a quart can of Nohr-S in order to test it for ourselves. We applied the first coat to a concrete paver for the test sample. We sealed the can and waited an hour before opening it up and applying a second coat. You can't do that with epoxy. It reminded us of applying latex paint.
Once cured, we set the sample out in the direct sun for 10 weeks to see how it would do. The initial coating is photo 1 below. They run in order from left to right.
We then decided to test it against some typical automotive chemicals that a floor will encounter.  We applied motor oil, transmission fluid, and brake fluid. Photo 2 is the example. You can't see it well in the picture but the brake fluid is in the top right corner.
We left the fluids on the sample for a few weeks and then wiped them up with a rag and cleaned the surface with carburetor cleaner. We advise against using carburetor cleaner for cleaning up spills on floor coatings. We just wanted to illustrate how well a quality coating can withstand chemicals.
It cleaned up without any affect to the surface. You can see our attempt to clean the untreated surface on the sides of the sample in photo 3 where the brake fluid and transmission fluid eventually ran over the side.
Photo 4 is what the coating looked like after 10 weeks in direct sun. As you can see, there is no yellowing of the Nohr-S coating.
Click on the photo for larger image
Additional advantages over epoxy
One of the primary benefits to a polyurea floor coating over epoxy is fast return to service and Nohr-S is no different. Once applied, Nohr-S becomes tack free within 1-2 hours and is ready for another coat. This means that you can apply a complete polyurea floor coating system in less than a day, not including floor prep.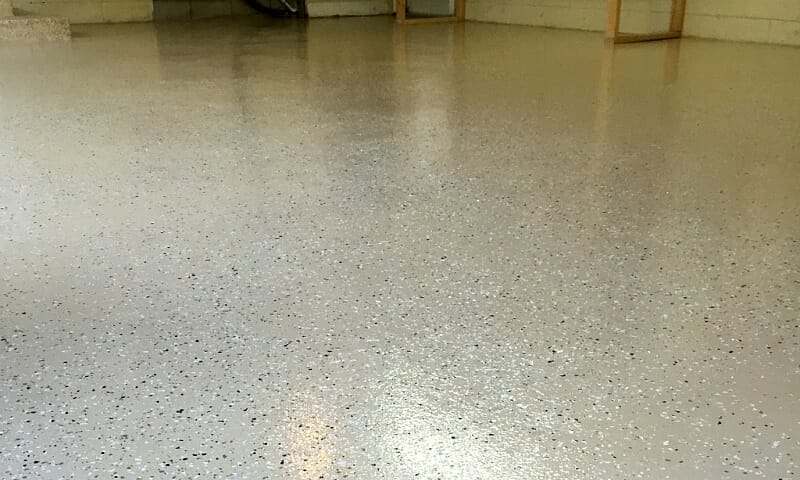 Most epoxy and polyurethane coatings require that you wait a minimum of 10 to 12 hours between coats. Nohr-S can make a big difference if you are trying to get your floor completed in a weekend.
Epoxy also limits your application temps down to an average of 55 degrees. This means that an epoxy garage floor coating is a warmer weather project. Nohr-S can be applied in temperatures down to 35 degrees, thus creating a much larger window for application if you live in a cold weather climate.
Another benefit of Nohr-S over epoxy is 100% U.V. stability. This means that the coating will never amber (turn yellow) when exposed for periods of time to direct sunlight.
This can be a big advantage for those with southern exposures who like to leave their garage doors open. It can also eliminate the dilemma of where to terminate the coating if you have a garage floor apron that extends out past the garage door 6 to 12 inches.
Because Nohr-S is a single component product with unlimited pot life, you have the potential to save money as well by not wasting product. A great example is to compare it to the traditional garage floor epoxy kits.
Since the square footage of garage floors varies, it can be frustrating with epoxy kits when you figure out that the coverage rate of a product falls 50 ft² or so short and will require you to purchase an additional kit to cover the extra square footage.
Depending on the size of your garage floor, it's not uncommon to end up with a 1/2 gallon or more of unused product that cost you over $100 a gallon. Because Nohr-S is sold in quart cans as well as gallons, it's much easier to control costs by purchasing only what you estimate is needed.
Nohr-S is a good polyurethane alternative
Polyurethane makes for an excellent clear top coat that provides better gloss, chemical resistance, and abrasion resistance over epoxy. It's also U.V. stable. However, it does go on rather thin.
With an average dry film thickness (DFT) of 2 mils, a minimum of two coats of polyurethane should be applied over color flakes. More coats are required if you are applying it over a full flake floor.
Nohr-S provides similar protection, gloss, and U.V. stability as polyurethane, but the DFT of Nohr-S is almost twice as thick. This means that you can apply half the amount of coats required with Nohr-S as you would need for polyurethane.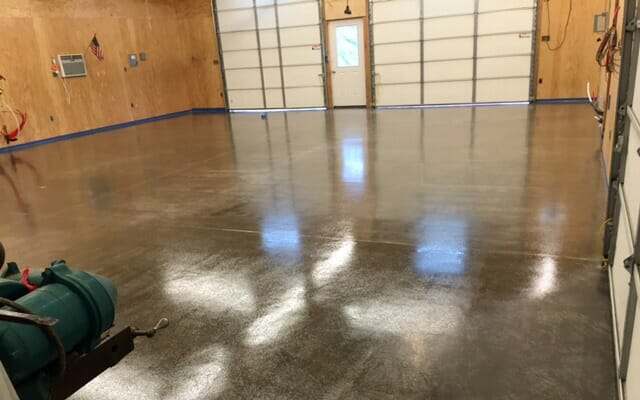 It also makes for a great clear coat over stained concrete as well as an excellent choice for those that like the look of sealed, raw concrete garage floor coatings. It will slightly darken the look of the concrete once applied.
Colors – Updated
Due to the popularity and high success of Nohr-S, Legacy Industrial is now offering it in kit forms that can make purchasing easier for DIY applications. As a bonus, these kits also include new pigmented colors that will not require mixing in the tinted pigment packs before application.
These colors include Tan, Gray, Light Gray, Black, Light Blue, Cobalt Blue, Black, and Signal Red / Orange.
Additionally, they have also added a new low solids Nohr-S primer that is recommended if you have very porous concrete or other conditions that may require use of a primer. We do suggest contacting Legacy Industrial if you are unsure whether your concrete would require a primer or not.
Application
Application of Nohr-S is similar to other garage floor coatings. The most important part of the project is proper surface preparation. Acid etching or grinding of the concrete is required to provide the proper substrate for Nohr-S to achieve its excellent bonding characteristics.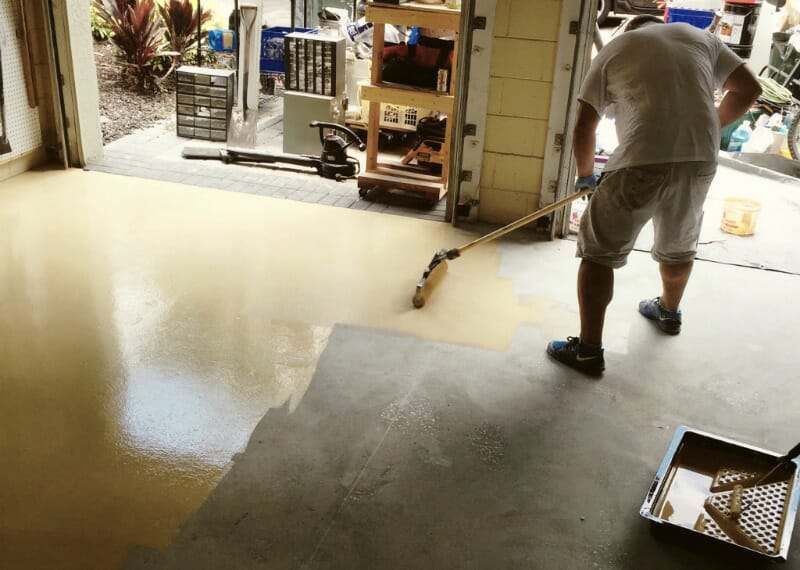 If you have an older or more worn garage floor, Legacy Industrial says a high PSI pressure wash may be all that is required. We recommend consulting with them first before making the decision to pressure wash, however.
See how Nohr-S was installed in one day by two people
Be sure to make any needed floor repairs such as filling cracks and spalled areas of the concrete.
Nohr-S requires a minimum of two coats to be applied. The first coat acts as the primer coat and the second coat will provide build and color uniformity. Color flakes can be added to the second coat with an optional third coat of clear.
If doing a full flake floor, the flakes are added to the first coat to full refusal and then a minimum of two coats of clear are added on top of the color flakes.
Because Nohr-S cures to such a glossy and hard finish, adding a non-slip additive to the final coat is highly recommended.
Coverage rates
Using a 3/8" nap roller, 1 gallon of Nohr-s will cover an average of 250 ft² at just under 4 mils DFT depending on the surface profile. Expect the first coat to cover 200-225 ft² with the second coat up to 300 ft².
The DFT of just under 4 mils for the first coat is one reason that Legacy Industrial recommends the use of their Nohr-S epoxy primer.
Nohr-S can be applied up to 10 mils thick per coat at a coverage rate of 100 ft² per gallon if needed.
What to consider before choosing Nohr-S
As versatile and friendly as Nohr-S is for a commercial polyurea garage floor coating, there are some things to consider before deciding if it is right for you.
Polyurea typically does not provide as high of a dry film thickness as a 100% solids or even a high solids epoxy when applied at similar coverage rates. Nohr-S is no different.  250 ft² of Nohr-S will provide 4 mils DFT while a high solids epoxy will provide 8-10 mils DFT at similar spread rates.
If you have an older garage floor with many imperfections, then a high build epoxy coating may be a better choice for your color base in order to fill in all the small irregularities in the concrete. Though you can use Nohr-S as a high build floor coating, it would be cost prohibitive when compared to epoxy.
However, if you have a fairly smooth garage floor without a lot of irregularities, then Nohr-S can make for an excellent choice. Thickness does not always determine how durable and tough a floor coating can be. The video below is a great example.
VOC's can be an issue as well. Unlike most other polyurea floor coating products, Nohr-S is not a low VOC product. As a single component coating with a 72% solids content, it is a solvent based coating that does produce strong fumes when it is applied.
Final thoughts
We feel Legacy Industrial has filled a much needed gap in the DIY garage floor coating industry with the advent of Nohr-S. It should become a very popular product among the DIY crowd looking for an easy to apply, top quality, high performance garage floor coating.
In fact, Nohr-S is no harder to apply than the cheap garage flooring kits that are sold in home improvement centers. The difference in quality, protection, and longevity however cannot even be compared.
We would rank Rust Bullet as its closest competitor in this niche since it is a single component floor coating system as well. The difference, however, is that Nohr-S is a more traditional garage floor coating system. It goes on thicker and can achieve higher build coats.
Rust Bullet can only be applied at a thickness of 2-3 mils per coat. However, it does have the advantage of not requiring the same surface prep as Nohr-S and other floor coatings.
The anxiety about applying commercial quality, high performance garage floor coatings is understandable and one of the biggest determining factors when making a decision about the various garage flooring options available today. Though many homeowners are attracted to quality coatings, they are hesitant about installing it themselves.
Nohr-S eliminates these anxieties and can provide for a top quality garage floor coating that will last for years. Though priced higher than a similar quality epoxy and polyurethane system, the additional expense is worth every penny.
Update – Due to the extreme success of single-part polyurea being introduced as a DIY coating, other manufacturer's now offer their own DIY single-part polyurea coatings. You can read about them here.