To our Reader's: This post may contain affiliate links. If you use these links to make a purchase, we may earn a small commission. As an Amazon Associate, All Garage Floors earns from qualifying purchases. You can read our full disclaimer here.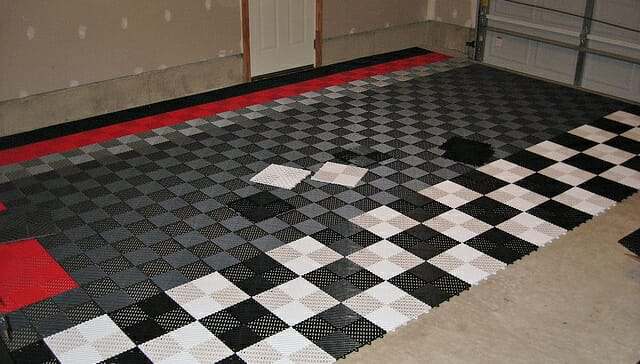 One of the nice benefits of interlocking tiles is that little preparation of the garage floor is generally required before installation.  You can lay them right on top of your oily and concrete dust ridden floor if you like and almost no one would be the wiser.  But should you?  Sweeping beforehand is a great start, but we want to give you a few recommended tips for prepping your garage floor before you install your garage tiles.
Keep in mind, some of these tips will depend on the current condition of your garage floor as well as the climate of where you live.  For many, all that may be needed truly is just sweeping the floor before you begin.  Please note that none of these following tips are required to install your interlocking tile, they are just our recommendations based on experience.
Clean the garage floor
OK, we know that this goes without saying.  Nobody really wants to lay their brand new garage tile on a disgusting floor, but there is another reason for cleaning it.  Cleaning beforehand will reveal any cracks that you may not have been aware of and will also make the floor ready for any of the other recommendations that we cover below.
Unless your concrete is already fairly clean or you have a brand new floor, the best method is to mix up some powdered Tide laundry detergent in a bucket (or your favorite powdered detergent) and scrub the floor down.  Hose it out well and then let it dry. For more information, we cover how to clean a garage floor in depth here.
Seal cracks in the concrete
If you live in a snow belt then the last thing you want is watery road salts and deicing fluids finding their way deep into the concrete of your garage floor.  Water can cause freeze thaw damage and cracks can be the biggest contributor.
We admit that if you are installing a solid design interlocking tile then not a whole lot of water is going to get through to the concrete below.  However, the free-flow, self-draining styles are great winter weather tiles because they are easier to keep clean and are more slip resistant.  They also deposit all that winter water and snow melt onto the concrete underneath your tile due to their design.
If these are your tiles of choice, then sealing your cracks is more a necessity than an option.
Notice that we said, "seal the cracks."  Since you are not applying a coating or painting the floor, a strong structural repair that is ground flat with the concrete is not needed.  You just need to seal the crack to prevent water intrusion.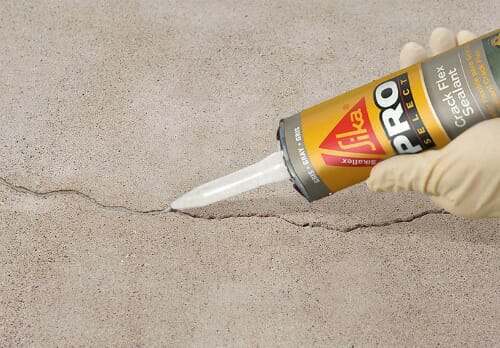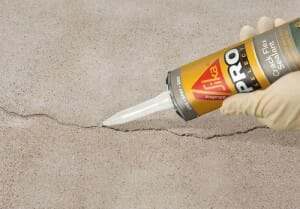 The easiest method is to just wire brush the cracks after cleaning the garage floor and then seal them up with a flexible polyurethane sealant.  SikaFlex self-leveling sealant is our favorite. It's inexpensive, easy to apply, and you can find it at your local home improvement center for less than $10 a tube.
If you have larger cracks that are deep, fill them up first to within 3/8 to 1/2 inch from the top with silica sand or clean play sand before applying the sealant.  This will allow your sealant to go farther and prevent it from sinking before it cures.
Seal the concrete before interlocking tile installation
What? OK, right now we know what you may be thinking.  Why would you want to seal the concrete when you are planning to spend good money for a nice interlocking tiled garage floor?
The reason depends mostly on the climate where you live.  If you experience snowy winters then you will be bringing road salts and deicing fluids into the garage. While these chemicals will not harm your interlocking tile, they are hard on your concrete.
Road salts will cause spalling and pitting.  You may already have this problem with your garage floor and it could be one of the reasons why you are installing interlocking tiles in the first place.  If you have a self-draining style of interlocking tile, then these chemicals will still get deposited right onto the concrete under the tile.
A good concrete penetrating sealer will protect your garage floor against road salts as well as repel liquids in general.  They will also prevent further damage to your garage floor if you have this problem already.  They can be purchased for less than $50 to cover a standard 2-car garage and are very easy to apply.
It's also cheap insurance to protect the concrete of your garage floor in general, including limiting how badly it would stain if you had a major oil spill. You can read more about penetrating sealers here.
If your floor is clean, it will take less than an hour to apply the sealer and you can be installing your interlocking tiles within a few hours.
Lay down landscape fabric
Because interlocking garage floor tiles are made of plastic and are hollow underneath, they have their own unique sound when walking on them.  Every once in a while, a particular tiled floor may make a clicky clack sound that some people do not care for.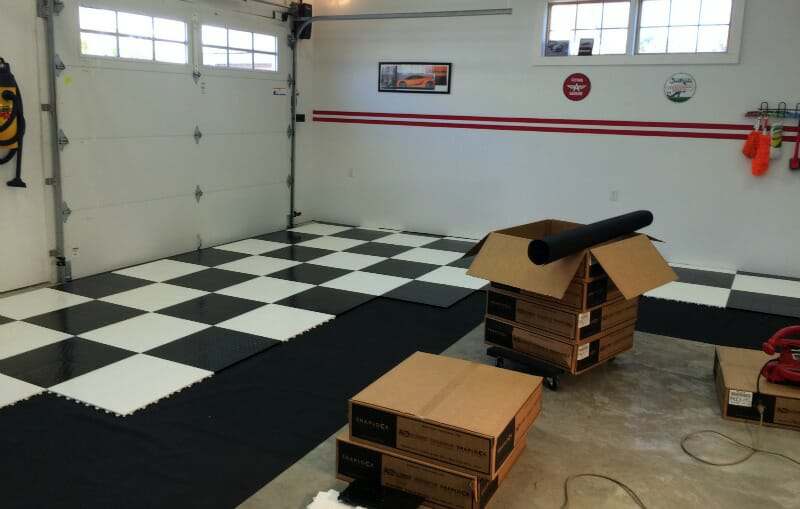 Laying landscape fabric during interlocking tile installaion
The remedy to help lesson that sound is to lay synthetic landscape fabric down onto the concrete underneath the tile.  The mesh design of the landscape fabric does a much better job of absorbing sound than the concrete.  It helps to dull noise instead of it being amplified from bouncing back and forth in the small hollow off the concrete and underside of the plastic tile.
Because of its thin, mesh synthetic design, landscape cloth will not rot and it will dry quickly if it gets wet.
If you are one of those people that are concerned about your garage tiles making noise, then we recommend that you install the landscape fabric before you install your interlocking tile instead of discovering you need to do it afterwards.
You can usually purchase 400 sf² for less than $30 from the garden department of your local home improvement center.  We talk more about reducing noisy garage floor tile here.
Final Tips
As we said previously, there is little you have to do to prepare the garage floor before installing interlocking garage tiles. If you have a fairly new floor and don't live in a snowy climate, then sweeping the floor may be all that you need to do.
Even if you have a poor concrete floor with cracks, pitting, and salt damage, you can install the interlocking tiles right on top without doing a thing to the concrete in your garage and it will not affect the tiles.
However, if noise is your biggest concern or you live in an area where your garage floor will encounter road salts and deicing fluids every winter, then you may want to follow some of these tips to protect the concrete in your garage before installation.