To our Reader's: This post may contain affiliate links. If you use these links to make a purchase, we may earn a small commission. As an Amazon Associate, All Garage Floors earns from qualifying purchases. You can read our full disclaimer here.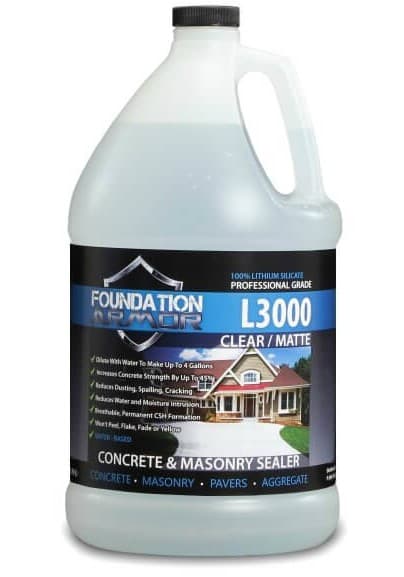 Concrete densifiers can be an invaluable treatment for your garage floor when they are used correctly. They can harden the surface of your concrete, reduce dusting, and even slow down moisture intrusion. So when we found ourselves in the position to treat a garage floor for these exact reasons, it allowed us the chance to informally test and review Armor L3000 concrete densifier by Foundation Armor.
The opportunity to try Armor L3000 presented itself when a family member of ours decided that they wanted an epoxy coating for the garage floor in their home. The black and white vinyl composite tile that was installed over 20 years ago was showing its age. Tiles were starting to lift in areas and the routine maintenance to keep it looking fresh had been abandoned the last few years.
Unfortunately, when the tiles were pulled up the concrete showed some signs of moisture at the surface near one of the stem walls. There was a large planter bed on the other side of the wall that was above grade and most likely causing the moisture issue. This became more evident when we removed old wood trim that encased the stem wall and found the concrete flaking.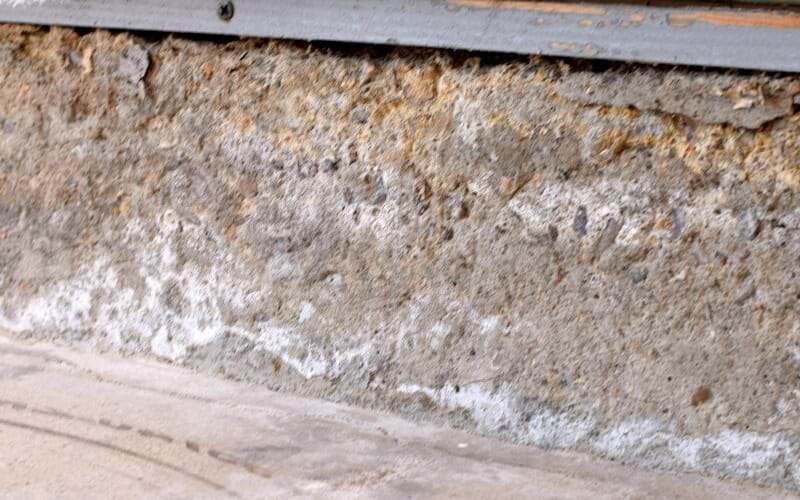 There was also a thin layer of efflorescence on the surface of the concrete where tiles had lifted, as well as some small pitting due to the moisture collecting under the tiles.
Another problem was that the concrete surface seemed soft. We confirmed our suspicions when we put some deep gouges in the surface with the screwdriver test. This wasn't good. Epoxy can delaminate under stress when applied to a soft concrete surface. It will actually take a layer of the soft concrete right up with it.
At this point it was decided to go ahead with grinding. We wanted to see if the soft upper layer could be removed to expose harder concrete underneath in hopes that it was just a result of a poor job of finishing the concrete. If this was the case, then we would be able to continue with the epoxy coating.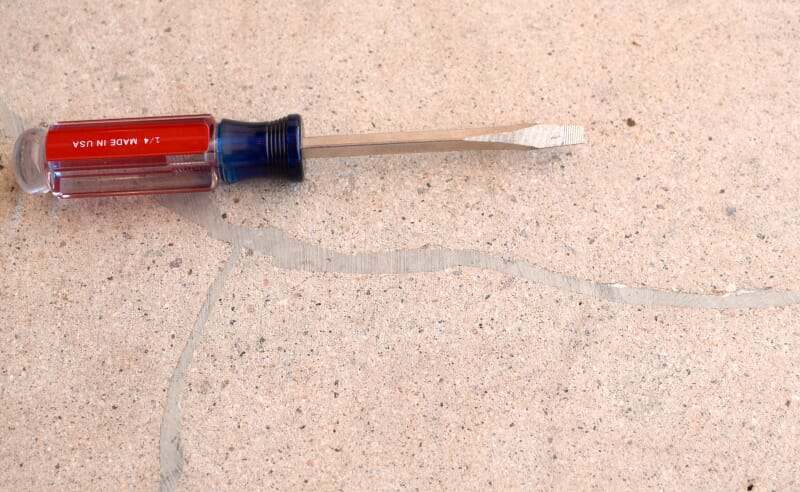 We repaired the pitting and some surface cracks first since the grinding would smooth out the repairs, remove the old glue residue, and provide a proper profile for the epoxy. Once the crack repairs and grinding were completed, we found that the surface of the concrete was still too soft for epoxy. In addition, the concrete was now dusting since the glue residue on the surface was removed in the process.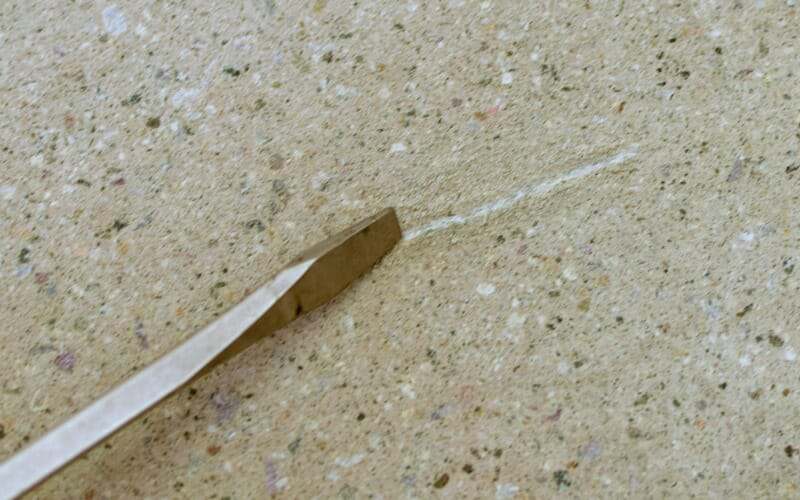 Not to be deterred, it was determined that interlocking garage floor tiles would be a better option due to the condition of the concrete. We decided the best thing to do for the garage floor was to treat it with a densifier to help strengthen the soft concrete surface, reduce the dusting, and slow down the moisture intrusion.
After a quick search for available densifiers on Amazon, L3000 by Foundation Armor was ordered and on the way.
What is L3000 Concrete Densifier?
L3000 by Foundation Armor is a 25% solids concentrate lithium silicate densifier that can increase the density and strengthen the surface of your concrete garage floor up to 45%. It does this by reacting with the calcium hydroxide in the concrete to produce calcium silicate hydrate or CSH. The CSH fills much of the microscopic voids and open pores near the surface, thus increasing the density and the strength of the concrete.
Filling these voids also helps to reduce moisture intrusion from below the slab, increase liquid repellency at the surface, resist damage from road salts, and slow down/stop concrete dusting. Concrete is really just a large sponge. If you fill the voids and pores, then it won't absorb liquids nearly as well.
Since Armor L3000 comes in a concentrate it requires diluting with water before you use it. This lowers the solids content to approximately 8%. Once applied, it does not change the look or slip resistance of the concrete once it has dried. 1 gallon of L3000 to 3 gallons of water will provide a coverage rate of 750 – 1000ft².
Lithium densifiers are easier to apply than the much older sodium silicate densifier formulas. They will not turn white from over application as easily as sodium silicate densifiers will, they react quicker with the concrete, and they do a better job of resisting road salts as well.
Benefits of Armor L3000
Creates a permanent, hardened structure within the pores
Reduces moisture intrusion through the concrete and is breathable
Produces zero VOC's
Resists freeze thaw damage and road salts
Reduces efflorescence
Decreases humidity by restricting the inflow of water vapor
Hardens the surface up to 45% and reduces dusting
Increases abrasion resistance of concrete
Prevents rusting and expansion of rebar
Reduces growth of mold, mildew, and algae
Affordable cost
An important distinction that we want to point out is that densifiers are not a traditional penetrating concrete sealer and are not used as a primary source for repelling liquids at the surface. Typical penetrating sealers work by forming a molecular barrier at the subsurface of concrete in order to repel liquids. They do not densify or strengthen the concrete like a densifier does.
Densifiers do have a tendency to repel liquids due to the benefits of a denser surface, but the surface is not sealed. If you were to compare a densifier and penetrating sealer side by side for liquid repellency, the penetrating sealer would be the victor every time.
If you want the benefits of a densifier and would like some of the added benefits of an actual sealer, then you should consider a densifier with sealer added, as we discuss in this article here.
Another note to make is that a densifier becomes less effective at hardening the surface of concrete as the original condition of the concrete worsens. In other words, it's most effective with concrete in generally good shape and less effective with concrete in bad shape.
Finally, if you have a machine troweled garage floor, some densifiers can actually produce a matte shine on the surface of concrete from buffing. Years of natural wear from floor traffic can create shine on the surface as well.
Application of Armor L3000
Application of most lithium densifiers is actually quite easy. All that is required is a pump up garden sprayer with a circular fan tip. If you have very smooth concrete, a semi-plush microfiber mop pad with a dipping tray would work even better.
We mixed into a bucket 1-part Armor L3000 to 3-parts warm water and then poured it into our garden sprayer. Though it's not mandatory, Foundation Armor recommends the use of warm water for better dispersion of the solution. The warm water also has a thinning tendency which helps to increase penetration into the concrete.
One coat of densifier is usually all that is required; however, we opted to apply two coats since the concrete surface was soft to begin with. With a coverage rate of 200-300ft² per gallon, we poured 2 gallons into our sprayer for the first coat. We started in a back corner and applied the densifier using a circular motion, slowly working our way to the front of the garage floor.
The key when applying a densifier is to get the concrete real damp, but not so damp that it begins to puddle. If it does puddle, have a broom handy to help scrub it into the concrete after application. You can also push it around to other areas of the garage floor that will absorb more of it. If you don't do this, the densifier can form a stubborn white residue on the concrete as it dries that requires heavy scrubbing to remove.
Because our surface had open pores from the grinding, we ended up using the full 2 gallons plus a ½ gallon more for only 450ft². This was done without any puddling and it included application to the stem walls as well.
Once we finished the first application, we mixed more densifier for our sprayer and began applying the second coat where we first started.  If applying a second coat like we did, you want to start applying it before the concrete completely dries out. The second application required just a little over a gallon this time and we needed to scrub a couple of areas that developed some puddles.
After application of the second coat it took a few hours for the surface of the concrete to completely dry. Once it did, we were able to pull cars into the garage and move things back in until the interlocking tile arrived.
Review Results of Armor L3000 Densifier
Because densifiers work by reacting with the concrete, it can require up to a week or more to take full effect. To be honest, our expectation levels were not that high due to the soft condition of the concrete to begin with.
Ten days later we decided to test the concrete when the interlocking tiles arrived. We did the screwdriver test right below where we did the first one after the grind. To our surprise, the concrete had hardened up quite a bit! We could still leave a mark in the concrete, but we couldn't easily gouge it like we had before. This, in our minds, was better than expected and considered a success.
Next we checked the concrete for dusting. As we had said earlier, the surface had developed a dusting problem after grinding. This really was to be expected since dusting is one of the symptoms of soft concrete. No matter how much we swept or vacuumed with a shop vac, you could still wipe up thick white residue on your fingers if you drug them across the surface the next day.
This time when we checked for dusting, we could only pick up small amounts of white concrete dust on our fingers and sweeping did not produce any white powder to pick up. This was a great result as well.
Finally, we were able to see how the densifier worked for the moisture issue. After a few rain storms over four months with the planter bed getting soaked, we pulled up a section of tile to check the surface of the concrete. Fortunately there wasn't any sign of efflorescence.  We also checked the stem walls and found that they had stopped flaking at the surface as they were before.
Final Verdict
Overall we were very pleased with the results of Armor L3000 Densifier. It produced better than expected results for the soft concrete. We had used densifiers before, but not for concrete that was soft like this. We were also happy with how it stopped the dusting and moisture issues from the planter bed as well.
Did it make the concrete as hard as new concrete? No, but we didn't expect it to either. As we stated before, the performance of densifiers decreases as the quality of the concrete it is applied to decreases. If this was applied to an average concrete surface, we have no doubts that it would perform even better.
Is it better than other densifiers available? We can't say for sure since this review is not a comparison with other products. There are many densifiers available that perform well. However, we feel confident to recommend Armor L3000 concrete densifier for anyone who needs such a product.
For more information about Foundation Armor L3000, feel free to contact them here. You can call their toll free number or chat with them online about your garage floor or concrete surface needs. Their customer service is very good and they will be happy to assist you with any question you may have.