This post may contain affiliate links. If you use these links to make a purchase, we may earn a small commission. As an Amazon Associate, All Garage Floors earns from qualifying purchases. You can read our full disclaimer here.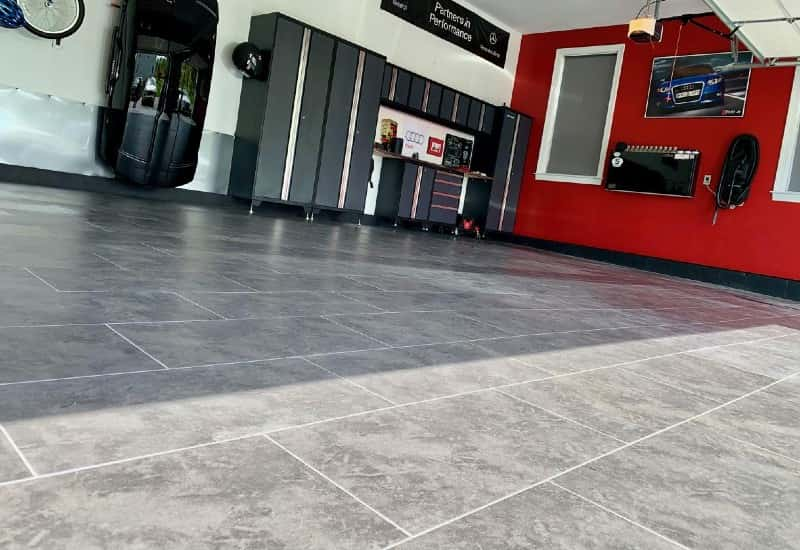 A question that we get occasionally is, Can I install luxury vinyl tiles or planks on my garage floor? As a rule, we had always advised against it for a variety of reasons. However, NewAge, the company most known for their quality storage products, looks to have created a viable exception to this rule with the introduction of their NewAge Luxury Vinyl garage floor tiles.
Designed to create the look of stone tiles or natural wood planks, NewAge Garage Flooring appears to have designed an LVT flooring product that defies the typical issues and problems that are inherent to installing LVT in a garage.
Not surprisingly, this new LVT garage flooring has created a bit of a stir in the industry. In addition, it has also created quite the interest. This includes questions from home owners looking for a highly refined and easy to install garage flooring that resembles stone, wood, or porcelain tile.
Having to see for ourselves, we ordered some samples in order to review the NewAge garage floor tiles and planks. We wanted to answer some of the more common questions that are being asked as well as provide some real-world garage floor testing.
Are NewAge Garage Floor Tiles Durable?
So, what makes NewAge LVT garage floor tiles any different than other LVT flooring? The main difference is the core material used, construction, and wear layer for the tiles. In fact, there is very little actual vinyl that is used.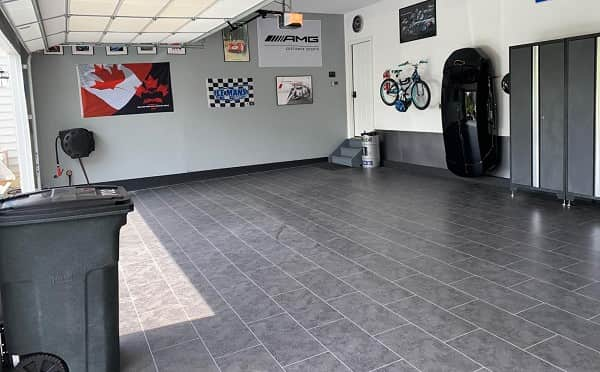 NewAge Garage Tiles are constructed using an engineered stone composite core layer that is waterproof. This thick stone layer is what provides the strength and impact resistance of the flooring. In fact, it passes concentrated point load tests of over 40,000 lbs. for stationary and rolling loads.
A U.V. resistant high-definition photographic layer that is embossed in register (EIR) is then laid over the stone composite layer. This EIR layer is what provides for a very authentic look and texture of stone or wood plank.
Laid on top of that is a clear, commercial grade, U.V. resistant dual wear layer that is 27.6 mils thick. This is what protects the tile from scratches, stains, road salts, and other contaminants. As a point of reference, this wear layer is almost as thick as some commercial garage floor epoxy systems.
Lastly, the underside of the tile has an anti-mold IXPE (irradiation cross-linked polyethylene) foam layer that is 1.5mm thick. It serves as an underlayment and provides for insulation properties as well as a water-resistant barrier.
All of these layers added to the stone core structure provides for an overall tile / plank thickness of 9.5mm or 3/8". The video below gives a nice overview about the construction and durability of NewAge garage tiles.
As you can see, the advanced stone construction by NewAge creates a very durable LVT garage tile. It will hold up just fine under the weight of your vehicle as well as the small round foot pads that support the heavy weight of your work bench, metal storage cabinets, or rolling tool box.
How does NewAge compare to traditional LVT for a garage?
Traditional luxury vinyl tiles or LVP are constructed of a vinyl or particleboard core structure that is not designed to withstand the weight of vehicle traffic. It will actually distort or crush under heavy concentrated weight and can come apart or unsnap at the seams if a vehicle's tires are turned on it while not moving.
In addition, the wear layer is not designed nor tested to withstand a garage environment, let alone tires and automotive chemicals such as oils or gasoline.
Lastly, water and snow that puddles up after being tracked into the garage from vehicles can create problems. These puddles can slowly seep into the seams and cause particle board to expand.
Typically, this is not a problem for most LVT flooring in-home since liquids are cleaned up rather quickly. However, cleaning up and drying puddles in the garage is not the norm. They generally sit until evaporation does its job or the water is eventually broomed out.
NewAge LVT Garage Flooring Choices
NewAge has two distinct flooring styles to choose from; LVT Stone Tile, which resembles natural stone and LVT Stone Plank, which resembles real wood plank flooring.
LVT Stone Tile dimensions are 23.15" long x 12" wide. The colors available are Titanium, Sandstone, and Slate.
The LVT Stone Planks are 46" long x 8.85" wide. The wood colors available are Natural Oak, White Oak, Gray Oak, and Forest Oak.
NewAge LVT Floor Tiles come with a 5-year warranty when used in a garage environment.
Each tile or plank fastens to each other using a very strong overlapping click-lock system. When installed correctly, the tile and seams are waterproof. This means there is no worry of puddled water working its way under the flooring.
Besides one tile resembling stone and the other wood plank, one distinct difference in features between them is the surface edges of the stone tiles.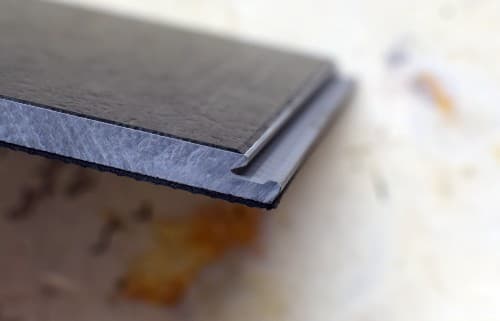 The Wood Plank tiles have squared or 90° edges that fit flush against each other at the surface. The LVT Natural Stone Tile has a slight 45° beveled edge in the upper surface that is lighter in color. When the stone tiles are locked together, this beveled edging does a great job of replicating grout between the tiles and creates a nice contrast.
Our Review and Testing of NewAge LVT Garage Floor Tiles
We took advantage of the sample kit that NewAge offers and placed an order so that we could review and do some of our own unscientific testing on how these tiles may perform in a typical garage environment. The kit includes seven 6.31" wide x 9.23" tiles that represent each style of flooring and its respective colors.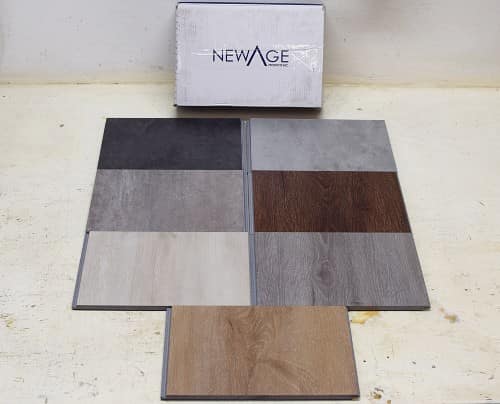 When we received our sample box, the first thing we were struck with was the weight. These tiles are heavy! This weight is definitely a result of the stone composite construction.
Next, we couldn't help but notice how the texture and look of the garage floor tiles resemble natural stone tile and wood planking. It's quite remarkable actually. Because these tiles are cut for samples, you can also view the construction and material layers that make up each tile.
We were hoping that we could interlock all of the tiles together to create a large section to test. However, we couldn't lock together the natural stone tiles because only one female locking edge was available due to the way the samples are cut. Only the width of the wood plank tiles was not cut down to size.
As a result, we could only lock together two wood plank styled tiles together at one time. We would have to make do with what we had.
The first thing we wanted to do was an automotive fluids and chemical test. It's not unusual for a typical garage floor to occasionally be subjected to gasoline spills, oil, and other fluids. If the surface can't withstand typical fluids and chemicals like this to a moderate degree, then it shouldn't be considered for a garage flooring surface to begin with.
To get a good idea of how these tiles might possibly stain or become cosmetically damaged, we decided to use the Titanium stone tile since it is the lightest in color and should show any visible signs of stains or discoloration.
We tested the NewAge tile with a quarter sized sample of gasoline, used motor oil, transmission fluid, and anti-freeze. We then let the fluids sit on the tile for 24 hours.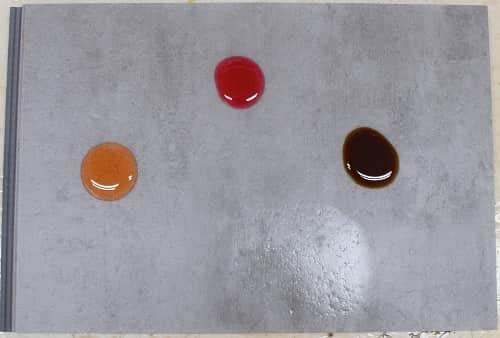 The image below shows that not much changed in appearance in 24 hours except for the fact that the gasoline had evaporated within the first 20 minutes.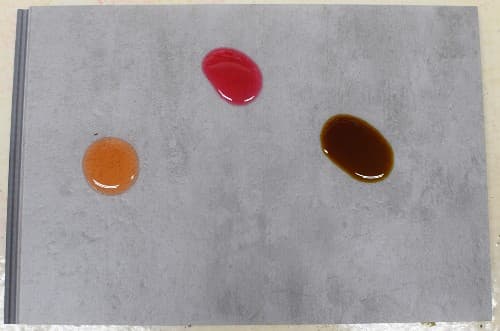 We then wiped the surface with a paper towel and did a final wipe with a squirt of Simple Green and an old towel to remove any remaining residue.
We weren't exactly sure what to expect, however, we were fairly confident that there would some trace stains or cosmetic damage from one or more of the fluids we tested. Boy, did we get this wrong.
As you can see from the image below, we couldn't find any evidence of a stain, etching of the surface, or any other cosmetic damage. We even subjected the same tile to another oil test for 48 hours this time and had the same results.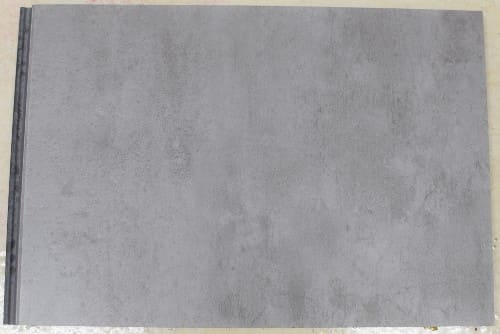 This is the same used oil concoction with small amounts of brake fluid and parts cleaner that we have used for other garage flooring tests. We were impressed to say the least.
We then subjected the NewAge floor tiles to a rolling floor jack with steel wheels. We wanted to see how the surface could withstand abrasion from such a jack if it was rolling and sliding around on the tile.
To conduct this test, we connected two plank styled tiles together and placed the front half of the jack with the large wheels on the surface. We then applied some pressure and slid the jack wheels back forth and in small circles across the surface. This closely resembles how a floor jack works across the floor.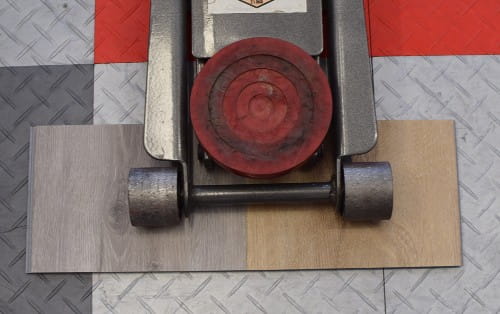 The results? We think the images below speak for themselves. We could not find any discernable scratches or damage to the surface. And this was with us applying a bit more pressure than what the jack weighs.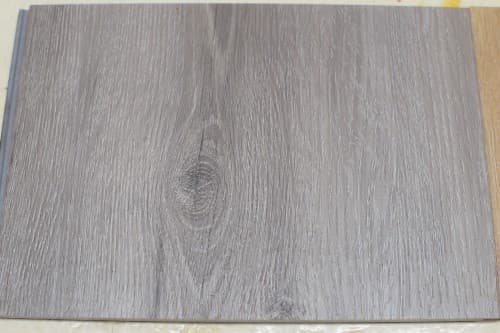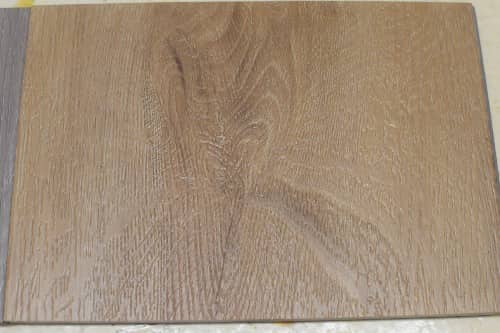 We were hoping to actually test the tiles by jacking up a vehicle, but the small samples provided would not provide accurate results. However, NewAge does state that they have tested the flooring with floor jacks. Below is the following statement from their F.A.Q. page.
We have tested our floors with a car jack internally and with the test results from third party, we are confident that our floors will withstand the pressure of a car jack. However, depending on the type of carjack, this may damage the wear layer.
With smaller jack wheels, we believe that it may be possible to dent or crush the wear layer under weight. We would advise that you place the jack on small piece of plywood if using smaller wheels.
Next, we conducted the same test with our favorite jack stands by Esco. Here is where we got some interesting results that did not surprise us much after a quick investigation.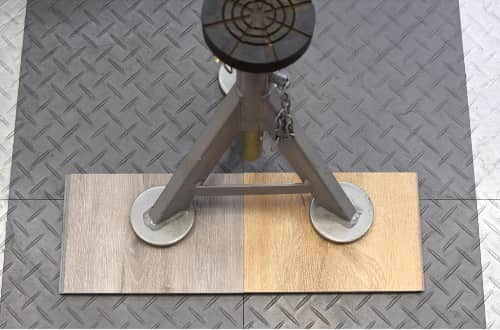 One side of the tile was scratch free while the other side did obtain some scratch marks. We soon discovered that one of the foot pads had some small jagged spots on the surface edge that left the scratches when we applied pressure as we were sliding them around.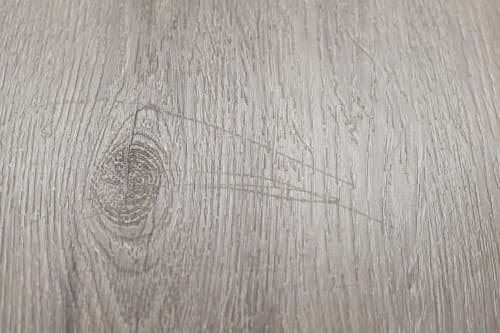 Was this a realistic result? While there is no doubt that jagged edges like this will scratch the surface, we weren't so sure that this would happen all the time.
Many times, jack stands are placed on and not dragged across a surface. Even then, you generally would not apply the pressure like we did. When we moved it back and forth across the surface by pulling on the sides, it scratched it much less, if at all. If we would have filed the jagged edge smooth like the other foot, it would not have happened to begin with.
We do want to point out that you should use jack stands with the appropriate foot pads. Jack stands with angle iron legs have an extremely small, narrow foot print and will dent the EIR photographic layer and wear layers at the surface of the tile when under weight.
Next, we wanted to conduct a tool drop test. We used a 19mm combination wrench and 1 lb. ball-peen hammer. Dropped tools are a common occurrence in a garage and we wanted to see how the tile surface would withstand the impacts.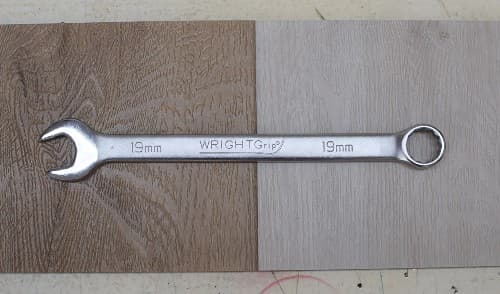 We dropped the combination wrench from three to four feet high at least a dozen times with no visual damage to the tile that we could find. It was only after deliberately dropping the open end of the wrench straight down a few times were we able to create a mark.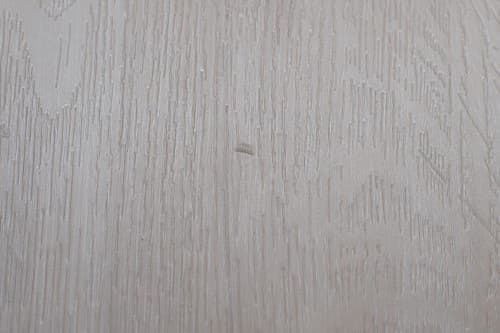 The ball peen hammer was a different story. If the head of the hammer hit the tile at an angle, then three out of four times it would make a mark. It was not that easy to see until we picked up the tile to examine it.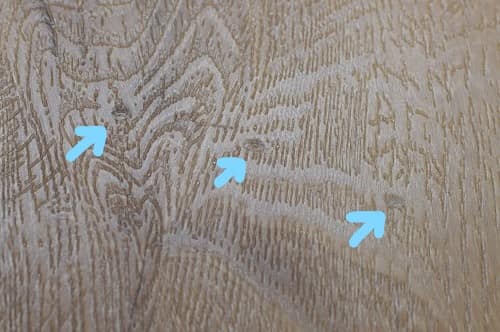 What we noticed though, is that the marks from these drop tests were actually dents in the high-definition photographic and clear dual wear layers. As far as we could determine, it did not affect the stone composite core structure underneath these layers.
Unless these layers are actually scratched or torn, the dents from impacts are not very noticeable. The darker colors were harder to detect dents than the lighter colors.
We then placed the darker Slate colored stone tile on some concrete and pounded it a quite a few times with the same hammer.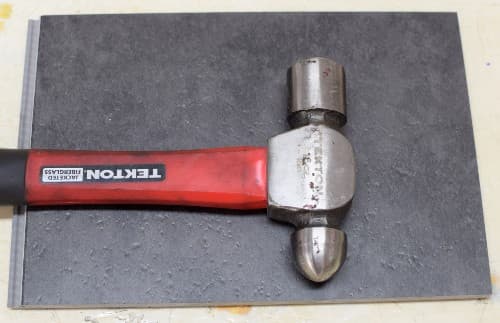 What was interesting is that we did not get the same results as the drop test. There were no visible marks. This is most likely due to the fact that the impact from the head of the hammer is being spread across a much larger surface and would not dent the layers.
Our conclusion is that as long as the point of contact of the dropped tool or object is not pointed or have a very small contact patch, it most likely will create little if any noticeable damage.
Next, we conducted an abrasion test using the head of a chisel and screwdriver. We forced the tips of these tools across the surface to see what we would get.
The chisel didn't leave a mark, but the screwdriver did. The difference was that the screwdriver tip was sharp and the end of chisel was pointed, but smooth.
By this time, we were definitely noticing a pattern. Just like a quality high-performance garage floor coating, the NewAge LVT Garage Tiles stood up to abrasion very well unless the object doing the abrading was sharp.
Something important that we want to point out is that NewAge Luxury Vinyl Tiles can not be driven on with studded snow tires. The studs will puncture through the photographic image and wear layers of the tile.
Now, before we reveal our overall thoughts of this LVT garage flooring system, we need to discuss installation of the NewAge flooring, how much it costs, and where to purchase it.
NewAge Garage Flooring installation and requirements
Before we jump into the installation process, there is an important requirement that you need to be aware of. Because this is a full floating stone composite flooring, it has absolutely little flex to it. As a result, it requires a fairly flat subfloor that does not vary by more than 3/16" per 10'.
This isn't too hard to obtain if you are dealing with a wood sub floor. However, a concrete garage floor is another story. It's not unusual at all to have variances greater than this since most garage floors are leveled with a screed and then hand troweled.
If you have any high spots or low spots, the tiles will not lay flat and one side will want to pop up or down relative to the rest of the floor. When this happens, it becomes very noticeable. Furthermore, it begins a domino effect that interferes with the click lock installation. It can be exaggerated even more with the longer wood plank tiles.
We highly recommend that you go over the floor with a long straight edge or equivalent and check the floor. Deep "V" shaped contraction joints in the concrete can be an issue as well. Sometimes the rounded edges of these joints will curl upwards during the curing process due to shrinkage at the surface.
Also, be sure to check the last few inches of the floor near the stem walls. It's not uncommon for this area to have high and low spots since it's close to the wall and harder to trowel level. More than one complaint has been made that the tiles will not lay flat in these areas.
Any high spots will need to grinded down and low spots filled with a self-leveling underlayment. If your floor has a lot issues in this regard, you may want to think twice about installing NewAge garage tiles.
The tiles themselves lock together with what they call their "Drop and Lock" system. When locking into place, just hold one tile at an approximate 45° angle as you insert the male edge onto the female edge of the adjacent tile and then lower into place. They do not perform an audible click.
The shorter stone tiles should be staggered to overlap at one half length of the adjacent tile. The stone planks should be staggered to overlap in thirds.
NewAge actually has a great video that demonstrates the installation process. It has much of the information you need in regards to lay out, how to cut the tile, and how to lock it in place. In addition, they have very well written installation instructions on their website.
Instead of explaining the entire installation process, we included the video below.
The video above is for garage floors. They have another video for indoors that recommends starting your installation from the back corner of a room. However, for a garage floor installation we recommend that you start at a front corner as they demonstrate. This will allow you to align the tile with the garage door opening.
Speaking of the garage opening, NewAge offers a nice garage floor threshold transition piece as well. It glues down to the concrete and creates a very clean and professional look to the entrance.
In addition, they also offer aluminum end caps. These can be installed on edges where you don't want to see the end of the tile. Do not use them in place of the garage floor threshold. They are not meant to be driven on and will dent or crush at the edge.
One of the nice features about using interlocking garage flooring like this is that you can generally replace a small section or single piece of flooring if it's damaged or stained. However, NewAge LVT does not disassemble like traditional interlocking garage flooring.
If you have a tile that needs replacing, it will require that you cut the tile out. You then need to cut off the click lock sides of the replacement tile and then glue it to the click locks on the surrounding tile. NewAge has a video that demonstrates the process.
Cleaning and Maintenance
NewAge LVT flooring should be easy to keep clean in the garage. The recommended methods are to sweep with a soft bristled broom, dust mop, or damp mop. Wipe up spills and automotive fluids as soon as you seen them. Most any type of mild degreaser in a spray bottle will work for spill cleanups.
Our favorite way to clean most garage flooring is with a mild solution of 1/4 cup ammonia to 1 gallon of warm water. It does not require rinsing and it will not leave a residue.
This 18" professional style microfiber mop from Amazon is our favorite to use. The dust mop pad works well and the microfiber pad is excellent for cleaning.
NewAge specifically states not to clean using a vacuum with a beater bar / rotating bristle brush. Because these brushes turn so fast, they will actually cause accelerated wear to the wear layer of the tile.
In addition, do not use any products that contain abrasives, waxes, polishes, or oils. This includes "mop and shine" products as well.
Lastly, do not use any floor mats or anti-fatigue mats that have a real rubber or synthetic rubber backing as they can permanently stain the floor. Instead, use mats with a vinyl backing or color-fast woven rugs.
How much do NewAge Garage Tiles cost?
If you have already checked out their pricing, then you know that these garage floor tiles are not cheap. We don't normally post pricing since it always changes with products. However, NewAge LVT tiles can be purchased directly and are currently running under $4 per square foot.
They have a nice materials calculator you can use to help figure out how much you need. In addition, we found their customer service helpful to work out the materials estimate as well. Shipping is free with most orders.
If you are not up to installing the tiles yourself, NewAge does offer a professional installation service. You would need to contact them when purchasing for more details.
Another source to purchase NewAge Garage Tiles right now is Costco. They are more expensive when purchased through them, however, they do run sales occasionally that will save money over buying direct. In addition, Costco has a great return program and is one reason why some people purchase from them.
The catch with Costco though, is that you can only purchase the tiles in bundles of 400 square feet or 600 square feet. If your 2-car garage is 450 square feet, you would need to purchase the 600 square foot bundle which would be more money than buying what you need direct from NewAge.
What do we really think of NewAge Garage Tiles?
We have to admit that we were skeptical when we first heard of NewAge introducing an LVT flooring for the garage. However, after a full evaluation we are confident that NewAge can be a durable and attractive garage flooring option under normal conditions.
Our review indicates that it should hold up fine for routine car maintenance such as changing your oil, rotating tires, using floor jacks, jack stands, and etc. It will just require that you are not careless with how you go about these tasks.
However, we are not as convinced (yet) that it will hold up long term to heavy repeated use of such practices without some cosmetic damage done to the surface.
Early reports are that it does well in winter environments also. This isn't surprising considering that NewAge is a Canadian company. They had to plan for such use. Just don't use studded snow tires as we stated earlier.
In the image below, you can see where road salts will accumulate in the beveled grooves of the stone tiles and will require cleaning to remove. All reports so far are that such cleaning is not difficult.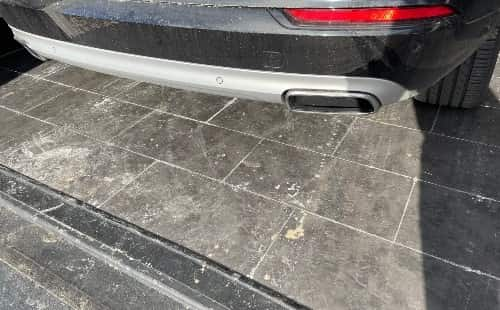 There are some important things to consider though before making a purchase. Some people are having issues with high spots on garage floors that are interfering with installation. As we stated, inspect the garage floor carefully for high spots and variances of no more than 3/16" per 10' of floor.
We suggest that you read this thread that was posted at the Garage Journal. They are discussing the details of their installations, issues, and pricing.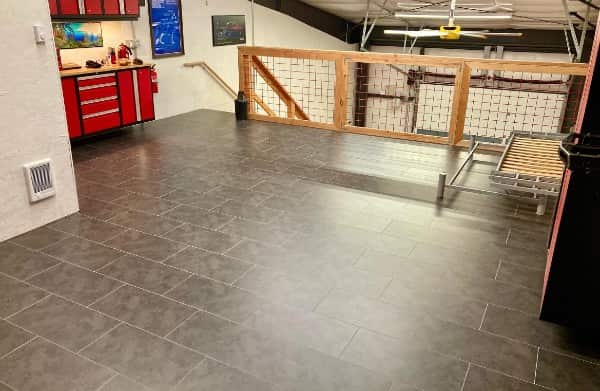 Another consideration about NewAge Luxury Vinyl Garage Flooring is the expense. In many areas of the country, you can have a more durable and professionally installed garage floor coating for a similar price per square foot. Furthermore, if you have the DIY skills, you can install such a coating yourself for less than half that price.
To sum up, we think NewAge Luxury Vinyl garage flooring is a viable option that provides durability and will work well for those that mainly use their garage to park their cars and perform light to medium duty projects. Will it last ten years or more? Right now, it's just too early to tell.
If you don't mind paying the price, NewAge a very professional and modern looking garage flooring. It's easy to install and will make your garage the envy of the neighborhood. Just order up a sample kit and take a look for yourself.