This post may contain affiliate links. If you use these links to make a purchase, we may earn a small commission. As an Amazon Associate, All Garage Floors earns from qualifying purchases. You can read our full disclaimer here.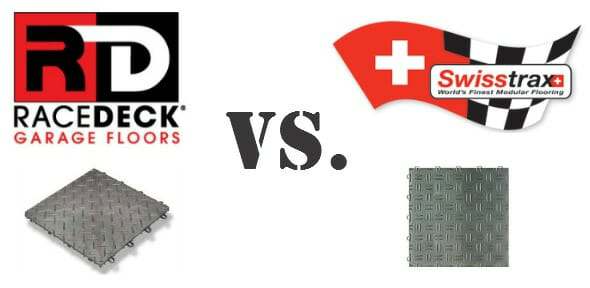 RaceDeck and Swisstrax are the two undisputed biggest names in the industry when it comes to the best interlocking garage floor tiles.  Both companies are very well known, they sponsor many high profile car events, automotive related T.V. shows, and they both provide flooring for some of the largest automotive related industries in the world.
However, there are some big differences in style and construction of each company's tiles that might be a factor when determining your choice of brands.  So instead of getting caught up in the survey of RaceDeck vs. Swisstrax, you might want to concentrate instead on which of these two companies makes the best garage floor tiles that fit your style and requirements.
The background on RaceDeck and Swisstrax
Snap Lock Industries is the parent company of RaceDeck and has been in business a year shy of 40 years.   They claim to be the creator of the modular snap together garage floor tile that you are familiar with today and have been producing tiles under the RaceDeck name for well over 20 years.  They produce 6 different styles of interlocking tiles in 11 different choices.  All are made in the U.S.A., with operations based out of Salt Lake City, Utah.
We invented the modern modular garage flooring industry. Our experience is unmatched and shines through in everything we make – no one has been in the business longer, and no one makes as much flooring as we do. In fact, we manufacture more flooring each year than all of our competitors combined. With over 18 patents, you can be assured you are getting the most advanced modular garage flooring in the world.   –  Jorgen Moller, CEO, RaceDeck, Inc.
Swisstrax
was developed by their President, Randy Nelson, in Switzerland over 19 years ago.  Their reputation for a quality product quickly grew within the automotive and garage flooring industry.  With 6 different styles of interlocking tiles available, they are now made in the U.S. after having moved their manufacturing facility to Indio, California.
RaceDeck and Swisstrax both offer a 15 year warranty on manufacture defects which is the highest in the industry.  They also have comparable claims of U.V. resistance which prevents fading in the sun, resistance from oil stains, chemical resistance, and ease of maintenance.
Differences between RaceDeck and Swisstrax floor tiles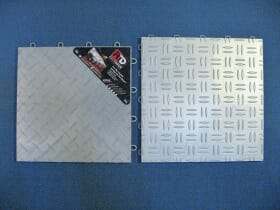 Both companies offer similar flooring styles with the exception of the diamond tread design.  RaceDeck chose to use the traditional diamond plate tread pattern for their tile, which they call Diamond, while Swisstrax utilizes a different interpretation of the diamond pattern called the Diamondtrax.   Swisstrax also offers a smooth version of their tile called the Floortrax while RaceDeck does not.  Though the many flooring styles between the two companies are similar, it's interesting to learn that the similarities end there.
RaceDeck interlocking garage floor tiles come in a standard 12" x 12" size and are ½" thick.  This sizing allows you to interchange any flooring tile in their lineup with one another.  They also offer an 18" x 18" x ½" flooring tile called the RaceDeck XL, which is available in the Diamond and Free-Flow styles only and will interchange with the 12" tiles as well.
Swisstrax interlocking floor tiles on the other hand are less conventional in their sizing.  All tiles are 13" x 13" and ½" thick with the exception of their most popular tile, the Ribtrax.  The Ribtrax is 15.75" x 15.75" and ¾" thick.  It is this difference that can cause some contention when trying to choose the best interlocking garage floor tiles for you.
Update October, 2016
Swisstrax has made many changes since we first wrote this article in November, 2013. They have since moved their manufacturing operations to Canada and in March of this year they announced an update to the Diamondtrax tile. It now incorporates a traditional diamond tread design in the larger 15.75"x15.75" Ribtrax platform. They have also introduced a completely new line of tiles called Vinyltrax. You can read our updated review of Swisstrax and their new tile lineup here.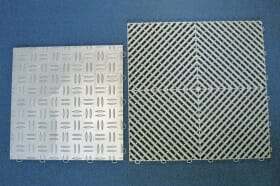 There are a few reasons why the Ribtrax tile will not interchange with the rest of the Swisstrax lineup.  It is thicker than the other tiles by ¼" thus preventing a smooth transition from one tile to the other.  They also have 6 interlocking peg and loop connections compared to 5 with the other tiles and are designed not to line up with each other.  Also, the 15.75" size does not match well to the other 13" size tiles when laying them side by side in a line.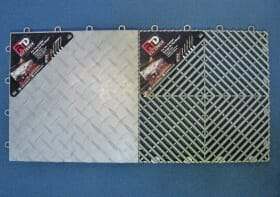 Because all RaceDeck garage floor tiles can be interchanged with each other, the entire lineup is truly a modular design.  This allows for all kinds of creativity and function when designing your garage floor.
As an example, if you live in a wet or snowy climate you can design your floor with areas of the Free-Flow tile where your cars park to enable the snow melt to fall through the tile to the garage floor.  The surrounding tiles can be a solid design of your choice while you can also have a designated spot for the polished aluminum RaceDeck Pro where you park your prized Harley.
While Swisstrax can interchange most of their tiles with each other, you cannot physically connect their most popular tile design, the Ribtrax, with any of their other tiles.  This can greatly limit your design choices and is a cause for some frustration.  If you like the self draining function of the Ribtrax tile, you have to use it throughout the entire garage floor, not just certain areas.  Your only creative options when using Ribtrax is with the colors you choose.
RaceDeck vs. Swisstrax tile construction
When choosing floor tile for the garage, one of the most important considerations is construction.  Both companies use the highest quality polypropylene plastic for their materials.  While the reputation for quality between RaceDeck and Swisstrax is very good amongst the many consumers of their products, there is a difference in their construction which may explain why there is also a difference in the sizing between the two brands.
When it comes to connecting up the tiles, RaceDeck uses their multi-patented PowerLock Technology which they refer to as "The power of 4".  This consists of a combination of 16 large pegs and loops per tile that allows them to snap together with 4 connections on each side.  Their literature states that after trying many different numbers of connections over the years, they determined that 4 per side in conjunction with their patented technology was the strongest solution.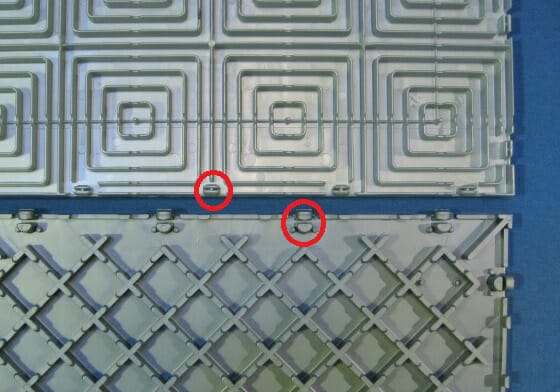 Swisstrax counters with a combination of 20 peg and loops per tile for 5 per side while the Ribtrax tile has 24 connections with 6 per side.  While 5 or 6 connections per side does sound better, if you look closely you can see that the RaceDeck peg and loops are larger and thicker in construction compared to the Swisstrax connections.
Is one better than the other?  It's hard to say since you rarely hear from consumers who have complained about tiles that failed due to poor connections.  These are not budget garage floor tiles.
We think however that Swisstrax most likely uses 5 connections per side to compensate for the smaller and thinner design of their peg and loop system.  You can find people who say that one is better than the other based on trying to break the connections over their knee or some sort, but that just isn't the way these tiles work in the real world.
Both companies tout that their tiles allow for air circulation and water drainage underneath the tiles through a series of cutouts in the substructure of the tile.  This is to prevent odors as well as mold and mildew problems which can occur from wet concrete.  The RaceDeck tiles have larger cutouts for this – especially where the tiles meet edge to edge.  We're not so sure if the larger cutouts make that big a difference or not between the two, but logic dictates it would help to air out the underside of a damp floor quicker if you have all solid floor tiles.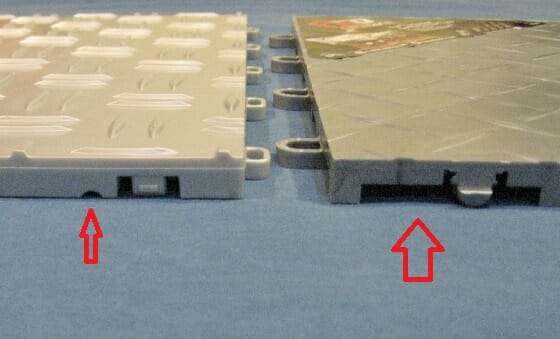 The substructure of the tiles is different as well.  RaceDeck uses their patented diamond superstructure underneath the tiles which makes for an unbroken substructure that is connected throughout the tile.  This is what allows for the 80,000 lb. rolling load that RaceDeck claims for all their tiles.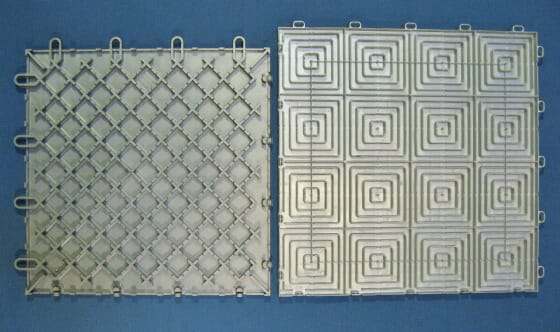 Swisstrax uses a 4 point injection mold which they say creates better material distribution throughout the tile and prevents them from curling under heavy load.  They also build the tile with a slight bow in the middle to facilitate for a tighter fit under compression and have no more than a 3/8" gap underneath the tile which they claim aids in compressive strength as well.  Their standard garage floor tile has a rolling load of over 40,000 lbs. while their more expensive commercial tiles have a rolling load of up to 70,000 lbs.
Swisstrax also claims to have the most material per square foot of tile.  This makes some sense when you compare the underside of the two tiles.  The RaceDeck substructure is thicker and the tile feels much stiffer than the Swisstrax tile.  It is our belief that Swisstrax most likely needs more material to achieve the required strength they were after.  This doesn't mean it's a bad design by any means.  It's just a different way to achieve the strength that they want.
This brings up the question of the Ribtrax tile.  Why so large?  From a marketing standpoint it makes more sense for the tile to be the same size as the rest of the Swisstrax line.  Instead, it is more massive than the other tiles.  An inquiry to Swisstrax did not provide us with any answers.  It can only lead us to assume that a larger and thicker tile is needed to achieve the same designed strengths as the other tiles in their line due to the Ribtrax open profile design.
One interesting statistic about Swisstrax is that they claim a compressive strength of 5120 psi.  When Jorgen Moller of RaceDeck was asked about that a few years age, he made an interesting comment.  He stated that he wasn't sure how Swisstrax came up with that figure when high tensile concrete used on highways doesn't have a psi rating that high.  He further stated that there isn't a modular floor made (that he is aware of) that can stand up to that kind of pressure.
Both RaceDeck and Swisstrax claim that their tiles work well with heavy rolling tool boxes, car lifts, rolling jacks, and a myriad of other heavy duty garage equipment.  Both companies are known for great customer service and have replaced tiles under warranty that were damaged by such equipment.
As tough as these tiles are, they will be damaged by sharp objects or heavy loads placed on it by something like a 4 point jack stand or hollow leg post.  They don't get along with welding either unless you use a welding blanket on the floor.  If you do damage a tile or two, it's real easy to replace just the tile and not the entire floor.
If you want to compare the interlocking tiles from RaceDeck and Swisstrax for yourself, be sure to take advantage of the free sample program that they both offer.  Just call them on the phone and tell them what you are interested in.  Their customer service is great and you will receive which ever tiles you are interested in free of charge, including the shipping.
Final conclusions
If we had to judge these tiles based on designed construction alone, then we have to give RaceDeck the edge.  When you start looking closely at the construction of these two brands, you can't help but notice the beefier looking design of the RaceDeck tile compared to Swisstrax.  We also like the fact that you can mix and match any of the Racedeck line of tiles together, unlike Swisstrax which limits you to just one style if you choose the most popular Ribtrax model.
With that said however, both tile companies make an extremely durable tile that has gained the reputation of standing up to some very tough garage environments.   So that begs the question, how strong do these tiles need to be?   After all, when was the last time you parked something in your garage that had a rolling weight of over 40,000 pounds?
So if that is the case; which is the best interlocking garage floor tile – RaceDeck or Swisstrax?  When answering that question our biggest concern is the fit and finish of the product, quality workmanship, and the best finish that will stand up to stains, chemicals, and is easy to clean.  We believe that both of these tile companies have succeeded in that regard and is the reason why they have earned the reputation as the two biggest names in the interlocking garage floor tile industry today.