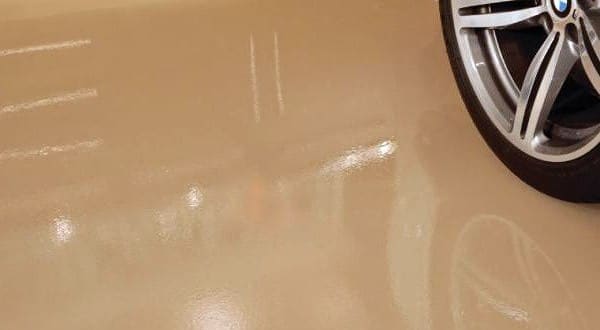 Does your epoxy garage floor coating look dull or worn out? Is the finish not as glossy as it used to be? As durable as these coatings have the potential to be, one question we get from time to time is how to bring back the shine or make a garage coating look like new again. As a result, we want to discuss why a coating can lose its gloss and what methods may work to bring it back.
For many garage coatings, this loss of a glossy finish can be permanent. For those, we will review a couple options available to restore the shine and maybe even make it look new again.
Lastly, we will discuss what methods to avoid that can permanently ruin the finish of your garage floor coating. Not surprisingly, misinformation about cleaning methods and products has led to more than one floor coating suffering from this problem.
Why your Garage floor coating looks dull
As we stated, a proper garage floor coating can be extremely durable. However, there are a variety of reasons why the finish of your epoxy, polyurea, or similar coating can look dull or less glossy.
It can be due to cleaning methods used, lack of cleaning, abuse, the quality of the coating that was applied, or just a worn looking surface for older coatings.
Surface Residue from Soaps and Cleaners
Many cleaning products can leave a very thin residual film on the surface. This residue can build up after a number of cleanings and dull the finish. It can also make it very slippery when it gets wet!
One of the advantages to having a garage floor coating is that they are easy to clean. Nothing sticks well to the surface. Many times, all that is required is a little bit of water and a microfiber mop to clean. Just add a small amount of ammonia if necessary.
Lack of cleaning
When a garage floor coating is not maintained, the dust, dirt and other materials that collect on the surface can act like a fine sandpaper. Over time, the scuffing and scrubbing action of foot traffic and vehicle traffic can permanently degloss the finish.
This is why the proper cleaning and maintenance of a floor coating is very important for retaining the finish.
Abuse
Even the toughest of coatings are not immune to abuse. Heavy traffic and use that is not suitable for the type of coating applied will cause wear and degloss the finish.
Application of lesser quality coatings
Home improvement store DIY coatings are the worst offenders and one of the primary reasons that people complain about a dull finish or lack of shine. They can also fall into the abuse category above for use that is not suitable for the coating if you have a very busy garage.
Most of these are single application coatings and not of commercial quality. Their abrasion ratings are poor or not even published. As a result, they degloss much quicker from wear than quality coatings. In addition, many only have a semi-gloss finish to begin with.
Worn from Years of Use
Sometimes the surface of a garage floor coating may just look worn after many years of use. This is also a common look after a few years for the lessor quality DIY coatings we previously mentioned.
As the miles of vehicle traffic, foot traffic, and use build up, the surface will slowly lose its sheen. This eventually happens to all coatings. However, how soon it happens is highly dependent upon the quality of the coating system installed.
Is the loss of shine permanent or not?
The first thing that needs to be done is to determine if the loss of sheen to your coating is temporary or permanent. This can be done by properly cleaning the surface to remove dirt and strip it of any residual film that may be hindering the shine.
It's very important to use a mild cleaner and one that is not acidic. We recommend using a solution of 1/2 cup ammonia to one gallon of hot water. We have found that microfiber mop heads work best.
Ammonia is very alkaline and averages a 12 on the pH scale. This makes is very effective for emulsifying oils and removing films. However, it is far too corrosive to use on a coating by itself. When diluted properly in water, it becomes much less alkaline and still cleans very well.
In addition, because the ammonia causes the solution to evaporate quicker than other cleaning solutions, it does not need to be rinsed with water and it does not leave a film behind.
If you notice that the coating looks shinier than it was before, then you most likely have residual film built up on the surface. A second cleaning with the ammonia solution may be necessary.
Another effective cleaner for removing dirt and film residue is Dawn dish soap. Just add a couple of squirts to a gallon of hot water. However, it is very important to rinse the floor clean with fresh water as you go.
Why? Dawn, just like other soaps, will leave a thin film on the surface if you don't rinse it with clean water. It's the same reason we rinse our dishes. If you don't, they will acquire a sticky film on the surface and look less shiny or dull when they dry.
Hopefully, your garage floor coating will look less dull or have its sheen restored after properly cleaning the surface and stripping it of all residues. If not, then you will need to consider the next options to make the surface look glossy or even new.
How to add shine back to your garage floor coating
If the loss of shine to your garage coating is permanent, then there are two options you can pursue to bring the shine back or even make your coating look new again.
Apply a wax for floor coatings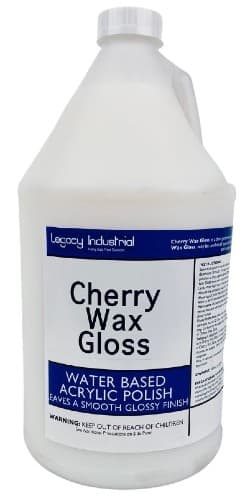 The first option is to apply a specialty floor wax. This is the least expensive option, but one that will require more maintenance from time to time to maintain the look.
This Cherry Floor Wax by Legacy Industrial is a good example.
You will need to apply a minimum of two coats of wax. The wax will have a semi-gloss look when applied and left alone. However, you can buff the surface using a floor maintainer and white buffing pad to achieve a very glossy finish.
Keep in mind that even though a wax like this is fairly durable and does not stain easy, it's not going to be as tough as the coating it is applied to. It will wear quicker and will not have the same resistance to fluids as typical coating would have.
In essence, a wax surface like this acts as a sacrificial coat. It will wear and start to lose its luster over time. In fact, you would apply the same steps for maintenance as you would with a waxed VCT tile garage floor.
Apply a new clear coating
The other option to bring back the shine and make your garage floor coating look like new again would be choosing a clear topcoat to apply.
This is one of the great benefits of a garage floor coating, particularly those that consist of high-quality materials that last 10-15 years or more.
If the color coat is not worn through, applying a new clear coat will bring back the original rich luster of the color coat as well as provide a new glossy surface. It can legitimately make a floor coating look like new.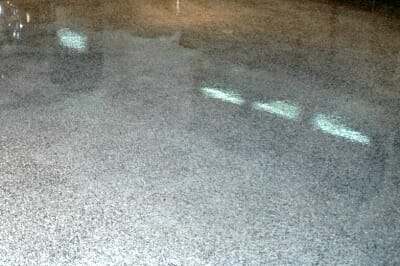 It does not matter if your coating had a clear topcoat previously or not. If you had a color coat only, the addition of the clear topcoat will protect the color flakes and add gloss to the finish.
Applying a new clear coat is not hard, but it does take some prep. It will require thoroughly cleaning the surface first and then roughing it up with 120 grit sandpaper. This will allow the clear coat to obtain a mechanical bond to the surface.
In addition, if there are any ground in dirt or stains, you can carefully sand them out in most cases. For more details, we have an article on how to apply a new coating to and older epoxy floor. It will provide all the details to apply a new coating correctly.
Lastly, you can even add an anti-slip media to the clear coat if you want to improve the grip of the floor when it gets wet.
What not to do when bringing back shine to your floor coating
Some of the biggest mistakes people make with their new epoxy floor coating is using the wrong cleaner or cleaners that are too strong. As we mentioned earlier, many times all it takes is some warm water and mop to clean the floor.
Avoid using vinegar or any citrus cleaners. These have an acid base and will slowly degloss a garage floor coating over time. Also, do not use strong degreasers. Some will create white spots on the coating or even color fading on the surface if it does not have a clear coat.
Do not attempt to buff an epoxy garage floor coating. Epoxy and other concrete floor coatings are not like wax on a car. Buffing will not make them shine. In fact, just the opposite happens.
Buffing epoxy and other floor coatings will actually degloss the surface – fast! Yes, there are some methods to bring some shine back to art epoxy resins via buffing, but these are labor intensive for very small surfaces and will not work well on concrete coatings designed as a wear surface.
Hopefully you will be able to restore the shine of your garage floor coating with the cleaning methods we have outlined. If not, and your coating is in relatively good shape otherwise, then waxing the surface or applying a new clear topcoat will bring back the rich gloss that you had enjoyed before.
To our readers: This post may contain affiliate links. If you use these links to make a purchase, we may earn a small commission. As an Amazon Associate, All Garage Floors earns from qualifying purchases. You can read our full disclaimer here.