This post may contain affiliate links. If you use these links to make a purchase, we may earn a small commission. As an Amazon Associate, All Garage Floors earns from qualifying purchases. You can read our full disclaimer here.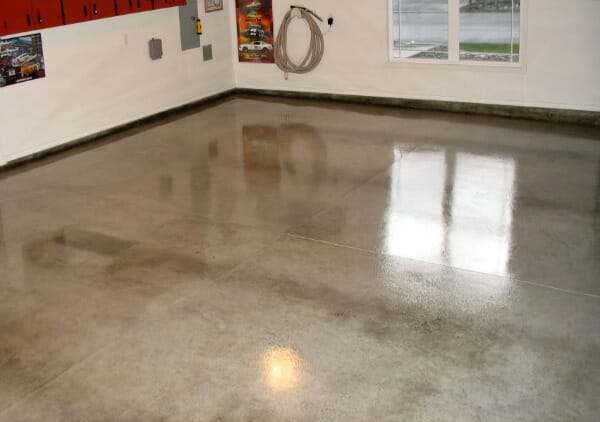 An acrylic garage floor sealer is one of the best answers to those who don't want to spend much time with a floor covering.  Some people just like the look of a bare concrete floor.  It has a utilitarian quality that is somewhat conservative and simple.  Or maybe it just means you never took the time to do anything with it.
Whatever the reason for going with a bare garage floor, you still need to seal it to protect it. A good acrylic sealer will give your garage floor a richer looking, protective finish and at a lower cost that fits most budgets.
As a concrete sealer, acrylic has many benefits.  It's a thin, topical protectant that is resistant to water, mild chemicals, some car fluids, chloride intrusion, and hot tire pick up. It's breathable, which means if you have issues with ground water that makes some of your concrete damp, you don't have to worry about it delaminating like paint or epoxy.
Another benefit is that it will render your concrete dustless. This means that you won't have to deal with the powdery gray concrete dust that always appears after sweeping. If you live in a snow belt it will also help to protect your floor from road salts.  Some caustic chemicals such as brake fluid and gasoline however do need to be cleaned up immediately or it can break down the sealer.
Just remember that since it is a clear sealer, its best used on a relatively unblemished surface.  If you have many crack repairs and patches, it will highlight these areas when applied.  It cannot be used over paint or any other coating such as epoxy, but it can be used to protect concrete that has been stained or dyed. Once applied it has a nice wet, glossy look unless you opt for a matte finish.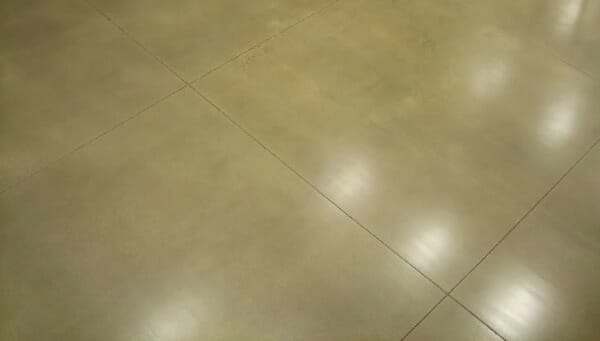 Because acrylic sealers are a topical film forming coating, the finish makes for easy cleanup and maintenance. Most spills will wipe right up. Just use a dust mop for regular maintenance and mild soap and water with a mop for the heavy stuff.
Acrylic sealers are not slippery when dry, but they can get slippery when wet depending on the finished condition of the concrete and whether you choose a glossy or matte finish sealer. For example, a broom finished concrete surface will be less slippery than a troweled finish surface once it is sealed. Also, a matte finish is less slippery than a glossy finish.
If you want a non-slip finish for your garage floor when it gets wet, then we recommend mixing in a polymer grit such as SharkGrip into the last coat. Just keep in mind that a non-slip additive can reduce some of the gloss in your finish. You can read about non-slip additives here.
When choosing an acrylic sealer for your garage, you will need to make a choice between a solvent based or water based product.  The water or solvent acts as a carrier agent for the acrylic solids when it is applied to the concrete.  When it evaporates, all that is left behind is the sealer.
A solvent based sealer will create a more darkened, wet look to the finish that is glossy in appearance.  Water based sealers won't darken the concrete much if at all and are available in glossy and matte finishes.
If your floor is exposed to sunlight, use a sealer that is resistant to UV rays so that it won't yellow. Since these type of sealers are a thin protectant, they may need to be reapplied once every two years or so depending on how much traffic your garage gets.
A word of caution about solvent based sealers: they contain VOC's (Volatile Organic Compounds) and are highly flammable.  Precautions should be taken when using them and be sure to read the label thoroughly before use.  This will include turning off all pilot lights or gas flames in the garage or basement as well as wearing a proper respirator.
In some states and counties, products containing higher levels of VOC's are not allowed and may not be shipped to you from out of state. Be sure to check with the manufacturer and your local regulations before ordering.
Acrylic sealer application
Make sure your garage floor has been cleaned properly before application.  All oils, stains, waxes, previous sealers, and paint need to be removed first. If the surface is extremely smooth or glossy, you may need to mildly acid etch the surface in order for the sealer to penetrate and adhere properly. Check with the manufacturer if in doubt.
Once the concrete has dried sufficiently, apply the sealer with a quality 1/4″ nap roller that is shed resistant. You don't want fibers from the roller to be stuck in the sealer once it has dried. Another acceptable method is to spray the sealer on with a pump up garden sprayer. Make sure to use a nozzle that sprays in a circular pattern.
It dries to a light touch within a half hour or so and can handle foot traffic in 8 to 12 hours.  If you happen to drop something on the cement that chips the finish or damages the concrete, it's easy to just reapply.
The key to success when applying acrylic sealers is to use thin coats. If it goes on too thick it has a tendency to fracture, forming lines, and what looks like air bubbles.  Two coats and a thin application of 1 to 2 mils is all that is needed in most circumstances.
Also, try to avoid any product that has a solids content of over 25%.  Any higher than this and you will get a thicker coating that is hard to apply properly.
How much do they cost?
Most acrylic sealers can be purchased in the $40 to $80 dollar range per gallon. Usually two gallons is all that is required for a typical 2-car garage. We highly recommend that you stay away from the lower dollar sealers that can purchased from your local home improvement centers however.
Your best bet is to purchase the quality products that you can find online from concrete flooring vendors and manufacturers. For a few dollars more you are getting a much better product that will last longer and offer better protection over the long run.
For simple but effective protection, acrylic garage floor sealers will provide a nice glossy surface to your concrete and can be easily applied in a weekend.  No experience necessary. It will make your floor easy to clean and give your garage floor an enhancement that can't be missed.