This post may contain affiliate links. If you use these links to make a purchase, we may earn a small commission. As an Amazon Associate, All Garage Floors earns from qualifying purchases. You can read our full disclaimer here.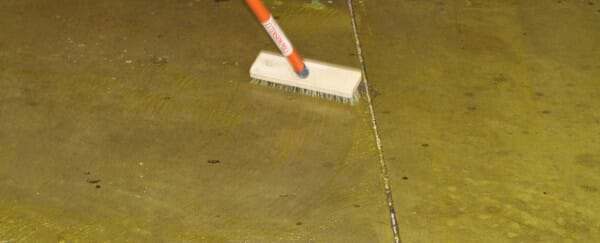 If you need to acid etch your garage floor, but are worried about the dangers of using muriatic acid, then do not fret. There are safer and effective alternatives to acid etching your concrete. Companies are now creating products that are environmentally safe to use, produce zero VOC's, and create no noxious fumes.
Muriatic acid, also known as hydrochloric acid, has been the accepted method of etching concrete by professionals and homeowners alike. However, it is also one of the more dangerous chemicals that you can have around your household.
With the exception to certain types of plastics, muriatic acid it will eat through most anything it comes in contact with including metal, clothes, and skin. The fumes alone can burn the lining of your nose and lungs if you aren't careful. It will also kill your plants and grass if not properly neutralized before it is rinsed off your concrete.
Fortunately, there are companies that have developed an environmentally safe way to etch concrete.
Environmentally Safe concrete etching products
One particular company that has developed a very effective and environmentally safe concrete etch that we highly recommend is Surface Gel Tek. It produces a gel based hydrochloric acid called Tek Gel for Profiling or TGP for short.
It works by containing the acid in a gel like substance that is similar to Jello. There are no fumes and you simply apply the gel directly to the concrete with a nap roller. There is no diluting or mixing with water.
Once applied, you lightly scrub it in and let it work for 10 to 15 minutes. After it is done etching your garage floor you can simply hose it off, vacuum it up with a wet vac, or mop it up. Neutralizing is not required and it is safe to flush down the sewer.
A demonstration of Gel Tek for Profiling
One fascinating characteristic of Tek Gel is that the gel actually helps to lift up any remaining oil and grease contaminants that were left over from 
cleaning the garage floor
. This is a huge benefit and something that traditional acid etching will not do.
1 gallon etches about 300 – 350 square feet of garage floor at a cost of around $80. Obviously it is more expensive than liquid acid, but still less expensive and labor intensive than grinding the concrete.
Surface Gel Tek does not sell their products direct and work with distributors instead. However, you can purchase Tek Gel here.
The gel provides a very consistent concrete etch and is easy to contain. You don't have to worry about it running away on the surface like liquid acid does, not to mention the concern about fumes. It also does an excellent job at removing excess concrete laitance which is something that liquid acid etching does not do well. Laitance is one of the leading causes to garage floor coatings that peel when the concrete is prepped by acid etching.
Note: If there is any type of sealer on the concrete then etching will not work and the sealer will need to be removed first – usually by grinding or stripping with chemicals. If grinding, etching afterwards is not required.
If you want to avoid acid altogether, then another product that works well as an alternative to acid etching your garage floor is a product called Eco-Etch Pro. It is a plant based, biodegradable product that will not harm plant life, is non-corrosive, will not burn your skin, and neutralizes with water. There are no toxic vapors and it actually has a pleasant, almost sweet smell to it.
To quote the company's website:
Eco-Etch Pro™ is a water-based non-hazardous, non-corrosive, biodegradable concentrate concrete etch and cleaning solution. It is the ideal acid etch alternative. This advanced formula incorporates a custom blend of surfactants, organic minerals and derivatives of a plant based extract for the most effective concrete etching solution available. It does not contain phosphoric, hydrochloric or muriatic acid, yet works better, safer and faster. Eco-Etch Pro™ is the preferred eco-friendly and user friendly acid etching alternative for interior or exterior surface preparation applications.  It will not burn skin, corrode metals, or harm vegetation.
An Eco-Etch Pro demonstration
One benefit of Eco-Etch Pro is that it comes in a concentrate. This means that you can vary the strength of the etching depending on what type of product you are applying to your floor.
For example, if applying an epoxy floor coating you would want to use it at full strength for a maximum profile. If you are applying a concrete stain, then you don't want to etch as aggressively and would dilute it up to 3:1 with water.The company does recommend using a floor buffer with a black scrub pad to get the maximum benefit when etching the garage floor.
1 gallon of concentrate will cover up to 250 square feet at full concentrate. You can also find it here from Amazon
 when they have it in stock.
Once you are done etching your floor you will want to check the porosity and surface texture. Properly profiled concrete should have the texture and feel of medium grit sandpaper.
For a quick test of the porosity you can apply a few drops of water to the surface in various areas of the garage floor. It should turn dark and be absorbed quickly into the concrete. Any stubborn areas of concrete that did not etch completely may need to be treated one more time.
                The water drop test to check the surface of your concrete
Besides etching the concrete, both of these products work on rust stains, dirt, and efflorescence. Best yet, you don't have to worry about fumes burning your lungs and they are safe for the environment. They are considered commercial grade products and Gel Tek for Profiling is even certified by the International American Society for Testing and Materials, otherwise known as ASTM.
Note: Do not confuse the etching products that come in store bought epoxy kits or the citrus based products from the big box stores as commercial grade. They will not work nearly as well.
Using these products as an alternative to acid etching your garage floor is fairly straight forward and easy. Follow the instructions by the manufacturer and adhere to any precautions. Unless you are installing an epoxy coating that can be applied on damp concrete, make sure to give the garage floor 24-48 hours to dry out before applying your desired coating.