This post may contain affiliate links. If you use these links to make a purchase, we may earn a small commission. As an Amazon Associate, All Garage Floors earns from qualifying purchases. You can read our full disclaimer here.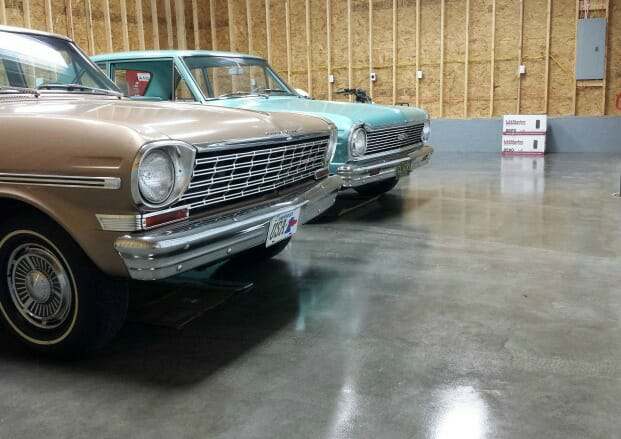 It can become confusing when looking for an easy to use DIY garage floor sealer that offers good protection and looks great as well. While some sealers offer a very durable and beautiful finish, such as epoxy, the do it yourself part can turn out to be much more involved than the average homeowner wants to tackle.
Every once in a while we like to highlight a product that we feel does a particular job well and/or is easy to use. In this particular case, if you want a garage floor sealer that looks great, is easy to apply, and offers a nice durable finish to bare concrete, then we recommend that you take a look at the HD6525-MMA™ Interior/Exterior Concrete Sealer by Legacy Industrial.
Why this DIY Acrylic garage floor sealer?
What makes this concrete sealer unique to most other easy to use acrylic sealers is the use of methyl methacrylate copolymer acrylic resin (MMA). It's a solvent based sealer that provides the MMA in a 25% solids formulation. Here is a quote from Legacy Industrial's technical data sheet about the benefits of an MMA sealer;
HD6525-MMA™ offers improved resistance to rain, the sun, freezing temperatures, stains, hot-tires, and other pollutants that sometimes can be hazardous to concrete, far greater than other conventional sealers. HD6525-MMA™ truly is non-yellowing and will not have hot-tire issues, ever!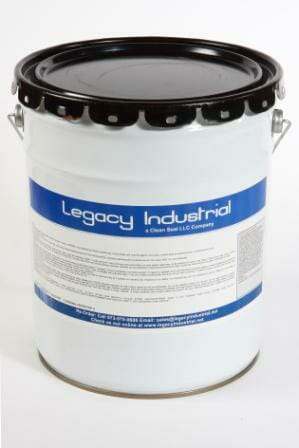 What this means is that you get a DIY garage floor sealer that can be easily applied with a roller or pump-up garden sprayer and delivers better protection than typical acrylic concrete sealers. It is approved for both interior and exterior use which means that you don't have to worry about your garage floor being exposed to the sun for long periods of time.
It offers better protection over standard water-based and solvent acrylic sealers. It can be tinted to provide for many opaque colored finishes as well. MMA creates a much better film formation that contributes to the following benefits when applied in multiple coats:
Water resistance
Good adhesion
Concrete dust proof
Excellent efflorescence and alkali resistance
Non yellowing
Chemical resistance
No hot tire pickup
Excellent over bare, stained, or dyed concrete
Higher abrasion resistance than other acrylic sealers
Fast dry time
Provides an easy to clean garage floor
Tintable to many colors
Available in a clear matte or gloss finish
The better chemical and abrasion resistance is one benefit that makes this garage floor sealer stand out compared to other acrylic sealers. It has good resistance to motor oil and salts and good resistance to gasoline and most other chemicals that you find in a typical garage. If you do happen to damage the surface, it is easily repaired with the application of more sealer.
Is this type of sealer just as durable as epoxy? No, it's not and is one of the reasons why it is much less expensive. However, it is also much easier to apply than epoxy and provides for good protection and great looks for the average garage floor that doesn't see a lot of abuse. MMA sealers are also a popular choice for commercial applications as well.
One thing to be aware of is that like most topical sealers, this one can be somewhat slippery when wet. Legacy Industrial recommends applying their Soft Skid additive in the Fine grit level to the final coat if you want to improve the anti-skid properties.
How easy is it to apply this sealer?
Just like any other DIY acrylic concrete sealer, HD6525-MMA™ can be applied with a roller or garden type pump-up sprayer. If you can paint a wall and clean a garage floor, then you are qualified to apply this sealer.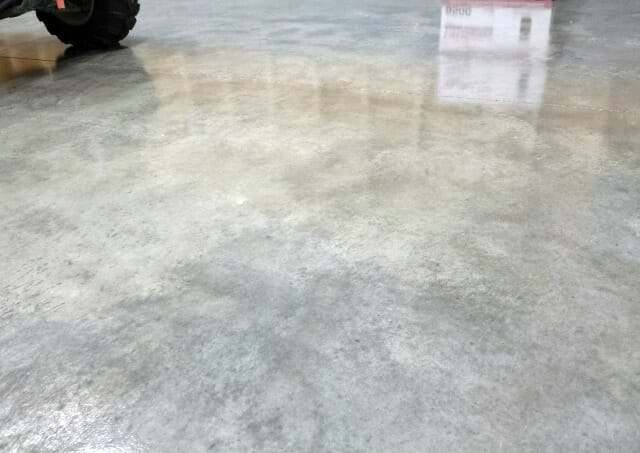 Because it is solvent based, you need to take the proper precautions and extinguish any open flames that you may have in the garage. You do need to clean the concrete before application making sure to remove all contaminants such as oil, dirt, dust, grease and excess concrete laitance. Be sure to give the concrete adequate drying time before application and do not apply it if there are any visible signs of moisture.
In most cases a light sanding or acid etch may be required if your concrete is not very porous or has been steel troweled.
A minimum of two thin coats are recommended, with the application of a third coat for the best appearance and performance. You can apply each coat approximately 4 hours after the first coat and you can walk on it  in 4-6 hours after application. It can be driven on 24-48 hours after the final coat.
One gallon covers approximately 250-350 square feet.  Remember that the second and third coats always go further since they don't soak into the concrete like the first.
If you are looking for a DIY garage floor sealer that will stand up to the rigors of light to medium duty garage use, then this sealer is definitely worth looking into. It is easy to apply, easily repaired, easy to clean, looks great, and has good wear resistance for a sealer of this type. For more information on this product we recommend that you contact Legacy Industrial directly.