This post may contain affiliate links. If you use these links to make a purchase, we may earn a small commission. As an Amazon Associate, All Garage Floors earns from qualifying purchases. You can read our full disclaimer here.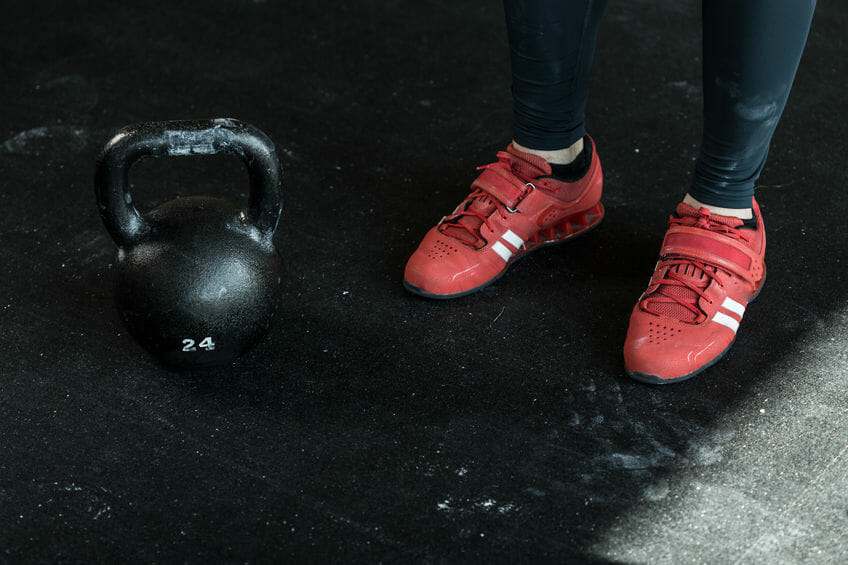 The garage has slowly become more than a place to park your car and store your stuff. For the exercise enthusiast, it's also a great place to set up a home gym as well. And since hard concrete is not a good surface for exercise, it's only natural to seek out the proper type of gym flooring or rubber mats. So what are the best gym flooring options for a garage?
The answer lies in the type of workouts you perform and/or the equipment that you use. Weight lifting and crossfit training that may require workout benches, universal machines, and power cages is going to require much different gym flooring than someone doing mostly Pilates or yoga with light weights. Tumbling and gymnastics is another example.
The size of your garage workout area and your budget may dictate which type is best suited for you as well. With this in mind, we will discuss the different options available based on the workouts you plan to do, including our own recommendations for the best gym flooring for your home or garage.
Editor's note: This article has been updated to reflect current changes and recommendations
Rubber gym Garage flooring
Rubber flooring and mats is considered the best choice for most home gym flooring applications and is used extensively in the commercial markets. It is a multipurpose athletic style flooring that is very durable and will support the weight of heavy equipment such as exercise machines, treadmills, and lifting cages.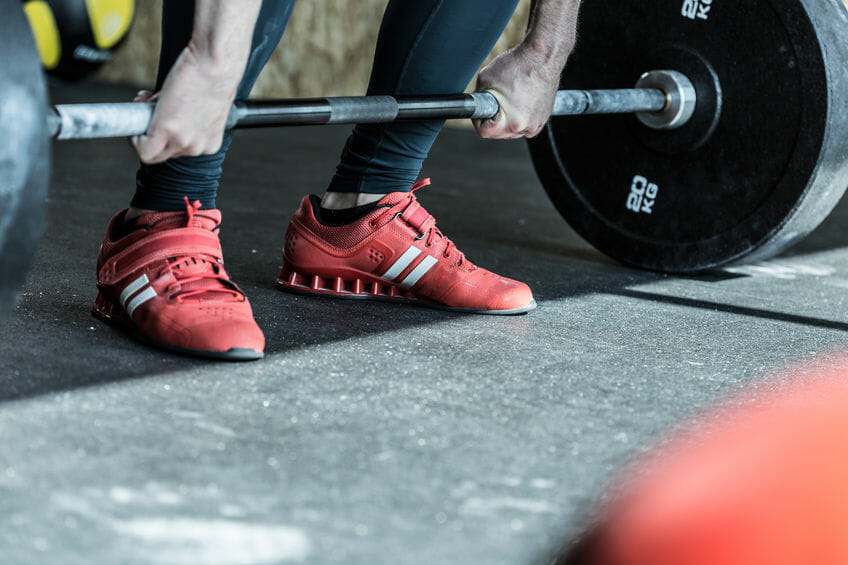 The black material of the flooring is made of recycled rubber while the colored flecks are a synthetic rubber made of ethylene propylene diene monomer (EPDM). This type of construction is extremely tough and durable, it provides good traction either wet or dry, and it can absorb the shock of dropped weights (up to a point) especially well.
The higher quality rubber flooring has a much denser surface structure that makes them easy to clean by damp mopping with mild soap and water. Some of the cheaper rubber mats, however, have a much more porous surface that receives many complaints about holding dirt and grime.
Additionally, we highly recommend purchasing only American made rolls, tiles, or mats when it is constructed of rubber. You know exactly what materials are used and some even carry indoor air quality certification.
Rubber gym flooring products made other than the U.S. can have foreign materials and other chemicals that produce odors. Additionally, they tend to use fillers. This makes for a less dense rubber surface that will wear quicker and possibly retain odors and bacteria.
Now that we know how they are constructed, there are three basic types flooring styles to choose from. Your options are interlocking rubber gym tiles, rubber gym flooring rolls, and rubber gym workout mats.
---
Top Rubber gym flooring tiles
Because rubber flooring can be so heavy, interlocking rubber tiles provides for the easiest of home installations for the garage floor. In addition, custom sized workout areas can be constructed with nice border edges.
The 8mm (5/16") and 3/8" thick flooring are the most popular for home gym and commercial use. They are much less expensive than the thicker options and perform well for a wide variety of workouts. This includes weight lifting, Pilates, P90X programs, and etc.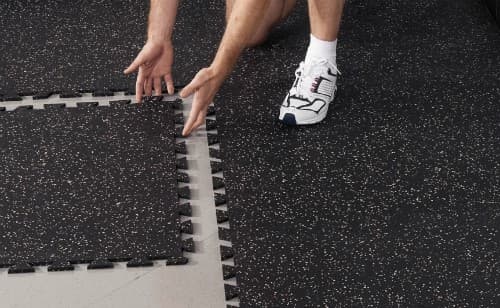 They can accommodate treadmills, universal machines, and weight lifting as long as the very heavy weights are not repeatedly dropped. Basic black is the standard, with the option of different colored flecks as well.
Slipping of the rubber gym tiles on the garage floor is rare due to their weight and the grip of the rubber construction. However, you can use a double-sided carpet tape to prevent movement if you desire.
Best Budget Rubber Gym Tiles for the Garage
The IncStores 8mm Rubber Gym Tiles is our top choice if you are on a budget. They are constructed of recycled tires and made in the U.S.A. At 5/16" thick, they meet the requirements for standard commercial grade.
In addition, they are FloorScore certified. This is an indoor air quality certification that means that they are free of harmful chemicals.
Each tile is 23"x23" square and interlock together like a puzzle piece. They can be purchased as a system of tiles to create various gym floor sizing options or you can expand on the flooring sizes by purchasing additional tiles individually.
When purchasing individually, you will need to choose 3 different tile styles. These include the basic center tile with four interlocking sides, a border tile with three interlocking sides, and a corner tile with two interlocking sides. The tiles can also be trimmed for wall to wall installation as well.
Tiles such as these are extremely tough and will handle the weight and abuse of various workouts and workout equipment from treadmills to lifting cages.
An additional benefit is that the IncStores tiles are cut to such precision that they can create an almost seamless appearance. Furthermore, the rubber construction makes them waterproof and easy to clean.
Best Commercial Gym Tiles for the Garage
Our top choice for a heavy duty interlocking rubber gym tile for the garage would be American Floor Mats Fit-Lock. These rubber tiles are 3/8" thick and are treated with an anti-bacterial agent.

They are 24"x24" square and consist of an interlocking puzzle system. They can be purchased as a system in a very large variety of gym floor sizes or individually as well.
The 3/8" thick tiles are commercial grade and represent the typical thickness of rubber flooring in commercial gyms.
Like the IncStores tiles, the American Floor Mats Fit-Lock tiles are waterproof and easy to clean. Plus, the extra 1/16" thickness and extremely dense construction make them more resistant to the impact of dropped weights and heavy equipment.
Best Heavy Duty Lifting Rubber Floor Tiles
If you are into cross fit training, plyometrics, or power lifting with heavy weights that are dropped on a consistent basis, then IncStores Evolution Flooring Tiles should be high on your list.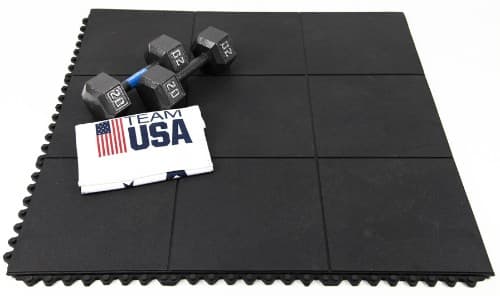 At 5/8" thick, this tile comes in a 36"x36" size, not including the separate border pieces. It is ideal for high impact training including heavy weights. The underside of the tiles feature multi-nib backing which helps to reduce foot fatigue from high impact exercises.
It also provides for a much more attractive and professional looking option when compared to some of the other choices for real thick gym flooring. The optional ramped border edges are also available and help to reduce trip hazards which can be common with rubber flooring this thick.
One thing to be aware of is that this tile will show foot prints, scuff marks, and scratches due to the all-natural rubber composition. This can be one of the drawbacks to gym flooring options that consist of natural rubber. It is easy to clean though by damp mopping with mild soap and water.
---
Rubber gym flooring rolls
If you have a larger area to cover, say the entire garage floor or basement, then the rubber rolls tend to be the better home gym flooring option. The price per square foot is less than the interlocking rubber tiles and they show fewer seams as well.
Though rubber rolls are very heavy, they are not mechanically connected together to form one large unit like their interlocking counter parts. As a result, they can move slightly away from each other and expose gaps in the seams when laid side to side.
It's generally recommended to use double sided carpet tape on the perimeters to avoid movement when constructing large workout pads with rubber rolls. This tape here is a good example and works very well. If doing a complete wall to wall installation, the use of a rubber flooring adhesive is the recommended procedure.
If doing a wall to wall installation, it's best to let the rolls acclimate for a couple of days in the room or garage they are being installed. This will allow for better fitment due to expansion and contraction from temperature changes.
Best Rubber Gym Flooring Rolls for the garage or basement
If you aren't going to be laying rubber gym flooring wall to wall, then our top recommended pick would be the IncStores 3/8" Heavy Duty Gym Rubber Rolls. Made of the same material as their interlocking line of rubber tiles, these are an excellent choice for the garage or basement.

All rolls are 4'x10' and available in a variety of optional color flecks. The 10′ length is popular for constructing large workout pads and like other IncStores rubber flooring, they are FloorScore certified for indoor air quality.
Since the rolls are only 10' long they aren't the best choice for a wall to wall application.
If you are looking to cover the entire floor of your garage or basement, then we would recommend the IncStores 8mm Rubber Gym Flooring rolls. These are available in 15′, 25′, and 50′ lengths.
Furthermore, like the 3/8′ rolls, you can choose from a wide variety of color fleck options other than black.
---
Best Heavy Duty Rubber gym mats
Rubber mats is another gym flooring option for the garage. Most are made in a 4'x6' size and with a thickness of 1/4" all the way up to 3/4".
The thicker sizes of 1/2″ and up are the more popular since they work very well for power cages, squat racks, and lifting areas where very heavy weight is dropped.
Our choice for the best heavy duty rubber gym mat for the garage or basement would be the Xmark Ultra Gym Flooring Xmat.
Our first recommendation is the Xmat by Xmark Ultra Gym Flooring. This is a 4'x6' mat that is 1/2″ thick. Made of natural rubber, it has a diamond textured non-slip surface that is easy to clean.


The 1/2" thick size is excellent for dead lifts and other lifting movements that require heavy weight that may be dropped.
Weighing in at 75lbs, this mat will not move when placed on the concrete in your garage or basement. No adhesive is necessary for installation, particularly if heavy equipment will be placed on it. There are some complaints of a rubber smell with this mat, but it will dissipate after a while.
Rubber Horse Stall Mats
One of the cheapest options available for thick rubber gym flooring that you can install in your garage is rubber horse stall mats. These mats are 4'x6' in size and 3/4″ thick. If you have a Tractor Supply Company nearby, you can pick these mats up for as little as $40 each.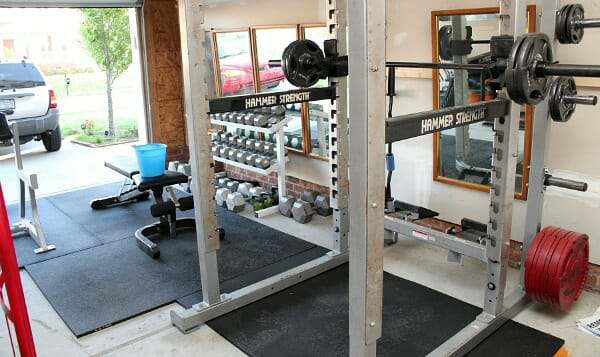 These are a popular option for those on a budget looking for inexpensive and thick rubber gym flooring. Made of recycled rubber, these mats are very heavy and weigh approximately 100lbs each. Because these mats are too expensive to ship, you will need to pick them up directly from the source.
If you don't have a Tractor Supply Company nearby, you can always check with your local feed store or farming supply store for rubber horse stall mats.
There are a few drawbacks to horse stall mats that you should be aware of. The quality of the cut and sizing is not as good as standard rubber gym flooring. Common complaints are sides not square or straight and sometimes one mat can be slightly thicker than its neighbor when lined up together.
They also have the tendency to transfer black rubber to your hands, socks, or anything else that comes in contact with the mat. If you are on a budget and don't mind these issues, then these could be a good choice for you.
---
Best Foam gym mats for the garage
Dense EVA foam can be the best gym flooring for you if your exercise routines consist of light weights, yoga, Pilates, or other light to medium weight training programs like P90X. It absorbs impact well under feet, it's soft enough to lay down on for stretching and other exercises, and it's not very heavy. In fact, most can be quite light.
It's also much less expensive than rubber gym flooring. If you don't need anything heavy duty, then this can be a good budget alternative. It is also a popular choice if you want something that you can easily setup and put away quickly and easily.
It is not a good choice, however, for exercise equipment, cardio equipment, or heavy weights. The foam will deform and compress from the weight and create deep indentations in the flooring. Under stress or vibration, this could cause the foam to tear and separate from the equipment or under feet.
ProSource Puzzle Exercise Mat
Our first recommendation is the ProSource Puzzle Exercise Mat. Made of high density EVA foam, this inexpensive interlocking gym mat will cover 24 square feet. It comes with six 24"x24" interlocking tiles at 1/2″ thick, including 12 border edge pieces.


Available in black, grey, or blue, these are a very popular choice for both in the home as well as the garage. Because they are so light, these mats can be disassembled and stacked on a shelf in the garage when not in use.
These exercise mats get high reviews for general multipurpose workouts from people that do not require a more permanent flooring solution.
One point we would like to make is that these are not the best choice for some high impact exercises with a lot of movement. Side lunges and exercises such as burpees may cause the tiles to separate from each other under repeated use. A large single-piece foam mat or heavy duty foam tile would be a better option under these conditions.
Pogamat XXL
The PogoMat XXL one-piece exercise mat for yoga, Pilates, high intensity P90X, and other training programs is a great choice and one we highly recommend.


The mat is 4'x6.5' and approximately 5/16" thick. Made of all synthetic materials, this high density workout mat is non-toxic, no odor, and produced with Eco-friendly manufacturing techniques.
The Pogamat can be rolled up and stored away when not in use and the edges will not curl up. Though more expensive than traditional EVA foam mats, this is a high quality mat with great reviews and will last for years.
It makes for a great workout mat for the garage if you need something that can easily be stored in the corner or on a shelf when not in use.
One thing to be aware of is the mat does come with a protective coating that wears off during the break-in period. You do have the option of removing this protective coating first however by scrubbing it with a nylon brush and pumice soap. Rinse with fresh water and let it dry logo side up and you are ready to go.
Inc.Stores Jumbo Soft Interlocking Foam Tiles
If you like the idea of an EVA foam tile but want something thicker, then the IncStores Jumbo Soft Foam Tiles will make for an excellent choice. At 7/8" thick, these 24"x24" gym flooring tiles are made of high density, non-toxic, EVA closed cell foam.

This particular gym flooring is tough enough for high impact and high intensity training programs, light martial arts, kick boxing, wrestling, and other programs that do not depend on heavy training equipment.
You have a choice of two tiles with reversible colors; black and grey or red and blue. Each tile comes with two detachable edge pieces which will allow it to become a border edge, corner, or center tile for your mat.
This is a great solution to someone looking for a more heavy duty foam tile that can be used as a more permanent option or something that is still portable. Keep in mind that even though it is very thick, it is not designed to hold cardio equipment or heavy exercise equipment.
One question that has popped up with this type of tile is how durable it is on concrete. After contacting the manufacture, we were assured that concrete in the garage or basement is not going to cause excess wear on the surface of the tile unless it is extremely rough.
Best Gymnastic Mats and Tumbling mats
Finally we don't want to leave out mats for gymnastics and tumbling. This type of activity requires a thicker flooring that will absorb impacts safely for this type of activity. Most tumbling and gymnastic mats for home are panel mats constructed of 2" thick dense foam with a protective covering.
Soozier Gymnastics and Tumbling Mats

For a home/basement use or a garage floor, we highly recommend these quality mats by Soozier. These are panel mats made with 2" high density EPE foam with a PU leather covering. They come in 4' widths with a choice of 6', 8', and 10' lengths.
Each mat has Velcro on all 4 sides to allow connection to other mats for longer tumbling runs. Available in a variety of different colors, these mats have an excellent reputation for quality and are very popular for home and commercial use.
Home Gym Flooring Tips for the Garage
When installing gym flooring in the garage, make sure that the surface is clean and free of oils or other chemical residue. Petroleum products can cause rubber and foam to break down over time and deteriorate the flooring.
If you are installing rubber gym mats, tiles, or rolls on bare concrete, it's a good idea to seal the concrete first with a simple penetrating sealer. Since rubber flooring does not breath, moisture from the concrete can collect under the rubber flooring and cause mold and mildew issues if the concrete is not sealed.
All rubber gym flooring can easily be trimmed to fit if necessary with a sharp utility knife. A metal straight edge can be a big help to keep your cut edges straight and clean.
Finally, when choosing the best gym flooring for your garage, make sure that what you select is going to be durable enough for the type of equipment you plan to use. If a cardio machine or weight lifting racks are in your future for example, then rubber flooring is what you should be looking for and not high density foam.