This post may contain affiliate links. If you use these links to make a purchase, we may earn a small commission. As an Amazon Associate, All Garage Floors earns from qualifying purchases. You can read our full disclaimer here.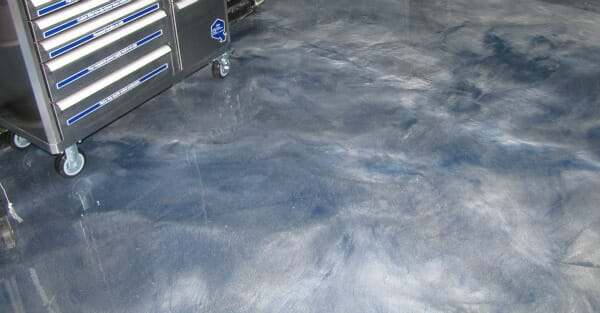 Metallic epoxy floor coatings are a hot new trend that is slowly finding its way into the home as a very high tech and exotic looking garage flooring option.  These coatings create a glossy and deep looking floor with a variety of different colors and visual effects.  Some even create a beautiful three-dimensional appearance that gives the illusion of craters, ripples, and swirling rivers of metallic looking plasma.  So let's take a closer look at this relatively new coating and see if a metallic epoxy garage floor is an option for you.
What is metallic epoxy?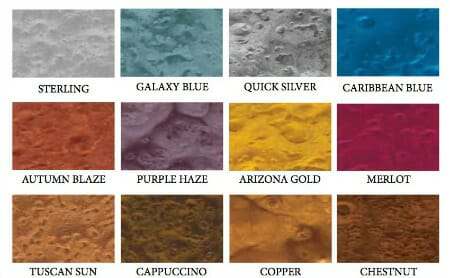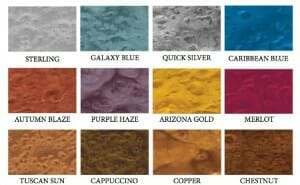 Made of 100% solids epoxy with metallic pigments added, this self-leveling epoxy coating is designed to be manipulated to create the different visual effects.  Once applied to the floor, various solvents such as denatured alcohol can be applied to diffuse and move around the metallic pigments in the epoxy.   This is what can create the look of flowing rivers and spots of fractured looking molten metal that sits upon the surface of the coating.
Some products are also designed to be worked with an air nozzle or leaf blower to create 3D effects like moon craters, rolling waves, and puddling ripples.  Two-tone effects can also be created with the introduction of a second color at the time of application.
Are metallic epoxy floors durable?
As beautiful and stunning as these floors look, they are considered a high performance floor coating that is designed to last for years.  For the first coat they require an epoxy primer to be installed.  The second coat involves the actual metallic epoxy coating followed by a third coat of clear on top.  It's not unusual to add a fourth coat if applying polyurethane as a top coat.  As a result, you end up with a very thick coating due to the amount of coats involved, especially from the metallic coat.
Yes, these are real pictures of actual metallic epoxy floors!
These metallic coatings are just as resistant to oil, salt, chemicals, acids, water, and wear as any other high performance epoxy garage floor.  Maintenane is easy and the amount of light they reflect is outstanding due to the glossy nature of the surface.  Like any other epoxy coating, they can be a little slippery when wet if you don't
use an anti-slip additive
in the final top coat.
Metallic epoxy installation
Metallic epoxy coatings are installed in the same manner as any other multi-coat system, with the exception of the additional process of having to manipulate the pigment in the metallic coat or adding metallic solvents.  If you are thinking about applying a floor coating yourself, you will need a minimum of two people due to the time constraints involved with these steps.
Most metallic coats are applied with a notched trowel or squeegee and then back rolled with a 3/8" roller or looped roller to provide for a thicker film.  This allows for the metallic pigments to be moved around throughout the epoxy.  Because of the thicker coat, a gallon will only go about 50 square feet for some systems.  As a result, someone needs to be mixing additional batches while the other person is applying the epoxy.
A good demo on how a metallic epoxy coating is applied and manipulated
You need to start manipulating the metallic coat about 15 to 20 minutes after it is applied.  The person doing the mixing usually will do this.  This is done by blowing air directly on the epoxy to move it around to create craters, ripples, or waves.   Depressions will form initially in the epoxy, but it self-levels after about 10 minutes leaving the desired effect.
Some metallic epoxy products require adding metallic solvents to the base coat instead of manipulating it with air.  They are applied immediately after the base coat and will induce puddles of molten metal or to create a kind of river effect.  They usually require 20 minutes or so to take effect.
This is a different method of how metallic effects are achieved
It's usually a good idea to work with a sample kit first when using solvents.  The reason for this is that it takes a while for the solvent to react with the epoxy and you need to get a good idea of how much to introduce to get the effect that you desire.  Once the epoxy has cured the required amount of time, you can apply your
top coat of clear epoxy or polyurethane
.
One thing to keep in mind is that this type of epoxy garage floor is not cheap and materials in most cases are going to cost more than a standard multi-coat system due to the limited spread rate of some metallic coats.  Also be sure to compare the type of epoxy being being offered from the different suppliers.  Installation is usually done by an experienced professional, but a serious DIY person can do it as well.
The extra money spent will soon be forgotten though when the floor is done.  If you want a floor with a beautiful and exotic showroom look that screams "look at me!", then a metallic epoxy coating is definitely something to consider.