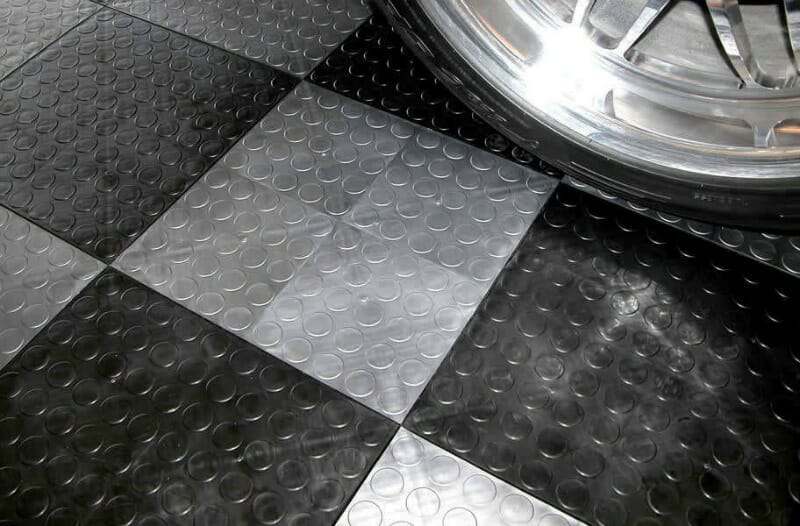 For all the trendy cool looks, features, and benefits that interlocking garage floor tile has, one of the more rare remarks is about the noise they can make when walking or driving on them.  How noisy can they be?  Well the answer is – it depends on the tile and the floor.
Most interlocking floor tile is made of one of two kinds of material; polyvinyl chloride otherwise known as PVC, and polypropylene, which is a thermo plastic polymer.  Let's take a look at both of these and discuss what noise, if any, that they make and how to eliminate or at least reduce the noise of the ones that do.
The good news is that if you are interested in the more pliable PVC tiles you don't have anything to worry about.  As a specialized garage floor tile, they have a rubber-like texture and are solid throughout.  They fit together like puzzle pieces and tend to conform to the contours of the floor.
Due to the texture and relative pliability they won't click while walking or driving on them and they also have a tendency to absorb and deaden sound instead of amplify it.  Any dirt that has managed to migrate its way underneath the tile has no effect when a tile flexes under pressure.
If your interest lies with tiles made of polypropylene, then you do run a very small risk of your tiles making some noise.  How much noise they may make, if any, is dependent on a few factors.
Polypropylene tiles are more rigid than PVC.  They have a harder surface texture with a hollow core underside and snap together with a peg and loop system for fit.  As a result of these properties, some tiles can make a click clacking sound when driven or walked upon.  Also, if your garage floor is not flat and has multiple low spots that create contours for the tile to follow, it can have a tendency to aggravate this click clacky sound.  There are ways though to reduce the chances of having a noisy floor.
The first thing to consider when choosing an interlocking tile system is the quality of the tile.  The higher quality manufacturers of polypropylene tiles have a very snug fit when the tiles are fitted together.  This reduces the small movement of tiles against each other.  It's this movement which can make a clicking noise when they flex slightly under weight.  It also reduces the chance of dirt getting underneath the tiles which can contribute to this motion.
If your garage floor is uneven or has noticeable low spots, tile movement against each other is increased as the tile is forced to follow the floor contours as you walk or drive on it.  You can help to eliminate this by applying a self-leveling polymer cement to the extreme low spots on your floor prior to installation of the tiles.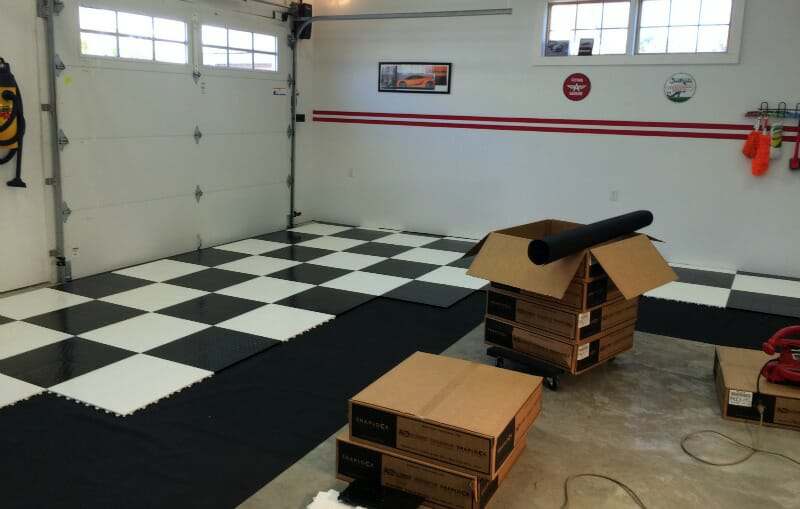 Besides filling any low spots in your floor, the most effective thing you can do to reduce the chance of noisy tile is to lay synthetic landscaping cloth on the floor first as an underlayment.  This helps to absorb the clicking sound made by the tile.
Since most polypropylene tiles have a hollow core underside, it creates a nice environment for the sound to bounce of the backside of the tile and again off the hard concrete to amplify the sound.  With the underlayment installed, the sound is deadened and reduces the noise.  It also prevents any noise created by the tile when having to conform to low spots in your floor.
Again, the underlayment helps to absorb the sound, thus reducing the amplifying effects of the tile.  With a synthetic underlayment you don't have to worry about mold or mildew created by moisture if it gets wet.  Because these tiles are designed to drain water and promote airflow, the underlayment will eventually dry.
Noisy tile usually isn't much of an issue but it can happen.  In most cases it is preventable if you plan for it, install on a clean flat surface, and try to utilize a good premium product.