This post may contain affiliate links. If you use these links to make a purchase, we may earn a small commission. As an Amazon Associate, All Garage Floors earns from qualifying purchases. You can read our full disclaimer here.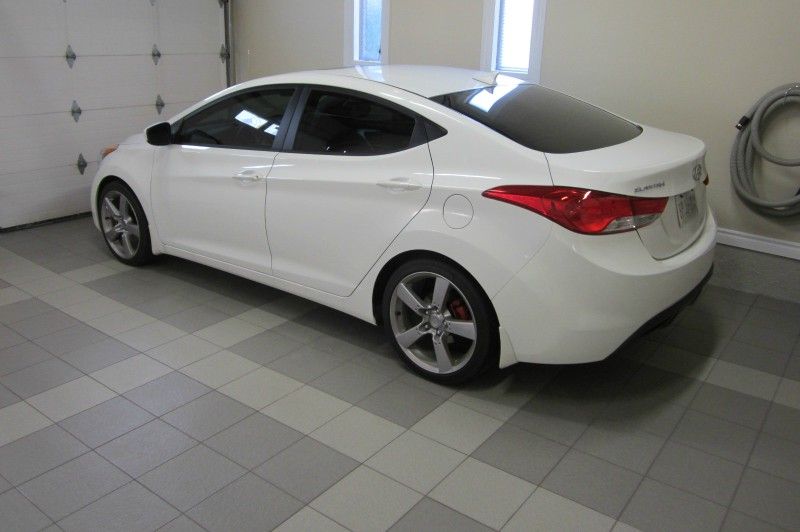 With so many people curious about the long-term performance of porcelain tiled garage floors, we thought this would be a great time to do a review. We wanted to find a floor that has consistently been put to the test and not one located in mild weather that has only been used for parking cars. We realize there are those who question using porcelain in a garage, so we wanted to find a good example to review.
As luck would have it, one of our readers posted a recent picture in a popular forum of his first time, fully mopped (yes, we said first time) porcelain garage floor after 6 years of use. Knowing the history of this floor and after seeing the picture he posted, we reached out and found a great example for our long-term review of a porcelain tile garage floor.
This particular porcelain tiled garage is a DIY install by Anthony, who happens to live in Ontario, Canada. So needless to say, his garage floor sees some extreme weather.
In addition, to state that his floor is a DIY install is a bit of an understatement. At the time that he did his own installation, he was also working as a full-time professional tile setter. He has since moved on from the trade, though he does do the odd job from time to time.
The images below are what Anthony's new porcelain garage floor looked like the day he finished it. Even then, he didn't give it a full cleaning before he put it to use.
Anthony's finished floor – click on an image to enlarge
Our intention here is not to detail his installation. We actually provide a link later below for you to review his project install for yourself. Instead, we elected to display a variety of images and some description that shows the type of use and abuse that his porcelain tiled garage floor has encountered, as well as the results after 6 years.
The main goal for my floor was to use and abuse it as if it were a plain slab of concrete and not have to worry about damaging or marring the finish.
Furthermore, Anthony has provided some of his own views in terms of why he chose porcelain tile, including some factors to consider if this is a garage flooring option that you are seriously considering.
The 6 year Use and abuse of a porcelain garage floor
At 420 ft², Anthony's garage floor has seen its fair share of work. Switching from summer tires to winter tires and vice versa is an annual ritual. This floor has been through five or six seasons so far with two cars.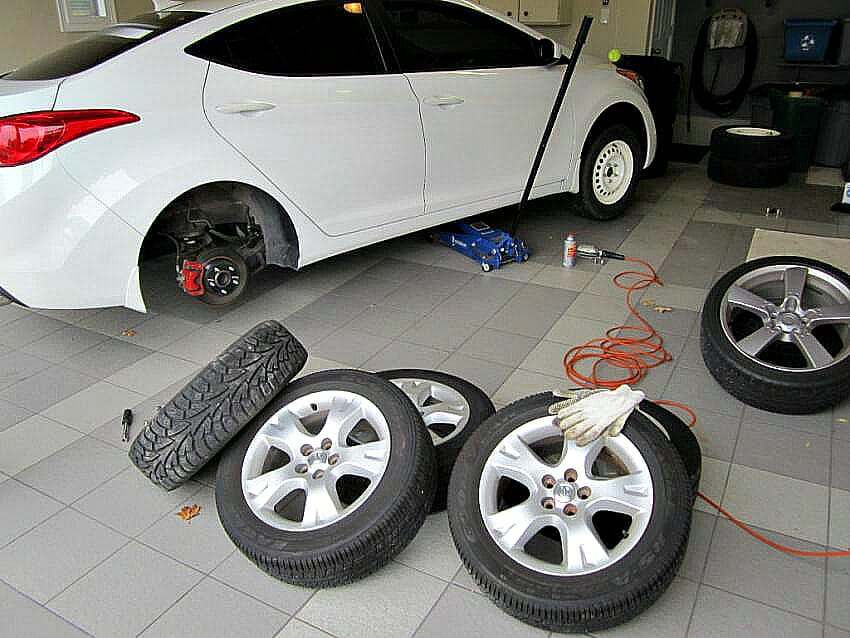 You can see that he uses a standard floor jack with steel wheels on the porcelain. This doesn't include the regular maintenance that has been performed on both vehicles as well. Contrary to what some skeptics believe, porcelain tile is extremely durable.
Of course, the winter weather in Ontario brings in the extreme cold, salt, sand, and deicing fluids. Below you can see some typical examples of what this porcelain floor has encountered during these winters.
Because he chose a tile with a higher wet coefficient of friction (COF) slip resistance rating, Anthony has said that slipping with the wet tile has not been an issue.
In addition to the winter weather, car maintenance, and floor jacks, Anthony decided to install a Direct Lift 4-post lift. This allowed him to park his cars one above the other in order to create more room in the man cave.
He used a 2-ton engine hoist and 3-ton floor jack to assist with assembly. Note that he did not protect the floor while this assembly took place.
As you can see, the lift came together nicely and Anthony uses it on a regular basis.
Automotive work, parking the cars, and winter weather is only some of the use this porcelain garage floor has seen.
When Anthony decided to renovate his basement, he completely gutted it and deposited all of the material onto the garage floor. He had enough to fill a 20-yard bin.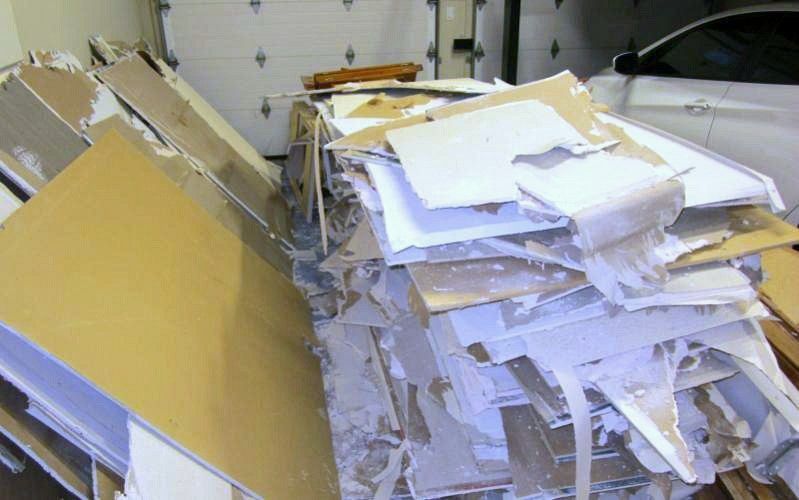 The image below is what the floor looked like the next day after he gave it a quick wash. As he pointed out, you can still see some of the drywall dust next to the front of the car.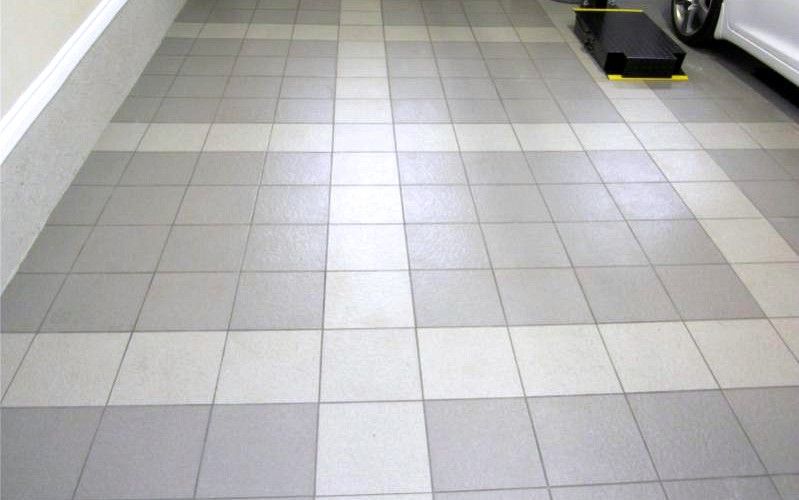 One thing we picked up on is that when Anthony says that he gave the floor a quick wash, what he really means is that he hosed it out with just water (no soap) and might have used a broom to scrub the heavy stuff.
We usually call something like that a rinse out, but since it's so easy to clean, we are guessing that Anthony considers it washing instead 🙂
So, after almost six full years, Anthony finally decided to give his porcelain floor the full mop treatment that it deserved from the start. The results? It looks just as new as the day he installed it.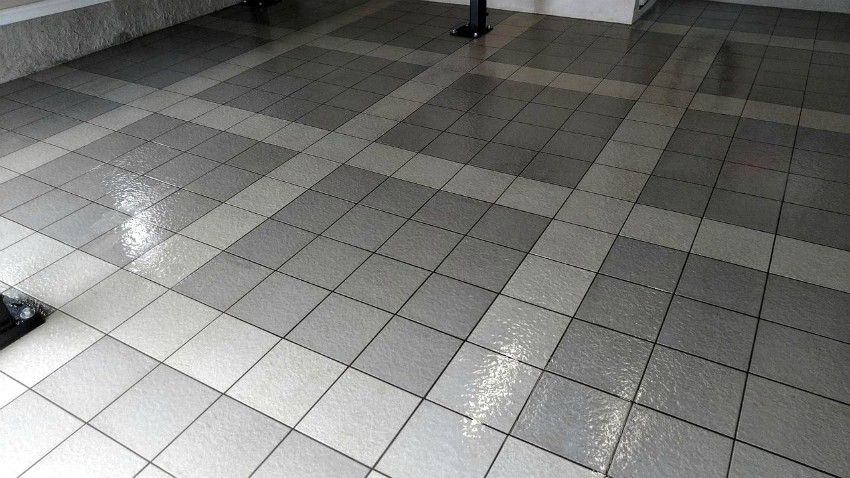 Anthony was quick to point out that the floor looks freshly laid with "no chips, no cracks, no nothing!" You can't ask for much more than that.
Final Review and thoughts
We asked Anthony to provide any additional insight with his installation, as well as to why he chose porcelain to begin with.
He stated that longevity and durability were the driving factors. Easy cleanup was another. Cost was important too since he could get discounts for the tile and materials from his suppliers. Plus, it didn't hurt that his labor was free!
To quote him; "The main goal for my floor was to use and abuse it as if it were a plain slab of concrete and not have to worry about damaging or marring the finish. No other flooring option (in my opinion) will last or take a beating better than tile."
One thing he did point out is that porcelain tile for a garage floor is not going to be for everyone. If you don't have the DIY skills to install it yourself, labor can be expensive.
We have to agree, as this is especially true right now with the current economy in the States. Tile setters have been busy. Unless you know of someone, labor could get pricey.
One thing that Anthony wanted to do was document his installation in order to provide the inspiration and knowledge for the "weekend warrior DIY'ers". He was true to his word and you can find his documentation here at the Garage Journal.
Not only does he provide his own installation details in his documentation, he has also answered dozens of questions and has provided much information for others. He really enjoys seeing others post pictures of their own tile installations or create their own documentation thanks to his help. It's worth reading if you are interested in porcelain and it will answer many of your future questions.
What we have displayed with Anthony's garage is nothing beyond the ordinary for porcelain tile. We have witnessed even more abuse with no ill effects by others who have porcelain in their garage.
We were particularly happy to display how well a porcelain garage floor does in a very cold climate. We have found this to be one of the factors that has made people wary about choosing porcelain. As long as you use a flexible thinset all the way to the outer edges and with no air gaps under the tile, freezing weather is not an issue.
As Anthony states; "It's so gratifying seeing an individuals reaction when they see the floor for the first time as I open the garage door."
If you were on the fence about porcelain or you needed more information to help make up your mind, we hope that this long-term review has filled in the final pieces for your decision. It's our opinion from this review that a porcelain tiled garage floor is arguably the most durable garage flooring option available.