This post may contain affiliate links. If you use these links to make a purchase, we may earn a small commission. As an Amazon Associate, All Garage Floors earns from qualifying purchases. You can read our full disclaimer here.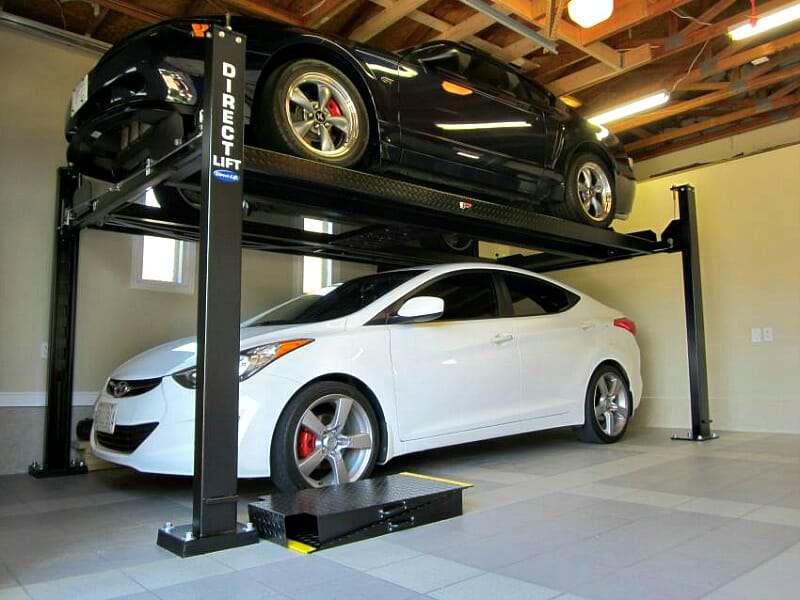 Yes, porcelain tile is one of the more durable garage floors that you can install in your home today and the toughest of all garage tile options – really!  For a variety of reasons, and a few of which are very understandable, some people are having a hard time accepting the fact that it can be such a resilient and long-lasting garage floor choice.
As a result, we have decided to cover some of the more frequently asked questions regarding the durability of porcelain tiles for a garage floor.  If the idea of this type of flooring is new to you, you can learn about the many benefits of porcelain tile in our first article.
F.A.Q.'s about porcelain garage floors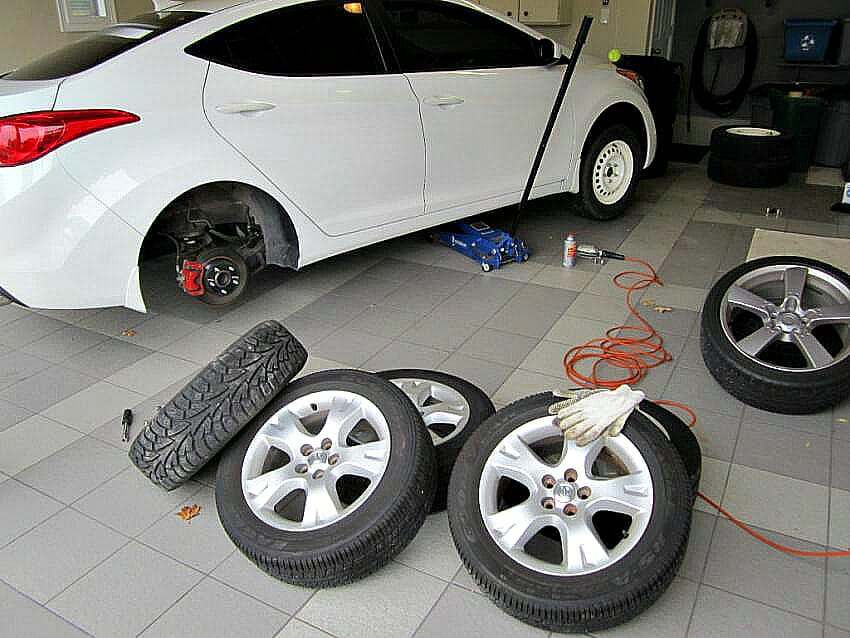 Will floor jacks damage porcelain tile?
This is the most popular question by far.  No, floor jacks will not damage or crack the tile.  The key to this is in the installation.
When laying the individual tile, it's important that each tile has thinset (mortar) applied to both the concrete floor and the back of the tile (back buttering) before setting it.  This insures that there are no air pockets under the tile and provides for a solid footing.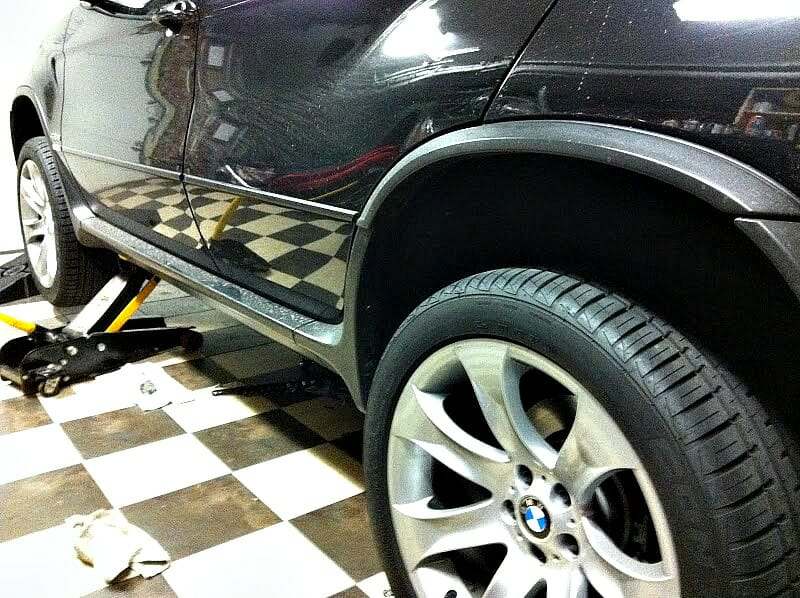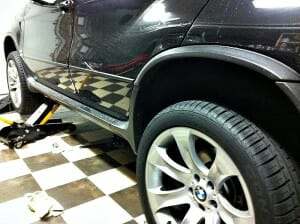 It's also important to make sure all the tiles are level with each other and don't have any raised edges.  This prevents a small edge of tile from being the only load bearing source when using jacks or jack stands.  Small grout lines of 3/16" or less help as well and make for easy rolling of tool boxes, creepers, and jacks.
It's not uncommon at all to see porcelain tile used in mechanics garages and various automotive settings where jacks, lifts, and other heavy equipment are use.
Can porcelain tile be used in cold climates?
Yes.  Because porcelain tile has an absorption rate of less than .05%, it will not absorb water which could cause damage if it freezes.  If your winters traditionally get below freezing and your garage is not heated, there are a couple of requirements you must follow however.
The first is to use a thinset with a latex additive added to the mix.  This makes the thinset more flexible and able to withstand the freeze/thaw cycles that a garage floor can go through.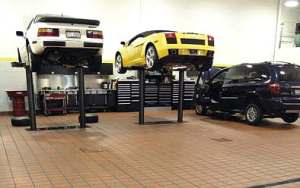 The second is to seal your grout or use a grout that doesn't require a sealer.  This will prevent water or snow melt from seeping into the grout and underneath the tile causing it to pop off when water refreezes.  It also aids in preventing stains in the grout.
Can I use ceramic tile instead of porcelain?
If you can find a ceramic tile with a PEI rating of 4 or 5 and if you live in a climate without freeze/thaw cycles then ceramic tile can be used in the garage.  There are a few things to consider however.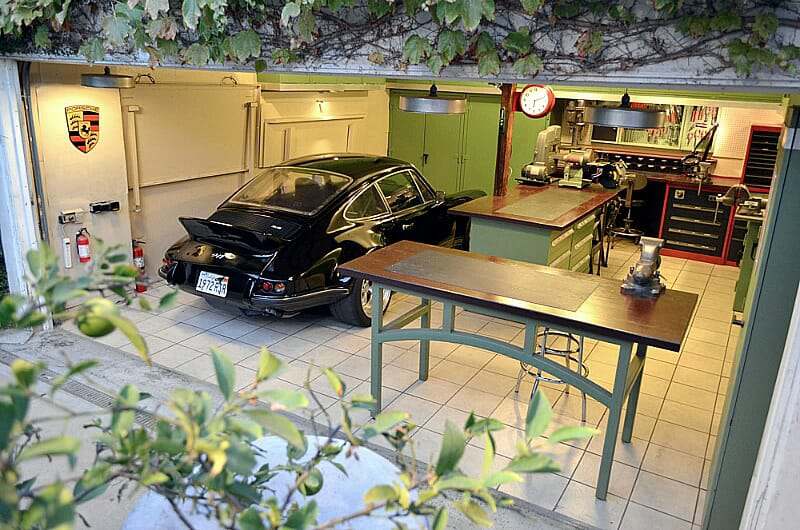 This is a ceramic tiled garage floor by Jack Olsen.  It's known as the 12-Gauge Garage because of the 12 gauge steel used for the Strong Hold cabinets he installed.  You can visit Jack's garage here.
Porcelain tile is more dense than ceramic due the manufacturing process.  This high density is what provides for the extremely low absorption rate.  Because ceramics have a higher absorption rate, they should not be used in cold climates as water absorption during the freeze thaw cycles will cause it to crack.
Porcelain tile is also colored through-out the tile whereas ceramic is not.  If you chip ceramic tile it is very noticeable because of the different color underneath the glaze.  If you do happen to chip porcelain, it is much less noticeable because the color does not change.
Won't porcelain tile break easily in a garage?
No.  When porcelain tile is installed correctly without any voids or air pockets underneath the tile, it is very hard to break or chip.  The extreme density of the tile is what makes it so strong.
A good example is from this short video clip below.  The flooring is actually ceramic tile from Jack Olsen's 12-Gauge Garage as shown in the photo above.  In the video, Jack pounds the tile with a sledge hammer without damaging it.  The video camera on the floor actually jumps because he is hitting the tile so hard.
While we don't recommend pounding on your floor like this, you need to remember that the tile being struck is ceramic.  Porcelain is stronger yet.
Will road salts and deicing fluids damage porcelain?
No.  Because porcelain tile is so dense and has such a low absorption rate, salts and deicing fluids will not damage it.  This is why porcelain tile is extremely hard to stain as well.
One exception to this is polished porcelain which you would not want to use in a garage due to how slippery it would be – which leads us right into our next question.
Isn't porcelain tile too slippery for a garage floor?
No, it won't be slippery if you purchase tile with a higher coefficient of friction (C.O.F.) rating.  Tile rated between .055 and .059 are generally considered equivalent to bare wet concrete.  A rating of .060 and above is considered slip resistant and meets or exceeds OSHA and ADA requirements for a wet surface.
This is why it's not uncommon to see porcelain tile used in entry ways in commercial settings.  It reduces the chance of slip fall accidents that could cause law suits.
Will welding damage porcelain tile?
Yes.  Welding can lead to small burn marks on the surface of the tile which is extremely difficult to remove.  In fact, welding will eventually damage any surface including concrete.  A welding blanket should be used.
Convinced yet?
Hopefully the answers to these popular questions have dispelled some of the myths about the durability of porcelain tile as a garage floor.  If you still aren't convinced, then porcelain probably is not for you.  It's important to be confident in your garage flooring of choice.  If you are convinced however, then you will be rewarded with years of service, durability, and good looks that will make your neighbors envious.