To our reader's: This post may contain affiliate links. If you use these links to make a purchase, we may earn a small commission. As an Amazon Associate, All Garage Floors earns from qualifying purchases. You can read our full disclaimer here.
Nothing can improve and transform the look of your garage for the least amount of money than painting your garage floor.  It is one of the oldest and still very popular ways to brighten up the garage and turn that plain or ugly floor into something to be proud of, instead of something you want to hide.
Available in two different formulas, the least expensive is the traditional latex acrylic concrete paint.  Once your garage floor has been cleaned and prepped properly, it goes on quickly with the least amount of fuss and with a variety of colors to choose from.
The other formula that has become more of the standard is 1-Part epoxy paint.  Though a few more dollars per gallon, it has epoxy added to the mix to improve the durability over standard paint.  It is just as easy to apply and comes in a variety of colors as well.
If you like, colored acrylic paint chips can be broadcast onto the surface of the paint after it is applied to add additional color.  If you live in a wet or snowy climate, you can also add anti-skid media to the paint to make for a slip resistant finish.
Two-part epoxy paint kits are another variation of this formula.  The most expensive of these choices, these kits technically are not paint but are worth mentioning here because of their relatively low cost and tougher finish.
Benefits of Garage Floor Paint
One of the benefits of latex acrylic paint is that it gives your garage floor a moderate amount of protection with a variety of colors to choose from.  Starting in the $20 per gallon range, it is mold and mildew resistant, water resistant, and provides for easy cleaning of the garage floor.  It is moderately resistant to most automobile fluids if it is cleaned up quickly. Be aware however that if allowed to sit, fluids like anti-freeze and oil can stain the paint, while gasoline and brake fluid can actually cause it to wrinkle and peel away.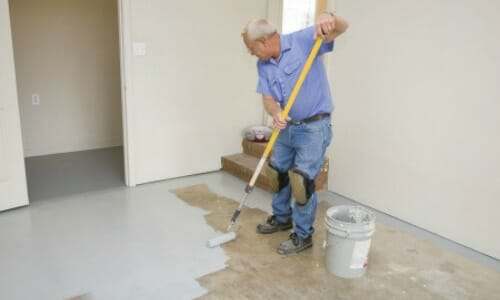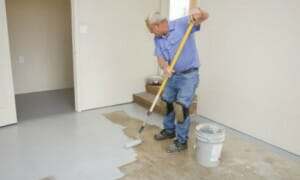 Another added benefit of painting your garage floor is that it renders your concrete dustless.  Bare concrete is always producing a fine dust that can be tracked into your home or collected on your cars and work benches.  Paint will prevent the dreaded concrete dust and helps to keep from tracking this dust and dirt into your home.
One thing to consider however is that garage floor paint is not the most durable of options for your garage floor.  It is susceptible to hot tire pick up and can chip.  If applied properly it usually will need to be touched up or reapplied every one to two years depending on the amount of use it sees.  However, if you are on a tight budget and want something other than bare concrete, then latex acrylic paint may be just what you need.
When choosing paint for your garage floor, 1-part epoxy paints have quickly become the favorite of the two.  Like acrylic latex, 1-Part epoxy paint is mold and mildew resistant, water resistant, dustless, and easy to clean.  It is also more resistant than latex acrylic to most automobile fluids including gasoline and brake fluid.  However, it is still best to clean up gasoline and brake fluid quickly since most epoxy paints will not stand up to them for very long.
The cost of 1-Part epoxy paint is typically a little more than $30 per gallon.  As a result of the epoxy additive, it is more durable and creates a better bond to the concrete than latex acrylic.  This means that it is more resistant to chipping and heavy traffic.  Properly installed epoxy paint can last up to two or three years.  That's almost twice as long as latex acrylic.  Most brands offer epoxy paint with additional products such as colored acrylic chips and anti-slip additives.
2-Part Garage Epoxy Paint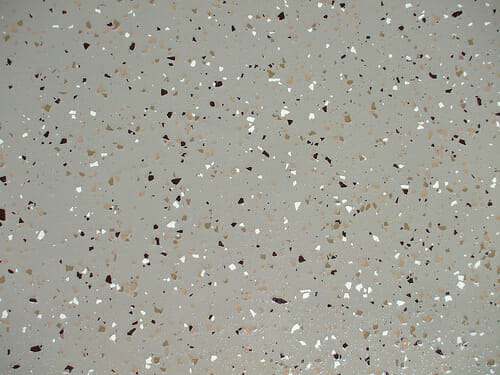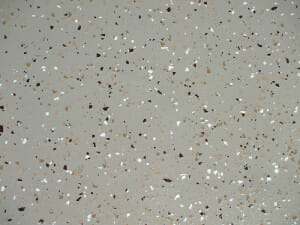 A product that requires mentioning is the garage floor epoxy paint kits.  Technically these are not paint; they are an actual 2-Part epoxy product that is marketed as paint.  Because they have a lower percentage of solids content by volume compared to commercial epoxy, they are easy to apply and provide a thin coat like paint does.  Most kits are sold as a single coat system with the option of applying a second coat of clear epoxy to improve both durability and looks.
Be careful not to confuse these with the traditional epoxy garage floor systems that provide multiple coats. While they do provide better protection than latex acrylic or 1-part epoxy paint, the cost for these kits is usually 2 to 3 times as much.  If they fit into your budget, you will get the most protection from 2-Part epoxy paint as compared to a 1-Part epoxy paint.
One thing to remember when planning for your project is that the most important part of applying any type of paint to concrete is the preparation of the surface.  Concrete is generally very porous and can absorb oils, dirt, and other contaminants that will not allow paint to adhere properly.  Hosing out the garage with a little soap and water will not work.
Be sure to follow the directions from the manufacturer or your paint will be peeling up in a few weeks after all your hard work.  Because some concrete can have a slightly polished finish to it, you may be required to apply some sort of acid etch to your floor before you paint.  No matter how clean the concrete may be, it will not adhere to a non-porous finish.
You can easily test it by applying a few drops of water to the surface.  If it gets absorbed into the concrete then you should be fine.  If it beads up at all, then you will need to etch the surface.
One other additional product that will help with the life of your paint would be a concrete primer coat.  Applied first, it actually provides a better bonding agent for the paint to adhere to and reduces the chance of peeling and hot tire pick up.
Now that you know the benefits of painting your garage floor as well as what paint you can use, take the time and do the math to decide which product would be best for you.  Either way you choose, you will definitely have a better looking floor that will be easier to keep clean, brighten your garage, and help keep dirt and dust out of your home.