This post may contain affiliate links. If you use these links to make a purchase, we may earn a small commission. As an Amazon Associate, All Garage Floors earns from qualifying purchases. You can read our full disclaimer here.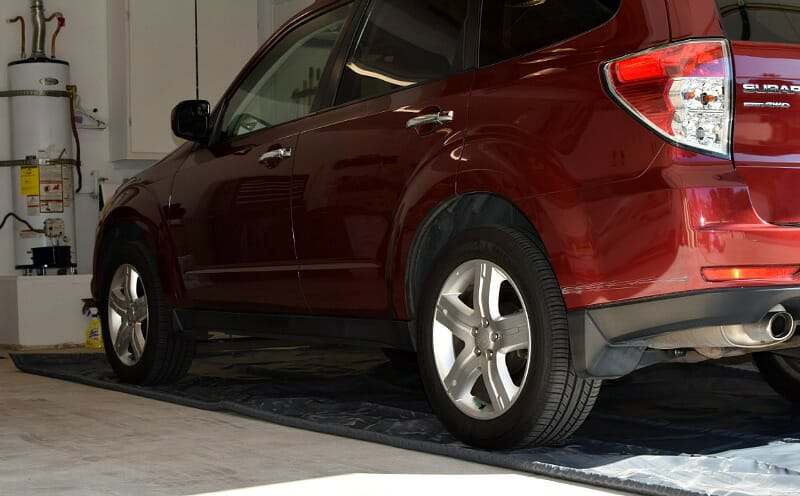 Having a nice garage floor sometimes isn't enough to keep us from tinkering around with what we can do to improve the function of it. After all, it's in our nature to find ways to make things better or easier.
This is where specialty mats for the garage can help. Besides your traditional garage floor mats, there's an entire market that is dedicated towards unique mats that will make things in the garage more tolerable to deal with.
What is a specialty mat you ask? Specialty mats are mats designed to perform a specific task. Even if you haven't finished your garage floor yet, some of these mats are still geared towards making your garage more user friendly. That's why we decided to showcase 5 specialty mats that you can use in the garage to help make things easier.
As an Amazon Associate All Garage Floors earns from qualifying purchases.
Anti-Fatigue mats
First on our list are anti-fatigue mats. These are wonderful additions to a garage floor that will make standing in front of your work bench, shop equipment, or even laundry machines much easier on the feet and legs.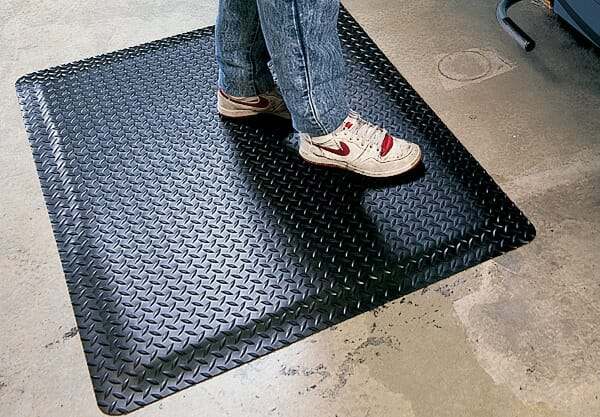 Available in a variety of materials, colors, and designs based on how you plan to use them, they can withstand water to welding, as well as chemicals and oils depending on your need. Most people don't realize how well they work until they use them for the first time.
If you spend time a lot of time standing in your garage while working on projects, then these need to be at the top of your priority list
You can learn more about these mats and how they work in our own review of the top anti-fatigue mats for your garage floor.
Parking mat guide
Next is the handy parking mat guide. These are highly effective parking aids that ensure you park your car in the same spot every time.
If you need to park your vehicle in a tight space that doesn't allow for much room without bumping into bicycles, benches, or lawn mowers, then this is a specialty mat that you may find extremely useful.
At a size of only 27" x 12", these small mats consist of two raised bumps that the front tire of your vehicle fits between. Driving over the surface of the first small bump informs you that you are in the correct spot. The second bump warns you not to proceed any further. This allows for you to park in the exact same spot every time.
These mats adhere to the surface of your floor with industrial sticky tape and do not move. This can eliminate that tennis ball you may have hanging from a string that you walk into every time your car is out of the garage!
Amazon is a great source for these mats. You can find current pricing here.
Oil drip mats
Oil drip mats are a specialty mat that everyone should have in their garage if you own a leaky vehicle or work with equipment on wheels that has a tendency to leak fluids. They look much nicer than cardboard, oil pans, or old pieces of dingy carpet placed on the garage floor.


These mats are not expensive and can prevent oil stains on bare concrete as well as prevent you from having to clean up a slick, messy floor. Many are washable and they come in a variety of sizes to suit your needs.
You can read up on the various oil drip mats available and review our favorites here.
Containment mats
Garage floor containment mats are the winter weather saviors when it comes to keeping snow, ice melt, road salts, and other nasties off your garage floor.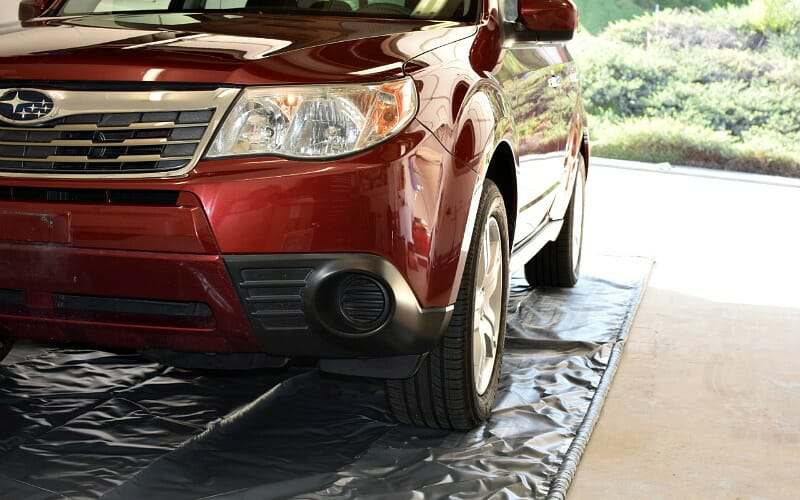 Available in a variety of sizes, these specialty mats are designed with raised edges that trap water and snow that your vehicles track into the garage. With the rear of the mat placed near the garage door, you can use a push broom or squeegee to push the water and snow out of the mat and onto the driveway.
These work wonderfully at keeping your garage floor dry. This enables you to avoid slip fall accidents in the garage from wet and icy floors. They will also prevent pitting and spalling from road salts and deicing fluids exposed to bare concrete.
You can learn more about the benefits of these specialty mats and review our picks for the best containment mats here.
Kneeling mats
Lastly, we have the portable knee mat. If you haven't seen these then you've been missing out.

Admittedly, these technically are not just a mat for the garage, but we felt compelled to include them as well. These are great for kneeling or even sitting on the garage floor when working on projects or vehicles. You will me surprised how much comfortable it is to use one of these.
Our favorite is the Ergodyne Proflex 380. This specialty mat actually comes in 3 different sizes depending on your needs. This is the same one that I have in my garage and it gets a workout all the time.
You can purchase them here at Amazon.
It is constructed of 1" thick closed cell foam with a handle grip. They are excellent for plopping down on the ground when you have to kneel while working.
The foam is resistant to petroleum and is static free. You can hang them on the side of your tool box, work bench, or on the wall for quick access. They really come in handy for multiple projects both in and out of your garage.
We've included a link to a larger selection of kneeling mats that you can find here at Amazon as well.
Is a specialty mat for you?
Specialty mats for your garage floor can make a big difference in how your garage functions. You don't need a nice looking garage floor in order to appreciate their benefits. They really do make things easier for you and can help prevent damage or staining to your garage floor. They can even be good your body.
While they may not improve the looks of your garage floor necessarily, we are fairly confident that you could put at least one of these specialty mats to good use and be glad you did.