This post may contain affiliate links. If you use these links to make a purchase, we may earn a small commission. As an Amazon Associate, All Garage Floors earns from qualifying purchases. You can read our full disclaimer here.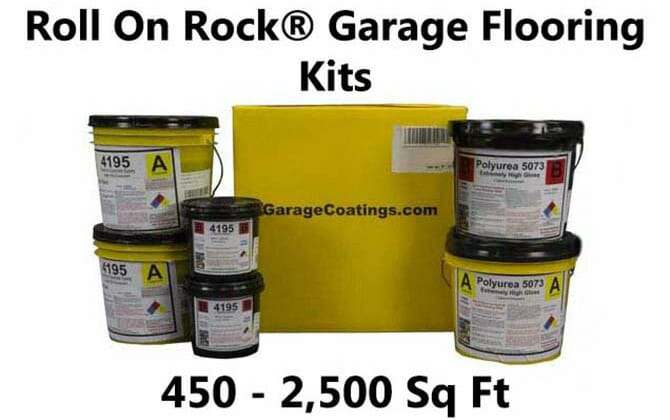 If you are looking for a high quality garage floor coating that is both DIY friendly and competitively priced, then this kit by Versatile Building Products® needs to be on your short list. With claims of commercial quality, high moisture tolerance, high abrasion resistance, and one day application, it's a product that deserves some attention. This is why we decided to dig a little deeper and review the Roll On Rock® epoxy garage floor coating system.
There has never been a greater selection of quality garage floor coating kits and epoxy products to choose from than there are today. The problem, however, is that not all of these coatings are as DIY friendly as they could be. Many of these kits are born from commercial product that had originally been formulated to be applied by professional installers.
Nevertheless, there are some great garage floor coating products that are both DIY friendly and of commercial quality. Nohr-S by Legacy Industrial and Rust Bullet are some good examples. Still, you do pay a more premium price in order to get these characteristics. This is where Roll On Rock® does a great job of bridging that gap.
What is Roll On Rock®?
Roll On Rock® was first introduced in 1999 and has slowly evolved into the kit form that is available today.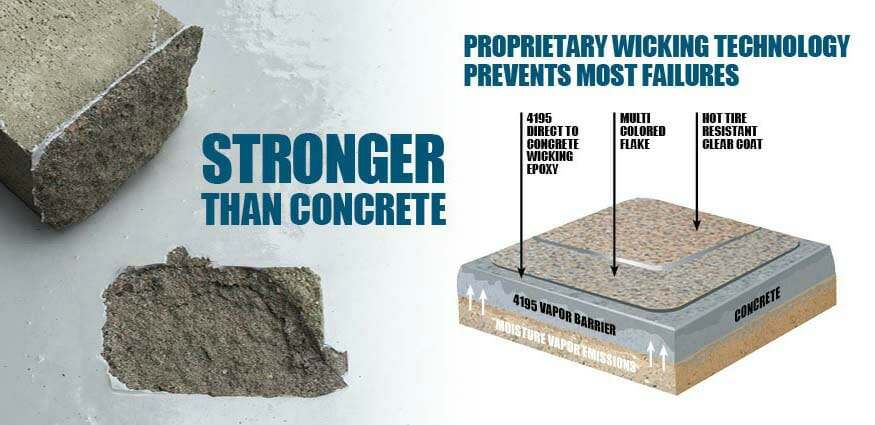 It is a high build, hybrid garage floor coating system that is low in VOC content and consists of a colored epoxy base coat, vinyl color chips, and a long wearing polyaspartic or polyurea top coat. It sounds simple enough, but there really is more to it than that.
4195 Epoxy Coat
At the heart of this system is the 4195 Direct-to-Concrete Pigmented Epoxy that is used as the base color coat. This really is what makes Roll On Rock® somewhat unique when compared to other epoxy coating systems.
4195 is a proprietary blend of 95% solids epoxy that works like a primer. It wicks deeper into the concrete substrate than other high solids epoxy in order to form a very good mechanical bond.
The high solids content is low in VOC's and provides for a good build coat and excellent medium to absorb the color flakes. It provides up to 8 mils dry film thickness dependent on the coverage rate.
Additionally, 4195 is formulated from Versatile's moisture blocking 4150 Vapor Stop epoxy. The result is an epoxy base coat that can handle up to 8lbs of moisture vapor emissions (MVE). This is twice that of most high solids epoxy coatings. Thus, it can provide a large cost savings advantage if you have concrete with possible moisture issues since it would allow you to forgo the addition of more expensive moisture blocking epoxy primers.
One further benefit to the 4195 epoxy is the ability to apply it to damp concrete. If you opt to etch your concrete instead of grind, you generally need to wait a minimum of 24 hours or more for the concrete to completely dry. You can start application as long as you don't have visible moisture on the surface. This means you can etch the concrete and apply the 4195 a couple hours or so later in most cases.
Color Flake
What gives Roll On Rock® its granite like look, color, and high build is the vinyl color flake. This is achieved by applying the color flake into the 4195 epoxy to full refusal.  As an example, the 2-Car garage floor kit comes with 50lbs of color flake to toss into the coating.
The most popular flake size to use is 1/4", followed by the much larger 1" flake. With dozens of color combinations to choose from, this is where you can really shape the look of your coating to your preference.
5073 Clear Top Coat
The clear top coat is what locks in and protects the vinyl color flakes. It also provides for the glossy look and long wearing surface. The epoxy kit comes standard with their 5108 polyaspartic clear coat. However, for just under $20 for the 2-car kit, you can opt for their most popular 5073 2-part polyurea top coat.
5073 is both water clear and high gloss, plus it's highly resistant to all the typical chemicals and fluids that you find in a garage environment. Once applied to the color flake you can expect an average dry film thickness of approximately 4.9 mils.
It is extremely resistant to staining from hot tires and it has a very impressive rating for abrasion resistance. This means that it is very durable and long wearing. In addition, the high abrasion resistance means it will resist scratching well and hold its glossy looks even longer. It's what we like to call a high performance top coat.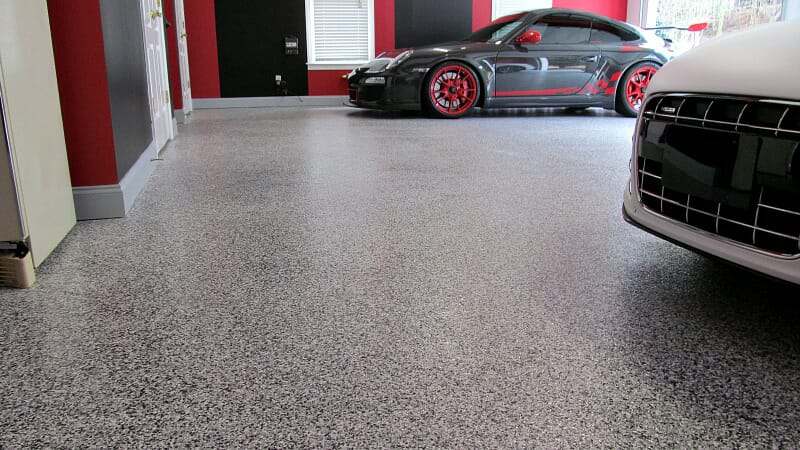 According to Versatile Building Products®, once the entire system has cured you can expect a total floor thickness of approximately 30-35 mils. With the combination of full vinyl color flakes and polyurea top coat, you will not have to worry about yellowing of the coating due to U.V. exposure.
Optional High-Build Clear Coat
One option to the Roll On Rock® kit that we really like is the 5205 intermediate high-build clear coat. It is a water clear hybrid polyurea coating that is applied directly to the color flakes before the final 5073 polyurea top coat is applied.
It has a long pot life in the bucket, but once applied it cures very quickly. This allows you to apply the 5073 top coat on top of the 5205 intermediate coat after 20-30 minutes.
What the 5205 intermediate coat does is lock in and completely seal the color flakes with an approximate 2 mils dry film thickness. More importantly, it also allows for a higher build of the 5073 Polyurea top coat since it all resides on the surface instead of having some of it absorbed into the color flakes.
The combination of these two clear top coats creates a high build, water clear and glossy surface that adds depth to the look of the coating as well as durability.
One Day Installation
Typically, installation of the Roll On Rock® kit will take a minimum of two days. The reason for this has to do with the 4195 epoxy. Just like other epoxy coatings, once you apply the 4195 and broadcast the color flakes into the coating, it takes an average of 10-16 hours for the epoxy to cure enough before you can begin scraping the excess flake off the floor to apply your top coat.
However, if you purchase the optional accelerator packs you can shorten the cure time to as little as 2 hours depending on how many packs you use. This step alone is what enables a one day installation of the complete Roll On Rock® floor coating system.
Here is how it's done
Assuming you don't have a garage floor that needs repairs before you begin, your concrete surface prep for an average 2-car garage will take 2-4 hours depending on whether you acid etch or grind.
Application of the 4195 and color flake will take another hour or so. With as little as a 2 hour cure time for the 4195 epoxy, you are left with plenty of time to scrape the color flakes and apply the 5073 clear top coat. Add another hour to that if you have opted for the intermediate 5205 clear top coat.
Once done, you can walk on the floor in two to three hours. Allow it to cure for another 12 hours before moving things back into the garage. Versatile recommends waiting a minimum of 24 hours before it can accept light vehicle traffic.
We know from experience that if you take the time to read all installation instructions, gather your required tools and supplies, and plan your steps ahead of time, that this is a very realistic goal. Most questions about installation pop up during the planning stages and that is the time to get them answered. Not when you are in the middle of applying your coating.
Keep in mind that a one day installation for a DIY application is a 2 person job. Trying to accomplish this by yourself can be difficult unless you have prior experience.
How Much Does Roll On Rock® Cost?
What Versatile Building Products® has done with Roll On Rock® is provide a very capable, high performing garage floor coating system in DIY kit form. Priced at just under $500 for a 2-car garage floor kit, it is a great value for what you get. You can review Roll On Rock® pricing here.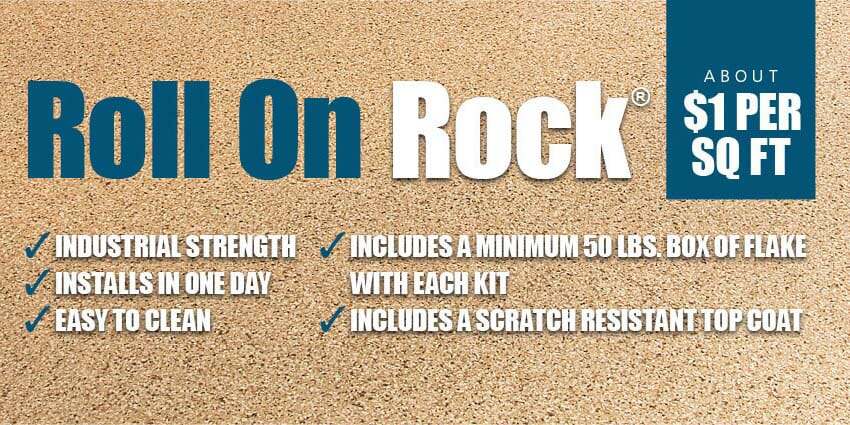 If you find that the square footage of your garage falls somewhere in between the different sized kits that are available, just give them a call to add any additional product that you may need. This can save you from spending more than necessary by having to purchase a larger kit. Additionally, any purchase over $500 includes free shipping.
The reason they can provide such good value is that Versatile manufactures all their coatings on site and provides direct to consumer pricing that effectively eliminates the middle man. Most concrete floor coating vendors act as distributors and purchase their product from one of the many floor coating manufactures in the U.S. before they sell it to you.
You will also notice that they sell directly to floor coating contractors and installers. As a result, they can supply you with all the tools and supplies that you would need to complete your floor coating installation.
Why We Like Roll On Rock®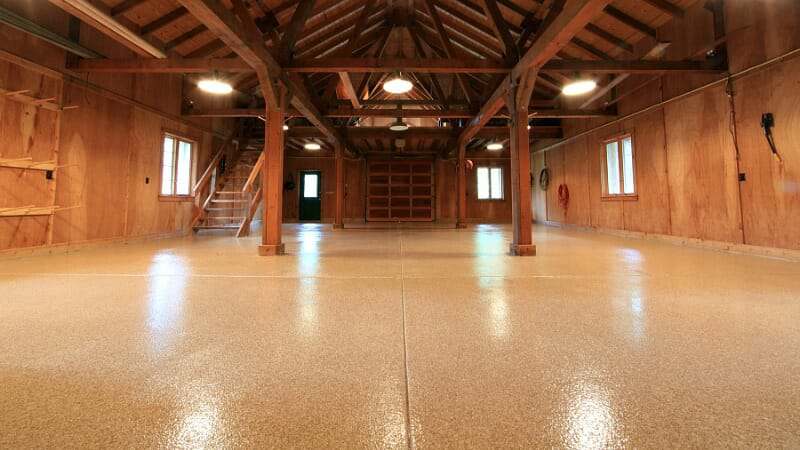 Something we haven't mentioned yet is how DIY friendly this kit really is. Versatile Building Products® has actually formulated the various coatings in this kit to have long pot lives. This really helps to reduce the anxiety of getting the coating applied to the concrete quickly.
For example, the 4195 epoxy has up to a 1 hour pot life (if you don't use the accelerator packs) once it is mixed and poured completely out onto the ground in ribbons.
Their polyaspartic and polyurea top coats have long pot lives as well. Unlike high solids epoxy, they are designed to stay in the mixing bucket. Once they are poured out onto the ground they cure very quickly, but this allows you to pour out only what you are comfortable working with at one time.
Another benefit of this system is that it can be applied in cooler temperatures if you use the accelerator packs for the epoxy. The polyurea and polyaspartic coatings already allow for application in cooler temps without the need of additives.
This is a big advantage for those who live in cooler climates because it can extend the times of year that such coatings can be applied. Most other epoxy flooring applications are limited to a minimum of 50 degree temperatures during the entire process or the epoxy will not cure properly.
Something else that needs mentioning is their website GarageCoatings.com. We feel that they set an excellent example of how garage floor coating products should be presented to the consumer. It's done in a very easy to read fashion that does not require intense hunting to find the information that you need. This may simply be due to the fact that they sell primarily to installers who need this kind of information.
Regardless, they do an excellent job of explaining what each product is and how it is used. They provide all document information including technical data sheets and they have one of the more detailed application instruction sheets that we have seen available for a product online.
Not only that, they also have a very convenient chat system that is staffed during their hours of operation. We tested it out and asked a few different technical questions about product and application. Every time we used it we were provided with quick help by knowledgeable people.
In fact, we used their chat system to address a very important discrepancy that regarded concrete prep. When reviewing the information in the FAQ section of for the 4195 epoxy, they explicitly state; "All that is needed is a clean porous concrete surface. Do not acid etch". This would seem to imply that the only prep necessary in most cases would be cleaning the concrete.
Utilizing their chat system we had an answer rather quickly. They did acknowledge that this information was not correct and that etching the concrete was required.
One thing to keep in mind is that technical help on the weekends is only available on Saturday until 11:30AM Pacific Time. This is something to consider as there are other floor coating vendors that offer technical assistance 7 days a week.
Sometime this can make a difference for the DIY installer who feels more comfortable about having access to help during the weekend when most installations take place.
Final Thoughts
Versatile Building Products® states that "The Roll On Rock® 2-step flake system revolutionized the garage floor coatings industry".  We would have to agree in that regard as the kits produce a stunning looking coating that is definitely DIY friendly. You get great protection for the average garage floor that should last for years.
Something to consider is that the looks of the floor is based on a full color flake broadcast. The color flakes do an excellent job of hiding imperfections in the concrete and most importantly, it hides any type of possible application issues and mistakes with the 4195 color coat.
If you do not prefer the look of the full color flakes, you still have some great options though you may lose some of the total thickness that the full color flake coating provides. The actual thickness does not always indicate how tough a coating system is, however, the combination of a thick layer of color flakes and the flexibility of the polyurea and polyaspartic top coats does help to provide better impact resistance.
Typically you would have to pay closer attention to the application of the 4195 color coat in order to avoid possible cosmetic application issues that can arise from applying your base color coat straight to the concrete. That is why we are a big fan of using an actual epoxy primer, sometimes referred to as the ugly coat, before application of a high build color coat. Any possible issues such as bubbles from outgassing, roller lap marks, or color uniformity would be addressed with the primer coat.
To avoid any worry of such issues and to create a higher build solid color coating, Versatile recommends applying a coat of 5073 with a pigment pack to match the color of the 4195 epoxy. The 5073 polyurea will provide great color uniformity as well as provide the U.V. resistance needed to prevent yellowing if exposed to the sun.  Of course you also have the various clear coat options as mentioned above.
If you desire something thicker than that, Versatile recommends their 100% solids 4800 epoxy that you would apply over the 4195 and before the 5073 polyurea. Our recommendation is to give them a call and to discuss your options if you think you want to go this route.
Either way, if you are looking for a high quality epoxy garage floor coating system that is more DIY friendly than some of the other options available, then the Roll On Rock® kit is definitely worth your consideration. It provides for good protection, beautiful looks, and all at a good value.