This post may contain affiliate links. If you use these links to make a purchase, we may earn a small commission. As an Amazon Associate, All Garage Floors earns from qualifying purchases. You can read our full disclaimer here.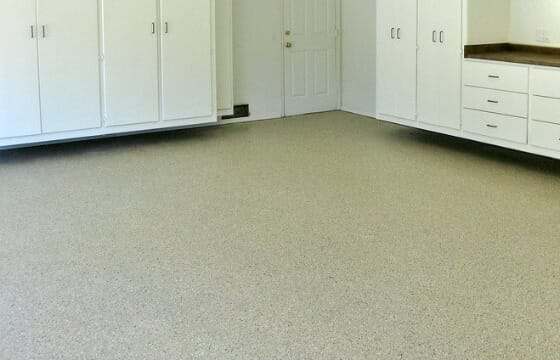 One garage flooring option that has created quite a buzz in the industry the last few years is polyurea/polyaspartic floor coatings. This relatively new coating has become the latest favorite for installers as an alternative to epoxy. It has created some confusion for home owners as well. The fast curing ability of this system is being billed as the "Holy Grail" of floor coatings and is advertised as the best of everything that a coating can do.
So if it's not an epoxy, what is it exactly and why would you want it on your garage floor? Let's unravel the confusion about polyurea and polyaspartic floor coatings and see why many garage flooring companies are pushing this new product.
What are Polyurea and Polyaspartic Coatings
Without getting too technical, Polyurea is a subgroup of polyurethane. It is formed when isocyanates react with water or polyetheramines to create a urea linkage. Like epoxy, it is a 2-part component that mixes resin with a catalyst to cause the curing reaction that makes the material hard.
It has low to no VOC's and has an elongation rate that exceeds 300%, making it much more flexible than epoxy. It is commonly used for spray-on bed liners, interior pipe coating, liquid containment lining and many other industrial applications such as tunnel coatings and fillers for joints. Because of its extremely fast cure rate (less than 5 seconds and fully hard in less than 5 minutes), most polyureas require specialized equipment for application.
Polyaspartic is a type of aliphatic polyurea. To quote Bayer Material Science:
"By definition, a polyaspartic is an aliphatic polyurea because it is the reaction of an aliphatic polyisocyanate with a polyaspartic ester – which is an aliphatic diamine".
What polyaspartics do is conquer the difficulties of the extremely fast cure rate of polyurea in order to apply the coating in a more traditional manner, with a longer pot life of 5 to 120 minutes depending on the formulation.
So in essence, all polyaspartics are a polyurea, but not all polyureas are a polyaspartic. So to lessen the confusion, this means that when you see a garage floor coating or kit being advertised as a polyurea, or a polyurea polyaspartic, it is really some formulation of a polyaspartic coating.
Benefits of Polyaspartic Coatings
Now that we've covered these eye numbing explanations, what does it mean for you? The two biggest advantages of a polyaspartic or polyurea garage floor coating are temperature and time.
Unlike epoxy, a polyaspartic coating can be applied in temperatures as low as -30F to as high as 140F depending on the formulation. That means you don't have to wait till spring or summer to coat your garage floor if you live in a colder climate.
Typical polyurea and polyaspartic floor coatings are applied in just two coats; the first being both the primer and color coat and the second being the clear coat. Because of their fast cure rates, a complete flooring system can be installed in one day and returned to service the next. This means that you won't have to do without your garage for 3-4 days like you would for a full epoxy system.
There are many other benefits to a polyurea/polyaspartic floor coating as well. These include:
100% U.V. stability – they will never yellow.
Crystal clear finish that won't blush from moisture in the concrete.
Similar high abrasion and scratch resistance to polyurethane.
High tolerance to heat, meaning hot tire pick up is a non-issue.
High film build-up that can be controlled by the applicator.
High gloss finish
High solids content with little to no VOC's in most applications.
High stain and chemical resistance. This includes salts for winter climates.
Good flexibility for higher impact resistance.
Excellent wetting characteristics allowing for good penetration into the concrete for a strong bond.
Decreased chance of bubbles from outgassing due to the faster cure rate.
Costs and Installation Factors
Though a polyaspartic or polyurea flooring system does have some great benefits, there are some other factors to consider before you decide if this is the best system for you.
The first is cost. To have it professionally installed will cost an average of $2 to $3 more per square foot than an equivalent epoxy and polyurethane system.
It is also not the most user friendly "do it yourself" installation and requires a minimum of two people to apply. Depending on the formulation of the polyaspartic, the average pot life is only 20 to 25 minutes. This can be very intimidating if you haven't done a floor coating before. Also, the materials alone can cost almost twice as much as epoxy.
A good example by Advacoat on how a polyaspartic floor coating is installed
One thing to keep in mind is that like epoxy, not all polyaspartics are created equal. Some of the DIY kits that are being offered are not of the same quality as the more professional versions. So shop around and compare if you want to install a garage floor coating yourself. The formulations are different and come with a lower solids content in order to lengthen the pot life. Grinding the concrete is also the recommended floor prep.
While polyurea / polyaspartic coatings are not affected by water or humidity when fully cured, humidity during installation can cause the coating to cure much more rapidly and should be monitored before installation.
***Update***
There are now newer single-part polyurea garage floor coatings available that are extremely easy to apply. They have and unlimited pot life and excellent protection. Learn about single-part polyurea here.
Another consideration is that if you are a regular garage mechanic, polyaspartics don't stand up as well to battery acids like epoxy and polyurethane does. They also can be very slippery when wet. If you are not applying full paint chips to add texture, it is advisable to add a slip resistant aggregate into the top coat to increase the anti-slip properties of the coating.
One of the biggest reasons that professional installers are offering polyaspartic floor coatings is to sell the benefit of being without your garage for only a day. A good installer can prep your concrete and install your coating in as little as 6 – 8 hours. You can be moving your belongings back into the garage before the day is done and park your car in it the next. This can be a huge advantage for people who can't be without their garage for 3 or 4 days.
If you need to have a garage floor coating installed in less than ideal temperatures or need the advantage of being without your garage for only a day, then a professionally installed polyurea or polyaspartic floor coating may be just what you need. It is a great garage flooring option if the cost is in the budget.