This post may contain affiliate links. If you use these links to make a purchase, we may earn a small commission. As an Amazon Associate, All Garage Floors earns from qualifying purchases. You can read our full disclaimer here.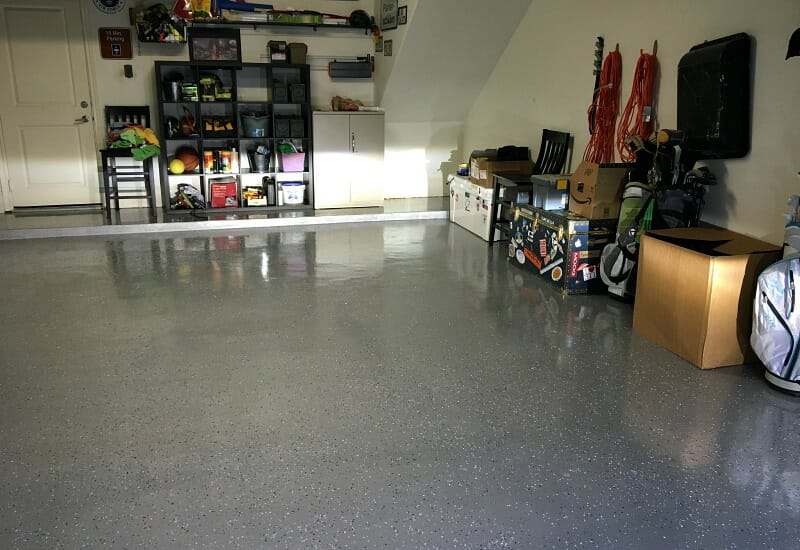 When we first wrote about using Rust Bullet paint as a viable concrete garage floor coating, it definitely raised some eyebrows in the industry. After all, it is best known as a rust inhibitor and protective coating for metal parts and not as a paint coating for concrete. While our goal then was to introduce Rust Bullet as a feasible garage floor coating, we had no idea how successful it would become.
When our article was originally published, one prominent garage flooring vendor took great interest and contacted the manufacture directly about marketing Rust Bullet as a DIY garage floor coating. You can read our article here. The people at Rust Bullet took great interest as well and as a result of their collaboration, Rust Bullet has become a major hit and Mike's Rust Bullet project featured here is no exception.
Mike admits he was first hesitant when researching about applying a garage floor coating. Why? Many of the reviews he was reading about the epoxy coatings that you could purchase from the major home improvement centers were a concern. Complaints of hot tire lift, peeling, and coatings not lasting as long as desired were the reason.
To quote Mike;
My main concern dealt with hot tire pickup which is the Achilles heel of the cheaper garage paint products. We park one car in the garage, and this car tends to be driven in a spirited manner, so having a floor that could withstand the hot tires after driving was paramount.
However, after doing some research on All Garage Floors, talking with members in other DIY forums, and chatting with friends and colleagues, he was confident Rust Bullet was the product he wanted to use. His chief reason was that Rust Bullet will not peel up from hot tires – period. The fact that it does not require the extensive prep of grinding or acid etching the concrete before application in most cases was a selling point as well.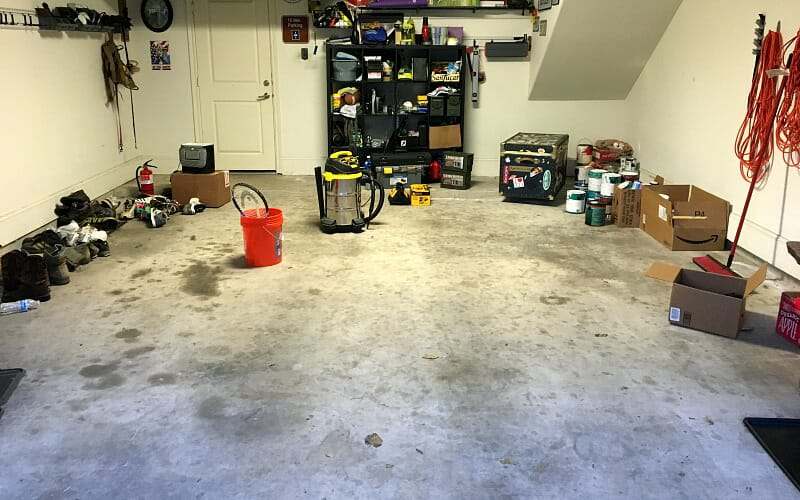 Rust Bullet Floor Coating Application
Mike's garage is a smaller 2-car unit of approximately 360 ft² with over 10 years of good use on the bare concrete. The surface didn't have any cracks, but it did have some small chips and scratches in the concrete. He was not too concerned even though he knew Rust Bullet would not fill these imperfections.
His concrete prep consisted of using a 1500 PSI pressure washer to clean the surface and remove the oils from the various stains. No other degreasers or oil stain removers were used. As an application note, Rust Bullet does recommend treating oil stains with their Metal Blast spray (24 oz. spray bottle) to promote the best adhesion possible.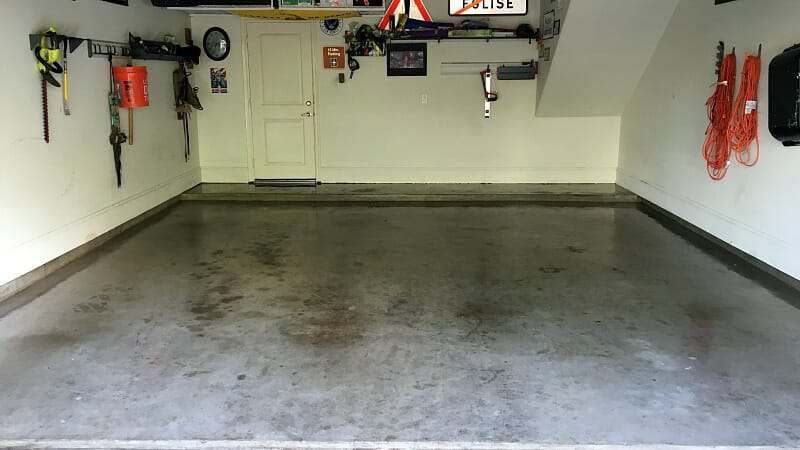 Because the concrete was cleaned with a pressure washer, he had to allow a few days for the concrete to thoroughly dry out. Though the surface may look dry after 24 hours, coatings can develop bubbles from outgassing if they are applied too soon. This is due to moisture vapor still escaping from within the concrete. Pressure washers drive water deep into the concrete during the cleaning process and thus require additional time for the concrete to dry completely.
When the concrete was ready, Mike first pre-treated some of the more heavily stained areas with a thin coating of Rust Bullet. He then applied his first coat using a full gallon of the coating. You can still see some of the stained areas and overall inconsistent look of the color after the first coat was applied. This is why Rust Bullet requires a minimum of two coats.
Once the first coat was applied and allowed to cure the required amount of time, the second coat was applied. You can see the obvious difference between the first and second coats in the following photos. As some of the photos illustrate, you can still see some of the chips and imperfections in the concrete. If such imperfections are a concern, you can always repair the areas beforehand to create a nice smooth and consistent looking finish.
Mike then chose to add a clear coat to create a glossier look and to help protect the finish of the color coat. He also decided to add color flakes to the finish as well. Color flakes are usually added to the final color coat and then locked in with the clear coat. However, Mike decided to add the color flakes last and broadcast them into the clear coat instead after it was applied.
This works just fine if that is what you prefer. Just keep in mind that you may lose some flakes from normal traffic use and the occasional cleaning of the surface.
We asked Mike how difficult it was to install Rust Bullet and if he had any words of wisdom for someone interested in installing a Rust Bullet garage floor of their own. He said the entire process was easier than he expected and that the most difficult part was actually trying to remove it from his hands. He highly recommends wearing gloves.
He also recommends using a pressure washer as he did to remove all the dirt and grime. The fact that he did not have to grind or acid etch the concrete was a big benefit for him as well. He admits that he probably should have done more to remove some of the stains, but so far Rust Bullet is holding up well in those areas.
We agree with Mike's assessment and have to say that his floor really changed the look of his entire garage! It's amazing how much a floor coating can improve the function in this area of your home. If you are interested in a Rust Bullet garage floor, we recommend that you read our article. You can also click here to find out where to purchase it including current pricing.