This post may contain affiliate links. If you use these links to make a purchase, we may earn a small commission. As an Amazon Associate, All Garage Floors earns from qualifying purchases. You can read our full disclaimer here.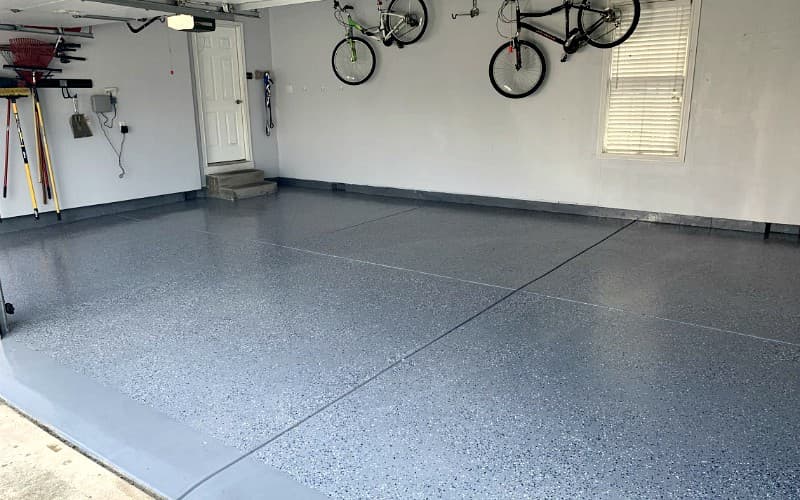 There is no shortage of quality garage floor coatings to choose from these days. However, when you factor in ease of installation, it is no secret that we firmly believe single-part polyurea is superior for most DIY applications. Thus, it is for this reason and more why All Weather Floors polyurea by Garage Flooring LLC of Colorado has quickly earned the reputation as an outstanding DIY garage floor coating option.
We first wrote about single-part polyurea when it was initially introduced to the DIY market in 2015. We were quick to recognize the many advantages that it held over traditional high-performance epoxy coating systems and our views have not changed.
As more garage flooring vendors slowly began to offer this coating, we realized that single-part polyurea makes for the best DIY garage floor coating kits available for the average garage. We posted an article that lists all the benefits and supported it with many facts that most people don't think to consider when shopping for a garage coating.
In brief, single-part polyurea requires no mixing of part-A and part- B components (hence single-part). It is moisture cured, which means that it is activated by the moisture in the air once it has been applied to the concrete. This gives it an almost unlimited pot life (like paint) so you don't feel rushed to get it applied like you do with epoxy.
In addition, it is U.V. stable, which means that it will not amber (yellow tint) from sunlight like epoxy does, and it provides the outstanding chemical, stain, and wear resistance of a high performance polyurethane.
Lastly, it will provide a quicker return to service. This allows you to move items back onto the floor and drive on it sooner than a multi-coat epoxy garage flooring system.
Why we like All Weather Floor polyurea kits
Garage Flooring LLC of Colorado was not the first to introduce single-part polyurea to their lineup. However, they were quick to recognize the benefits of this type of coating, particularly for DIY applications. After taking time to evaluate product, they found what they were looking for in All Weather Floors Polyurea (AWF).
That wasn't all though. Justin Krauss, the owner of Garage Flooring LLC of Colorado, then put together what he considers the best performance and value of this polyurea in the form of various garage floor coating kits. We have to agree that we really like his philosophy regarding how these kits are assembled.
To start, AWF Polyurea kits include considerably more polyurea per coat. As an example, their 500 sq.ft. kit includes 20% more polyurea than Nohr-S.
The reason is that their kits are calculated with a coverage rate of 200 ft² per gallon instead of the usual 250 -300 ft² per gallon that many competitors use. This coverage rate provides for a thicker dry film thickness of 5.5 mils per coat. This will result in longer wear and subsequent deeper color uniformity when applying a single base color coat.
Additionally, all kits include one pound of color flakes per 100 ft² of coating. This is more color flake than most of the competition provides, without additional charge, and will produce a heavy broadcast – or less if you prefer.
Furthermore, each kit includes premium roller covers, an anti-slip additive for the final coat (if you elect to use it) and a set of printed application instructions that are very thorough and easy to understand.
Justin points out that it is very important to stay within the 200 ft² per gallon coverage limit and not let initial appearance of the application be the guide.
The reason behind this is that all single-part polyurea coatings are solvent-based and the wet film thickness will shrink as the solvents evaporate during the curing process. If you go further than 200 ft² per gallon, you will end up with a thinner dry film thickness than is intended.
Speaking of solvents, All Weather Floors polyurea will produce a somewhat stinky odor (as do all single-part polyurea) and Justin recommends the use of a NIOSH approved respirator during application. This is an example of one from Amazon.
The odor will quickly begin to diminish a few hours or so after application, however, and is generally gone by the time it is safe to drive on the coating. Something to be aware of is that odors may take longer to dissipate if the coating is applied during much cooler weather.
For those who are apprehensive about performing the required acid etch of the concrete, Garage Flooring LLC of Colorado also sells the environmentally friendly etching product called ECO Etch. It is a product we have recommended before as a safe etching alternative. They have found it to work very well with AWF polyurea.
AWF polyurea is available in six different colors. Besides the traditional gray and tan, it is also available in black, blue, white, and of course, clear.

As we had stated earlier, Justin created a few different kit options. The first is the standard Two Coat System. This consists of a single base coat of gray or tan, color flakes, and a single coat of clear.
The Two Coat System is the most popular option and provides excellent protection for most garage floors that see the typical vehicle traffic, maintenance repairs, and small home projects.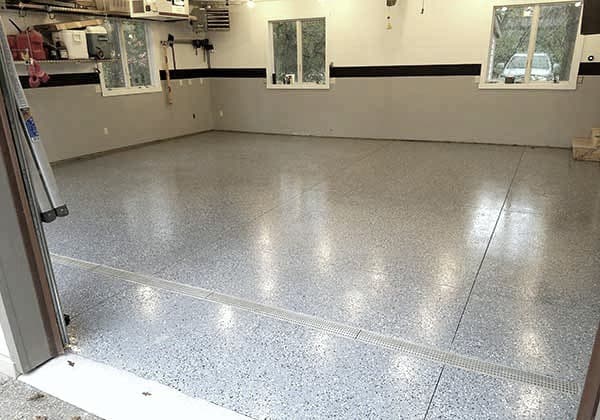 You also have the option of two coats of clear instead of a color coat if you like the glossy, natural concrete look.
Justin states that one coat of clear for a high use residential application would be adequate. However, he recommends two coats for true workshop or commercial use.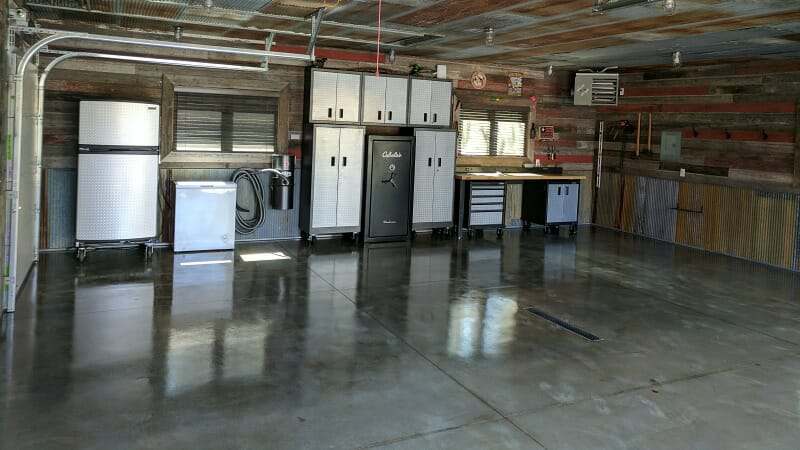 The next option is the Three Coat System. This consists of two color coats, color flakes, and a single coat of clear. It was designed specifically for those that want a white, black, or blue base color coat.
These colors do much better with two coats in order to provide a deep, rich color that does not allow the concrete underneath to bleed through and influence the color.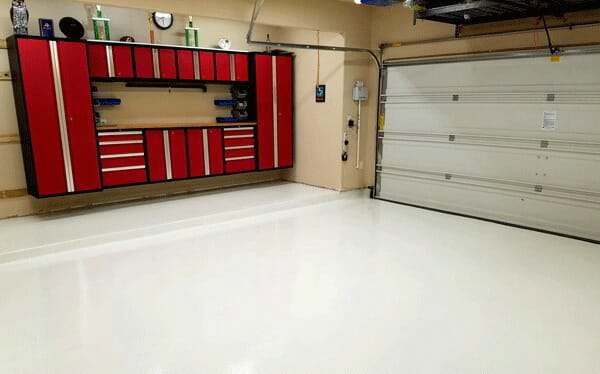 Of course, you can always choose gray or tan for this system as well if your goal is to build coating thickness for better impact resistance and even better wear.
Lastly, you have the option of the Three Coat Full Broadcast System. This system consists of one color coat and enough color flakes to completely cover the color coat to full refusal. You are essentially creating a custom look to your garage floor based on your color flake mix. You then apply two coats of clear to the flakes in order to fill all the nooks and crannies and create a smoother finish.
Full color flake floors, also known as flakes to full refusal, create a much thicker build since the flakes add an additional thick layer that is sandwiched between the color and clear coats. They also do a good job of hiding surface irregularities. Full flakes floors are the most durable and arguably the best looking garage floor coatings.
Is an epoxy primer recommended with AWF polyurea? No, Justin states it is not necessary. Solvent-based coatings do an excellent job of penetrating concrete surfaces as is – even better than water-based epoxy primers.
Because the AWF kits provide for a thicker initial base coat than the competition, a primer is not required to provide thickness and deep color to the coating. Plus, he believes you should be getting more polyurea for your money, not less.
The Rave reviews of All Weather Floors single-part polyurea
This evaluation of AWF polyurea garage flooring kits is something that we should have done a while ago and here's why.
We know that for consumers, finding good comments in terms of reviews for garage floor coatings is not always easy and they are not always accurate. Plus, many vendors of commercial coatings do not have a place on their website to promote reviews or they just don't take the time and effort it requires to ask for the customer feedback.
Well, Garage Flooring LLC of Colorado has taken the effort to do both. We've watched with interest how they have slowly put together a long list of Project Profiles. These include testimonials, reviews, and actual pictures of completed garage floors from happy customers who have purchased and applied their AWF polyurea kits. You can view them here.
They are not getting these great reviews by happy customers just because they are asking for feedback, however. It also has a lot to do with their customer service and the wealth of information they provide on their website in regards to their garage floor coating kits.
We noticed when viewing their webpage that Justin does a great job of anticipating many of the questions that people naturally have when shopping for a coating. He provides excellent information about their kits that actually educates and informs the potential customer about their polyurea coating systems and what to expect from them.
In addition, they have live chat available to ask questions during business hours, plus an application video that was sent to them by a customer. Though not a perfect video, there are many application comments made throughout that explains the process and offers tips.
Lastly, they even provide options if you find that your project may need a bit more extra material if it does not fall neatly within the square foot parameters of the kits. Most garage floor coating vendors almost always leave this type of info out when it's actually a question that comes up frequently.
When you combine all this with the good application instructions that are provided with the kits, Justin does a great job of making people feel at ease with their garage floor coating project.
Many of their competitors, regardless of the excellent product they sell, do not provide this type of information up front. We have found that this can leave some potential customers feeling uneasy about making a purchase.
These reasons are why we believe Garage Flooring LLC of Colorado has earned the reputation they have acquired for providing top quality polyurea garage floor coating kits.
Final Thoughts
Is this the best garage floor coating I can purchase for my garage? No, there are even tougher systems you can purchase. A multi-coat system that consists of an epoxy primer, 100% solids epoxy base coat, optional color flakes, and a couple coats of a high performance polyurea or polyurethane are going to perform better.
Nevertheless, these kits take more work to install and are also more expensive. We have found that for the majority of residential garage floors, single-part polyurea delivers the performance that most people require of a coating that is going to last for years.
Is AWF polyurea the cheapest single-part polyurea garage flooring kit? No, not necessarily, but it does provide the thickest overall coating of polyurea. However, we have noticed that pricing for these types of kits tend to be somewhat close to each other. Sales and/or discounts will sometimes dictate who has the lowest overall price at the time.
A quick note about price shopping; Don't let a small difference in pricing dictate your decision when purchasing a coating kit from any vendor. You should purchase from whom you feel most confident and comfortable with.
A $50 -$100 difference in overall pricing from one vendor to the next is insignificant in the grand scheme of your project when the most important part is being comfortable with the application and happy with the results.
Are we saying that All Weather Floors polyurea is better than other single-part polyurea coatings available from reputable competitors? No, we are not. Other vendor's single-part polyurea that we have discussed on All Garage Floors provide very similar performance. And not surprisingly, Justin will tell you the same thing.
What we are saying, however, is that Garage Flooring LLC of Colorado offers a very high performing coating system in kit form that provides good value, great customer service, proven performance, and happy customers.