This post may contain affiliate links. If you use these links to make a purchase, we may earn a small commission. As an Amazon Associate, All Garage Floors earns from qualifying purchases. You can read our full disclaimer here.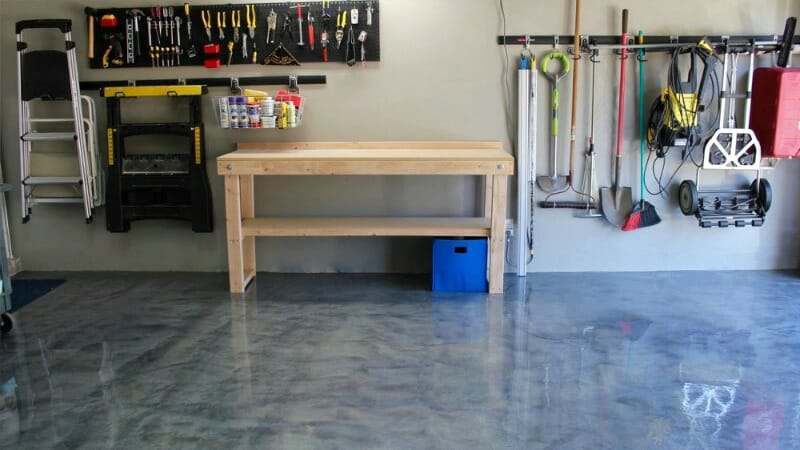 A metallic coated garage floor can create a stunning and exotic visual appearance. However, cost and the moderate to difficult application process has kept all but the fearless DIY enthusiasts from considering this epoxy flooring option. Fortunately, the application anxiety and cost has slowly started to change with the introduction of RockSolid's Metallic garage floor coating kits.
Update!
We have a one year review of a Silver Bullet RockSolid metallic installation from Mother Daughter Projects. You can read about their results and watch the video of their review further below.
In 2014, RockSolid upped their game by introducing their new Polycuramine epoxy formula to the DIY garage floor coating market. It was developed to compete with the traditional garage flooring kits produced by Rust-Oleum, Quikrete, and Valspar as an example.
If you are unfamiliar with Polycuramine, you can read our review of the RockSolid garage floor kit. It is this same Polycuramine formula with the patented burst pouch technology that is used for their metallic floor coatings.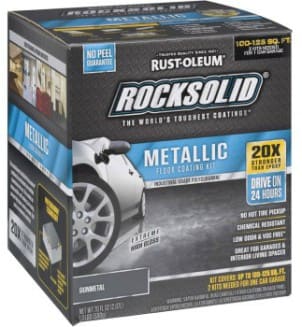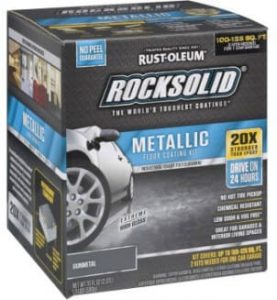 When RockSolid first introduced their metallic floor coating, it was marketed as a home interior product only and was available in 4 metallic colors.
Recognizing the need for a DIY friendly metallic garage floor coating, Rust-Oleum now markets the RockSolid metallic coating as a garage floor kit, available in 8 metallic colors.
These colors include Silver Bullet, Copper Pot, Earth Brown, Cherry Bomb, Amaretto, Gunmetal, Burnished Gold, and Brilliant Blue. You can view samples of these colors from Rust-Oleum's information page here.
The short video below has some good examples of the various metallic colors on a garage floor.
RockSolid vs other metallic coatings
So what makes RockSolid metallic coatings different from the other metallic coatings available?
Until recently, most metallic epoxy coatings are of the commercial variety. They generally require a coat of dark epoxy primer to be applied first, followed by a coat of a 100% solids metallic epoxy mix, and then a top coat or two of clear polyurethane or polyurea.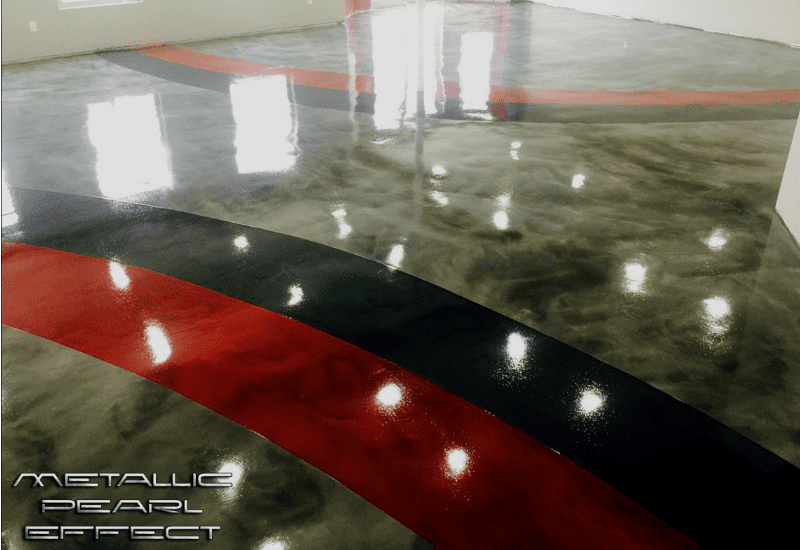 The process requires dripping solvents onto the floor after the metallic epoxy mix has been applied. The solvents create movement within the metallic pigment which creates the different designs of molten rivers of lava and moon craters that make these coatings so interesting. Some manufacturers incorporate blowing the surface with air in order to get the same movement of the pigment.
Knowing that this process was too involved and cost prohibitive to the average DIY enthusiast, RockSolid Metallic takes on a completely different approach.
Using their patented Polycuramine formula, a metallic pigment is mixed into clear Polycuramine and applied directly to a properly prepared, bare concrete garage floor. Unlike the other metallic epoxies, a dark primer coat is not needed and solvent is not dripped onto the epoxy surface.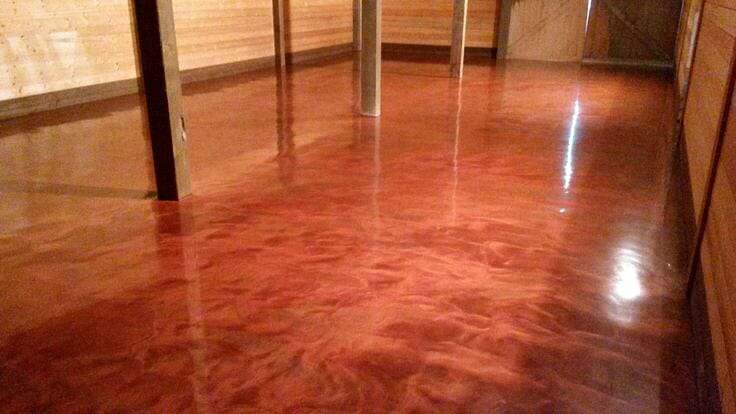 While the coating does not create quite the same 3-D effect of the commercial equivalent, it does provide a very glossy and cloudy appearance of the metallic colors that is very pleasing to the eye.
Applying RockSolid metallic garage coatings
This is where the metallic floor coating kit really shines. It is applied in the same manner as the standard garage floor kit. The only difference is mixing in the metallic pigments with the Polycuramine and going over the coating with the required circular motions of the application roller.
RockSolid provides an eco-friendly etch solution to clean and prep the concrete surface. Any heavy dirt, grease, rust, or oil stains should be cleaned prior to the use of the etch solution. The etch solution works by opening up the pores at the concrete surface in order to create the proper substrate for the Polycuramine to adhere to.
Once the concrete is completely dry, mix the burst pouches and add the metallic pigment according with the RockSolid directions. Once it has been mixed, you will cut-in your edges for each section with a 3" brush. You will then pour 3"- 4" ribbons of the material onto the floor in 5' sections. Roll it on and then work the area in circular patterns with the application roller.
RockSolid metallic coatings can be walked on within 12 hours. We recommend that you wait 24 hours before moving items back into the garage and a minimum of 48 hours before driving on it. Even then, we recommend parking on cardboard for another day or two while the coating continues to cure.
How difficult is it really to install?
Lately we had been getting enough questions about this floor coating that we started to make plans about doing a separate write-up on it. What finally got the ball rolling for us was when we were contacted by Steph from Mother Daughter Projects.
As it turns out, Steph and her mother Vicky had just installed a RockSolid metallic coating in Silver Bullet on Steph's garage floor and she wanted to share the results. Steph did a great step-by-step article with plenty of photos on what was required. This included listing a couple of mistakes and what she would do differently next time.
This is a great video of their RockSolid metallic application
Considering that she had old paint on her floor to contend with, the results of her installation are fantastic. It would have been easier if they had a bare concrete floor to work with, but those are the obstacles that have to be addressed sometimes when installing a floor coating.
Review update
We were recently contacted by Steph from Mother Daughter Projects about a one year review they did of their installation. Overall they have been very satisfied with the coating though they did need to make some repairs for hot tire pickup. After further examination, it looks like the reason for the repairs most likely had to do with the condition of her concrete at the time of installation and was not a result of product failure.
Though they had some issues with Rust-Oleum shipping out damaged product, they did a great job with the repairs that needed to be made. They also provide excellent information about what they have learned over the year as well as documenting how the floor looks after the many projects that have been done in Steph's garage.
You can read their article here to get a more detailed explanation of what they have learned and how they like the performance of the coating.
Important tips
The first thing we want to point out is that the coverage rate for RockSolid metallic coatings is 100 – 125 ft² per 70 ounce burst pouch. That is half that of their standard garage floor kit. The reason for this is that the metallic coating is applied at twice the thickness in order to obtain the deep, cloudy look that metallic epoxy creates.
So a typical 400 – 425 ft² 2-car garage floor will require approximately four 70 oz. burst pouches instead of two. The kit even comes with a thicker 3/8" polyamide roller for the application.
Do not attempt to stretch out the coverage rate. If your math puts you 50 ft² short, you will need another pouch. Stretching out the material will result in a less glossy surface that will lose depth in appearance.
If it's in the budget, we recommend applying a clear coat of Polycuramine over the metallic coating as well. This not only helps to increase the longevity of the floor coating, the additional clear coat will also act as sacrificial layer and protect the metallic color from scratches.
Another additional benefit of a clear coating is the ability to recoat the surface at a later date. This can make a garage floor coating look brand new again. All that is required is cleaning the floor and then roughing up the surface with 150 grit sandpaper before application.
Where to buy
RockSolid Polycuramine coatings are now available at many home improvement centers, hardware stores, and big box retail outlets since it was first introduced. Menards and Home Depot are an example. Amazon is one of the better places to find a large selection. You can view the latest pricing here.
It really does pay off to shop around. We have found that pricing can vary as much as $30 a kit depending on sales and where they are purchased.
Final thoughts
If you have wanted a metallic coated garage floor but were too intimidated by the installation process and/or the price, then this RockSolid metallic coating is definitely worth a look. We have continually been impressed with the beauty of this coating for the minimum amount of work it requires.
One thing to keep in mind however is the very glossy nature of metallic coatings tend to show scratches more than a traditional garage floor coating. If you have a very active garage with numerous projects and automotive repairs for example, then this type of coating may not be for you. This is especially true if you are worried about keeping the look pristine.
However, if your garage is more of a showcase to park your vehicles, make light automotive repairs, and refrain from hard core projects, then this flooring just may fit the bill.