This post may contain affiliate links. If you use these links to make a purchase, we may earn a small commission. As an Amazon Associate, All Garage Floors earns from qualifying purchases. You can read our full disclaimer here.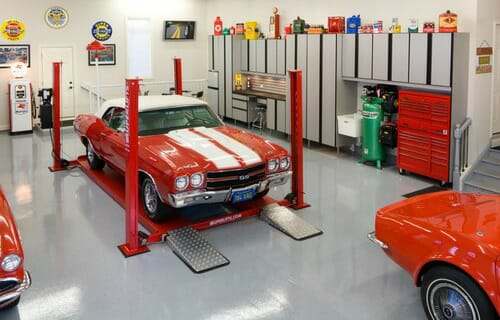 Probably the most popular inquiry we receive is, what is the best garage flooring?  As simple as that question may seem, it's not really one that is answered easily.  It's kind of like asking who makes the best car.  It can depend on how much it costs, how it looks, and what you want to use it for.  Assuming that we want the most durable, good looking, and longest lasting floor, we came up with three different options that you could choose from.  So let's discuss what makes these choices the best flooring options that you could choose for your garage and why.
Best Garage Flooring Options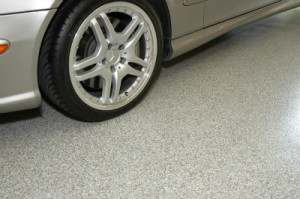 In terms of durability, protection, and cost compared to the duration of the floor, a professionally installed multi-coat resinous system has to be one the finest garage floors that can be installed in a home.  This type of coating will usually consist of a combination of 100% solids epoxy, polyurethane, or polyurea/polyaspartic coatings.  This type of flooring is the most widely used in warehouses, restaurants, manufacturing plants, professional mechanics garages, and showrooms and has been for years.  The finish is actually 3 – 10x stronger than the finish of the concrete itself depending on which combination of coating you choose and most manufacturers offer a lifetime warranty on the product.
Garage floor coatings such as these are almost stain proof, they are water resistant, resistant to road salts, highly chemical resistant and resistant to chips from dropped objects.  They are also extremely easy to clean and look great.  There are more color choices, custom paint chip colors, and different aggregate to mix into the floor than there ever has been.  If you have a very active garage and demand the toughest professional flooring that can be installed without worries, then this would be your first option to consider.
As great as a quality garage floor coating is, it does have some drawbacks to consider however.  If your concrete floor is extremely stained or needs extensive crack repair, it may be cost prohibitive to install.  A floor coating such as this does not do well if you have moisture issues.  Hydrostatic pressure from the moisture can actually cause the coating to peel up, sometimes taking pieces of the concrete with it.  It also needs to be professionally installed in most cases and can run from $4 – $8 a square foot depending on the system.  You can install a garage floor coating yourself however if you want to save some money.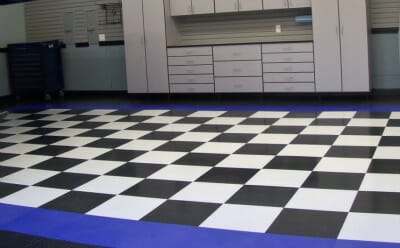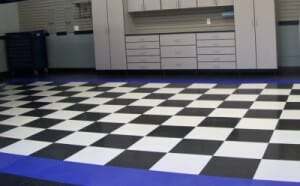 If you still want a tough and good looking floor but want something easy to install yourself in order to save money, then interlocking garage floor tiles would be a great choice in terms of the best flooring for your garage.  They are also an excellent choice if you have the previously stated issues relating to your slab. These polypropylene tiles are extremely tough, resistant to stains, easy to clean, and come in a multitude of cool colors to truly custom design a beautiful looking garage floor.  Some companies have warranties of 10 years or more on the tiles and they are easy to install.  A typical 2-car garage can be completed in just a few hours.
One of the features that makes this type of flooring unique is the hollow core underside.  If you have moisture issues with your garage floor, this tile allows for air drying underneath which avoids mold and mildew problems.  It also makes for good drainage when pulling in a wet car from the snow or rain and can be a great buffer to cold concrete underneath.  It can provide for some anti-fatigue properties as well.  Interlocking tiles can easily span cracks in the concrete and follow the contours of the floor.  Rolling tool boxes, jacks, and jack stands are not an issue and at $2 – $5 a square foot for most tile, they are more economical than a professionally installed floor coating.
Some common complaints with this type of flooring is the click clack noise they can sometimes make when walking on them and the lack of sound absorption in a somewhat empty garage.  They also tend to show dusty footprints when dirty and the less expensive brands can be harder to keep clean.
Honorable mention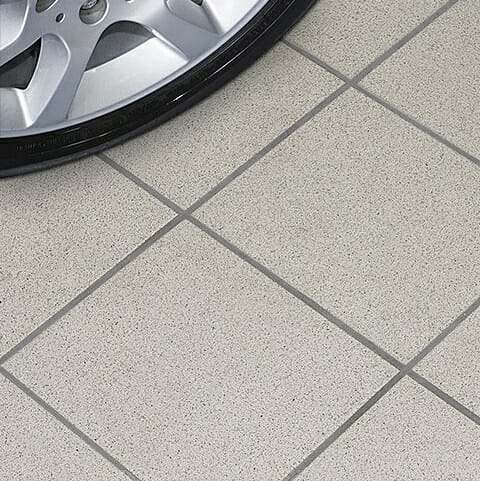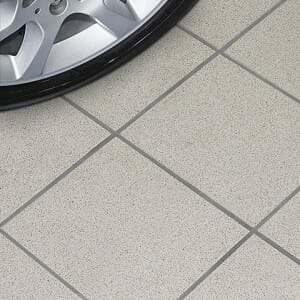 If you don't have moisture issues with your garage, then an honorable mention needs to go to a porcelain tiled garage floor.  Believe it or not, this type of flooring is luxurious, extremely durable and has been gaining in popularity over the years.  Many people who have used porcelain tile would argue that it's the best garage flooring you could install.  It is highly resistant to stains, chemicals, impacts, road salts, and water.  Manufacturing plants, mechanics garages, and drive through porticos are just some of the examples of porcelain tile being used.
One of the disadvantages to porcelain tile is that some choices can be somewhat slippery when wet and the grout between tiles can become dirty if not properly kept up with sealing.
Another little known fact is that good quality porcelain tile can be purchased on sale for under $1 a square foot if you look around.  It can be installed by a contractor for $2 – $4 a square foot plus supplies depending on your area.  If you know how to lay tile, it can be one of the most economical options and still be one of the most durable of floors.  This is why porcelain tile receives an honorable mention for the best garage flooring to install in your home.
We could easily include the cheapest or easiest to install as choices as well, but we feel that it defeats the purpose of the question for the best flooring.  Another factor to consider is aesthetics.  It may be a great floor, but if you don't like the looks, then it obviously is not for you.  So depending on your preferences and needs, any one of these three choices would easily qualify as the best garage flooring that you could install for your home.