This post may contain affiliate links. If you use these links to make a purchase, we may earn a small commission. As an Amazon Associate, All Garage Floors earns from qualifying purchases. You can read our full disclaimer here.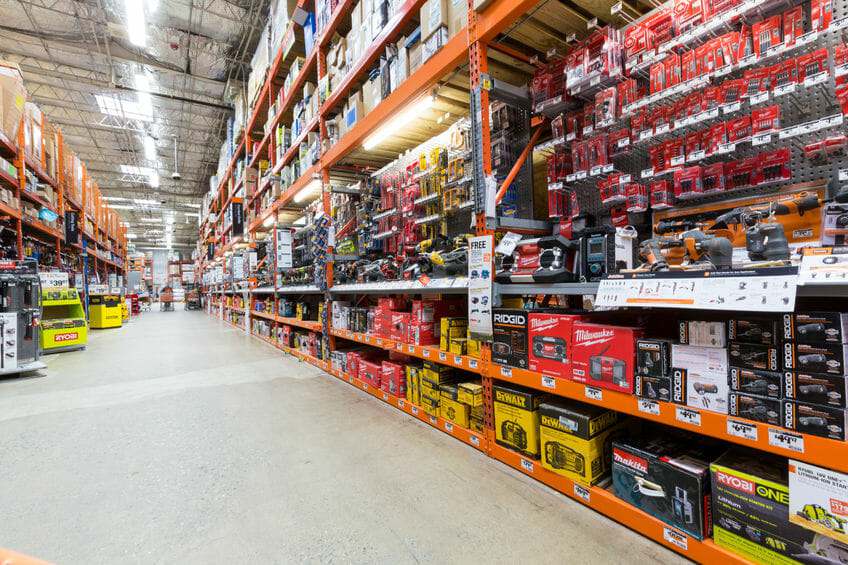 I'm sure most of you have heard or read the familiar story of someone that was working on a home project and went down to their local home improvement center for help. When telling their ill-fated story, they quote the famous words, "They told me this would work", only to be followed up by the even more infamous words, "But now I have a problem".
Unfortunately, we get many questions from our readers that quote these famous lines when they have an issue they need to solve with a concrete sealer, paint, or garage floor coating that they have purchased from their local home improvement center.
I'll be the first to admit that I like home improvement centers. In fact, I have a Home Depot and a Lowes in opposite directions within a few blocks of my home. They are awfully convenient and they are full of nice employees that want to help. The problem, however, is that occasionally these nice employees have limited knowledge of the particular project you are working on and garage flooring is one of them.
In fact, when it comes to epoxy coatings and sealers for a garage floor, most employees at these stores have little to no real time application experience at all. Their understanding of these products and how they work in relation to each other is often limited in most cases to what is labeled on the product or what another employee has taught them.
Combine this with the typical questions they receive about what is best for someone's garage floor project; you now have a recipe for a possible unhappy ending.
Are home improvement centers bad for garage flooring?
Home improvement centers are not necessarily a bad place to purchase garage flooring products. On the contrary, you can sometimes find great deals on the appropriate flooring materials. They can also be a good source for cleaning agents, supplies, and concrete repair materials for your project as well.
The key to using these "big box stores" as the source of materials for your garage flooring project is to do your research first before you go there. This way you can avoid some of the pitfalls that come when seeking advice from a home improvement center employee.
As an example, let's take a look at the garage floor paint versus garage floor coatings dilemma. Many do not know the difference.  We get numerous questions from people who want to apply a glossy clear coat down on the 1-Part epoxy paint they just applied and are frustrated to discover that they can't because they didn't use a true epoxy coating.
Another example are the numerous questions we have received from people who were told they needed to apply a concrete bonding primer to their garage floor first before applying a 2-Part epoxy garage floor kit. These bonding primers are for latex paint and 1-Part epoxy paints only and are not compatible with 2-Part epoxy coatings.
Unfortunately, we've had more than a few unhappy people contact us for guidance who had applied the bonding primer first and now have issues with their new coating peeling up shortly after it was applied.
If a little research would have been done beforehand, many of these people could have avoided these issues entirely. Armed with the appropriate knowledge, they might have made different purchases and with much more satisfactory results.
Shouldn't home improvement centers know about garage floor coatings and sealers?
You might be thinking that the whole reason to go to a home improvement center in the first place is to learn what garage flooring options you have. You know – ask the professionals for recommendations and what products they have that will work for your garage. While this makes sense for many home projects, garage floors is rarely one of them.
The reason for this is that garage floor coatings and sealers really are a specialized niche. It's a business in and of itself that requires more knowledge and expertise than most people realize.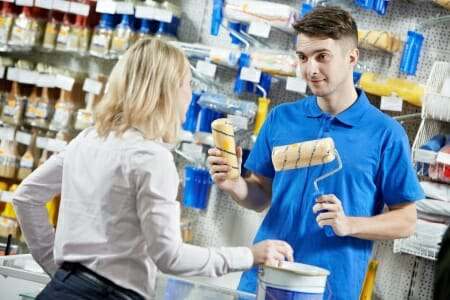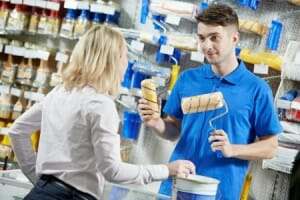 When you ask for information about these products you are generally sent to the paint department since that is where most of these materials are kept.
While you can get some good advice and recommendations on painting your walls, fences, and home (raising my hand here), concrete garage floors that have cars driven on them is an entirely different matter. It really is not the same.
It is this same reason why paint contractors are not good at garage floor coatings. They think it's the same. Every other story we have heard about a bad experience with hiring someone to coat their garage floor has to do with a paint contractor and not a garage floor coating contractor.
Employees at these home improvement centers are not trained to qualify the customer correctly based on their needs and what they want to accomplish, let alone recommend the appropriate product. They may be able to tell you that product A is better than product B, but that's usually about it.
If you do find a coating, paint, or sealer for your garage floor that interests you, we always recommend calling the toll free customer service number that the manufacturer provides if you have any questions. They make available these numbers in order to help the average consumer with questions about compatibility, application, and performance of their products.
So, before you go down to your local hardware store or home improvement center, do a little research first. Lookup products online, review their technical data sheets if you can, or even call their toll free numbers to ask some questions and get advice.
The little bit of time you spend doing this can answer many questions and will surely save you the headaches and heartaches that can come from selecting the wrong product or applying it incorrectly.