To our Reader's: This post may contain affiliate links. If you use these links to make a purchase, we may earn a small commission. As an Amazon Associate, All Garage Floors earns from qualifying purchases. You can read our full disclaimer here.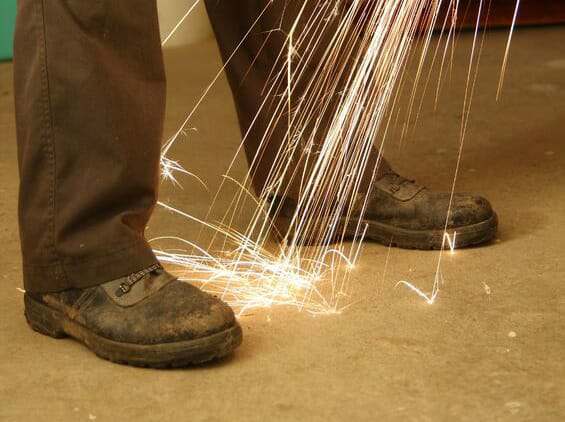 Finding a good sealer for a large shop floor or workshop that sees double duty as your garage isn't always easy.  For many, the garage can also be used as a workshop or as a shop for automotive repair, metal fabrication, small machine shop, and various other hobbies besides just parking vehicles.  So how do you choose which sealer is best for your shop floor / garage?
One thing we like to do is participate in a popular garage forum to help people with their flooring questions and this is a subject that frequently comes up.  People are always looking for garage flooring that is indestructible.  They want it to stand up to sparks from grinding, welding, metal fabrication, dragging stuff across the floor, resisting stains, and not be slippery to name a few things.
Oftentimes these requests are for larger garage floors, pole barns, or shop floors with a lot of square footage.  Oh, and because of the size of the floors, they want something that is cheap…. Yikes!
Sealers for large shop floors
To be frank, there isn't a low cost floor covering that will stand up to all that and still look nice years later.  Even the much more durable and expensive multi-coat epoxy systems will show burn marks from welding and grinding if not protected properly with a welding blanket.
So, what to do?
If you don't mind the look of bare concrete, the solution may be easier than you think.  The answer is to use densifiers or penetrating concrete floor sealers to protect the floor in your shop or garage, instead of using a floor coating or covering.  They don't change the look of the concrete in most cases and they add years of protection.
They are also inexpensive when compared to other options and very easy to apply.  Most do not require any concrete prep other than making sure it is clean and dry.
Concrete densifiers for shop floors
Why a densifier? Densifiers are reactive sealers that create a chemical reaction within the concrete.  This reaction fills the empty voids in the pores near the surface with calcium silicate hydrate (CHS).  CHS is what gives concrete its strength.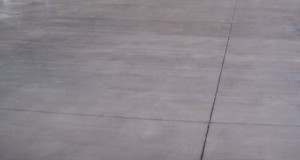 This process increases the surface strength of the concrete up to 40%.  As a result of this increase in strength, the surface of the concrete becomes much more resistant to abrasion and increases the durability of the slab.
Though densifiers technically are not a sealer, this reactive process also helps to waterproof the surface of the concrete since it becomes too dense for liquids to soak in right away.  This in turn helps to resist the penetration of oils, road salts, and other fluids.  Because densifiers are non-film forming, the concrete retains its original look and slip resistance.
Due to the increased density that densifiers deliver and the fact that concrete is difficult to burn, the surface of the concrete does a good job at retaining its looks when exposed to welding, grinding, and other tasks that a workshop / garage can dish out.
Siliconate sealers for large workshop floors
If you have an older concrete shop floor that is very porous and absorbs water fairly quickly, then a densifier isn't always the best choice.  It could take gallons of the product to be effective since it can be absorbed too far down into the concrete to work properly.
The best sealer for this type of floor would be a siliconate penetrating sealer.  A siliconate sealer reacts with the concrete in a similar manner as a densifier though it does not improve the strength of the surface as much as a densifier will.
The larger molecules of a siliconate sealer do a very good job at filling the pores of the concrete and form a protective barrier at the surface.  This barrier is what protects the concrete and helps to repel water as well as other liquids from penetrating into the concrete.
While they do increase the surface strength somewhat, they are very good at preventing freeze thaw issues, resisting road salts, and other liquids that can weather and damage concrete as well.
Sealers for machine troweled floors
If your shop or garage floor is machine troweled with a very smooth finish, then there is another option available that can also enhance the finish of your floor with a matte gloss look.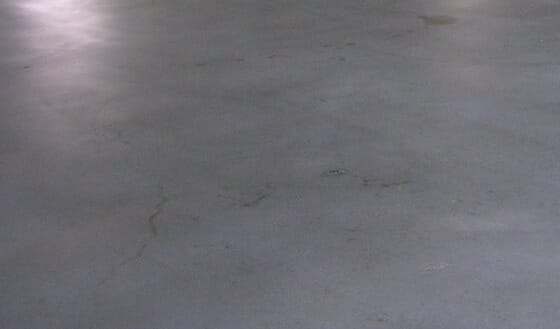 Legacy Industrial offers their HD40 StainGuard that is made exclusively for smooth, machine troweled floors. StainGuards can usually be found from other vendors that specialize in concrete sealers and coatings as well.
Guard sealers are typically used on polished floors and provide shine when burnished.  They also provide a very thin topical layer of sealer to help protect the concrete from stains. They work best if a standard densifier is first applied to the concrete before application.
With a machine troweled floor you can apply the HD40 and then burnish the surface with a high speed buffer and burnishing pad.  This will help to achieve a matte gloss finish that would be somewhat similar to what you might see in the isles of your local home improvement centers.  This is a popular type of finish for larger workshop and shop / garage floors.
To get the best results Legacy Industrial recommends applying 2 -3 coats between burnishing.  This will help produce the best shine and stain protection.  You can easily rent high speed buffers from your local tool rental company.  The burnishing pads are sold separately and cost less than $30.
You can learn more about HD40 StainGuard here.
Though more expensive than a traditional densifier, it will cover up to 500sf² per gallon.  One 5 gallon container will go a long way for a larger shop floor or garage.
Are these sealers stain proof?
One thing to keep in mind about densifiers and penetrating sealers is that they are stain resistant, but not stain proof.  They do not work as well as epoxy for example at repelling stains and liquids.  Because they are non-film forming sealers and reside at the surface instead of on top of it, oils and other caustic fluids can leave a stain if not wiped up in a reasonable amount of time.
Unlike traditional densifiers however, the HD40 StainGuard does leave a very thin topical film forming sealer at the surface.  While it will do a better job at resisting stains compared to other densifiers, it still is not stain proof.  Acidic liquids and oils can still break down the sealer if left to sit.
What they all do however is make cleanup of spills much easier than untreated concrete.  If you do encounter a stain, they make it easier to remove since the stain cannot penetrate deep into the concrete.  There are plenty of testaments from people who have treated their shops floors and workshops with densifiers and siliconate sealers that claim cleanup is much easier than before.
If you are looking for the best sealer for your shop or larger garage floor, then don't overlook the practicality and protection that these densifiers and siliconate sealers can provide.  Though they don't look pretty, they will provide years of protection and at a price you can afford.