This post may contain affiliate links. If you use these links to make a purchase, we may earn a small commission. As an Amazon Associate, All Garage Floors earns from qualifying purchases. You can read our full disclaimer here.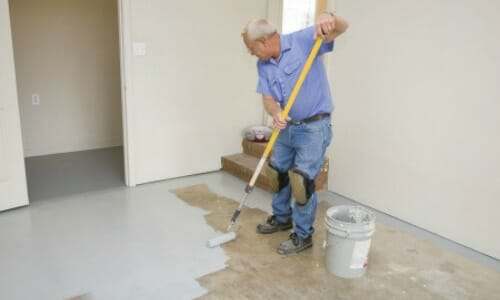 When fall arrives and temperatures start dropping across the country, it's a good time to share some tips about applying epoxy to your garage floor in colder weather.  Fall isn't too late for your epoxy flooring project in most areas of the country but for others however, you may want to wait till spring after reviewing some of our tips and cold weather restrictions for garage floor epoxy.
Review epoxy TDS for temperature requirements
The first thing you want to do is review the Technical Data Sheet for the epoxy in question.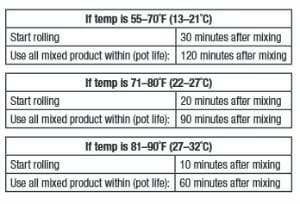 There you will find the required information about temperature specifications for application as well as specifications about humidity levels and dew points.  If you are unsure about any of these, consult with the epoxy company or manufacturer for clarification.
If you are installing a multi-coat epoxy system, be sure to check the temperature requirements of each different product that you may be using.  A primer can have different requirements than a base coat for example and a top coat such as polyurethane can be different than the base coat.
Besides temperature restrictions, a general rule of thumb is that you shouldn't apply epoxy if the humidity is greater than 85% or the temperature is less than 5 degrees over the dew point.  If you have anything close to that then it's usually best to wait for better conditions to insure the best application.  Most epoxies do not like a moist environment and will suffer from adverse reactions to the moisture in the air if you apply it in those conditions.
Temperature tips for epoxy floor coatings
The most important temperature to pay attention to is that of the floor, not the air.  In cold weather a concrete slab is almost always colder than the surrounding air.  Epoxy will immediately take on the temperature of the slab once it is applied and this is the temperature range you need to pay attention to.  The best way to do this is to use an infrared thermometer.  You can purchase one very inexpensively from Amazon
.
Remember to check the slab temperature around doorways, vents, and walls.  These areas can provide for the coldest spots in the slab with a heated garage and should be in the correct range before applying the epoxy.  Always check these areas first before walking on them or applying a second coat.  If you have a heated slab then your only concerns besides the correct slab temperature of course, would be humidity and dew point.
Some people ask about heating the garage itself.  This can work depending on how cold it is, but it can take days for a slab to come up to temperature, not hours.  If you do decide to go this route, stay away from kerosene heaters.  They can dispense contaminants in the air that will end up in your floor.  Propane heaters are much cleaner burning.
In addition, keep your epoxy products inside a heated room prior to installation.  This will allow for better mixing and activation of the epoxy when you are ready for it.
One of the added benefits of applying epoxy in cooler weather is that your pot life will be extended.  Just remember that your curing times are extended as well and you may have to wait longer before applying a second coat or gain full use of the floor.  If you are heating the floor or entire garage, it needs to stay heated until the epoxy fully cures.  If the temperatures drop below the manufacturer's range, then the epoxy can actually stop curing and will never fully cure after that.
If you've reached the point where the weather is just too cold and you still have your heart set on a coating for your garage floor, then you may want to consider a polyurea or polyaspartic coating.  These can be applied in much colder temperatures than epoxy and provide for even better protection.  Just remember that they are a bit more costly.
If you have any concerns, always consult with the manufacturer.  They will be the first who want you to have a successful outcome if applying an epoxy coating to your garage floor in cold weather.