This post may contain affiliate links. If you use these links to make a purchase, we may earn a small commission. As an Amazon Associate, All Garage Floors earns from qualifying purchases. You can read our full disclaimer here.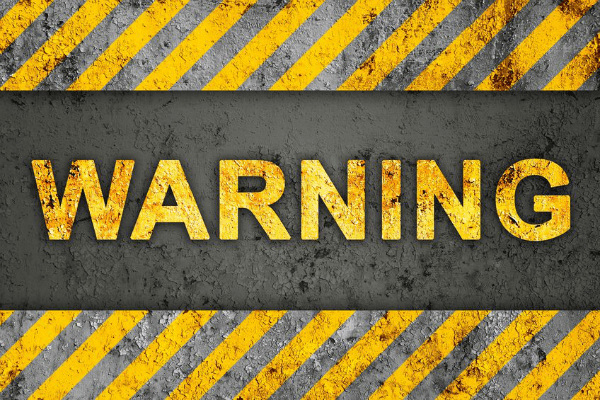 If you want to stain the concrete of your garage floor, then you need to beware of making this unfortunate mistake. Stain is a garage flooring option that has been getting more and more attention lately and for good reason. However, it has also caught the attention of some paint companies who have found a way to profit from this trend by deceptively marketing products as a concrete stain to the unsuspecting consumer.
We initially became aware of this issue a couple of years ago. A reader had contacted us asking how to fix the colored concrete stain on his garage floor that was peeling up in places. It was revealing the bare concrete underneath. We thought he had mistakenly used the word "stain" when he really meant to say "paint".
After sending us a link to what he had applied, it was indeed a product that was labeled as a concrete stain. As it turns out, it was Behr Premium Solid Color Concrete Stain. They also have a Semi-Transparent Concrete Stain that creates a more translucent look.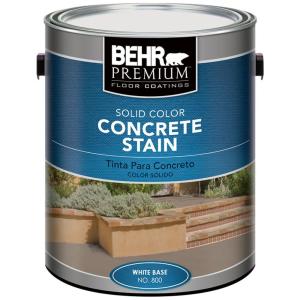 This DIY concrete stain in a can immediately made us suspicious.
Sure enough, after looking into the data sheets for this product, we were not surprised to learn that what was being marketed as a concrete stain, was actually a tinted water-based, low solids acrylic coating.
If you view one of Behr's videos for application, they even refer to it as paint and state; "Premature heavy traffic will cause paint failure and require spot recoating".
Stain is not a coating, it is not a paint, and it does not peel. As it turns out, Behr is not the only company that is cashing in on this deception.
As a result, in the past two years we have seen a large increase in the amount of questions and problems that readers have encountered with these so called "stains".
What concrete stain is and what it isn't
Concrete stains will permanently stain bare concrete with color to create a decorative appearance. They either chemically react with concrete to permanently change the color at the surface or they will deposit colored pigments deep into the pores of the concrete that are very difficult to remove.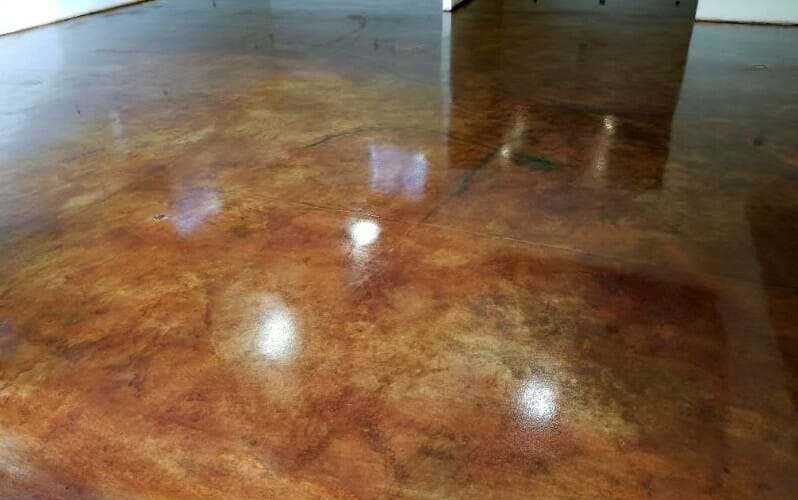 Depending on the type of stain used, they will create varying degrees of a variegated and translucent look that is rarely solid in color. With the exception of acid stains, most water-based and solvent-based concrete stains come in a concentrate and require that you add the water or solvent to mix them before application.
Stains are non-film forming. They do not seal the concrete nor do they protect it. They just color it and require that a clear coating be applied. This coating is what protects and seals the concrete as well as make the colors "pop" with brilliance to create the rich look that they are known for.
Decorative concrete stains cannot peel or delaminate since they physically change the appearance of the concrete surface. You would need to grind the surface of the concrete to remove them.
As a result, the only part of a stained concrete garage floor that could possibly peel is the clear sealer that is applied over the concrete to protect it. Our article on garage floor stains and dyes explains in deeper detail how stains work and how to protect them.
Stains are not a colored coating or paint. If the concrete stain product you are interested in is labeled as a sealer or creates a film forming coating, then it is not a stain.
If the product offers various tints, then it is not a stain. Tints are a colorant for coatings and paint.
Many of these paint manufacturers are using a very low solids acrylic coating, tinting it with color, and then call it a stain. Most require that you prep the concrete first by etching. They also state that you can use them over painted surfaces. If any of these are the case, then it is not a true stain.
If the product does not require an additional application of a sealer and only requires that you roll it on or use a pump-up sprayer to complete the application, then it is not a concrete stain. Do not confuse the issue if they say you can apply an optional glossy clear coat or matte clear coat over it.
If it's not a true concrete stain, why do they call it such?
The simple reason that they do this is because they can. Our guess is that with the potential profits that can be made for marketing such a DIY product with the word "stain", company lawyers can somewhat successfully argue about the meaning of the language used and its intent. It would most likely require threat of a class action lawsuit to bring about change of the wording.
This is somewhat similar to how the large confusion over garage floor paint and garage floor coatings by consumers came about. Because many consumers were unwittingly referring to a garage floor coating as painting a garage floor, the large paint and coating companies started marketing epoxy coatings as epoxy paint and latex acrylic concrete paint as 1-part epoxy paint and etc.
This confusion over epoxy, paint, and coatings alone is one of the reasons we started All Garage Floors to begin with.
In this case, however, these companies seem to be purposely marketing acrylic coatings as stain in hopes of capturing the growing crowd of consumers that want to stain their concrete and garage floors. They lure the unsuspecting consumer into a relatively inexpensive product called "stain", that can easily be applied without the additional requirements of a clear coat.
Behr is not the only company doing this. H&C Concrete, Kilz Floor Coatings, and even Rust-Oleum are some of the examples that we are aware of.
Are these so-called concrete and garage floor stains a bad product?
You may begin to get the impression that we think these are bad products – not necessarily though. What they are is misleading and they give concrete staining a bad image. When people are shopping for a stain for their garage floor, they are not looking for an acrylic coating.
We do admit that these tinted acrylic coatings that are sold as concrete stain can actually be a good choice for walkways, patios, masonry walls, and other interior concrete surfaces that see primarily foot traffic. They do look nice and can perform well in most cases when used for the appropriate application
However, water-based acrylics are not the best choice for a garage floor or even a driveway for that matter. It's the primary reason why we get emails from readers asking what to do about their new concrete stain that is deteriorating or peeling up where the tires of their vehicles rest.
So, beware of any easy to apply DIY concrete garage floor stain product that comes in a can. Pay close attention to the data sheets and call the manufacturer if you have questions. Chances are if you suspect that it's not a stain, it most likely is not.