This post may contain affiliate links. If you use these links to make a purchase, we may earn a small commission. As an Amazon Associate, All Garage Floors earns from qualifying purchases. You can read our full disclaimer here.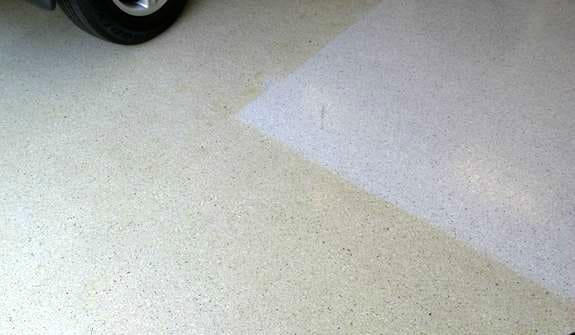 There is nothing more discouraging than applying an epoxy garage floor coating only to have it turn yellow in color or tone in areas of the floor at some point after application. This can happen in as little as a few months to as long as a few years or more. As frustrating as this may be, there is a reason why some epoxy coatings turn yellow.
So, let's examine why this happens, provide some tips on how you can slow the process down, and discuss how to prevent a garage floor coating from turning yellow to begin with.
The primary cause for epoxy floor coatings turning a yellow color is exposure to U.V. light. Also known as ambering, when exposed to direct sunlight or strong indirect sunlight over a period of time, epoxy will experience a photochemical reaction known as polymer degradation.
The degradation of the polymers is what causes epoxy to change to an amber or yellowish color as well as experience a reduction in gloss.
This is a natural progression for epoxy and usually will not affect the performance of the coating for most garage floors. However, if exposed to direct sunlight for long periods of time, it can eventually cause chalking, deterioration, cracking, and even delamination of the coating. This is why epoxy coatings should not be used outdoors.
The epoxy in the image below was actually a medium gray in color. It has turned a dark yellowish color at the entrance to the garage. In addition, you can see where the epoxy was extended out past the garage door onto the apron outside. This section is actually chalking up and deteriorating. That is why it looks almost white in color.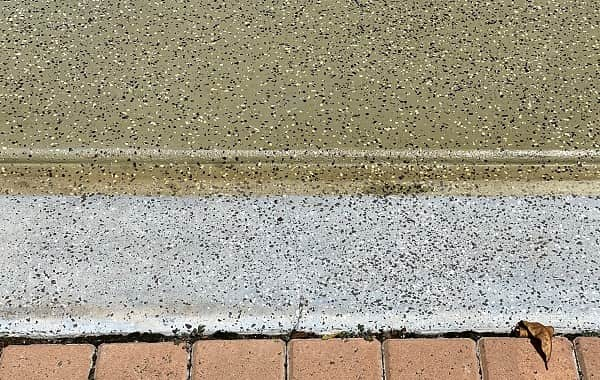 Two lessor known causes for epoxy coatings turning yellow is extreme heat and oxidation. Of the two, oxidation is the more common.
If the hardener is exposed to oxygen, it will slowly begin to oxidize and turn yellow. When mixed with the colored resin, the result will be a color that has a slight yellow tint. This is one of the reasons why epoxy has a limited shelf life of approximately one year in an unopened container.
The most common areas for epoxy coated floors to yellow are at the front of the garage where the floor is exposed to direct sun and along areas of the floor where sunlight may come in through windows.
The example in the image below is from a DIY Rust-Oleum EpoxyShield kit. It shows a patchy area of epoxy that has been yellowing due to sunlight that comes through windows. You can still see some of the original gray color.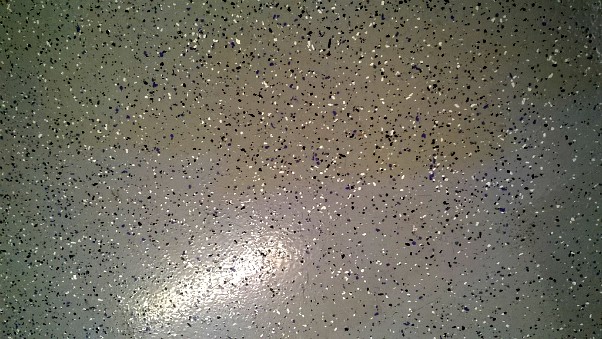 Epoxy floor coatings can slowly be affected from strong indirect sunlight as well. Even though it may not receive direct exposure from the sun, if the garage door is open for extended periods of time, the front half of the floor can slowly attain a slight yellow tint starting at the front and working towards the back.
Are there epoxy floor coatings that don't turn yellow?
One important fact to note is that all epoxy will amber when exposed to direct sunlight or strong indirect sunlight – period. It's just a matter of how long it takes depending on the quality of the epoxy, additives used, and the type of U.V. exposure.
As a result, you will not find any epoxy floor coating available that will not turn yellow under the right conditions.
If a garage floor coating company, manufacturer, or concrete coating sales vendor states that their epoxy will not amber when exposed to U.V. light, then we highly suggest that you take your business elsewhere.
But what about brands that say they have U.V. stabilizers in their epoxy? Doesn't that mean it won't turn yellow?
Many commercial quality epoxy coatings have added U.V. stabilizers in their formulas. These stabilizers generally do a good job of stopping loss of gloss, chalking, and delamination for epoxy exposed to sunlight.
These are typically marketed as being U.V. resistant. However, U.V. resistant is not the same as being U.V. stable.
U.V. stabilizers will only slow down or delay epoxy from turning yellow if it is exposed to sunlight for periods of time. The epoxy will still eventually amber if the right conditions exist.
What these U.V. stabilizers will do though, is help to reduce the intensity of the amber looking color providing it's not in constant sunlight.
The budget friendly DIY epoxy garage floor kits that you can purchase from your local home improvement centers are generally the worst offenders for turning yellow.
These do not have U.V. stabilizing additives and typically consist of lower quality epoxy that will turn amber and lose gloss fairly quickly if exposed to direct sunlight.
How to prevent an epoxy garage floor coating from turning yellow
Ok. So, we have discussed the why and how of epoxy coatings ambering or turning a yellow tone. The good news is that there are ways to slow this process down as well as prevent it altogether.
First off, we want to state that if you are not one to keep your garage door open for any length of time other than to drive your vehicles in and out of the garage, pull out your trash cans and etc., then you are the least susceptible to an epoxy coating turning yellow. Even the low-cost DIY garage floor coating kits do well in that regards.
However, if you do like to keep your garage door open for periods of time, then there are some recommend steps that you can take to delay the process as well as the amber looking color intensity of the epoxy.
In addition, there are other options you can consider to prevent ambering regardless of how long you like to keep your garage door open.
The first step is to use a commercial quality high solids epoxy coating. This article here explains the differences in epoxy solids. Many of these high solids epoxy have U.V. stabilizers added. Even if they don't, the premium ingredients and formulations will resist turning yellow much better than low cost epoxy coatings.
Also, consider your color choice. Ambering of tan and beige colors is less noticeable than shades of grays or lighter colors.
If applying a clear coat, do not use an epoxy clear coat. Garage floor coatings with an epoxy clear coat will actually look more yellow when they begin to amber.
The reason is that the yellow amber tone in clear epoxy is much more noticeable. Combine that with the color coat ambering and you can get a nice yellow or dirty brown looking tone.
Instead, apply a high performance clear coat such as polyurethane, polyurea, or a polyaspartic. These types of clear coats are U.V. stable. They will not amber when exposed to direct sunlight.
There is some debate as to whether or not a U.V. stable clear coat will slow the ambering process of epoxy down, however. Some installers have noted that it can work well for garage floor coatings that only see indirect sunlight.
Use more color flakes. Color flakes are made of acrylic and vinyl resins that are U.V. stable and will not amber. If you go with a medium to heavier broadcast of color flakes when using a U.V. stable clear coat, there is less colored epoxy exposed to turn yellow.
There are also options to create an epoxy coating system that is completely U.V. stable and will not amber regardless.
For those who prefer no color flakes or a light to medium color flaked floor, you can prevent your coating from ambering with the addition of a color tinted polyurethane coat.
You apply a polyurethane that is tinted to the same color as the epoxy after you put down the base colored epoxy coat. Next, broadcast your color flakes into the polyurethane and apply a U.V. stable clear coat. The clear coat is not required for this process if you opt not to use color flakes.
This type of hybrid epoxy coating system is completely U.V. stable and will not experience any yellowing.
The other option is to apply color flakes to full refusal. This is very popular and allows you to customize the look of your floor since you can choose and mix the amount of colors how you want.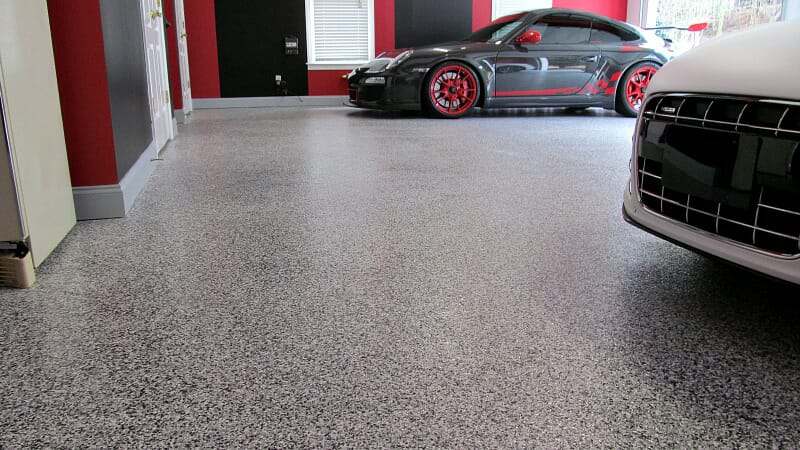 The high solids epoxy coating is completely covered with the U.V. stable color flakes. You then apply the appropriate amount of U.V. stable clear coats to completely encapsulate and cover the color flakes.
Keep in mind that you cannot apply color flakes to full refusal on a low solids epoxy coating. They are not thick enough to handle all of the flakes. Examples would be Rust-Oleum EpoxyShield, RockSolid, and Sherwin Williams H&C Shield-Crete.
Lastly, you can apply a garage floor coating that is other than epoxy.
The newer single-part polyurea garage floor coating kits are becoming extremely popular. Though more expensive, these are extremely long wearing coatings that are actually easier to apply and are U.V. stable. They will not yellow.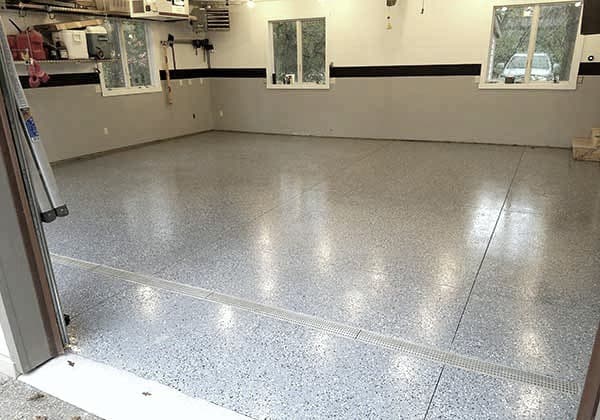 Another similar option would be a single-part polyurethane system. Rust Bullet DuraGrade is an excellent example. It will not yellow if exposed to direct sunlight either.
If you are hiring a garage floor coating contractor, then you can opt for a polyurea polyaspartic floor coating or a hybrid like those we mentioned above.
Final Thoughts
One important point that we want to make is that the budget friendly DIY epoxy coating kits are the ones that receive the most negative attention for turning yellow.
As we had mentioned, these coatings are notorious for doing so if they are exposed to any type of strong U.V. light – direct or indirect.
The high solids commercial quality epoxy garage flooring kits are less susceptible to this for the reasons that we mentioned above. These are the type of kits and materials that you can purchase from quality online concrete coating vendors. You won't them in home improvement stores.
Many of our sponsors that advertise with us are a good example of where to purchase such products. You can find a list here in this article if you are not familiar with these types of companies.
In most cases, the people who experience ambering with commercial quality epoxy kits do so after a period of years. Many times, they don't notice as much because the process is so slow. Unless, of course, there is a distinct section such as the garage door opening that they can compare it to.
In short, if you take the steps that we have outlined above, you can slow down the yellowing process of an epoxy coating or even prevent it altogether with the right garage floor coating materials.