This post may contain affiliate links. If you use these links to make a purchase, we may earn a small commission. As an Amazon Associate, All Garage Floors earns from qualifying purchases. You can read our full disclaimer here.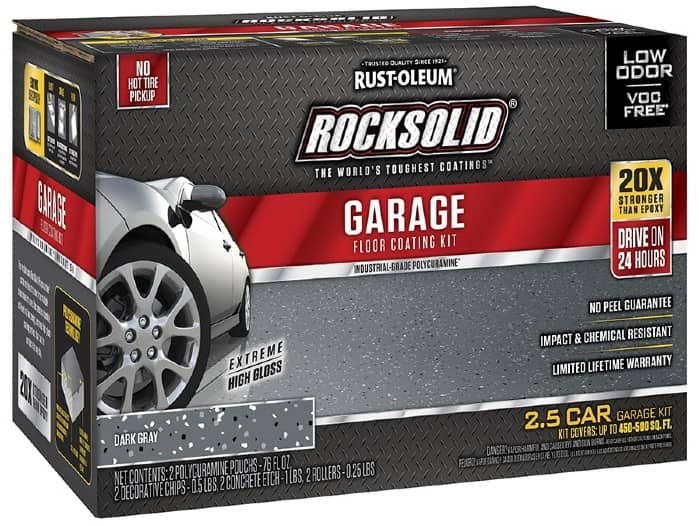 When RockSolid introduced their new line of Polycuramine garage floor and interior coatings, we were left scratching our heads at first. After all, what in the heck is Polycuramine? We admit we had never heard of it before. Moreover, what happened to the old RockSolid Polyurea garage floor coating and why the change? Furthermore, why is Rust-Oleum's name on RockSolid's product?
So after being asked by more than one reader of All Garage Floors, we decided it was time to see what the Polycuramine fuss was about, why Rust-Oleum is involved, and determine if the RockSolid Polycuramine garage floor coating is better than the older Polyurea coating that it has replaced.
What is Polycuramine?
For the best definition of what Polycuramine is, we need a brief history of RockSolid Floors in order to help explain how Polycuramine ended up in their product and how Rust-Oleum became involved.
RockSolid Floors was established in 2007 as an affiliate of Citadel Floor Finishing Systems. Citadel is a well-established, 43 year old industrial floor finishing manufacturer that specializes in polyaspartic and polyurea technologies. Realizing that there was a DIY demand, RockSolid Floors was born in order to provide a friendlier DIY version of the Citadel product that would be easier to apply.
RockSolid is probably best known for providing the A and B compounds in ready-to-mix sealed burst pouches that do not require a mixing bucket for most applications.
In January of 2014, Rust-Oleum acquired Citadel and thus inherited the RockSolid line of floor coating products. As a result, all RockSolid products now come with Rust-Oleum branding. In fact, all customer service inquiries for RockSolid go directly to Rust-Oleum as well.
Polycuramine is a newly trademarked product that was developed last year by Citadel and found its way into the RockSolid lineup. It's a proprietary blend that is alleged to combine the best benefits of Polyurea, Polyurethane, and Epoxy. This is a quote from a RockSolid sales page:
RockSolid Polycuramine™ is the best of Polyurea, Urethane, and Epoxy chemistries.  It combines these three chemistries and their key attributes into ONE indestructible, self-leveling, flexible, fast curing, high gloss coating system.
RockSolid claims that their Polycuramine garage floor coating is 20 times stronger than epoxy paint and has a 96% solids content. It is impervious to all chemicals and comes with a high gloss finish. It can be installed in one day, walked on in 8 – 10 hours, and driven on within 24 hours.
You can view their information page here.
It also has the added advantage of an installation temperature range of 40°F – 90°F, it has a low VOC content with minimal odor, and it comes with a limited lifetime warranty as well.
Each Polycuramine Garage Floor Coating kit consists of one burst pouch of colored Polycuramine to cover up to 250 ft², decorative color chips for a light coverage, the required foam roller, concrete etch solution, and of course instructions. There are five colors to choose from as well – Black, Dark Grey, Grey, Tan, and Mocha.
Installation of the new Polycuramine Garage Coat kit
One note to make. Proper preparation of the concrete is still the most important part of a garage floor coating application – even new concrete. No matter how good the coating is, it will not adhere to a poorly prepped or dirty garage floor.
Our evaluation of RockSolid Polycuramine Garage Floor Coating
We feel that this new lineup for RockSolid couldn't have come at a better time. While the Polyurea garage coat system that it replaced was a fairly good product, many of the reviews for it by the average DIY installer were less than great.
There are many benefits to a polyurea garage floor coating, but the pitfalls for a DIY coating is in the installation. The biggest complaints received about the older RockSolid polyurea coating was delamination and finish issues. Many if not most of the problems to these issues was not due to a poor product, but the result of the limited application time available for the product. If it wasn't installed in 20 to 30 minutes, it started to thicken up and problems ensued.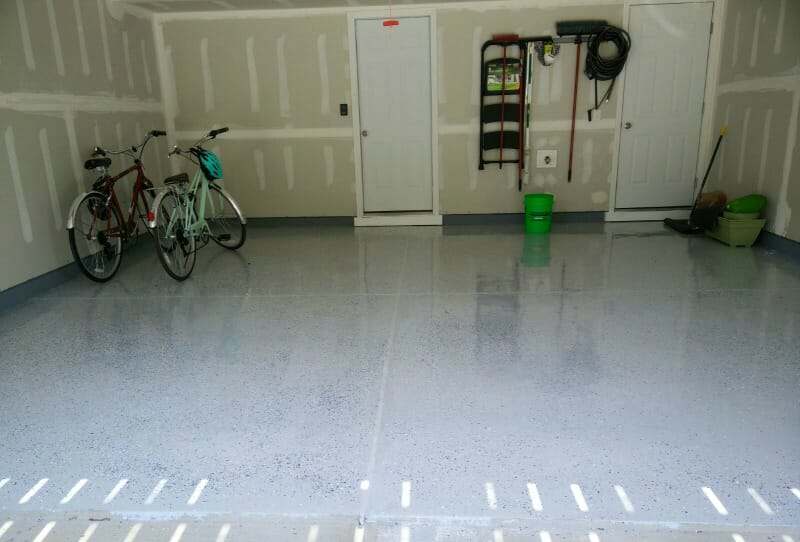 Because polyurea cures fairly quickly, it doesn't have enough time to seep into the pores of dense concrete that is prepped only by etching and not by grinding. This can lead to delamination issues of the coating. Secondly, if you don't get the product down fast enough the finish will not be very glossy or can even loose its smooth texture among other issues.
After putting a call in to the Rust-Oleum tech line, they claimed that the new RockSolid Polycuramine formula has better wetting characteristics (similar to epoxy) that allows the coating to penetrate into the concrete better. This is a big help for concrete that is etched instead of prepped by grinding.
You also have up to 45 minutes to apply the Polycuramine which should be more than enough time to get down 250 ft² of product. This should alleviate many of the finish issues that resulted from the short installation window of before.
We do have to question some of RockSolid's marketing techniques however. They claim that their new Polycuramine formulation is 20 times stronger than epoxy paint. Really? Their older polyurea product claimed it was only 4 times stronger. After digging a bit deeper, we realized that what they are comparing it to is paint – 1 part epoxy paint that is. That is like comparing apples to oranges.
Try as we might, we could not find a 2-part epoxy floor coating with only a 33% solids content as RockSolid compares it to. The only product we could find with that low a content is 1-part epoxy paint. We feel that they are being a bit too deceiving in this regard and should be comparing it to a true 2-part epoxy.
They also claim that the new Polycuramine blend combines the best of Polyurea, Polyurethane, and Epoxy. That isn't necessarily true either. History has shown time and again for sealers and coatings that by combining the best of everything you will not get the best attributes of each ingredient.
Polyurethane for example is known for being very resistant to chemicals, abrasion, and for being U.V. stable. While Polycuramine has good chemical resistance, it is not U.V. stable and can yellow if exposed to direct sunlight for lengths of time. It's also not as resistant to abrasion as a good polyurethane. Its abrasion resistance is about equal to a quality 100% solids epoxy. That's still good, but not as good as most polyurethanes and polyureas.
Another concern is that this product goes down extremely thin. It has a dry film thickness of only 3 mils. That's about half as thick as a typical polyurea coating. We attribute that to the special polyamide foam roller that they require you to use. As and example, 100% solids epoxy is about 10 mils for a DIY kit. Our guess is they need the thinner coating to get the coverage rate they require in order to keep the price point competitive.
As a result of the thin mil coating, we recommend a second coat of clear Polycuramine to provide for an overall thicker coating that will provide a more durable finish and deeper glossy look.
Try as we might, we could not find a technical data sheet for the Polycuramine garage coat either. We don't know if that is by design or if it's the result of a still fairly new garage coat product. We have always had concerns about companies that don't list the TDS for their own products. Rust-Oleum did not have the information immediately available either and had to get back to us with the specifications on the dry film thickness.
Update: RockSolid now provides a TDS sheet for their product. However, it still does not provide enough information to compare it to other quality coatings.
Would we recommend RockSolid Polycuramine?
With all that said, initial responses from consumers has been very positive. Reports are that the new RockSolid Polycuramine garage coating formula is easier to apply DIY than the previous polyurea formula. Few Issues about the finish have been raised so far that we are aware of. Plus, the added benefit of being able to install it in a wider range of temperature extremes is something you cannot do with other garage floor coatings.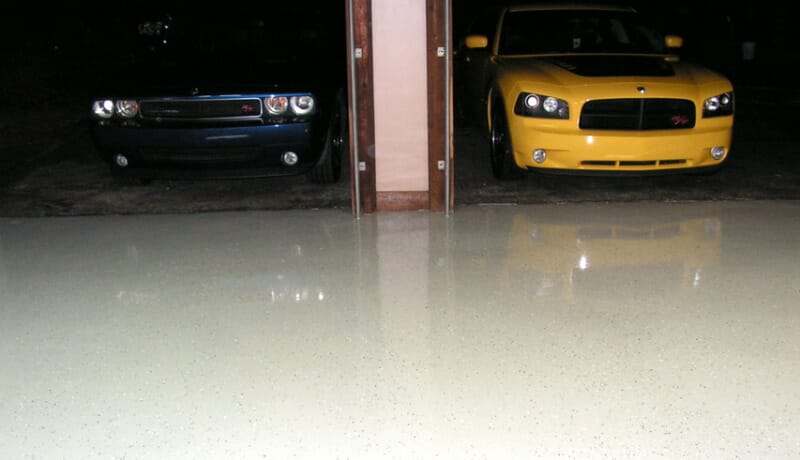 One nice advantage to the Polycuramine garage coat that we have failed to mention is that it has up to a 7 day recoat window. This means that you can wait up to 7 days to apply another coat to the floor without having to prep it first other than making sure it is clean.
This can be a great advantage to the average DIY installer who may only have a limited time to work on their floor.  Most coating products have a recoat window of 24 hours or less.
Though the new RockSolid Polycuramine Garage Coat is only 3 mils thick, we feel this formulation is far superior to that of comparable DIY coatings such as Rust-Oleum's 2-part EpoxyShield product, Quikrete Epoxy garage floor coatings, or Valspar Epoxy Coatings as an example.
Yes, the RockSolid Polycuramine is more expensive than these traditional DIY garage coat kits. However, the warranty is much better and it fills a void for the consumer who wants a quality DIY product that is easy to apply, but may be intimidated by the cost and application of the thicker and more expensive multi-coat garage floor coatings.
RockSolid also has an easy to apply metallic garage floor coating which is now gaining some attention. It goes down twice as thick and has a very professional appearance.
Where to purchase RockSolid Polycuramine products
We've had to update this section on multiple occasions since we first posted this article in early 2014. For a while the RockSolid lineup was only available from Menards. Fortunately however, Rust-Oleum has since expanded the distribution of the RockSolid product to Home Depot as well as some automotive parts stores such as Summit Racing.
If you don't have one of these stores near you, Rust-Oleum is now offering RockSolid Garage Floor Coatings at Amazon.
Pricing will vary but to give you an idea, expect a single 1-car garage floor kit that covers up to 250 ft² to retail for approximately $125. We've seen it priced as low as $99 from different outlets when on sale. They also have made available a 2.5 car garage kit as well that will cover up to 500 ft².
It didn't take too long, but Rust-Oleum is now marketing the Polycuramine formula under the Rust-Oleum Restore brand of products as well. As an example, you can find it at Lowes under the name Rust-Oleum Restore garage floor coating kit. You may be able to find it at other outlets under the Restore branding as well.
Final thoughts
It's too soon to know if RockSolid Polycuramine is the wave of the future in garage floor coating. It does seem however to have much better attributes than the traditional DIY epoxy garage floor kits that you can buy from your local home improvement centers and auto stores. Reviews so far have been positive and you can bet we will be keeping a close eye on the developments of this new product.
Update
It's been two years now since we first wrote about RockSolid's new Polycuramine garage floor coating. To date, we have heard very few issues relating to the actual performance of the coating. This is good news so far and a good indicator that it should last longer than the traditional DIY garage floor coating kits.
However, we have had a few questions and comments regarding a particular cosmetic issue with some single coat applications. These people have been reporting patchy areas and sections of the coating that appear less glossy and/or slightly different in color.
The source of this issue seems to be too thin of a coating in those areas. As with all coatings, if too thin of a coat is applied to bare concrete in a single coat application, the finish of the coating will lose gloss and the color tone can change.
We have found a couple of reasons why this is occurring. The first has to do with stretching out the coverage rate of the coating. As we reported earlier, RockSolid states up to 250 ft² coverage for a single car application (one burst pouch). We have found that when people have tried to stretch this coverage rate, it ends up being applied too thin and the resulting issue is loss of gloss and color tone problems.
The second reason is somewhat related. Rough or porous floors will absorb more of the coating. Even if applying the Polycuramine to no more than 250 ft², the floor absorbs more of the coating and you end up with the same results. This isn't necessarily a bad thing. You are assured a very good bond when the floor absorbs the coating.
This is why we believe that RockSolid recommends not performing a regular acid etch on the concrete and instead recommends using their milder Eco Etch formula. Grinding the concrete or performing an acid etch provides for a more porous profile that absorbs more of the coating.
Unless you have a fairly smooth concrete surface to begin with, we recommend covering no more than 200 ft² of garage floor for each burst pouch used. This should help provide for a slightly thicker application that when cured, will be thick enough to provide for a consistent color and glossy finish.
Remember, when a manufacturer states that a coating or sealer will cover up to a said amount, that number is based on an ideal surface condition for that coverage rate.
The other alternative is to just apply a second coat over the first. This not only assures a consistent and glossy color, it will also provide for a more durable coating. The second coat and any other subsequent coats (clear for example) will always have a higher coverage rate since none of the coating is being absorbed by the floor.
This information should help most people with avoiding this reported issue when factoring in the amount of product you will need to purchase.