This post may contain affiliate links. If you use these links to make a purchase, we may earn a small commission. As an Amazon Associate, All Garage Floors earns from qualifying purchases. You can read our full disclaimer here.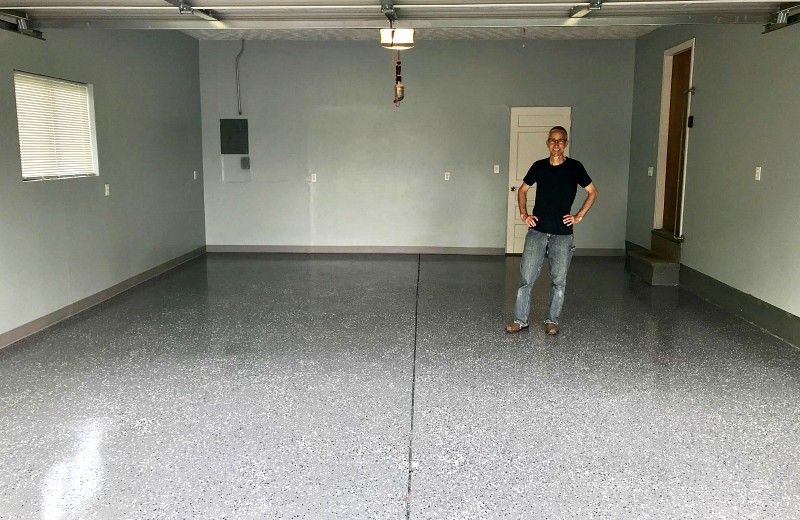 A pitted winter garage floor is the bane to most any DIY garage floor coating project. It creates apprehension and often discourages many from attempting a coating on their own. However, one such reader of All Garage Floors took the time to research such a project and put his new found knowledge to the test.
The results? He completely transformed his paint peeled and pitted garage floor with the appropriate DIY repairs and a Nohr-S polyurea floor coating system.
This Reader's Projects garage floor transformation was completed by Mark. He had originally contacted us with some initial concerns that he had regarding floor prep for a Nohr-S polyurea coating. A week or so after advising him about his concerns, plus a few other questions, Mark sent us the before and after pictures of his garage floor.
Once we saw the initial images of his pitted concrete with the peeling paint, and then the amazing results of the Nohr-S polyurea garage floor coating system, we knew that this was a great project for our readers to learn from.
After asking Mark if we could do an article about his project, he graciously obliged and provided us with a detailed write-up. He was so thorough, in fact, that we decided to publish many of his own words in the project details. The article is longer than normal, but it's well worth the read.
We really want to stress the fact that this garage floor coating project with pitted concrete is a great learning opportunity and an excellent example for those who want to attempt similar projects.
Why Mark Decided to DIY his Garage Floor Coating & Repair Project
Mark purchased his 1965 era south east Michigan home approximately 3 years ago. However, the 460 ft² garage floor was an annoyance with peeling paint and pitting that was getting worse due to road salt.
I am not typically an ambitious do-it-yourself kind of guy. This project seemed daunting, but manageable, if done in stages. I was guided along primarily by reading various articles on this website.
The images below show what the garage floor looked like before Mark decided to make repairs and apply a coating.
Click on an image for larger view
He had entertained the thought of using a Rust-Oleum garage floor coating kit, but he didn't know how to go about tackling the peeling paint and repairs. As a result, he decided to contact some local professionals instead to get some quotes for the job.
After contacting approximately 8 different companies, he felt "confused and overwhelmed when they started using terms like polyaspartic, full chip broadcast, 2-part epoxy coatings, shot blasting, diamond grinding, 100 percent solids epoxy, and etc."
With quotes of $3 – $5 per square foot, Mark decided it was time to do some research. That's when he discovered us at All Garage Floors.
After spending some time on our site to get a better understanding of garage floor coatings and concrete prep, he decided he was going to tackle the job himself. If he got stuck somewhere, he figured he could always hire a floor coating company to complete it.
The following 4 stages is where we decided that in the best interest to our reader's, we would let Mark tell much of the process he went through. We make a few comments in parenthesis along the way and finish up with final remarks and tips.
Stage 1: Garage Floor Preparation
The first step to tackle was diamond grinding the floor, and my local Home Depot carried the tools for rent. However, I almost abandoned the project when I realized the Edco grinder weighed over 150 pounds. I didn't have a way to transport it, but the Home Depot associate steered me towards the much lighter floor maintainer machine and he noted the other machine would be too aggressive.
(Most Home Depot employees are not very knowledgeable regarding grinding. The Edco 10" grinder is not too aggressive as Mark later alludes to.)
I was quite familiar with the lightweight machine from buffing floors in my early Navy days and it fit in the trunk with the rear seats down. The machine was $56 to rent and the Diamabrush removal attachment was another $75. There was also an $18 charge for damage protection.
I anticipated the grinding would take about 3 hours and I hoped I could get the machine back within 4 hours for a discounted rental rate. That was laughable: It took a good 7-8 hours of grinding to get all the old paint (3 layers!) off the floor.
If I tried grinding on top of the old paint, the machine just slid around to no avail — there was no grinding. I had to continually work from the edge of the chipped paint and it slowly chipped/came up.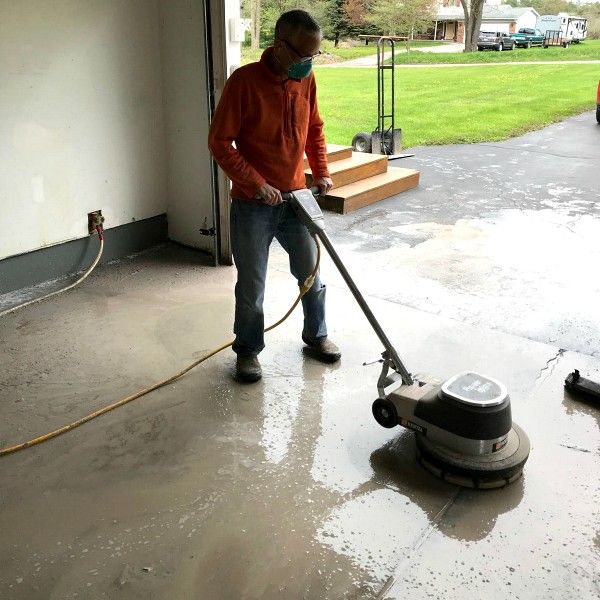 I tried grinding both wet and dry and neither one seemed more efficient. They were both messy in different ways: flying dust versus wet, slippery muck. This link about grinding contains a great article that got me started with this process.
(Grinding dry with the proper vacuum attachments is the preferred method. It doesn't introduce water and makes cleanup much easier.)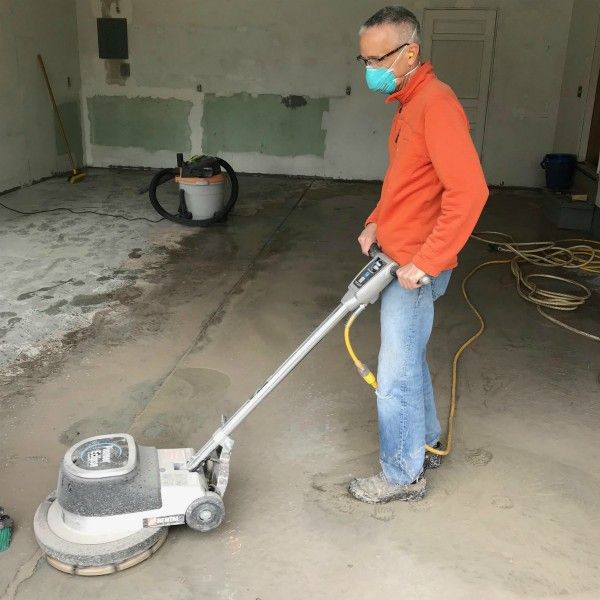 After hosing down the floor several times, the next project to tackle was getting the old paint off the edges of the floor. There was a 3-4" band around the perimeter of the floor where the initial diamond grinder could not reach.
I decided to try the Rust-Oleum concrete paint stripper and I spent a few hours scraping away with a small carbide blade paint scraper. This process was totally hopeless. The stripper didn't touch the old paint. After calling Rust-Oleum, they quickly agreed to refund me for this product.
I knew Home Depot rented an angle grinder for about $20, but you had to then purchase the turbo cup grinding wheel for about $60.
After reading the grinding article again, I learned you could buy an inexpensive 4″ angle grinder from Harbor Freight ($15) and get the diamond cup grinding wheel on Amazon for about $10.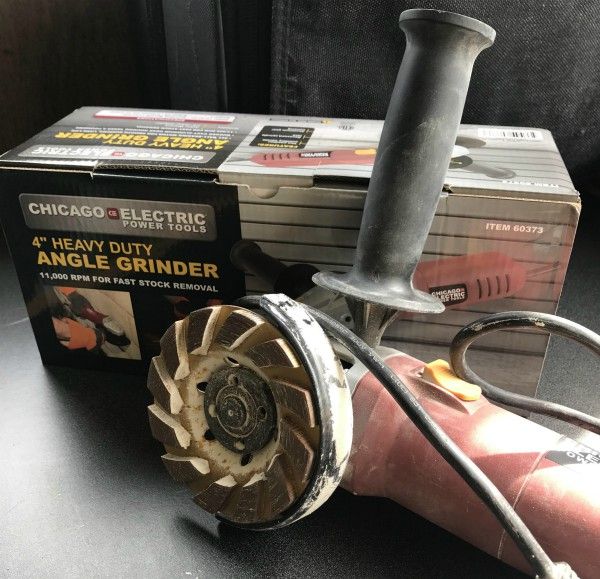 This combo made light work of cleaning up the edges, but again, it was a very messy, dusty process. The grinder worked well with both the wet and dry method, but it was tricky to use without gouging the floor. You really have to keep the grinder flat and moving! (Excellent tip!)
Stage 2: Garage Floor Repairs
With the main floor and edges pretty clean, the next step was determining how to fix the salt pitting.
There was still a good amount of old paint down in the pits that the grinder could not reach. I did not want to attempt any repairs over the top of old paint, so I spent a long time chipping away at the holes and pits with the edge of the carbide scraper to various degrees of success.
It then dawned on me I had an inexpensive Dremel-style rotary tool that I previously purchased on Amazon that included stone grinding attachments. This tool worked amazing and I quickly finished up the final paint removal.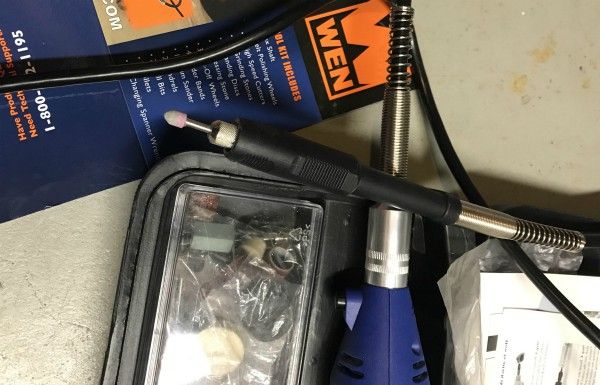 (The remaining paint deep in the pits is not going to adversely affect adhesion in most situations due to the amount of bare concrete surrounding the pits that the repair material will adhere to and fill. We applaud Mark's attention to detail, however.)
After reading how to repair pitted and spalled concrete, I knew there were a few options for me to decide upon.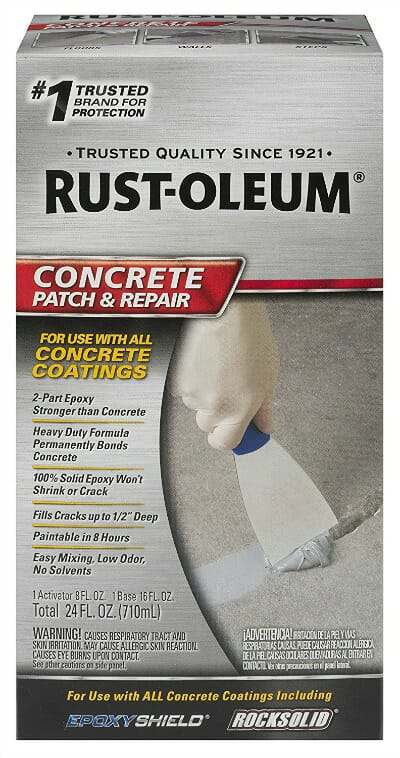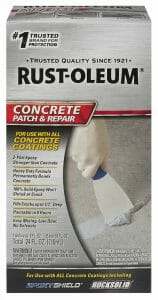 After some debate I decided to try the Rust-Oleum epoxy concrete repair kit.
It seemed the easiest solution and it was readily available at Home Depot. If it didn't work, I would then try an epoxy and sand slurry option that was not available locally.
The Rust-Oleum product was super easy to mix up, and I began applying it to some of the worst areas of the floor. I decided it was best to do a few test spots first before putting the product everywhere. I initially laid it on thick like cake batter figuring it would shrink a bit and settle into some of the smaller pits.
This was a huge mistake! The directions state you can sand the epoxy after it dries (about 8 hours) so I figured that would be easy enough to do.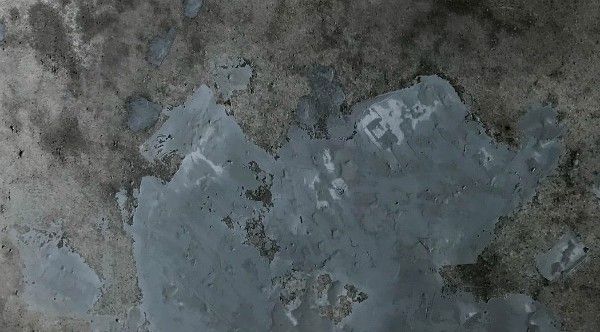 Nothing could be further from the truth—the epoxy is 4 times harder than concrete and there was no way I was going to sand that down. So, I had to break out the angle grinder again and grind off all the excess epoxy. (100% solids epoxy, including repair products, does not shrink as Mark found out.)
This was time consuming and again, very messy. After this trial, for the next round of repairs I applied the epoxy over the pitted areas, working it in well using a 2" putty knife. I then I used a 6" putty knife and made a nice clean sweep/scrape over the top of the repair and level with floor.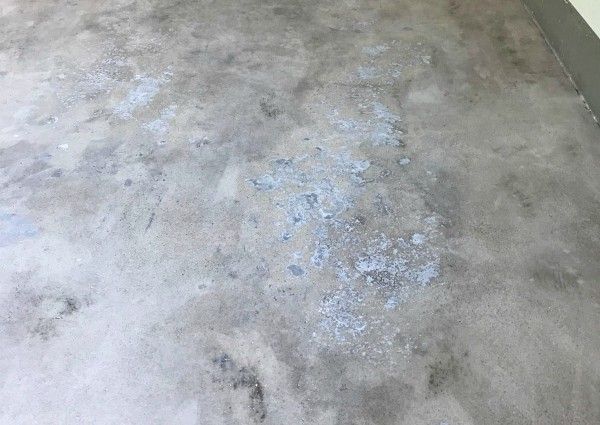 In a few instances, I didn't get a clean scrape and some of the epoxy lifted up or the pits didn't fill in well. This was not a problem because I could simply reapply the epoxy and try again. There is plenty of working time with the product. This process worked great and once it dried, I only had to do minimal grinding to finish off the repairs.
The Rust-Oleum epoxy cleaned up well with rubbing alcohol, and one box of the concrete repair kit was more than enough to do my repairs, which were pretty extensive. At $22 per repair kit, this is a great, economical option.
Stage 3: Moisture Test and Final Cleaning
After the repairs, I hosed the floor and swept everything down. At this point the floor looked pretty clean, and I was happy with the repairs. I did two overnight test patches to check for moisture and the floor passed.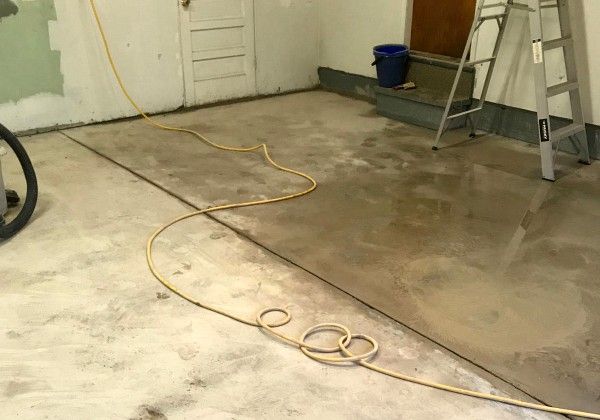 I then read about doing the "water test" to ensure the floor was profiled well and that the concrete pores were open, which would ensure good adhesion of a floor coating. I placed a teaspoon of water on various test spots and according to All Garage Floors, the water should soak in rather quickly.
This was not the case on my floor—the water just sat in a bead for quite a long time (a few hours) before getting absorbed. This even happened on a spot that I knew was aggressively ground down using the angle grinder, and I felt sure I was on good, clean concrete with no oil residue or contaminants.
At this point, I considered using an acid etch, but then decided I would first try using a high PSI pressure washer I borrowed from my neighbor. I was suspicious that there was still a lot of dust and dried concrete slurry trapped in the pores from all the various stages of grinding.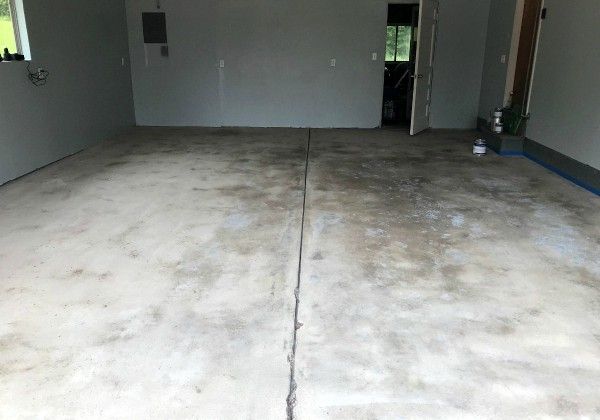 It soon became obvious using the pressure washer that my suspicion seemed correct. The pressure washer loosened up a lot of trapped dirt/slurry and after a few passes the water finally ran clean when sprayed over the floor.
(Mark's suspicion was spot on. Concrete slurry from wet grinding needs to be cleaned out as you go. If not, it can clog pores and be a pain to remove.)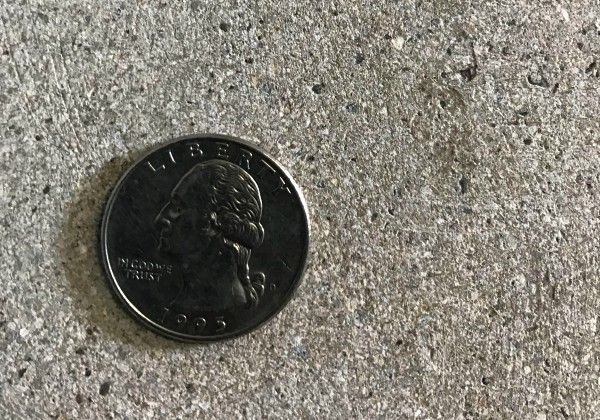 It took 3-4 days to fully dry after this process. I tried the water test again and it seemed to go better, but it still did not absorb as quickly as I would have liked.
After the water testing, I was not confident that the floor was totally prepped, but I was not going to grind it again and I was eager to get this project done. I decided to roll the dice and move forward.
Stage 4: Choosing and Applying the Nohr-S System
During this 2-3 week prep process I was still uncertain which product I was going to use on the floor. I considered using the Rust-Oleum Rock Solid kit, but it has a lot of negative reviews for peeling off and almost every review noted that I would need twice as much product for adequate coverage than was advertised. A 2-car kit was about $200, and I would need two of them, and this did not include any top coating.
I had read the review of the Nohr-S coating system by Legacy Industrial and this option seemed very appealing. It included a 2-part epoxy primer, followed by two top coats of the Nohr-S. The first top coat gets an optional pigment and optional paint chips, and the second clear coat gets optional non-skid.
With a Memorial Day discount, the Nohr-S system ran $682 which seemed like a good value given the primer and two top coats, even when compared against the readily available Rust-Oleum system.
I ordered the Nohr-S system on a Thursday morning and quickly got confirmation that my order was received and then "processed."  The following Monday was a holiday and I figured that would cut into the shipping time. By Tuesday I still did not receive any shipping notice, and called Legacy. I was informed they would look into the order and call me back. I never heard back.
I tried calling a few more times on Wednesday and Thursday, and I could only get the messaging service but still no one called me back. The Legacy website showed my order was processed, but the shipping tab indicated "no shipment."
Not knowing the status of my order and not hearing back from Legacy was very frustrating; however, my order did eventually start to arrive on Thursday, 7 days after placing the order.
The various product came in 3 different shipments, 1 from Fed Ex, 1 from UPS, and 1 from USPS. The third shipment actually didn't arrive until Friday. All of the paint cans were pretty dented, and they were packed in loose Styrofoam beads.
I opened the boxes in the garage and then subsequently had to re-sweep all the fly away Styrofoam. Additionally, the Styrofoam was caked into the rims of the paint cans and it was tedious trying to work it free so it wouldn't end up in the paint once opened. Legacy really needs to update their tracking system, inform their customers of the order progress, and improve their packing process.
(We completely understand Mark's frustration regarding the damaged shipment. Unfortunately, his is not the first of any vendor of concrete coatings to fall victim to damage during shipping. We did speak with Legacy Industrial about not receiving a call back. They agreed that it should not have happened and have since rectified the problem. Legacy Industrial's customer service is typically very good and Mark does point out the good help he received with the installation process.)  
For the application process, I purchased six 12" paint rollers (3/8" nap), three 4" rollers, some disposable paint trays, painters' tape, some 2" brushes and a few painters' buckets. For the size of my garage I received 2 cans of gray primer with 2 quarts of part B epoxy, and 4 cans of the Nohr-S coating (plus the pigments).
With a helper, I applied the primer on a Friday afternoon. Because the product has a short pot life, I only mixed 1 gallon of the primer with the part B epoxy at a time to cover half the garage.
Once mixed, it was pretty straightforward to apply. I initially used the 4" roller to cut in the edges, but quickly realized the 12" roller could do the same thing, so I switched to using brushes to get up to the edges along the drywall.
The epoxy paint is pretty thick and I wasn't quite sure how thick to roll the paint on; I didn't want to run out. The paint covered the old floor quite well, though it was a bit blotchy in various areas, and in a few spots, it seemed like it wanted to pull up a bit.
In talking with Scotty at Legacy, they refer to this initial primer coating as the "ugly coat" because it may not give uniform coverage depending on the garage floor surface. I was (and still am) concerned that the spots that initially did not take to the primer might be trouble spots for peeling down the road. However, once dried, the primer seemed pretty solid.
For the kit I ordered, it was advertised to cover 300-550 square feet. I had about 1/3 of a gallon left over after priming my 460 square foot garage, so the coverage rate seems pretty accurate. It took a good 8 hours for the primer to fully dry.
I should also mention that even with the short pot life, there was plenty of time to get the primer down before it was unworkable, but I would advise only mixing 1 gallon at a time.
(Note: Do not mix more than 1 kit at a time. Epoxy is thermosetting and will get very hot in the mix bucket and begin to cure in a short amount of time if more than 1 kit is mixed together.)
I waited until Saturday afternoon to start the Nohr-S top coats. I wanted the additional time for the primer to cure, and I wanted to avoid direct sunlight into my east facing garage (as recommended by Legacy). You also want to avoid wind, which could cause bubbling.
As per directions, I had to mix both cans of the first coat of Nohr-S with the two cans of grey pigment. This was to ensure uniform color across the entire floor. I used a paint wand attached to a drill, but using a paint stick would have been just fine. The pigment mixed in quite easily.
This coat rolled on pretty easy, but was also quite thick. Like the primer, it worked best to cut in the edges with a brush, then roll. According to the directions, you can add the paint chips, if desired, to the first top coat. After every 3-4 feet of coverage, my helper stopped rolling and I tossed the optional chips on.
There is certainly a learning curve to broadcasting the chips: you really have to toss them up in the air and let them float down.
I saw a few spots that needed more chips and decided to throw the chips at the spot—this resulted in some heavy spots. There is a clear difference between the chip coverage in the two halves of the garage. The second half has a nice uniform broadcast as compared to the first half. Throw the chips up, not down.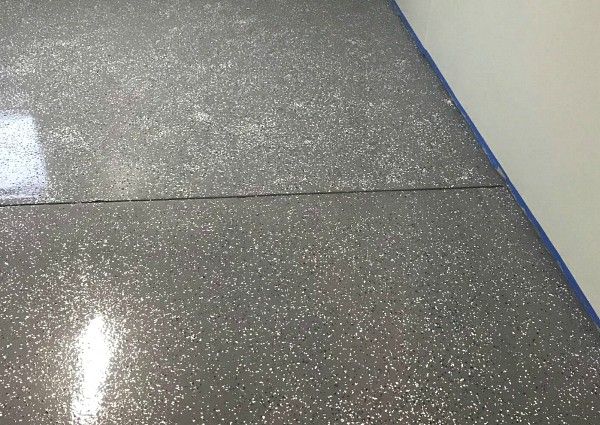 Overall, the first topcoat looked beautiful and I had about 1/3 gallon of the Nohr-S left over. As an aside, my order included 3.5 pounds of chips. I went with the color known as "system 9" on the Legacy website, which was a mixture of blue, black, gray, and white.
Because my floor still had minor pitting even after the repair work, I used a generous broadcast of chips to hide the irregularities. Despite applying the chips generously, I used less than half of what Legacy sent me. (As Mark mentions, a heavy chip broadcast does a good job of hiding/camouflaging concrete imperfections.)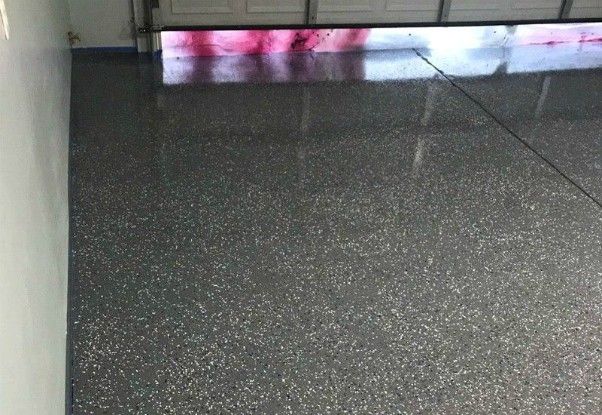 The second topcoat of Nohr-S was ready to apply after about 4 hours. In this clear coat, I decided to use the optional non-skid from Legacy. I simply mixed in 5.5 tablespoons of the "Fine" non-skid directly into the can. There is no need to mix both gallons at the same time.
In the directions, it is noted that it might be difficult to see where the clear coat was applied, and Legacy recommends a "dip and roll" method—but what that means wasn't very clear. My helper and I, even with the knowledge that it would be difficult to see where we applied the final topcoat, still struggled to get uniform coverage.
("Dip and Roll" – After mixing in the non-skid, pour smaller amounts into a paint tray to dip your roller and apply. Always mix the coating in the can again to prevent settling of the non-skid before pouring into the tray.)
After applying this clear topcoat and letting it dry, we were able to see several roller marks (from applying the product too thick in areas), and a few areas where we missed altogether. I was subsequently able to touch up the missed areas with some of the left over Nohr-S.
(This is a typical comment from first time applicators of clear coats. Work in controlled sections and look at the floor from all angles before moving on. )
Again, there is a learning curve to applying a product like this. The amount of nonskid seems to be just right, leaving a slight grit to the floor for wet traction. The fumes from the Nohr-S coating are pretty potent. Even after 1-2 weeks I can still smell the fumes. (No worries, it does go away.)
Results:
Overall, I am extremely pleased with the results, even with the minor rookie mistakes in broadcasting the paint chips and some roller marks in the final topcoat.
When I look back at how the garage floor was before the project began to the final result, the transformation is nothing short of dramatic. Despite initial concerns that a lot of the floor imperfections would telegraph through, you really have to look hard to see them.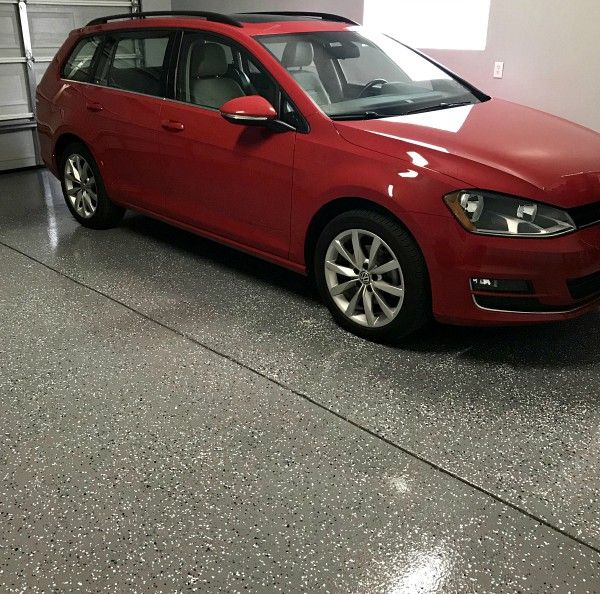 The Nohr-S system was pretty straightforward and easy to use. I trust that it is a great, durable product, but the longevity of it will likely depend on how well the garage floor was prepped. Because of the age of my garage floor and its initial poor condition, I have lingering concerns about peeling or hot tire pick up that only time will reveal.
Mark's Final Thoughts
In hindsight I learned a great deal that would make the project easier if I were to do it again: (Mark provides some good insight and great tips in this section.)
I wish that I would have rented the heavier, more aggressive Edco diamond grinder. I believe the grinding would have gone much quicker, and my concrete would have had a better profile. Also, it would have been nice if the machine I used had the vacuum attachment for dust management. Apparently, this attachment is hit or miss depending on your Home Depot.
Buy a good quality respirator. I used a medical grade face mask that certainly helped, but with the amount of concrete dust I was exposed to, a proper respirator would have been a good investment. I saw them available for $25-35.
My prep work dragged on for 3 weeks because I was learning along the way. I think this could have been shortened to a long weekend if I knew what I was going to need at each stage of prepping.
Do your research and get all your tools ready up front and know how to tackle each stage (main grinding, edge work with angle grinder, concrete repair kit or cement, additional grinding of repairs, high pressure water cleaner, and supplies for the application).
Be sure to have plenty of rollers, paint buckets, and brushes on hand. You can return what you don't use, and you certainly don't want to run out while applying the coatings. I used 6 rollers, replacing the roller at the halfway point of each of the 3 coatings. (Great tip!)
Do a lot of research until you are confident of your plan. I discovered a ton of helpful information on All Garage Floors. The more you learn up front, the smoother the project will go. Also, ask for help along the way. Shea (on this website) was responsive to questions, as was Scotty at Legacy Industrial.
(Scotty is the one to contact with any issues or questions. Legacy Industrial shines with helping DIY applications.)
When applying the clear topcoat of Nohr-S, be advised it is near impossible to see where you are applying it. I think we would have had better results if we used the dip and roll method, followed up with using a W pattern of rolling to ensure more consistent coverage.
It would be helpful if Legacy had a video in their directions showing how to get better results applying the top coat, and demonstrating how thick the coats should be applied. This would help remove some of the guesswork, especially for a product marketed to the do-it-yourself crowd.
One last tip. My garage drywall was in terrible shape. Be sure to patch holes and paint before coating your garage floor. Also, after finishing the floor, I wanted some molding/baseboard to add a finishing touch. I found vinyl cove moulding (available at Home Depot or Amazon) that was super easy to apply.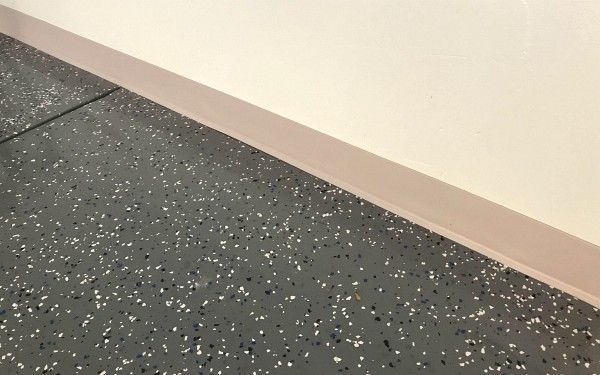 I purchased a 60' roll on Amazon for $33 and got adhesive locally. It only took about 90 minutes to apply and looks great. Being vinyl, it will do fine with water.
The total cost for this project was $946. This saved me about $500-1,000 from having the job done professionally depending on what coating was used: an epoxy coating was on the low end and a polyaspartic coating was on the high end. Here is the approximate breakdown of my cost:
$149 – Home Depot tool rental
$25 – Angle grinder and turbo cup attachment
$682 – Legacy Nohr-S system with optional non-skid
$90 – Paint supplies, Rust-Oleum concrete repair kit, and misc. supplies
This did not include money spent for drywall repairs, painting, or floor moulding that we did in conjunction with doing the floor.
In summary, I'm extremely pleased with the results and the Nohr-S product. The project was not technically difficult, and it was not physically demanding. The cost of renting and buying the required tools is pretty minimal, especially when compared to the cost of having the floor professionally done.
The biggest downside to doing this type of would be the time commitment and the amount of mess involved. A good bit of dust worked its way into my home. For me, the cost savings and sense of satisfaction of having tackled this project myself far outweighed the negatives.
Conclusion
We want to thank Mark for providing such great feedback and information for our readers. In addition, we admire the work he did to transform his garage floor. We feel that his project and insights are valuable learning tools for those looking to tackle similar projects.
He was 100% correct in regards to the Edco 10" grinder. It is not too aggressive, especially for a project that involves removing previous paint or coatings and heavy grinding for pitted and/or spalled concrete. Plus, the Edco comes equipped with a vacuum attachment.
The Diamabrush is a great option (and easiest) for concrete in fairly decent shape to begin with. However, it is more of a concrete prep tool and does not do as well in terms of heavy concrete grinding.
The Nohr-S polyurea garage floor coating system was a great choice for his floor and the Michigan winters. Plus, the purchase of the optional epoxy primer was a big key to the success of his particular project. The less viscous formula with a slower cure rate allows it to penetrate better for the best adhesion. It is one of the many purposes of epoxy primers.
Though Mark mentions his concerns about how well it may have adhered in some areas due to the absorption rate of the concrete, we feel that he should not have any issues with his floor coating.
The best advice Mark gave was to do your research and plan each stage in advance. Doing so will likely produce questions that you can easily have answered before you are elbows deep in something that is time sensitive.
Additionally, be sure to check and review all products that you order and receive. We know of many unfortunate examples of people being extremely upset because they discovered in the middle of the application phase on a Saturday or Sunday that they were missing a vital ingredient because they didn't check all the contents they received.
So, if you have been hesitant about jumping head first in your own garage floor project, we hope that Mark's experience will provide the insight you need. With these tips as an example, we are confident that you can transform your own pitted garage floor into a beautiful floor coating that you can be proud of.