This post may contain affiliate links. If you use these links to make a purchase, we may earn a small commission. As an Amazon Associate, All Garage Floors earns from qualifying purchases. You can read our full disclaimer here.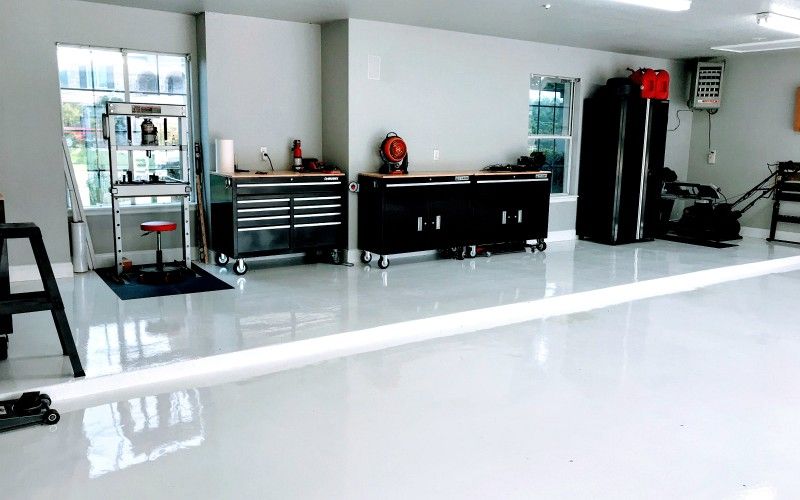 White epoxy garage floor coatings are not something that you see every day. In fact, it's a color that many floor coating vendors try to avoid. Nevertheless, it didn't prevent Tres, a resident of Oklahoma, from installing one himself. After doing some research, he purchased and applied this stunning looking white epoxy floor coating from ArmorPoxy that is the envy of many a garage enthusiast.
When Tres had purchased his house five years ago, he assumed that the new epoxy coating that the previous owner had installed was done correctly. However, it didn't take him long to realize that it was an inferior epoxy that was poorly applied when it began peeling up in multiple places. After putting up with the poor floor coating for all that time, he decided to do something about it.
Tres uses his garage for a variety of projects including wood work, metal fabricating, and automotive work. He initially decided on a polished concrete garage floor, but after grinding to remove the old coating, he discovered that the surface was not a good candidate for polishing.
When he applied a densifier and starting the polishing process, he came to the realization that it was not going to look the way he wanted. The concrete was covered in stains and other imperfections that would diminish from the attractive looks that such a surface delivers.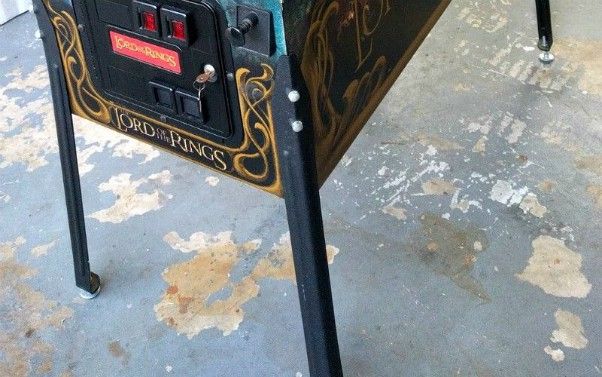 Still wanting a glossy looking finish that would provide good light reflection and durability, he decided on a white epoxy garage floor coating with no color flakes added. Fortunately, Tres did his homework and took the time to research white epoxy coatings to make sure he did the job right. The final results payed off big time.
Why White Garage Floor Coatings are not very Common
There are a few reasons why you don't you see more white epoxy garage floors – especially solid white. The most predominant reason is that white just requires more maintenance to keep it looking clean. Dirty tire tracks as well as most other dirt stand out more than traditional epoxy colors.
Vendors who sell white floor coatings will try to persuade most people into choosing off white with color flakes added instead. Off white is more forgiving and doesn't show every bit of dirt like traditional white can. The color flakes help to hide dirt as well.
The other reasons for not seeing white floor coatings have more to do with the required materials, multi-coat application process, and the proper floor prep that will ensure a successful outcome. This is why you won't find white available with the traditional home improvement store epoxy kits.
Most importantly, there are some issues and characteristics with white epoxy that need to be addressed properly.
The first issue is that concrete is darker than white and can ghost through a single coating altering both the color and hue. Older concrete floors in particular can have dark spots and/or darker areas from prior stains and other problems which can make the ghosting even more obvious. Crack repairs and patches to the surface of the concrete will only add to the issue.
To prevent this ghosting in the color, it is important to use a white tinted epoxy primer. Besides the traditional benefits of an epoxy primer, the white tint will tone down the darker concrete. This will result in a much more consistent and pure color tone when the white base epoxy coat is applied.
The other issue is that epoxy will amber (yellow tint) when exposed to U.V. light. This change in tint is most obvious in white and readily stands out. To ensure you will not have any issues with ambering, it is essential to apply a final color coat of white polyurethane (urethane for short).
Polyurethane coatings are U.V. stable and will not amber. In addition, they are more chemical resistant and scratch resistant. Because they go on thin and do not adhere to concrete very well, they are primarily used as a top coat.
ArmorUltra Garage Floor Coating System
After doing his research, Tres decided to purchase his materials from ArmorPoxy. ArmorPoxy is a leading commercial manufacturer and distributor of extremely high performing epoxy floor coatings as well as other concrete floor coating systems.
Despite being such a large company that provides services to a variety of commercial and government entities, ArmorPoxy also supports and provides materials to the typical DIY installer and at a very good price point as well. They are known for providing good customer service and application guidance with all of their garage flooring products.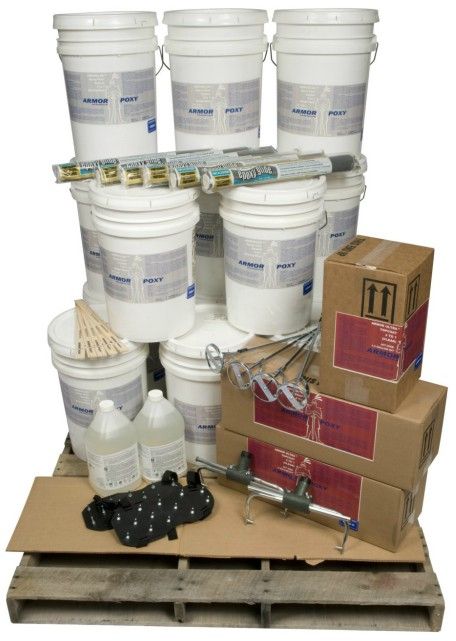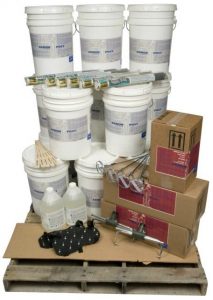 Tres chose their ArmorUltra Job on a Pallet which is a 3-layer commercial epoxy coating system. He also requested to have the primer tinted white.
The ArmorUltra kit consists of an epoxy primer, 100% Solids epoxy base color coat and their military grade polyurethane top coat that is tinted to the same color as the base coat.
All of ArmorPoxy's Jobs on a Pallet include most everything you need to complete your project, including floor prep, full instructions, and unlimited telephone support.
Though his garage floor is large at just over 900 ft², he ordered enough materials for 1000 ft² to ensure that he had enough. He also ordered the ArmorPoxy concrete floor patch to repair the cracks and other irregularities in the surface of the concrete.
Tres's White Epoxy Garage Floor Project
The first order of business was to grind the concrete again. Because Tres had applied a densifier when he tried polishing the concrete, he needed to grind the floor again since the densifier can act like a sealer and prevent the coating from penetrating the surface.
He rented a floor maintainer from Home Depot along with the appropriate Diamabrush concrete prep tool. This would roughen up the surface to provide mechanical bite as well as open up the pores of the concrete for the epoxy primer to penetrate.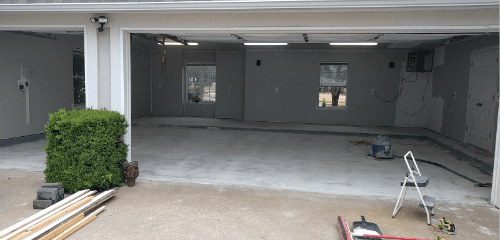 Though not necessary if you are grinding the concrete, Tres decided to etch the concrete afterwards with the phosphoric acid etching solution that comes with the ArmorPoxy kits. There was no chance after this of his concrete not accepting a coating.
He then used the ArmorPoxy concrete patch repair to repair the concrete cracks and fill any divots or pitting in the surface. Proper repairs are very important when applying a solid color floor coating or the repairs will telegraph through the coating and be visible to the eye.
Color flakes actually help to mask or camouflage concrete irregularities whereas solid color floors will not. Grinding the repairs afterwards will smooth out and blend all of the concrete repairs nicely.
Following the ArmorPoxy instructions, Tres then applied the white epoxy primer coat. Once the coat had cured the required amount of time, he then applied the 100% solids white epoxy base coat. This coat is the build coat which helps to smooth out the finish and is what adds to the thickness of the coating.
Lastly, he then applied the white polyurethane top coat. Though this coat is much thinner than the epoxy coat, it provides the U.V. protection required to prevent ambering of the color. It also provides better chemical, wear, and scratch resistance than the epoxy coat.
As you can see from the images below, Tres's garage floor coating project turned out fantastic.
Click on any image to make it larger
After the coating had cured for a few days, he then began moving everything back onto the floor. As you can see from work benches, cabinets, tool boxes, presses, and other equipment, Tres uses his garage for a variety of projects.
One note that we would like to make is that ArmorPoxy highly recommends using the anti-slip grit additive which comes with the Job on a Pallet. It should be mixed in with the final coat. The reason for this is that this type of high gloss coating without color flakes can be very slippery when wet.
Tres elected not to use the anti-slip additive in the coating. He states that the floor can be slippery when wet, but so far, no accidents as he is careful about how he steps when the floor is wet.
Final thoughts and 6-month review
Tres wants to make sure his wife Nicole gets his thanks for the help and patience she provided throughout the process.  They both have been extremely happy with the performance and looks of the floor coating. In fact, they are even considering using one of ArmorPoxy's coating systems throughout the interior of their home.
When asked why he chose ArmorPoxy, he said it was due to their relatively low price, ease of installation, and the fact that they had a high quality product that would provide the gloss and durability he was looking for.
Installation was straight forward and not that difficult. Tres just says to make sure you have plenty of ventilation. However, counting all the grinding he did to remove the previous coating and attempts to polish it, he estimates that he put in 20hrs of total grinding time. Phew!
Most of the images of the coating were taken after it had been down for six months. As you can see it still looks brand new. Tres just washes it out occasionally with a garden hose and dish soap once a month to keep it looking nice.
He did say that that dragging jacks and using jack stands has produced some small scratches, but it's worth every bit for how well the floor has performed so far.
What surprised him was that the tires on his brand new truck did leave some tire marks on the coating that were difficult to remove initially, but it tends not to do that so much now. Tire marks from his wife's car just wipe right up.
Additionally, they got some Oklahoma red dirt on the floor that was stubborn to remove. However, with some elbow grease along with a degreaser and an application of Goo Gone, it did come clean.
As you can see, a white epoxy garage floor coating can look absolutely fabulous, but it does require using the proper materials and installation for successful long term results. Keeping it clean will entail more maintenance than the more common gray and tan floor coatings with color flakes, but if you are OK with that, white just may be the color for you.