This post may contain affiliate links. If you use these links to make a purchase, we may earn a small commission. As an Amazon Associate, All Garage Floors earns from qualifying purchases. You can read our full disclaimer here.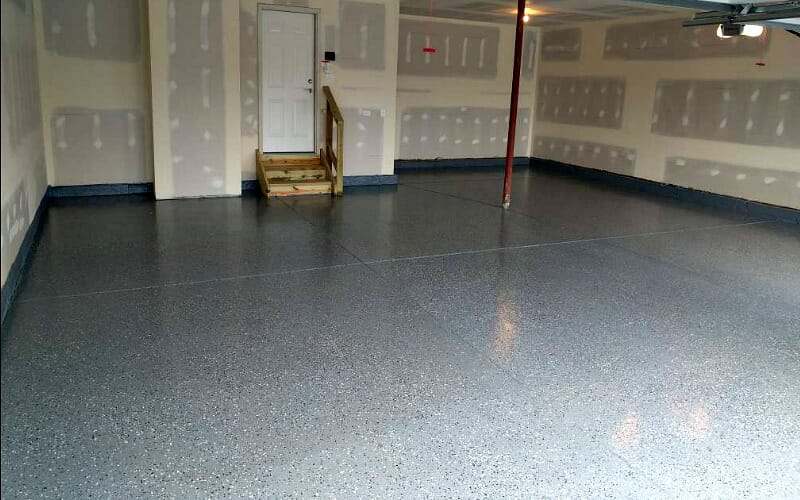 With the ever increasing trend for epoxy garage floors, manufacturers and vendors have gradually begun to introduce coatings other than epoxy for the DIY market, and some with good success. SPGX polyurea by ArmorPoxy is an example of one such product. When Eric from the windy city of Chicago discovered that ArmorPoxy was offering this new coating at a discounted price for a limited time, he eagerly took the opportunity to try it out and give SPGX a review.
Up until the last few years, many of these alternative coatings were exclusive only to contractors. In fact, many were used solely by professional installers due to the experience required to apply them. Polyurea and polyaspartic coatings are a good example. However, manufacturers have become aware of the increasing interest in these coatings for the DIY market and have started to introduce formulas that are easier to use.
SPGX was no exception to this exclusivity until it was applied at the National 9/11 Memorial Museum. Because ArmorPoxy began to receive numerous phone calls and inquiries about the coating, they decided to make it available to the general public due to its relatively easy application requirements.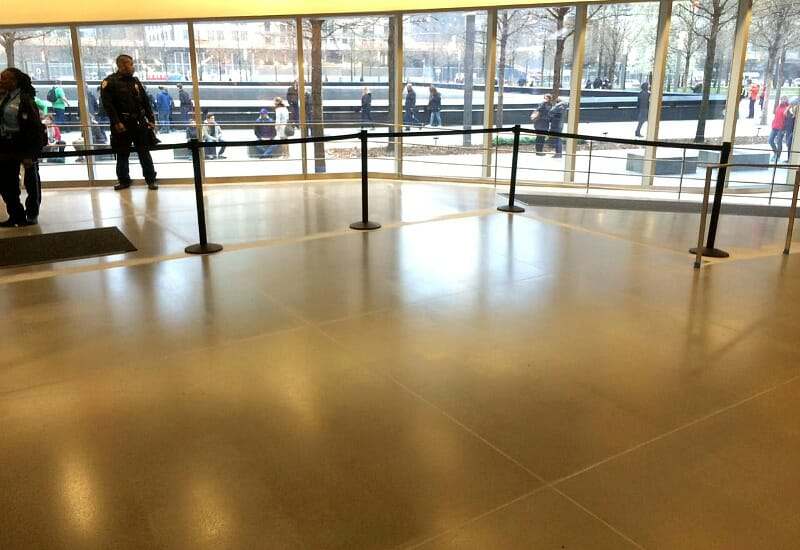 What is SPGX?
SPGX is a single component cross-linked polyurea coating for concrete. Single component means that, unlike epoxy, you don't have to mix in a separate hardener for the material to cure. It also has a much longer pot life that doesn't put a short time limit on the application. You can just pour it right out of the can and into your paint tray. Nohr-S Polyurea is an example of a similar product.
Formulated from a blend of Polyaspartic, Polyurea, and Polyurethane properties, SPGX is a tough coating that is U.V stable (won't yellow) with a high gloss finish. It's highly resistant to abrasion, impact, chemicals, and all common automotive fluids. It can be applied as a clear coating over bare concrete or as a system consisting of a colored base coat, optional color flakes, and a clear top coat just as Eric did for his garage.
The coverage rate of SPGX is 300-400ft²/gal depending on surface texture and porosity. It's available in Gray, Tan, Orange, Black, White, and Clear. One note to make is that it is packaged in clear only. ArmorPoxy provides color pigment packs at an additional charge. They need to be mixed into the clear before application in order to achieve your color of choice.
Additionally, SPGX is also a great top coat option for those wanting to stain their garage floor and ArmorPoxy states that it is compatible as a clear top coat for most other epoxy floor coatings as well.
Supplies purchased
Eric decided that he wanted to apply a system of the gray colored base coat, color flakes, and a clear top coat with an anti-slip additive. With a large 3-car garage of approximately 850ft², he initially ordered and put together the following product and supplies. We have provided a red link to some of these products for those interested.
For those who may have noticed, Eric was a bit too conservative on the initial purchase of only four gallons of SPGX – two gallons for each coat. With a maximum 400ft² per/gal coverage rate under optimum conditions, he soon found out that four gallons was not going to be enough for 850ft².
SPGX application
On the first day Eric worked on prepping the garage floor for the coating. After making sure the concrete was clean, he applied the acid etch solution with the garden sprayer at a 3:1 ratio of water to acid. Following the instructions, he let the solution set for 20-30 minutes before washing it out with a pressure nozzle. He then let the concrete dry for a couple of days.
His next step after the concrete had dried was to fill the contraction joints flush with the SherMax Urethanized Sealant. Though he wasn't trying to create a seamless looking coating, Eric's goal was to make clean up easier since the joints were so deep. He decided on the SherMax based on a recommendation from a YouTube video that he had watched.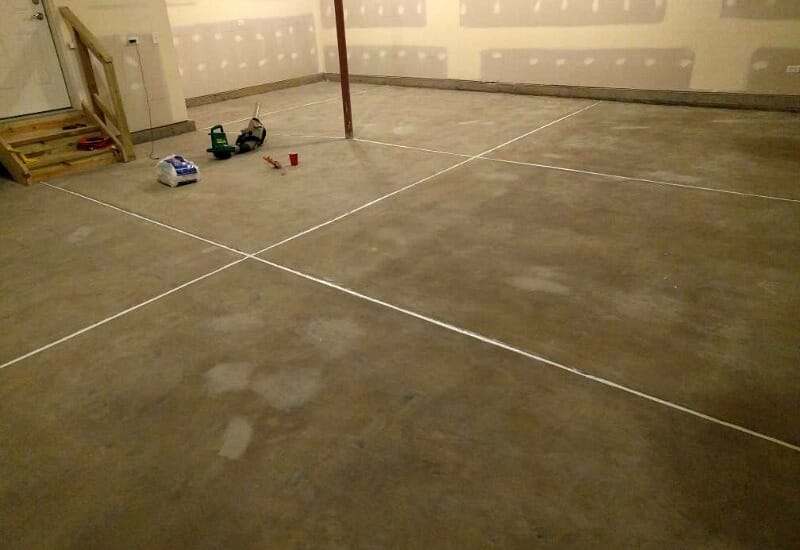 Unfortunately, after letting the caulk dry for a couple of days he discovered why this product wasn't the best option. Paintable latex caulks will shrink and this one was no different. However, since the final results were joints that were much shallower than before, Eric decided to let it be and proceeded on to the next step of applying the SPGX.
He mixed each of the gray color packs into two gallons of SPGX and then poured some into his paint tray. After re-sealing the containers he proceeded to apply the coating. Since his garage was nicely divided into sections by the contraction joints, it made the application fairly easy. He would coat one section, apply the color flake, and then move on to the next section.
It was during this process that Eric learned two gallons was not going to be enough for one coat. He was short about 100ft² for his last section. At this point he put a call into ArmorPoxy and ordered two more gallons of SPGX and obtained some additional supplies.
Not to be deterred, he continued on the following day while waiting for the additional SPGX and supplies to arrive. He mixed two anti-skid packs into two gallons of clear and proceeded to apply the top coat over the color coat.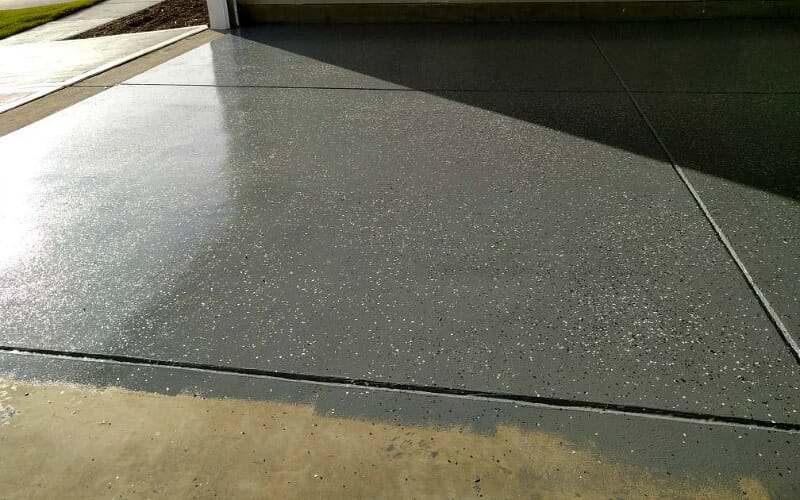 When the additional SPGX arrived a few days later, he mixed in a color pack with one gallon and went about finishing up the last section. Since he had plenty of the color base left over, Eric decided to go ahead and coat the surrounding concrete stem walls as well. The following day he mixed in a packet of the anti-skid into the remaining gallon of SPGX and applied it to the last 100ft² section and the stem walls.
Eric's SPGX Review
The first thing Eric mentioned was that he wished he had ordered enough SPGX and supplies from the start. Having to finish the last section took an additional two days that he had not planned for. He used approximately 5lbs of color flakes and was happy with the way it turned out, though he thinks he would have liked it better had he used the full 7.5lbs of flakes instead.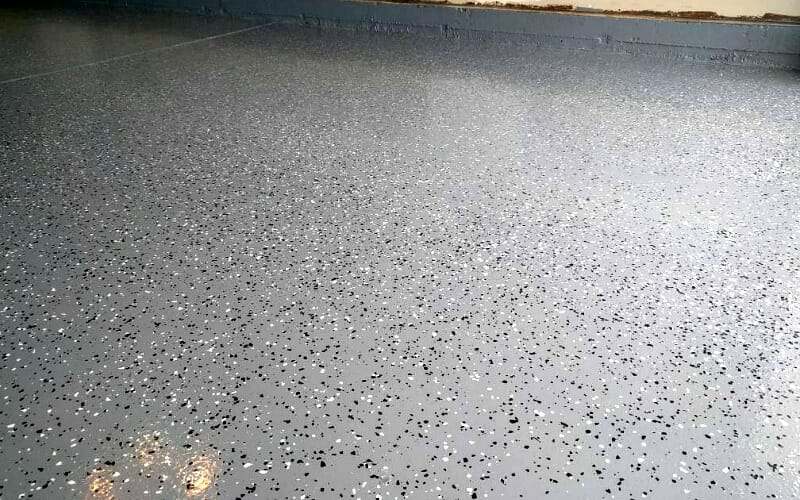 He also noted that he should have used more 18" rollers. Trying to use one roller per coat was a mistake because it started to gum up and become difficult to roll towards the end – particularly when applying the clear coat with the anti-skid additive. The 6.5" rollers were used to work the tighter area around the stairs. They really came in handy when he decided to coat the stem walls since the thicker nap worked well for the rougher concrete.
Because SPGX is solvent based, it does produce a strong odor when it's being applied. Eric said it was much more noticeable when he had to close his garage door when the winds had kicked up while finishing the last 100ft² of his project. The smell remained for a few days before it finally dissipated.
When asked about the anti-skid additive, he said that with exception to the rollers gumming up at the end, it was easy to apply and he's happy with the look. He admits that right now it can still be a little bit slippery. As a note, this isn't uncommon with a brand new coating. Once it gets a little bit of traffic on it, the non-skid starts working fairly well.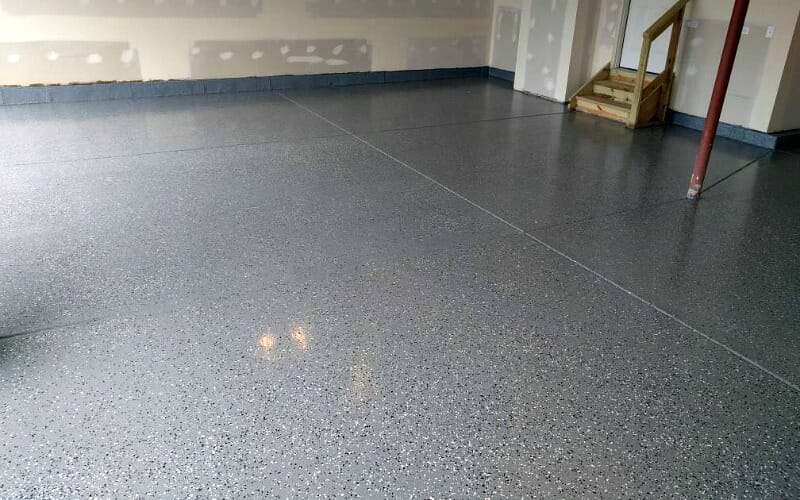 Overall, Eric has been very happy with the looks, performance, and application of the SPGX. He's glad that the additional product he purchased allowed him to coat his stem walls. He didn't account for doing that originally and now that he has, he really likes the way it turned out.
He also pointed out that the customer service he received from ArmorPoxy was excellent. They did a great job of helping him out with the application process and the quantity issue when he discovered that he had not ordered enough product.
Final Thoughts
We think Eric did a fantastic job with his floor and he provides some great lessons for those looking to apply a quality garage floor coating for the first time. His remarks about changing rollers sooner were spot on. 500-600ft² is about as far as you want to go.
Also his experience with the painters caulk is something to note as well. If you want to fill your contraction joints, we suggest reading how to do that here.
Though Eric spread his time out while completing this project, a two coat application such as Eric's can be completed in one day. Depending on temperature and humidity, SPGX only needs 4 – 8 hours to cure before applying another coat. If you apply the first coat earlier in the day, it will leave you plenty of time to get a second coat applied in the afternoon.
For most applications, SPGX is best suited for concrete that is in fairly good shape. A high solids or 100% solids epoxy is a better choice for hiding imperfections and numerous repairs since it goes down much thicker.
Color flakes work well in SPGX, however, it you want a heavy color flake or full flake application, ArmorPoxy recommends a high solids epoxy instead. Again, it's simply for the fact that all those color flakes piled up on top of one another get better penetration and adhesion with the thicker epoxy.
ArmorPoxy SPGX is an excellent epoxy alternative for those that want a coating that is easy to apply and does not have a limited pot life for application. It's durable, it stands up well to automotive traffic, and it provides good protection against chemicals. It also makes for a great looking clear coat over bare concrete.
For more information we recommend contacting ArmorPoxy here about pricing and ask to see their data sheets for SPGX. They do have sales from time to time. Tell them about your project, how you plan to use your garage, and what your goals are for your garage floor. They will be happy to help you choose the right coating solution.