This post may contain affiliate links. If you use these links to make a purchase, we may earn a small commission. As an Amazon Associate, All Garage Floors earns from qualifying purchases. You can read our full disclaimer here.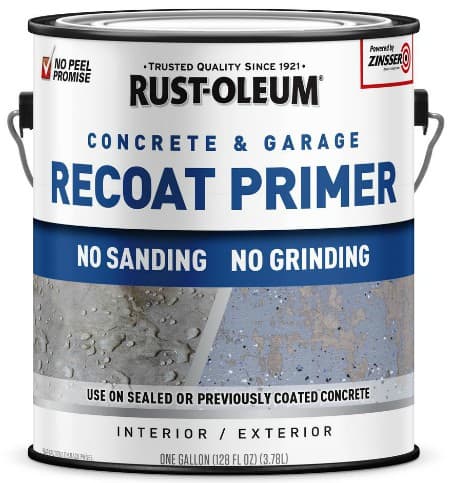 If previously sealed bare concrete or an older garage floor coating is giving you second thoughts about recoating or applying new epoxy, then Rust-Oleum Garage and Interior Floor Primer may be the solution you are looking for. Introduced to make recoats easier, Rust-Oleum's new garage floor primer is designed to take some of the labor out of the prep work that may be required for your floor coating project.
Surface prep is the most important part of any DIY garage floor coating and this holds true for recoating older epoxy floors as well. Up until now, recoats have required sanding and a solvent wipe to the old coating in order to provide the proper surface profile.
Additionally, if you wanted to apply a new epoxy garage floor coating to bare concrete that had previously been sealed, it required that you grind the concrete first in order to remove the sealer.
If the sealer on the concrete is not removed, it effectively blocks the etching solution from doing its job to prep the surface for the coating. This is just more work than most are prepared to do for an otherwise easy to apply DIY garage floor coating project.
Fortunately, Rust-Oleum has found a way to eliminate the need for sanding older coatings and grinding concrete with the release of Rust-Oleum Garage and Interior Floor Primer.
The specially formulated water-based acrylic coating is designed to act as a primer and adhere to older epoxy coatings without the need for sanding. Furthermore, it can be applied to previously sealed bare concrete without the need to grind. Once the primer is applied, you can then topcoat it with any 1 or 2-part epoxy coating.
When Should I use Rust-Oleum Concrete & Garage recoat Primer?
We actually had a few questions about the intended purpose and performance of the Concrete and Garage Recoat Primer when we first read about its release. As a result, we were put in touch with Jeff Svihra, brand manager at Rust-Oleum.
Our primer makes painting concrete floors easy
The first thing we wanted to determine was the primary use for Rust-Oleum's new primer. According to Jeff, the intended purpose of the primer is to promote adhesion on previously coated or sealed concrete.
In other words, if you have an older coating that is still sound, you can apply the new primer and then top coat right over it with new epoxy instead of having to sand the old surface first. For those with bare concrete that is sealed, you can apply the primer instead of grinding.
Essentially, Concrete and Garage Floor Primer alleviates the additional labor that is usually required for recoats to older coatings, as well as previously sealed bare concrete. Or, as Jeff stated in Rust-Oleum's press release, "Our primer makes painting concrete easy."
This sounds great, but we are always sceptics first when it comes to products that seem too good to be true. So, we wanted to know more about the performance characteristics in terms of how well it actually adheres.
We asked if Rust-Oleum Concrete and Garage Recoat Primer will retain the same adhesion performance to older coatings and bare sealed concrete, as a new epoxy garage floor coating that would otherwise require the proper preparation of sanding or etching.
The short answer is, yes. Jeff stated that they tested the primer on many surfaces and conditions to ensure that it would have the same bonding and adhesion as a new epoxy coating that is applied to a properly prepared bare concrete surface.
That's fairly impressive, especially for sealed concrete. This opens the door to many homeowners who want to apply a DIY garage floor coating, but otherwise wouldn't due to the labor required to remove a sealer from their garage floor first.
We were also curious if Rust-Oleum recommends the application of the garage primer to unsealed bare concrete before application of an epoxy coating. When using a primer in this manner, it can ensure good coverage rates and color uniformity of the new coating.
Furthermore, we wanted to learn if the primer would help to increase resistance to hot tire pickup as well as increase the adhesion performance of Rust-Oleum coatings in general.
According to Jeff, Rust-Oleum does not recommend using the primer on bare unsealed concrete. Though it will adhere well, it is not required and ultimately unnecessary. Additionally, it will not improve adhesion of Rust-Oleum coatings to bare concrete or increase resistance to hot tire pickup.
This answer was not a surprise at first. There is plenty of competition for easy-to-apply, DIY garage floor coating kits that are marketed towards the general public and no company wants to recommend or require a product that will only add to the overall cost.
Plus, we don't know of a company that will admit that their coating needs any additional help in terms of hot tire pickup either.
However, why would you not recommend a primer as an option to increase adhesion, ensure good coverage rates, and to improve color uniformity of an epoxy coating over new concrete?
After reflecting on this, we think we know why. We believe that the answer actually lies within the next question that we know is on everyone's mind at this point.
Is etching not required for a new coating if using this primer?
Nobody wants to etch their concrete if they don't have to. So, the question we are sure everyone wants to know is; can you use Rust-Oleum Garage and Interior Floor primer instead of etching?
The answer is no. It will not adhere well if you don't etch. In fact, Rust-Oleum states in the data sheets under surface preparation that the primer requires etching for application to bare unsealed concrete.
We believe the reason for this has to do with the fact that this is an acrylic coating that is formulated to adhere specifically to older coatings and water repellant concrete surfaces. While it will adhere well to etched concrete as Jeff had stated, it will not adhere as well as an epoxy coating does. You would actually be limiting the adhesion performance of your new coating.
As a result, this is why using Concrete and Garage Recoat Primer on bare unsealed concrete is not recommended. Instead, you should apply a new epoxy coating to a properly prepared concrete surface in order to provide the best results in terms of adhesion and hot tire pickup resistance.
One important note to make is that Rust-Oleum states that it should not be used as a final wear surface and it should not be clear coated. Though it is gray in color, you need to apply a base color coat of epoxy or similar coating over the primer after it is applied.
Application
Application is as easy as Rust-Oleum states. You need to first make sure that the old epoxy coating is sound. Scrape or wire brush any loose coating, color flakes, or sealer from the surface.
Next, clean the surface of the coating or sealed concrete. Rust-Oleum Cleaner and Degreaser is recommended.

You can also use Rust-Oleum Heavy-Duty Degreaser for especially dirty floors.
After the surface has completely dried, you can apply the Garage and Interior Floor Primer. One gallon will cover up to 400 square feet.
Once applied, you have as little as 6 hours and up to 48 hours to apply your new epoxy coating over the primer. If you wait longer than that, it will require another application of primer or sanding of the surface.
Where to purchase
We have since updated this since you could only purchase Rust-Oleum Garage & Interior Floor Primer online at the time we first published.
You can now purchase Concrete and Garage Recoat Primer from Home Depot. They are carrying the product in stores and you can order it online.
You can also purchase it here from Amazon. Reviews of the primer are beginning to come in at Amazon as well.
As with all new product from Rust-Oleum, we are sure that other retailers will eventually offer this unique primer as the word gets out and demand increases.
Final thoughts
Rust-Oleum Concrete and Garage Recoat Primer is a remarkable product that has the potential to fill a must needed niche in terms of recoating older DIY garage floor epoxy coatings. We know that most homeowners would much rather apply this primer than go through the normal process of roughing up the surface first. Moreover, it can be a game changer to those with sealed concrete garage floors.
If it works as well as Rust-Oleum states, we can see how this new primer will only help to increase sales as potential customers turn to Rust-Oleum to help fill their needs.
One key point we want to make is that this product is best used with the Rust-Oleum line of floor coatings that you can find at your local home improvement centers or other online retailers such as Amazon. Rust-Oleum EpoxyShield and RockSolid are good examples.
We do not recommend using this primer for high solids commercial quality garage floor coating systems that you would purchase from specialty concrete coating vendors.
Lastly, do not confuse this primer with Rust-Oleum Garage and Concrete Primer by RockSolid. This is a solvent-based product that cannot be used on previously sealed bare concrete and will soon be discontinued.
So, if you have an aging epoxy garage floor coating that needs to be recoated, we suggest that you consider Rust-Oleum Concrete andGarage Recoat Primer. It can't get any easier than this.