This post may contain affiliate links. If you use these links to make a purchase, we may earn a small commission. As an Amazon Associate, All Garage Floors earns from qualifying purchases. You can read our full disclaimer here.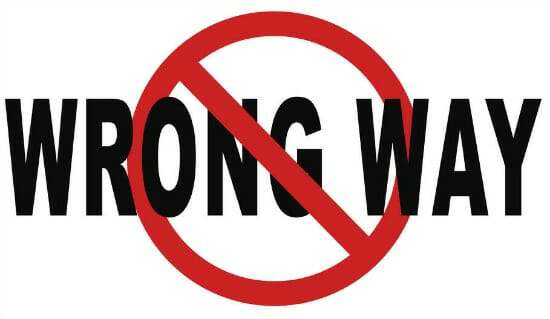 Due to the numerous emails, comment questions, and some unfortunate mistakes made when purchasing clear top coats for garage floor coatings, we have decided to post this article to help clear things up (no pun intended). Our objective here is to prevent some of the confusion, disappointment, and poor results some people have encountered when choosing a clear coat.
As a refresher, clear top coats have many advantages when applied to a garage floor coating. Besides creating a nice, semi-gloss to glossy finish to your color coat, clear coats lock-in and protect the color flakes and act as a sacrificial layer that protects the underlying base color coat.
The problem, however, is that some people are unknowingly purchasing the wrong product, poor product, or trying to apply a clear coat to paint.
No Clear Coats for Garage Floor Paint
The first mistake is purchasing latex acrylic garage floor paint or 1-Part epoxy paint for your garage floor with the intention of applying a clear coat to it. Paint for concrete is designed as a one-and-done product.
Technically, paint is not a coating. Unfortunately, marketing practices by the large companies that produce these products intentionally do not make that very clear, especially when they call it epoxy paint. Coatings actually seal the concrete of your garage floor while paint does not. Read here for more information about the difference between paint and coatings.
The main reason that most clear coats will not work with paint is because the majority are solvent based or has some form of solvents in it. The moment that you apply it to your water based latex garage floor paint, the paint can soften and sometimes even bleed into the clear as you are applying it.
Technically you can rough up the surface of latex paint after it has dried and apply a water based epoxy clear to it. The issue though is that it doesn't make much sense to do so in most cases. Water based epoxy clears are generally three times more expensive than paint. If you are going to spend the money for an epoxy clear coat, you should also apply an epoxy coating to the concrete initially and not paint.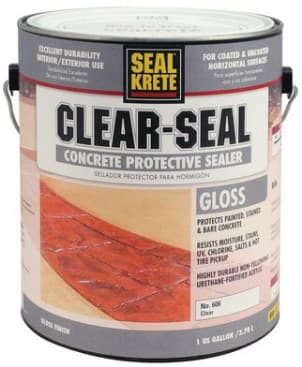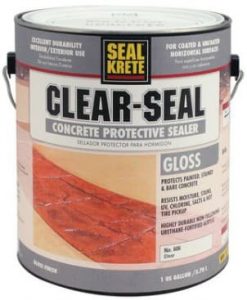 Some of these paint companies do offer an acrylic clear that can be applied to paint. Do not use it! These acrylic clear coats are water based and inferior for garage use.
They are designed for foot traffic such as patios and walk ways. They will soften, smudge, and peel the moment you spill any gasoline or brake fluid on it. Most petroleum based products such as oil or transmission fluid can cause it tor break down if it sits on it for more than a small length of time as well.
Unfortunately we have seen some online vendors of actual 2-Part epoxy garage floor coatings offer what they call a "clear glaze coat" for a clear coat. This is an acrylic product as well and people often complain of the poor performance. Again, we recommend not to use it.
Home Improvement Centers Don't Sell Clear Coats
With some exceptions, home improvement centers and hardware stores do not offer the proper clear coats for concrete coatings. They do a good job of carrying the traditional DIY epoxy garage floor kits, but most do not carry the manufacturer's optional clear coat to go with them. Rust-Oleum EpoxyShield and Quikrete are good examples. You generally need to special order the clear coat from the stores or purchase them from vendors on line.
We have noticed that this trend is slowly changing however. Home Depot, for example, has started carrying RockSolid's new Polycuramine garage floor coatings and some sell the optional clear coat to go with it. Lowes sells the Valspar line of garage floor epoxy kits with the optional clear epoxy as well.
What they don't carry at all is the commercial quality polyurethane and polyurea clear coats as well as the high solids commercial quality epoxy clear coats. We suggest reading our article on how to choose a clear top coat to get a better idea about the difference in clear coats and which type may be best for you.
As a rule, home improvement centers in general are not the best place to start your search and gather information for garage floor coatings. While they may have the product that you ultimately decide is best for you, do not rely on the information that they may provide. This article will help to explain why.
Don't Buy Polyurethane For Wood Floors
This is an unfortunate mistake that we've received quite a few emails about. While we applaud the fact that these people took the time to research and learn that polyurethane has many advantages over epoxy, they didn't take the time to read the product label of the polyurethane that they purchased and applied to their garage floor coating.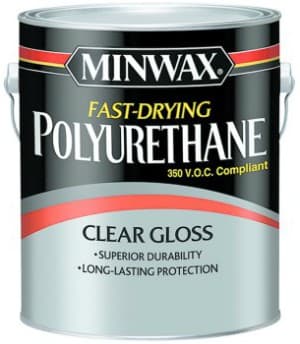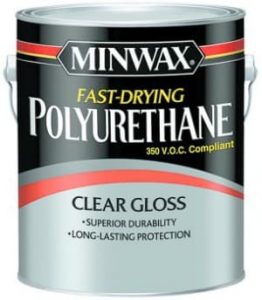 Can you guess where these polyurethane coatings were purchased? You got it — home improvement centers and hardware stores.
The polyurethane we are referring to are the water based and oil based polyurethane for wood floors and furniture. Varathane and Minwax are good examples.
This type of polyurethane is not compatible with epoxy and certainly not compatible with concrete for that matter. If applied to epoxy during the recoat window, you will end up with a yellow tinted mess that you will need to scrape up off the surface. If you are lucky, it will not have contaminated the epoxy color coat in the process.
Where Can I Buy A Clear Top Coat For My Garage Floor Coating?
If you want a clear top coat and are thinking of purchasing a traditional garage floor epoxy kit from a home improvement center, verify first that the clear coat is available from them. If not, here are some epoxy clear coat examples from Amazon that are available.
The higher performance clear coats such as polyurethane and polyurea are generally purchased through concrete coating vendors online. Many of our sponsors are good examples. These vendors specialize in concrete coatings and carry a wide variety of quality products. They specialize in garage floor coatings and are a great source of information as well.
Sherwin Williams is another source if you are looking for a brick and mortar store to purchase from. They won't sell their best commercial quality product to the general consumer, but they do carry some good quality epoxy and polyurethane coatings for residential use.
The reason you will not find commercial quality epoxy and clear coatings at home improvement centers and hardware stores is for the simple fact they require some attention to detail to apply properly. They cannot provide the type of assistance and information required for applying these types of coatings. Most kits offered by major retailers are designed to be easily applied. This is why the quality isn't the best when compared to product offered by the specialty vendors.
Final Tips
If you are considering a particular type of garage floor coating and are unsure about your clear coat options for that product, take advantage of the toll free number that the manufacturer provides and ask for assistance.
Stay within the manufacturer line. For example, if you apply a garage floor coating by Rust-Oleum, then the Rust-Oleum clear coat will work with your coating. This insures that you will not have any compatibility issues with your clear top coat.
If you opt for a higher performance clear coat such as polyurethane or polyurea, contact the vendor you are interested in and ask about compatibility.
If you are considering the higher performance garage floor coatings available from online vendors, take advantage of their knowledge and experience. Give them a call or email them for information. They can help qualify you and provide options based on your needs. Plus, they are great for assisting you with questions about application and concrete preparation.
Finally, if you ever have the slightest doubt about your clear top coat options, compatibility, or application, make sure to seek help from the vendor or manufacturer before you make your purchase. That way you are insured a successful outcome instead of a poor and potentially costly experience.