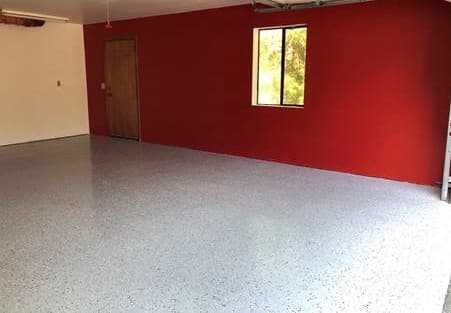 When your garage flooring budget is limited, it's only natural to shop for the cheapest garage floor coating kit available that you think is best. However, "cheap" and "long lasting" are two characteristics that do not exist together with concrete coatings. You can only get one or the other.
Examples of inexpensive coatings would be Rust-Oleum EpoxyShield, H&C Shield-Crete, and even the lesser quality 1-part epoxy paint kits such as Epoxy-Seal or Behr.
Epoxy garage floor coatings provided many benefits. However, but it can be frustrating to experience issues soon after application when using one of the above products.
Fortunately, Garage Flooring LLC had been working hard to find the best balance between these two characteristics. They wanted to be able to offer a budget minded water-based epoxy that was low odor, yet more durable than the national brand epoxy kits available.
After evaluating their latest offering, we think they found that balance with their TrueLock Epoxy by All Weather Floors. It may indeed be the best budget garage floor epoxy available.
Pros and Cons of Water-Based Epoxy kits
We understand that one of the prime benefits that attract people to water-based epoxy is the cost. It is the least expensive of DIY garage floor coating options to choose from and is relatively easy to apply.
In addition, is has little to no offensive VOC's or odors. This is important if applying epoxy to a basement floor or attached garage where the occupants may be particularly sensitive to smells.
The problem, however, is that most water-based epoxy garage floor coating kits don't have the best of reputations.
These kits typically suffer a variety of issues over time. Some almost immediately. This includes peeling, hot tire lift, discoloration from chemical spills, and poor wear (still better than paint though). You can expect them to last only 3-4 years on average.
This is why we admit to being caught a little off guard when Garage Flooring LLC first offered TrueLock water-based epoxy. It seemed contrary to their standards and reputation for providing high value garage flooring products at competitive prices.
They have become well known for their top rated AWF single-part polyurea coatings and high-performance garage floor epoxy kits that we recommend. So why promote a budget valued, water-based epoxy?
Once we did a bit of digging though, it soon became apparent why they did.
To our Reader's: This post may contain affiliate links. If you use these links to make a purchase, we may earn a small commission. As an Amazon Associate, All Garage Floors earns from qualifying purchases. You can read our full disclaimer here.
Why TrueLock Garage Floor Epoxy is the Best Value for a Water-Based Coating
As stated, we were first surprised about the release of a simple water-based epoxy. However, once we took the time to look into the technical data sheets to learn a little more about this new coating, we quickly understood why it has become part of their product line.
Like its competitors, TrueLock is a lower solids water-based epoxy (over 50%) that is available in two colors, Medium Gray and Beige. It provides for a similar dry film thickness of approximately 3 mils per coat and has a satin gloss finish.

This, however, is where most of the similarities end. The following reasons are why AWF TrueLock epoxy is better than its water-based competitors. The well-known Rust-Oleum EpoxyShield garage floor kit is the first to come to mind.
Modern-day epoxy formulation
The first thing we looked for when reading the data sheets for TrueLock Epoxy were the mixing instructions. We were looking to see if it required an induction time or not.
Induction is when epoxy is required to sit for a determined length of time after mixing before it can be applied to the garage floor. The amount of time is based on the current air temperature and can vary from 5-45 minutes.
When induction time is required, it is to ensure that the mixed epoxy reacts and begins the chemical process that causes the epoxy to crosslink. This cross-linking is what makes epoxy hard, provides strength, wear resistance, and other beneficial properties.
If the epoxy is applied to the garage floor before the required induction time is met, it will cure very slowly or not at all and leave you with a sticky surface. If it does cure, it rarely will perform to standards.
Epoxy for concrete coatings that require an induction period are examples of inexpensive, decades old formulations. They do not perform as well as the more modern epoxy formulations available today.
Rust-Oleum EpoxyShield and other national brand competitors are examples that require an induction period after mixing of the part-A and part-B components.
TrueLock Epoxy does not require an induction period. This was an immediate indication that it is a modern-day formulation with the latest technologies. Modern epoxy formulations like this one have proven to be more durable than the much older formulas.
Once mixed, the application process can begin immediately. You will have 1 – 1.5 hours of pot life to apply it depending on the current air temperature.
Though TrueLock epoxy is low in VOC's and low in odor, it's not quite as low as the older water-based epoxy formulations. This is one of the trade-offs for it to perform better. However, it's still quite safe and can be used indoors or for your basement. Plus, it can be shipped anywhere in the 48 contiguous states.
Something else we want to point out is that you get a full gallon (128 oz.) of epoxy with each kit. Rust-Oleum and others provide on average 120 oz. or less per kit.
TrueLock Epoxy testing data and performance ratings
TrueLock garage floor epoxy provides proper ratings and testing information in their data sheets. This is the same information that is provided for commercial quality epoxy products. You can find TrueLock epoxy data sheets here.
The data sheets include the chemical regents it is tested for such as gasoline, MEK, and acids. In addition, it includes adhesion ratings, abrasion resistance, impact resistance, recoat information, and more.
This information allows you to assess and evaluate the true performance of the coating so that you can compare it to others. Rust-Oleum EpoxyShield and other national brand water-based garage floor epoxy kits do not provide any of the information we just mentioned.
Why? Our guess is that the less documented information they provide in terms of performance, the better for them. It allows them to make the various vague claims on the packaging without having anything to measure those claims against.
Here is an example of the Rust-Oleum EpoxyShield data sheet so that you can compare.
Typically, when a company doesn't provide these ratings it's because they don't want the consumer to compare it with other products. It's far easier and marketable to display vague features and benefits instead.
Realistic Expectations and Requirements
Unlike national brand epoxy kits, Garage Flooring LLC provides realistic performance expectations for TrueLock Epoxy. If you read their sales page, they tell you upfront that it will not perform as well as their high solids epoxy kits or polyurea garage floor coatings.
They also explain that it's affordable, but not cheap. The purpose is to point out the value. In fact, they flat out state that they would rather not sell you anything at all than sell you something cheap that will ultimately fail.
In addition, they are upfront about hot tire pickup. They know this can be a problem for water-based epoxy kits. Though TrueLock performs well in this regard due to the more modern formulation, they recommend two coats instead of one if this is a major concern of yours.
You won't find honest information like that from the national brands. They just claim that their coatings are resistant to hot tire pickup and that's it. There are no other recommendations by them. It leads you to believe that you won't have the problem (right…).
Requirements for TrueLock Epoxy are realistic as well. They recommend an acid etch or equivalent for concrete prep instead of the less effective citric acid etching packs that are provided by Rust-Oleum and others.
The more aggressive etching solutions ensure a proper surface profile of the concrete that will allow for better adhesion of the epoxy. This is important to combat hot tire pickup and peeling.
If you are uneasy about acid etching, they also offer Eco-Etch Pro as a friendly acid alternative that performs almost as well.
Custom Color Flake Options and High-Performance Clear Coat
TrueLock water-based epoxy is designed as a simple, but durable water-based epoxy coating with two basic colors. However, Garage Flooring LLC also offers custom color flakes and a high-performance polyurethane clear coat as an additional option.
The national brand epoxy kits do include color flakes in their kit. However, it's the same standard color combo they've had for years.
They also do a poor job of informing consumers that you can apply a clear coat to epoxy. There are many advantages to applying a clear coat that the average person is not aware.
Rust-Oleum does offer a clear epoxy top coat. However, it does not perform nearly as well as the polyurethane offered with TrueLock Epoxy.
Other national brand water-based epoxy kits don't even offer an epoxy clear coat or they offer a clear acrylic glaze coat instead. This type of clear coat is extremely thin and a low performer compared to epoxy and should never be used.
An important rule with coatings is that your clear top coat should perform just as well or better than the color coat.
The polyurethane clear coat that is an option for TrueLock Epoxy will provide for a much glossier finish, better resistance to hot tire pickup and even better wear and chemical resistance than epoxy. It is also U.V. stable and will not amber (yellow tint) like a clear epoxy can.
Where to Purchase TrueLock Garage Floor Epoxy
The only place you are going to find All Weather Floors TrueLock Garage Floor Epoxy is from Garage Flooring LLC.
They provide free shipping with your purchase and outstanding customer service. Excellent application instructions are provided as well. If you have any questions, just ask them!
Unlike the poor advice from home improvement centers, Garage Flooring LLC are experts in concrete coatings and have the knowledge and experience to provide you with the proper information.
Final Thoughts
TrueLock low odor epoxy addresses many of the issues that face low-cost epoxy coatings. It is budget friendly, low odor, and most importantly, it is more durable than the typical national brand water-based epoxy paint kits.
It should appeal to those that need a more durable epoxy for their garage floor or basement that may also have application anxieties or concerns about smell as well.
As much as we like TrueLock water-based epoxy, the one thing we don't want to do is oversell it. Let me explain.
As well as this coating performs for a water-based epoxy, it does not surpass the performance of a polyurea, polyaspartic, or traditional multi-coat high performance epoxy coating systems.
In addition, just like other water-based epoxy kits, it can amber (yellow tint) over a period of time if exposed to direct sunlight or strong indirect sunlight.
This is true of all epoxy coatings regardless of what any manufacturer may state. Of course, this is of no concern for basement applications.
Lastly, just like the other national brand epoxy kits, it's not going to have that rich, glossy looking high-end finish that the better commercial quality coating systems have. The optional polyurethane clear coat will add gloss, but it won't make the color look richer.
Nevertheless, we are very impressed with TrueLock water-based epoxy. It genuinely is a simple, yet durable epoxy coating that can be a great choice for garage floors and basements, particularly if chemical smells and application anxiety is a concern.
Though it is moderately more expensive than the national brand water-based epoxy paint kits, TrueLock Epoxy is a much better value for garage floor epoxy in terms of durability, ease of application, and protection.