This post may contain affiliate links. If you use these links to make a purchase, we may earn a small commission. As an Amazon Associate, All Garage Floors earns from qualifying purchases. You can read our full disclaimer here.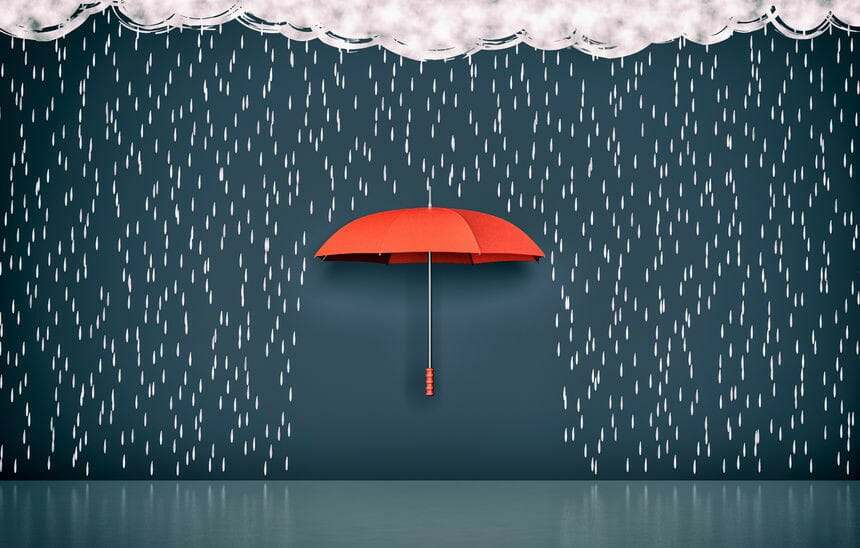 A sweating garage floor can be a real nuisance than can create a slippery surface and even make your garage damp as a result. If you wonder why your garage floor gets wet, particularly in the spring, then your garage may be suffering from this condition. So let's discuss what makes a garage floor sweat and what you can do to help stop it.
Why does my garage floor get wet?
Before you make a plan to stop it, you first need to understand what causes it. There are a couple of reasons why your garage floor may be getting wet. The most common is condensation — AKA sweating garage floor.
When relatively warm, moist air comes in contact with a very cool concrete slab, the cold temperature of the concrete will cause the air that comes in contact with it to cool. If the air cools at or below the dew point, it will begin to condense on the surface of the concrete, thus causing the wet and sometimes misty looking garage floor.
As a refresher, the dew point is the temperature at which the air becomes completely saturated. If your concrete surface is cooler than the dew point, it can easily cause the boundary layer of air that comes in contact with it to cool at or below the dew point if allowed to rest long enough undisturbed.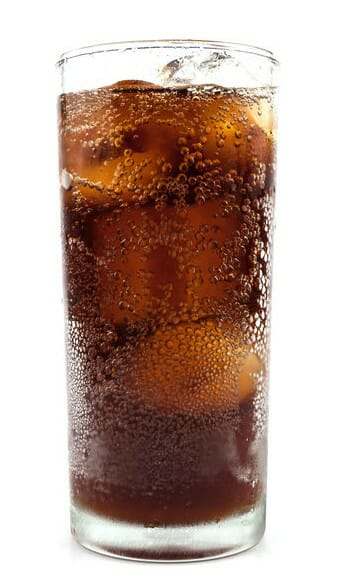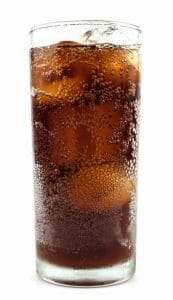 Otherwise known in the concrete industry as sweating slab syndrome, it's the same condition that causes the outside of a cold beverage container to get wet on a warm, humid day or the surface of your car to get wet when it's left outside on a cool, damp night.
A wet garage floor generally takes on a darker look due to the moisture and can even suffer from efflorescence as a result. This happens when the moisture that has been absorbed by the concrete travels back up to the surface and evaporates. As it evaporates, it leaves behind white mineral deposits on the surface that the moisture carried with it as it traveled through the concrete.
Sweating garage floors seem to be most prevalent around spring time in areas of the country that experience cold winters. Ground temperatures are still very cool from the winter and tend to keep the concrete cold relative to the air around it.
However, it can also be an issue in areas of the southeast where warm moist air brought in from the ocean comes in contact with relatively cooler concrete slabs during the winter and spring time.
Another condition that can make your garage floor wet is moisture that travels up from under the slab. This is different from a sweating garage floor and is often misunderstood as the same thing. It happens most often with concrete that does not have a moisture barrier beneath it.

Though concrete is hard and dense, it actually has small capillaries within that act like a sponge. If the ground beneath the concrete is wet or has high moisture content, it can absorb that moisture and distribute it through the concrete. Basements commonly suffer this same condition.
If the air above the concrete is warmer, the moisture within it will rise to the surface and evaporate. This can create a wet surface if there is enough moisture. It can also cause efflorescence and just like a basement, it can make for a damp garage as well.
How to test for a sweating garage floor
If you are uncertain whether you have a sweating garage floor or a moisture issue from below your slab, the easiest way to tell is to test for it. Tape a 16" square piece of heavy plastic down to the concrete when it is dry. Make sure to seal all the edges. Leave it in place until your concrete shows signs of being wet.
Remove the plastic and then look at the concrete. If the concrete under the plastic is dry and the surrounding surface is wet, then you have a sweating garage floor. However, if the underside of the plastic is wet and the surrounding surface of the concrete is mostly dry, then you have a moisture problem from below the slab.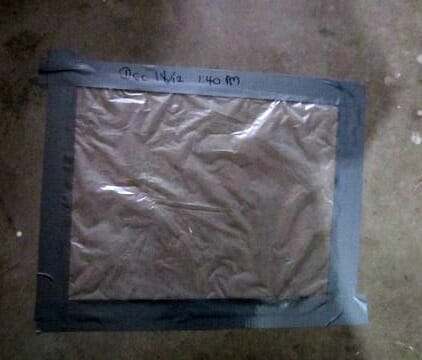 Another sure indicator of a sweating slab is if you remove something from the wet garage floor that has a flat surface and you find the concrete dry underneath. An example would be a floor mat or a cardboard box.
On the contrary, if your garage floor looks dry and you remove an item to find wet concrete underneath, then you have a moisture problem from under the slab.
How to stop a garage floor from sweating
Stopping a garage floor from sweating can be more challenging to accomplish than you may be aware. It's actually a problem involving the physics of condensation that you are trying to prevent.
For example, you cannot stop your garage floor from sweating simply by applying a sealer or coating. The surface of the garage floor will still get wet (sweat) because it is cooler than the dew point. If the air that comes in contact with the concrete has a chance to settle long enough, it will condense regardless if there is a sealer or coating.
In order to stop a garage floor from sweating, what you need to do is eliminate the conditions that make a garage floor sweat to begin with.
Think of it this way. If you park your car outside on a cool night with damp air, the surface will be wet with dew from condensation the next morning. If you wax your car to seal the paint it will not prevent it from getting wet, it will just cause the water to bead up nicely. It's the same principle with your garage floor.
In order to stop a garage floor from sweating, what you need to do is eliminate the conditions that make a garage floor sweat to begin with. In other words, you need to do at least one if not more of these 5 things.
Decrease the dampness/humidity of the air
Increase air circulation across the floor
Increase air temperature of the garage
Change the garage floor surface
Keep the garage door, man door, and windows closed and sealed
So let's discuss each of these items in more detail, including what may be required.
As an Amazon Associate All Garage Floors earns from qualifying purchases.
Decreasing the dampness of the air
Decreasing the moisture in the air is one of the more effective ways to prevent concrete sweating. If the humidity level in the garage is kept at acceptable levels during the times of year that sweating is most prevalent, then you will greatly reduce the chances of it happening at all.
The best way to reduce the moisture content in the air of your garage is with a dehumidifier. If set to run during the times of year when you encounter sweating, it can greatly help to reduce if not prevent it.
The key is to use the right dehumidifier for the job. For a typical 400-500 square foot garage, we recommend using a unit rated for 2500 ft² spaces or larger.
The reason for using a higher rated dehumidifier is that they will work much more quickly at removing the moisture from the air. Plus, garages are far more drafty than the inside of your home and will continually let in the relatively warm, moist air at a greater pace. Dehumidifiers rated closer to the actual size of your garage will be too inefficient to get the job done.
Also, it's important to use a dehumidifier that is rated for working in colder temperatures. Many of the in-home units are not rated for temperatures low enough to work in a non-heated space and will freeze up if the temperature dips into the low 60's.
One of our favorites is the 6 gallon Dehumidifier by hOmelabs. It's rated for 2500 ft² and works well for a standard 2-car garage. For a 3-car garage or larger, the 9 gallon unit would be better suited.
The hOmelabs units are UL and Energy Star rated as well as rated by the manufacturer to work in temperatures as low as 35°F.
Though larger units such as these emit dry heat when in operation, it is not enough heat to affect the temperature of a cool garage.
Of course, running a dehumidifier requires that you only open the garage door and man doors when necessary. Leaving doors or windows open defeats the purpose of using one.
Increase air circulation within the garage
Another method that can be effective at reducing garage floor sweating is to run a fan to increase air circulation across the floor. If the air near the concrete surface cannot rest long enough to cool, then it will not condense. If it is allowed to rest long enough and form a cooler boundary layer of air at the surface, then it will condense.
A larger sized oscillating fan, like this Huricane Fan pictured above, can move a lot of air.
Let's go back to the example of a car sitting outside on a cool, damp night. You may have noticed that dew will not collect on the car if you are driving it, but it will begin to collect sometime soon after you park it. The reason is because the air does not have a chance to settle on the surface and condense while you are driving. It's the same concept with your garage floor.
A lower floor height is good for moving more air under parked cars if necessary, while the wall mount or upright stand will help to circulate more air throughout the entire garage. Just set it up in an area where it will cover most of the garage floor.
If you have a larger garage or more space, a larger wall mount fan is a better choice. They will move much more air and can create a circulation effect when directed towards the floor.
One of our favorite fans that we have used in our garages is the brand Hurricane. They come in a variety of sizes and configurations depending upon your needs.
Many times the combination of moving air with a fan and using a good dehumidifier will resist some of the worst conditions for sweating garage floors.
Heat the garage
One option that is not always practical but is worth mentioning is to heat the garage. What this will do is bring the surface of the concrete closer to room temperature. When the conditions for sweating exist (relatively, warm moist air), the concrete will not be cool enough to condense the air that comes in contact with it.

The problem with heating a garage, however, is that it can take up to a week for the concrete at the surface to warm. Plus, running a heater for long periods can become expensive since most garages are not insulated. Amazon has a compilation of popular garage floor heaters if you like the idea of heating your garage, even temporarily.
If you are in the planning stages for building a home or separate garage in an area of the country where concrete sweating is common, you may want to investigate radiant floor heat for concrete instead.
Changing the flooring of your garage is arguably the most effective way to stop garage floor sweating. We don't mean sealing the garage floor or applying a coating. What we are referring to is installing a different flooring surface.
Great examples are interlocking garage floor tiles, vinyl mats, and even automotive approved carpet for a garage. When such a garage flooring system is installed, the surface of the flooring will no longer adopt the temperature of the concrete. Instead, it will adopt the temperature of the air in the room.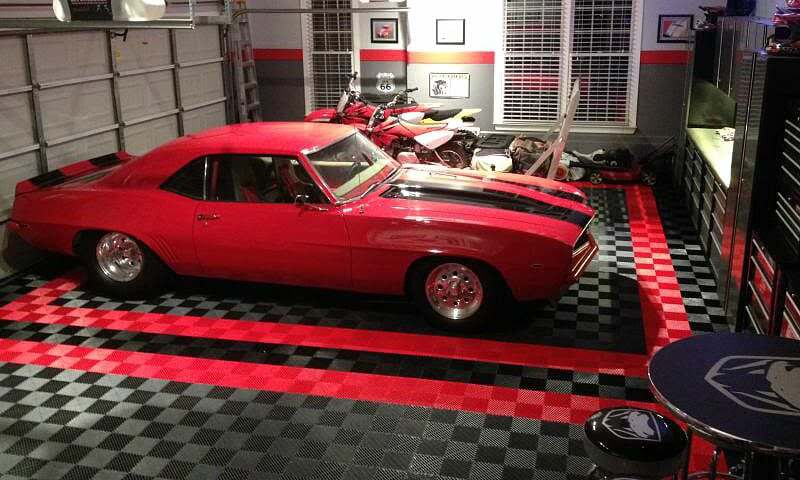 As a result, when warm moist air is introduced to the garage, it cannot condense on the floor since the floor will closely adopt the temperature of the air. The other benefit to this type of flooring is that it will help to insulate your feet from the cold temperatures of the concrete underneath.
Seal the garage from drafts
Lastly, you can lessen the effect of garage floor sweating if you take steps to slow down the intrusion of relatively warm, moist air into the garage to begin with. This is particularly helpful when running a dehumidifier and/or fan. You can achieve this by ensuring that your garage door and man door are properly sealed and that windows are kept closed.
For the garage door, a garage floor door seal can be very effective at achieving this goal. It works well at preventing the moist air from traveling across the concrete floor and settling to cool.
Side garage door seals are something to be considered as well. Not only will they help to seal the garage door better, they also work well at keeping blowing rain and other critters from entering your garage.
For your man doors, make sure the door seal gaskets are in good shape. Also, don't forget an under the door seal as well. Like the garage door, this helps to prevent outside air from flowing across the surface of the garage floor.
Make sure to check for any other areas of your garage that may be drafty or letting in air from the outside. Do not block off or seal any venting that may be required by local or state building codes.
We do realize that the minute you open your garage door to park or exit with your car, you will be introducing large volumes of outside air that may be conducive to sweating. However, many times this air can move in overnight or the early morning when you keep your doors closed. Making sure your garage is sealed properly can go a long ways towards reducing this air from getting in.
Final thoughts
As a reminder, sealing your garage floor will not stop it from sweating, but it will prevent some of the adverse effects such as efflorescence. You will also benefit from easier cleanups and stain resistance as well. Changing the flooring of your garage is the most effective method for stopping it completely.
You may have been surprised by the methods required to help prevent your garage floor from sweating. However, once you introduce one or more of the procedures we stated, you may significantly reduce or stop the problem completely.