This post may contain affiliate links. If you use these links to make a purchase, we may earn a small commission. As an Amazon Associate, All Garage Floors earns from qualifying purchases. You can read our full disclaimer here.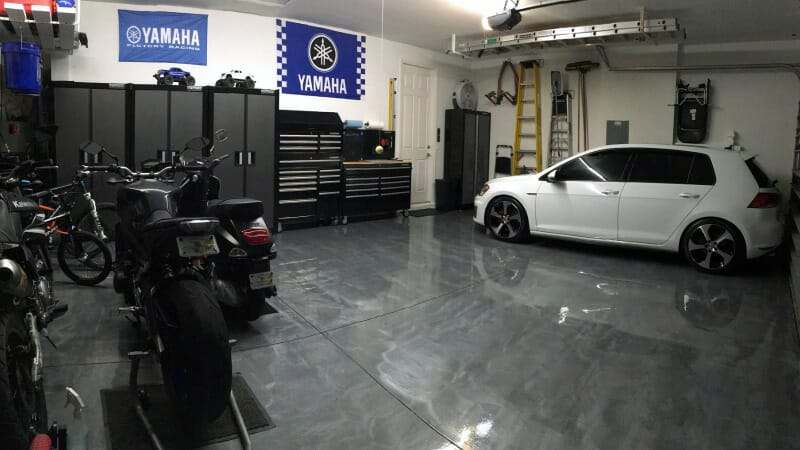 We like to highlight nice garage floors from our reader's whenever we get a chance and this one by Julian is no exception.  After doing a little research about epoxy garage floors, he decided to purchase and apply a RockSolid Polycuramine garage floor coating in Silver Bullet metallic. After seeing the final results along with his garage décor, we have to say that Julian hit a home run with his floor coating choice.
Julian's first attempt at a floor coating actually began four years ago. Unfortunately he received some poor advice from his local home improvement center regarding product choice and in his words, "it didn't end well".
He took the time to prep the garage floor properly by acid etching the concrete and followed the floor coating instructions to the letter. Just to be extra careful, he let the coating cure for a full week before parking his cars in the garage.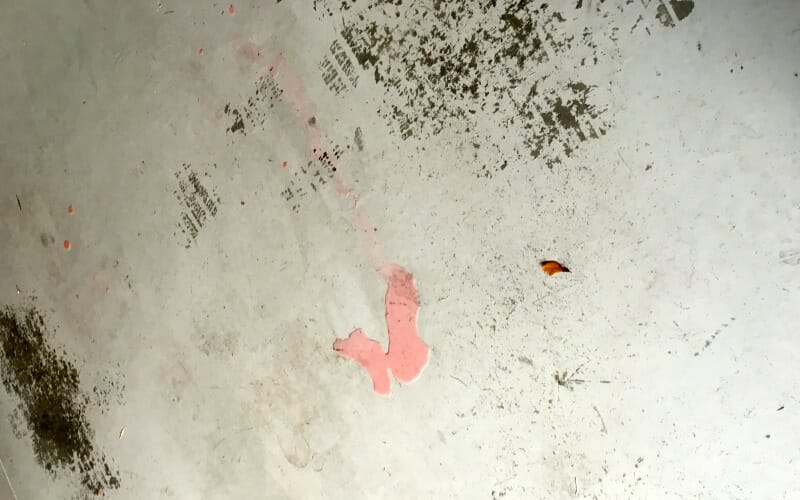 According to Julian, the first time he pulled into his garage with wet tires the epoxy coating pulled right up where his tires had sat. Feeling defeated, he left the floor as it was for the last four years until he decided he needed to tackle the job the right way. Fortunately for us, he took a lot of photos and gave us the details about his experience.
Choosing the RockSolid Metallic coating by Rust-Oleum
Being an avid DIY'er by this point, Julian started investigating garage floor epoxy and really liked the look of the RockSolid Metallic coatings. He felt it was the best looking garage flooring option by far when he evaluated the costs and what he wanted from an epoxy floor.
Though we have covered RockSolid's new polycuramine coating, his one concern was that he couldn't find as much information as he would like on their metallic coatings. What he did find was mostly from what we have published on All Garage Floors. Not stopping there, however, he did something that we encourage all of our DIY readers to do — He called Rust-Oleum customer service and started asking questions.
Besides some or the typical application questions, his biggest worry was about whether he should use an epoxy primer or not. After calling twice and talking to two different representatives, he was confident that is was not required. As we can attest, Polycuramine actually penetrates into the concrete very well and generally does not need a primer.
Installation
Because his garage had the older floor coating that never performed like he had hoped, Julian soon realized that it would need to be removed first before application of the new coating. So after reading our article about how to grind a garage floor, he set off to his local Home Depot to rent a floor buffer and the Diamabrush attachment.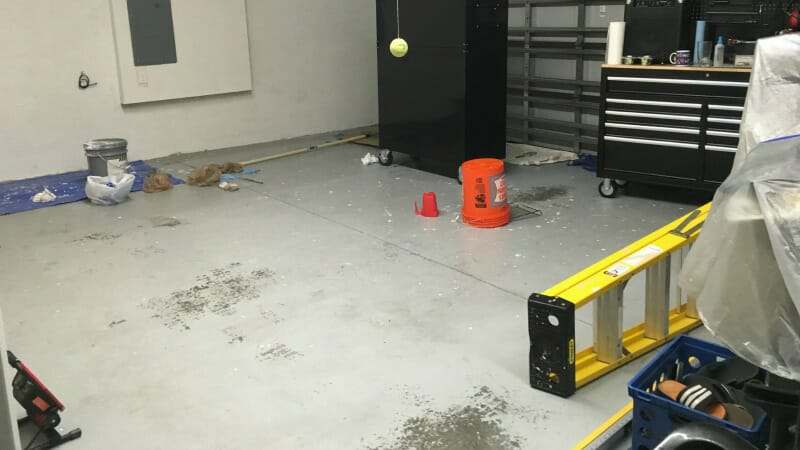 He first thought the concrete prep tool would work best since it had the most blades, but soon found out that what he really needed was the removal tool that has fewer blades. Fewer blades prevent clogging and actually do a better job of removing old paint, mastic, and thin coatings while prepping the concrete at the same time. The process just takes longer than grinding bare concrete.
He decided that grinding the floor dry was his best option since he didn't want to deal with the sludge that is created from grinding wet. Though he first opted to use the vacuum attachment, he felt it was more of a hindrance and easier for him to just don a respirator and deal with the concrete dust afterwards.
After grinding and cleanup, he then did a moisture test to verify that his garage floor wouldn't have any moisture issues that could cause a coating failure. He did the simple plastic sheet test in a couple spots on his floor. Satisfied with the results, he was now ready to apply the RockSolid metallic coating.
Julian followed the instructions closely and was careful not to whip the coating when mixing in the metallic powder. Doing so can introduce air into the Polycuramine mix and create bubbles in the coating while it cures.
He then poured it out in ribbons and rolled it onto the concrete in the requisite M and W pattern to get full coverage, followed by the circular pattern that creates the cloudy metallic look. He separated his garage into 100 square foot sections and set a goal of 30 minutes for each section in order to get it down in the required time.
Though Rust-Oleum states you can drive your vehicle on the coating after 24 hours, Julian waited three days before doing so. While he waited though, he did some detail work that we think was very creative.
When applying the coating he was careful about not allowing much to flow into the contraction joints of the garage floor. This allowed for more coating to go on the floor surface. The next day, he taped off the joints and applied some Rust-Oleum Antique Pewter Primer and Paint-in-one. It matched up perfectly with the rest of the floor.
So what happened when he finally drove onto the metallic coating? Nothing! No hot tire pickup or problems with coating peeling up. He moved in all his garage stuff and you can see how beautiful the metallic coating looks from the pictures below.
Click on photos for a larger image
Final thoughts
Julian did offer a couple tips based on his experience. He recommends wearing gloves when applying the coating. Because Polycuramine is so thick, he said he got a few blisters from the pole while rolling it on. He also said it may have been easier to use a spout on his bucket when pouring it out on the floor since it was hard to get the even ribbons that RockSolid recommends.
He stated that the floor coating did not turn out perfect, but the few cracks and swirls just give the metallic coating character which he likes.
He was originally quoted $2500 to have a professionally installed commercial quality coating in a gray color with the multi-colored flakes and clear top coat. Installing a commercial quality coating DIY would have cost much less, but it still was going to be close to $1000 for materials. This was based on 525 square feet of garage floor.
With his local home improvement store running a special on the RockSolid Metallic garage floor coating, Julian kept his costs down to $375 for materials plus the grinding rental. He stated, "It's definitely more wow than gray with flakes!"
Julian said he is aware that this particular type of DIY coating is not going to be as durable as the commercial quality coatings that are available. He is fine with that however since he isn't running a professional shop and doesn't plan for extensive work projects in the garage. He has been getting many compliments from passersby and he knows of two people who after looking at his garage floor went out immediately to purchase the same product to install on their own garage floor.
He admits that he felt a little bit like a Guinea pig installing the RockSolid Metallic garage floor coating since he couldn't find as much real world information on it as he would have liked. However, he is now glad that he did it. In fact, he is giving it a 10 out of 10! He states that he loves his garage and has been spending much more time out there since and "… not having to look at the ugly floor that preceded it just makes me smile even more".