One thing to remember when reviewing a garage floor epoxy coating is that it is considered one of the premier floor coverings that you can apply to your garage today.  No matter what application you choose, it is a product that can instantly transform your boring or ugly cement into a professional looking floor of beauty and function.
Used for both residential and commercial floors, it gives your garage or work space that showroom shine that says "look at me"!  You can choose anything from an understated solid color to custom blends of color chips that match your favorite sports team.  Since the garage is fast becoming more than just a place where you park the car, epoxy coated floors have become a favorite of choice for the garage and one of the best garage floor coatings that you can choose.
Benefits of a garage floor epoxy coating
So what makes garage floor epoxy the best flooring options for your garage?  Besides looking nice, an epoxy garage floor has an abundance of benefits.  Because of the hardness and thicker application that you get from epoxy, this type of concrete coating is very durable and resilient to impacts, chipping, and surface abrasion.  You don't have to panic if you drop that wrench or a bicycle falls over.
The thicker coating also does a great job of covering over minor imperfections such as small surface cracks and flaws in the concrete and is anti-dusting. Much of the dust in a garage is from the cement floor itself and has a tendency of collecting on cars, tool benches, and storage items as well as being tracked into the house.  And finally, it is light reflective.  It will brighten up the look of your garage without having to add additional lights.
A garage flooring option such as epoxy receives high reviews from the home mechanics as well.  It is both chemical and stain resistant which means oil, brake fluids, anti-freeze and other caustic car chemicals can easily be wiped up without worry – even if it sits for a while.  Rolling tool boxes, jacks, and jack stands will not damage the floor.  It's naturally moisture resistant which is great in the snowy seasons and makes it easy to clean as well.  Just a little mild soap and water is all it takes.  Depending on whether you added paint chips or not and the thickness of the topcoat, some surfaces can be slippery when wet.  If you want some extra grip you can add slip resistant aggregate to the final coat.
A common question when evaluating epoxy floors is hot tire pick up.  This is caused when the hot tires from your car can soften lessor quality coatings.  The tires then cool down and contract after driving causing the tire tread to literally grab and pull at the surface of the still soft coating causing it to delaminate.
This problem is associated more with epoxy paint kits, but not professionally installed or commercial quality coating.  Since most commercial brand epoxy is 100% solids, floors like these can run between 10 – 30 mils in thickness compared to only 3 mils for a store bought kit that is only around 30% solids.  Because thicker coated epoxy floors like these wear so well, warranties of up to 15 years for installation by professional installers is becoming common.  Many manufacturer's of 100% solids epoxy warranty the product itself for the life of the floor.
                   Review the different coating options for epoxy floors
How an epoxy floor coating is installed
How does a floor do all this you may ask?  Well, epoxy is formed when you mix one part epoxide resin with one part polyamine hardener.  The hardener acts as a catalyst and is what gives epoxy its strength.  A good epoxy coated floor system will involve a minimum of three steps.
The first step is an epoxy primer.  This is applied to the floor first and is what binds to the concrete to provide adhesion for the subsequent layers.  Some primers will also act as a moisture barrier for those cement floors that are somewhat susceptible to moisture vapor that moves up from the soil through the concrete to the surface.  The second step is the color coat.  This step may also be followed with the application of colored acrylic paint chips to add density and texture.  The third step is the top coat.  This is what gives the finish that glossy look and depth that these floors are known for.
If you have a southern facing garage or just like to keep it open when at work or showing off your cool stuff, then you will want a  system that will include a polyurethane top coat.  Epoxy will yellow or amber as the industry calls it, when exposed to sunlight over a period of time.  Polyurethane is a two part polymer that hardens just like epoxy and is used as a sealer and protectant.  When used in the color coat and top coat with epoxy, it will resist the yellowing effect that happens when exposed to sun.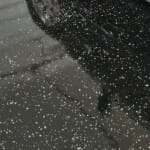 Epoxy coated garage floors in various colors and paint chip applications
Not to be confused with store bought kits, a good quality 100% solids is the best garage floor epoxy system, gets the best reviews, and is usually installed by a professional.  One of the reasons for this is the floor preparation required before it is installed.
Epoxy coatings will require some form of either floor grinding, shot blasting or etching of the floor to profile the concrete for the epoxy.  It's very critical that it is done right or the epoxy coating will not adhere properly.  This is the main reason for failure of many garage paint and epoxy coated systems installed by the homeowner and why the professionals can provide the warranties that they do for their products.
Garage floor epoxy  costs
Installation can be done however by the ambitious "do it your selfer" with the right equipment and commercial quality epoxy products.  A professional installation usually starts at $4.00 a square foot and goes up from there with a typical 2-car garage being a little over 400 square feet.  Expect to pay a minimum of $500 in professional grade epoxy materials for a typical 2-car garage if you want to install it yourself.
Because of the curing time needed, total time to complete the job and be able to park your car is approximately 4 days.  That's usually two days for applying the epoxy coats and two more days for allowing it to cure properly.  There are now newer polyaspartic and polyurea systems that are fast curing that can be applied all in one day and driven on the next.  These should not be attempted by a non-professional though due to the rapid curing time of the materials.
When reviewing the different epoxy options available, the best garage floor epoxy is going to be a 100% solids multi-coat system.  Though it is the more expensive option for a floor covering, it is arguably one of the most economical of installations when compared over the duration of the floor.  Whether you are turning your garage into a show piece for storage and cars or just want something to protect your garage for years to come, a good system such as this will last years and give you one of the best returns for the dollar.
For more information on epoxy flooring and installation  Click Here