This post may contain affiliate links. If you use these links to make a purchase, we may earn a small commission. As an Amazon Associate, All Garage Floors earns from qualifying purchases. You can read our full disclaimer here.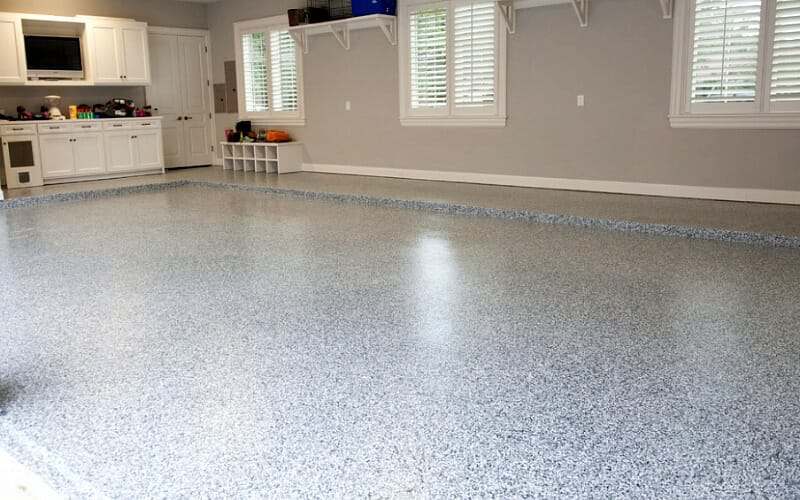 We know that choosing a clear top coat for a garage floor coating can get confusing. With several formulations available, how do you know which is best for you? Which type you choose may also depend on whether you are applying it yourself or having it professionally installed. For this reason, we have decided to review the various clear coat options available to help you decide which is best suited for you.
A clear top coat has many benefits. Besides enhancing the look of your color coat, it will also protect the optional color flakes and the rest of the coating from the numerous elements that a garage floor encounters. It does this by acting as the sacrificial layer.
The number one rule when choosing a clear top coat for your garage floor coating; The top coat should be of equal or greater performance than the epoxy base coat. Remember, your coating is only as good as the weakest link. It will only perform as well as the final coat that is applied.
With these factors in mind, let's review the different clear coat options available for your garage floor coating.
Epoxy Clear top coats
The most well-known option for a clear top coat is epoxy. It's available in water based, solvent based, and 100% solids formulations. This can allow for quite a bit of flexibility depending on your requirements.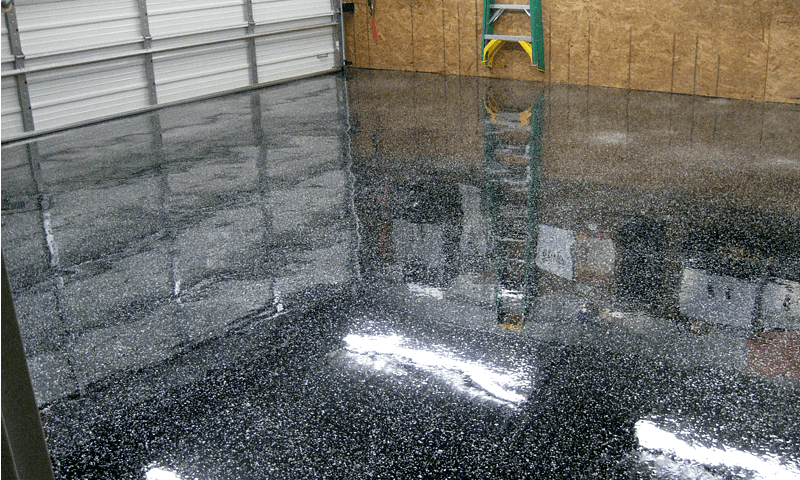 The main advantage of epoxy for a clear top coat is cost. Epoxy is the least expensive option in most cases and as long as it's not solvent based, it will be low in VOC's as well.
Epoxy can also provide for a thicker single coating of up to 10 mils depending on the solids content. If you have a full coverage application of color flakes, this can reduce the number of coats to properly cover the flakes down to as little as one single coat.
Pros
Lower cost
Low in VOC's (solvent based the exception)
Good chemical resistance
High dry film thickness of up to 10 mils requiring fewer coats
Cons
Less abrasion resistance than other coatings
Scratches easier
Not U.V. stable – ambers with yellow tint if exposed to sunlight
Lack of flexibility
Not exceptionally clear
Slippery when wet
While the cost can certainly be attractive, epoxy as a clear coat does have its drawbacks and is usually the least desirable of top coat options. There are a few reasons for this.
Typically, epoxy is the least abrasion resistant of garage floor coatings. This means that it will wear faster, particularly the less expensive water based products.
Epoxy also scratches easier. The primary reason for this is that it cures to such an extremely hard coating that lacks any flexibility. This combination of hard surface and lack of flexibility can have many benefits in a high build color coat, but it causes small granules of dirt and sand to act like sandpaper when walking or driving over it.
While many of these scratches can be microscopic in nature, an abundance of them will degloss the finish after a while and give it a dull appearance. This can increase the effort of keeping the floor clean. Scratches can be much more noticeable with darker base coat colors and/or darker color flake applications as well.
Most epoxy is not water clear either. It actually has a slight tint to it that can look cloudy when compared to other top coat options. And despite the addition of U.V. stabilizing agents, epoxy will eventually amber when exposed (directly or indirectly) to sunlight.
If an epoxy top coat is all the budget will allow, however, don't fret. It is still a much better option than no top coat at all. It will still protect the base color coat and color flakes (if applied), while also increasing the durability and longevity of your garage floor coating.
Polyurethane top coats
Up until the last few years, polyurethane, also known as "urethane" for short, has long been considered the high performance top coat option for garage floor coatings. And for most DIY applications, it still is.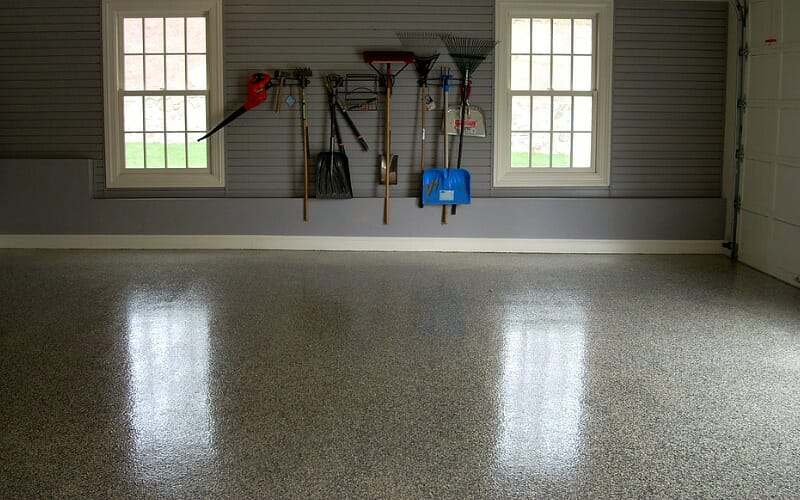 The majority of polyurethane coatings are solvent based with the highest performing of these being the 2-Part aliphatic polyurethanes. The single part moisture cured urethanes generally come in a close second.
The exception to this is the newer water based, low VOC polyurethane coatings that are manufactured for parts of the country that have high VOC restrictions. Areas of Southern California are a good example. While these newer water based polyurethanes do not perform quite as well as their solvent based counter parts, they still perform better as a clear top coat when compared to the majority of epoxies available.
The most predominant benefit of polyurethane is high abrasion resistance. Abrasion is what wears down a garage floor coating and polyurethane can have up to 3 times the abrasion resistance of some of the best epoxy coatings.
It is also more resistant to chemicals. This can be a big benefit for the mechanic worried about chemical spills such as brake fluid, parts cleaners, and strong solvents.
Polyurethane is also U.V. stable. This means it will not amber when exposed to sunlight. When applied over epoxy, it will not completely stop the epoxy from turning amber, but it will slow down the process significantly.
If yellowing of the color coat is a strong concern, polyurethane can also be tinted to create a U.V. stable color coat that will not amber. This is a popular top coat option for those that prefer a solid color floor coating without color flakes.
Because polyurethane coatings have more flexibility than epoxy, they are much more resistant to the microscopic scratches and marks that epoxy can acquire. As a result, it holds its gloss much better and makes for an excellent choice to apply over metallic epoxy coatings and darker colors that show scratches easier.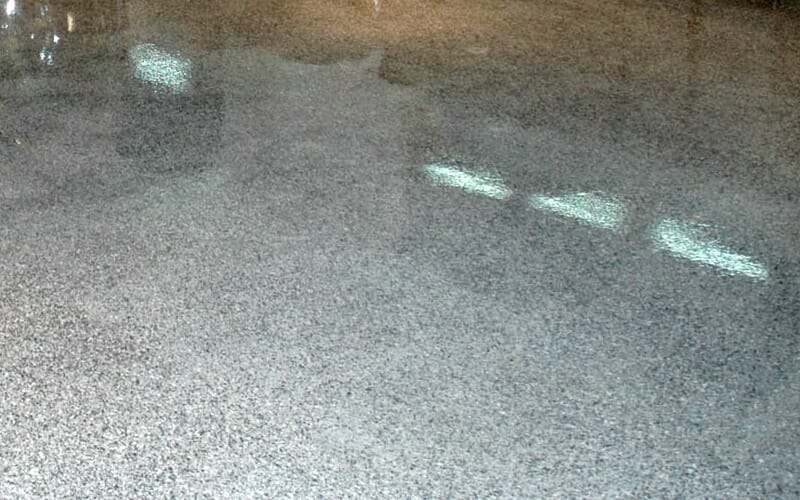 Polyurethane is also very clear, it has a glossier finish, and it is more resistant to tire marks and stains. In addition, if you don't care for the glossy look, it is one of the few coatings that are available in a satin finish.
Lastly, polyurethane is one of the easier top coats to apply. It has a much longer pot life and can be rolled out of a paint tray in most cases.
Pros
High abrasion resistance for longer wear
Excellent chemical resistance
U.V. stable (will not amber)
Better scratch resistance
Cures very clear
High gloss and optional satin finish available
Good medium for anti-slip aggregate
Now available in better water based formulas to meet VOC restrictions
Easy to apply
Cons
Thin dry film thickness can require multiple coats
Does not adhere well to bare concrete
Cost –  more expensive than epoxy
High VOC's (water based the exception)
There are some things to consider when choosing polyurethane, however.
Though polyurethane can have a high solids content of over 70%, it has a dry film thickness of only 2-3 mils. It cannot be applied thicker like epoxy to compensate or you will experience bubbles, cloudiness, and a poor cure. This is why it does not make for a good build coat.
The thin dry film thickness also means that it can require applying multiple coats depending on the amount of color flakes applied. If no color flakes are applied, you can apply as little as one coat. A full color flaked garage floor can require up to 3 coats in order to properly fill-in all the irregularities and cavities that a full color flaked surface can create.
There is a benefit to the thin dry film thickness, however. It makes for a good medium to apply anti-slip aggregate. Anti-slip has been known to sink and be less effective in thicker coatings requiring a bigger diameter aggregate that is more visible.
Another consideration is expense. While one gallon of polyurethane is more expensive than high solids epoxy, the coverage rate can sometimes be more than double that of epoxy. If you only need 1 coat, it can actually be less expensive to use. However, if you need to apply 3 to 4 coats to cover all your color flakes properly, it will be more expensive than a single coat of high solids epoxy.
Polyurethane also has a higher VOC content than most epoxies due to its solvent base which requires that precautions be taken with application. A respirator should be worn and all open flames in the work area need to be extinguished. Always check with the manufacturer or vendor you are purchasing from about these precautions.
Polyurea and Polyaspartic top coats
The interest in 2-part polyurea and polyaspartic coatings for garage floors has grown tremendously in the last several years. New formulations that allow for better application techniques have made these a popular choice for the commercial garage floor coating market.
Why? Besides performance benefits, the fast cure rates allow for a 1 day installation of a complete floor coating system. This can be a big advantage for those that can't live without their garage for more than a day.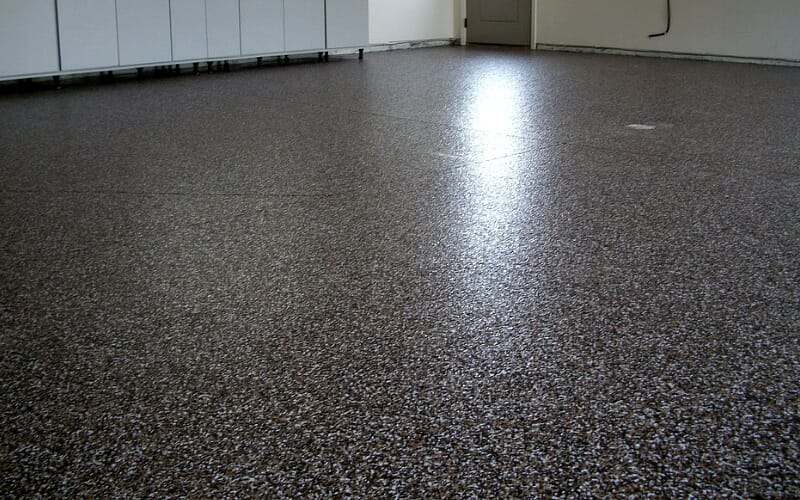 Polyurea is a subgroup of polyurethane. Polyaspartic, technically known as polyaspartic aliphatic polyurea or PAP for short, is a type of polyurea. Both have similar benefits to polyurethane in terms of durability and protection, as well other benefits that polyurethane does not have.
As we stated, one of the main benefits to these coatings are the fast cure rates of only one to two hours. Since most coatings require that you wait a minimum of 8 to 12 hours before reapplication, multiple coats can be applied in less than a day.
Polyurea and polyaspartic coatings are also thicker than polyurethane. With an average dry film thickness of 4 to 8 mils for a garage floor application, 1 to 2 coats is all that is required.
Additional benefits include an extremely clear and glossy finish – even more so than polyurethane. High solids applications are low in VOC's as well.
Polyurea and polyaspartic coatings are also more flexible (relatively speaking) than polyurethane. This makes them slightly more scratch resistant and impact resistant.
One last additional benefit is the ability to apply it in a much wider range of cooler and warmer temperatures. This really isn't a consideration though if you are using epoxy as your base coat since it is less tolerant to temperature extremes during application.
Pros
Excellent abrasion and chemical resistance
U.V. stable
Very high gloss finish
Water clear
Fast cure rates
Slightly better scratch and impact resistance than polyurethane
Low VOC's for most high solids applications
Cons
Most expensive coating option
Very short pot life
Not easy to apply – experience required
Very slippery when wet
Some formulations not as resistant to battery acids
While polyurea and polyaspartic coatings can make for an excellent top coat, there are some downsides.
The first is cost. Polyurea and polyaspartic are the most expensive of floor coating options to choose from. This is why polyurethane is still such a popular choice when the benefits are so similar.
Another is application. These coatings are not DIY friendly. Because they cure so fast, they can have an extremely short pot life of only 20 minutes. Unless you have prior experience with multiple coatings, applying these can be nerve racking and almost never go on smoothly for the average DIY application. They are best left to the professional to install.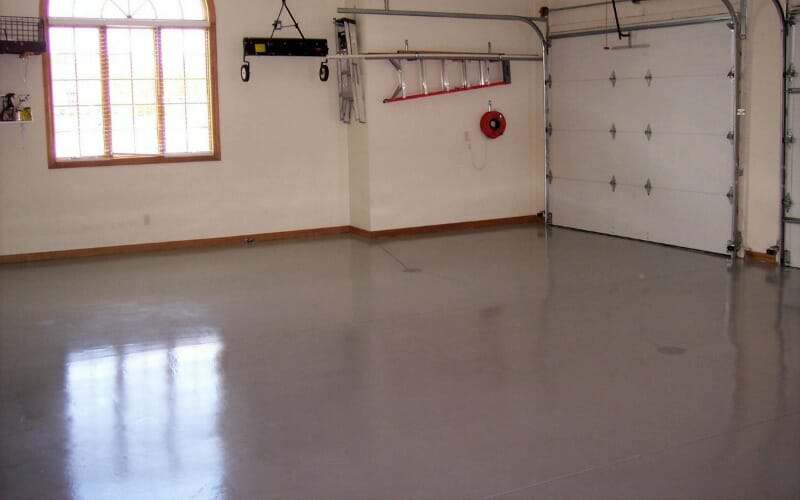 Some manufacturers have been able to extend the pot life of these coatings with different formulations that are less in solids content. This can make them easier to apply, but it also makes for a thinner dry film thickness and higher VOC's due to the higher solvent content.
Lastly, polyurea and polyaspartic are the most slippery of coatings when they get wet. This is mostly due to the very glossy finish. While they do meet ASTM coefficient of friction ratings when dry, a little bit of water or spilled fluids can make them slippery. It's generally recommended to use an anti-slip additive in the final coat regardless of the climate you live in unless precautions to avoid a wet floor are taken.
*** update ***
There are now new single-part moisture cured polyurea coatings that are available. These new coatings have similar performance benefits as the 2-part fast curing polyurea and polyaspartic coatings, but are much easier to install with almost unlimited pot life. As a result, these are a great choice for DIY installation.
These coatings have a dry film thickness that is twice that of polyurethane and are available in clear as well as colored tints. You can learn more about single-part polyurea here.
Clear top coats to avoid
The one clear coat option you want to avoid for your epoxy garage floor is acrylic. Sometimes referred to as a "glaze coat" with some garage flooring kits, acrylic coatings are very thin and do not perform nearly as well as epoxy.
Acrylic coatings lack the same wear resistance, stain resistance, and scratch resistance. In addition, solvents such as gasoline and other automotive chemicals can cause some acrylic coatings to soften and smear.
Furthermore, they can only achieve a mechanical bond to epoxy where as the previous coatings discussed can achieve a superior chemical bond. In short, an acrylic top coat violates the number one rule. You would essentially be applying an inferior top coat that will reduce the performance of the overall garage floor coating.
Clear acrylic coatings are best used for clear coats on decorative concrete such as patios, walkways, and porches where foot traffic is the primary wear source.
Lastly, we suggest you read our article about mistakes to avoid when choosing a clear coat. Trying to buy a clear coat for a 1-part epoxy paint is one of those mistakes.
If you have applied or are thinking of applying a 1-part epoxy paint, then you cannot apply a clear coat to it. 1-part epoxy paints are an acrylic latex paint with a little bit of epoxy resin added for durability. This article here explains the difference. None of the clear coats discussed above are compatible with paint.
Final thoughts
Though epoxy is less expensive in most cases, it's not the best choice as a top coat for a typical garage floor unless you are on a tight budget. It is still much better than not using a top coat at all, however.
For most people, polyurethane is likely the best choice as a clear top coat option. It's one of the easiest to apply, it is U.V. stable, and provides many of the same benefits as a polyurea or polyaspartic coating, but usually at a lower cost. Plus, the thinner dry film thickness makes for a great medium to apply anti-slip aggregate if you so desire.
While a polyurea or polyaspartic top coat can make for an excellent choice, it's best used if you choose to have your garage floor coating professionally installed. Many installers offer complete polyurea/polyaspartic garage flooring systems which can be a big advantage if you need to have it installed in the colder winter months or you are on a tight schedule and need it installed in a day.
Also, many of these same installers offer a hybrid of epoxy base coats and polyurea/polyaspartic top coats which can reduce the cost of the installation, yet provide the same benefits in terms of performance.
Finally, if you still have questions about the best top coat for your garage floor coating, be sure to consult with the vendor or floor coating contractor you intend to purchase from. Ask to review the TDS Sheets if they are not available online. And when installing a floor coating yourself, be sure to ask about compatibility if you are not using products from the same manufacturer.