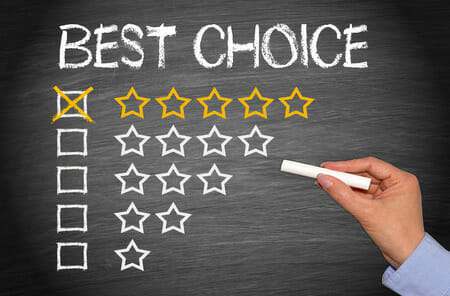 The best garage floor coating kits, also known as epoxy paint kits, are not what you may think. If you were expecting a comparison of Rust-Oleum EpoxyShield, Quikrete, Valspar, RockSolid, or some other kit you've seen at your local home improvement store, then you may be in for a surprise.
The best garage floor coating kits are the newer single-part moisture cured polyurea coatings. They are the easiest to apply, longer lasting, and offer the best protection.
Not familiar with polyurea garage floor coatings? No worries, the majority of other people aren't either. Consumers who want to apply a DIY coating to their garage floor are commonly familiar with the term "garage floor coating kit", "epoxy paint kit", and etc. When they are using these terms, they are generally thinking about epoxy coatings and the above mentioned products.
Why? The reason is simple. These types of kits have been marketed and promoted for many years by the large companies that manufacture them. Rust-Oleum is a good example. These are the typical DIY garage floor coatings. They are designed to be applied in one coat with the optional decorative color flakes to toss on top.
They are typically packaged in an eye catching box which includes the coating, a small bag of color flakes, and an ECO friendly etch/cleaner solution. It's not everything you need to get the job done, but they like to use the word "kit" to sound all-inclusive for marketing purposes.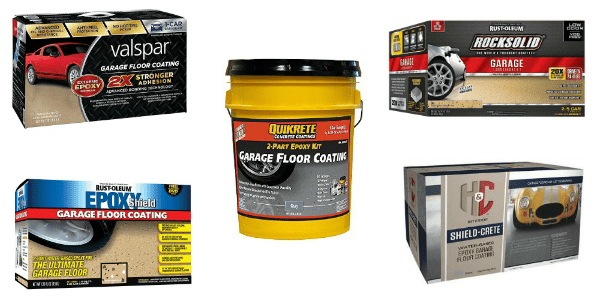 These are most prevalent in the home improvement centers and hardware stores where they are seen on a regular basis. As a result, this is all the average consumer is aware of in terms of coating choices in many cases.
The problem with most of these garage floor epoxy products, however, is that they are on the low end of the scale in terms of quality, durability, and performance. This is particularly true when compared to the vast majority of garage floor coatings available. We suggest reading this article here to understand more of what to expect with these types of coatings.
Now that you know the history of these epoxy paint kits, let's discuss what makes the newer single-part polyurea garage floor kits so much better.
What is a polyurea coating anyway?
Put simply, polyurea is a subset of polyurethane. It is a coating that seals and exhibits excellent chemical, stain, and abrasion resistance. The high elongation rate of polyurea makes for a flexible (relatively speaking) surface. Coatings that flex provide very high abrasion and scratch resistance. This is one of the reasons why polyurethane and polyurea is a much better top coat than epoxy for most environments.
Polyurea is actually fairly new for a coating. It was commercially developed in the 1990's and was most known in the industry as a spray-on coating for bed liners, pipe linings, water tanks, pool coatings, etc. When mixed with a catalyst in a sprayer it can cure in as little as 5 seconds. It can also be applied in extreme cold and warm temperature conditions.
It was later developed as a 2-part polyurea polyaspartic roll-on concrete floor coating that has become very popular with many garage floor installation companies. The cure rates of less than two hours can provide a 1 day return to service for a complete garage floor coating system. This can be an advantage when selling this type of coating over a standard epoxy garage floor system that requires a minimum of three days to cure before full return to service.
The high solids 2-part formulas used for these garage floor coatings is expensive though. It requires experienced installers to apply properly due to the short working time (pot life) of only 20-25 minutes. This is why it has not been popular for DIY application – that is until recently.
Why single-part polyurea coatings are better than epoxy paint kits
One particular formulation that has been introduced to the floor coating industry in recent years is single-part moisture cured polyurea. Most polyurea formulas require mixing of a part-A resin and part-B catalyst – just as epoxy does.
Single-part polyurea, on the other hand, does not require mixing of two components. Instead, the catalyst it reacts to is moisture in the air. The reaction happens after it has been applied and this is what induces the curing process.
Single-part polyurea is a commercial quality garage floor coating that is the easiest of all coating to apply – period.
With the addition of solvents in these formulations, manufacturers have created an extremely durable polyurea garage floor coating. It does not require mixing of A and B components, has unlimited pot life, and can easily be applied to concrete.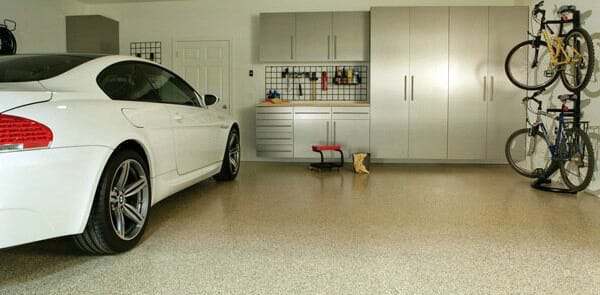 Many of the mistakes from DIY epoxy coating applications generate from improper mixing of the A and B components. The anxiety of this mixing process is a common deterrence that causes some people to shy away from installing epoxy in their garage.
RockSolid has tried to eliminate mixing mistakes with the introduction of burst pouches to mix A and B components, but problems still exist. The single-part polyurea coating completely eliminates this step and greatly reduces the chances of DIY installation error.
To be more concise; Single-part polyurea is a commercial quality garage floor coating that is the easiest of all coatings to apply – period.
Furthermore, the typical epoxy coating and garage floor coating kits, as mentioned before, is no match to the superior durability, chemical resistance, scratch resistance, and abrasion resistance of single-part polyurea coatings.
As an example, commercial quality coatings provide a list of ratings based on testing. You can find these ratings as well as other pertinent figures in the Technical Data Sheets. This is what allows consumers to compare and evaluate how coatings will perform. Abrasion resistance and chemical resistance are two standard tests that can provide very good information.
The example below is a chemical resistance chart that lists how a particular product will react to a variety of liquid chemicals including acids and solvents.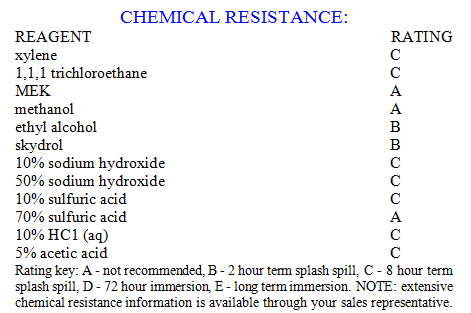 You can't find this kind of information for your typical epoxy paint kits by Rust-Oleum, Valspar, H&C ShieldCrete, RockSolid, etc. It's not listed. Instead, they use very vague terminology such as "anti-peel protection", "2x stronger than concrete", "hot tire resistant formulation", and "long lasting results". They do not provide any testing data to back up these claims.
To their credit, RockSolid actually provides an abrasion resistance rating, but they do not provide chemical resistance data. The rating they provide for abrasion resistance is 40mg. This is how much material is lost during 1000 cycles for a CS-17 abrasion wheel test. The lower the abrasion numbers the better. As a comparison, many single-part polyureas test at only a 12mg loss.
Important to note is that each mg unit of loss is exponential. For example, a coating with a 4mg loss compared to a coating with an 8mg loss would last 3 times as long in terms of wear under the same conditions – not 2 times as long as most would assume. Now, can you imagine how much better a 12mg loss coating performs to a 40mg loss coating when it comes to wear and abuse?
Additionally, polyurea is U.V. stable whereas epoxy is not. This means that your coating will not amber (yellow tint) over time when exposed to sunlight. This is a typical complaint about epoxy paint kits.
Coating thickness is another issue. Most epoxy garage floor kits have a dry film thickness of only 2-3 mils when applied at the standard coverage rates. Thin coatings such as these can sometimes create cosmetic issues with the color looking inconsistent and blotchy. This is due to the coating being absorbed at different rates into the concrete.
Single-part polyureas on the other hand have a 4-6 mil dry film thickness. The thicker coating makes for a more durable surface and is less prone to color inconsistencies.
Benefits of single-part polyurea coatings
No mixing of A and B components
Long working times so you don't feel rushed
Recoat times as little as 2 hours versus 10-12 hours
No primer required
Can be applied in lower temperatures – most epoxy paint kits require a minimum of 60°F
Over 50% thicker coating than standard epoxy paint kits
Long lasting – 10 years or more versus 2-5 years for standard epoxy kits
No hot tire lift – water based epoxy kits will get hot tire lift
100% U.V. stable for no yellowing – epoxy kits will turn yellow over time
100% more flexible than epoxy for superior scratch resistance
Higher gloss ratings than most epoxy kits – maintains gloss longer
High chemical and abrasion resistance – data not available for epoxy kits
Excellent protection against road salts and deicing fluids
Can be used as a clear sealer over bare concrete or stained concrete
Available in both gallon and quart sizes to modify for any square footage
Single-part polyurea coatings can be used as a one coat stand-alone system if you like. You can add color flakes or not just like the standard epoxy paint kits. You also have the option of adding a clear top coat of polyurea for a two coat system. This can allow for a full color flake floor of your choosing to get a real custom look.
Another advantage is that single-part polyurea is available in gallon and quart sizes. This allows you to order only what you need for your square footage to avoid over spending. Most garage floor coating kits only allow for purchases of 250ft² at a time. If you have a 550ft² garage floor for example, you would need to purchase three kits. There is no way you could stretch out two kits for the 550ft² without cosmetic and performance issues.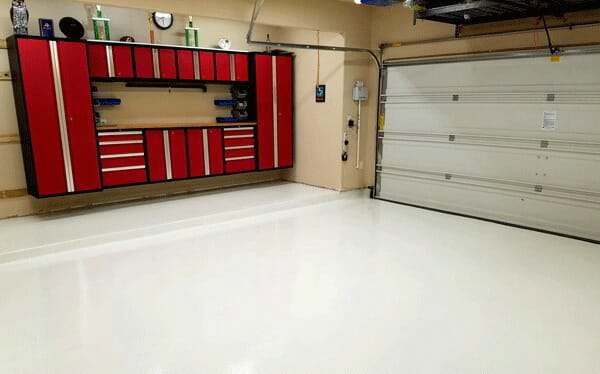 Concrete preparation is the same with single-part polyurea as it is with any other epoxy coating kit. You need to etch or grind the concrete to create the correct surface profile. This will open up the pores of the concrete at the surface in order for the coating to penetrate and achieve a mechanical bond.
One characteristic of single-part polyurea you need to be aware of is that it is solvent based. There will be some fumes during application. Most of the smell from the fumes dissipates within a few hours as the solvent evaporates out of the coating. As with any solvent born coating, it's not uncommon if it takes a few days for the smell to completely diminish, but it will go away in short time.
Polyurea coatings can also be more slippery when wet compared to epoxy. The curing process produces a tightly cross-linked structure that smooths out almost like glass. This is one of the reasons it cleans up so easily and is very difficult to stain. If you live in a wet climate or worry about the floor being slippery, we would suggest adding an anti-slip additive to the final coat.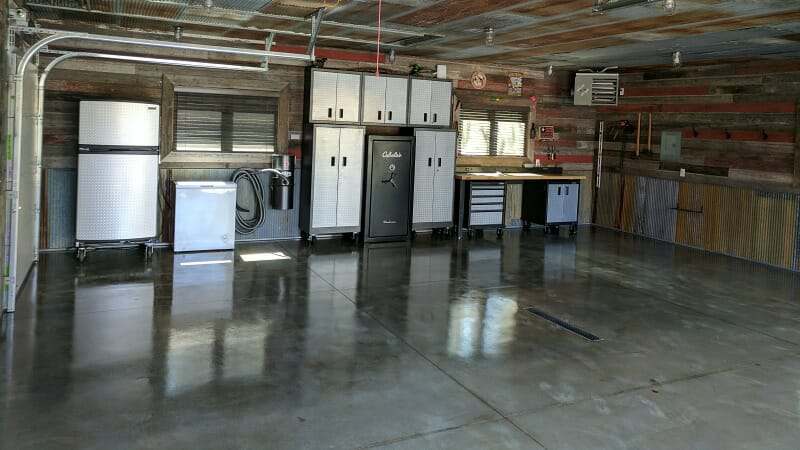 Additionally, they are not the best choice if you have a concrete surface with numerous hairline cracks and/or surface irregularities either. Though thicker than their epoxy paint counter parts, they still are not thick enough to fill in such surfaces. A high solids or 100% solids epoxy is a superior candidate since they are better at self-leveling with a dry film thickness of 9-10 mils and higher.
Lastly, some single-part polyureas are packaged in clear only and require that you mix in a pigment pack for the color you choose. However, this is not the same as mixing 2 components together. You just pour in the pigment pack and mix with a paint stick. This does not activate the coating, nor does it mean you have to start immediately applying it after you mix in the color packs.
To our readers: This post may contain affiliate links. If you use these links to make a purchase, we may earn a small commission. As an Amazon Affiliate, All Garage Floors earns from qualifying purchases. You can read our full disclaimer here.
Where to purchase polyurea garage floor coating kits
One of the best advantages to purchasing a single-part polyurea is that they are currently only available from vendors who specialize in concrete coatings. These are the same companies that professional installers buy their coating products from.
Unlike home improvement centers, these vendors are experienced in garage floor coating application and are extremely knowledgeable. They want you to be successful with your project. Customer service is excellent in most cases and they can answer any questions that you have about product and application.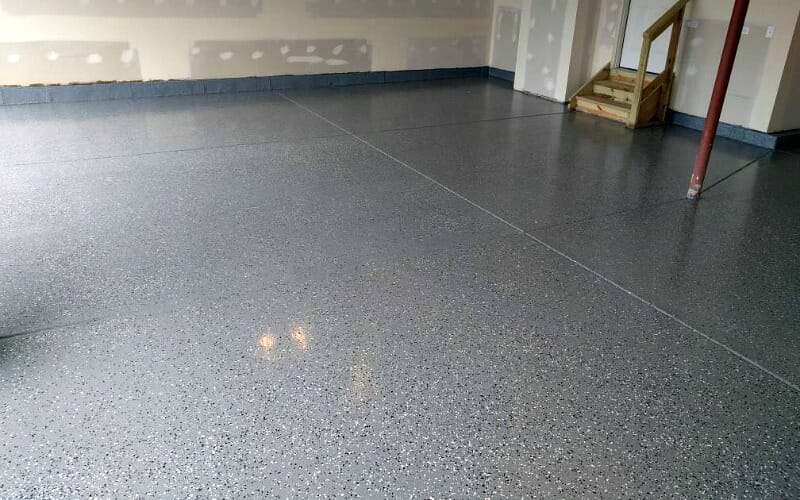 They are also very good at making sure you understand what you are purchasing. They will tell you if the product you are interested in is the best choice for you or not. We highly recommend contacting these vendors with any questions you may have before making a purchase.
These vendors are not national brand companies with brick and mortar stores that you can walk into. Product is ordered online via their websites and then shipped directly to you. Most of these companies ship for free as well. Though the product doesn't come in a neatly packaged box with nice artwork and graphics, they can provide everything you need in true kit form for a successful application.
To our knowledge, Legacy Industrial was one of the first vendors to offer a single-part polyurea in a DIY application. Called Nohr-S, we were so impressed with the coating that we did an article about it here.
Sometime afterwards, ArmorPoxy made their SPGX polyurea available to the public as well. One of our readers in Chicago applied it to his garage floor and we did an article about the process here.
The latest to offer a polyurea coating in kit form is Garage Flooring LLC. Customer service is excellent and they would be more than happy to help you out and answer your questions. You can read our latest evaluation of their All Weather Floor polyurea here.
you would have to purchase and go through the process of reapplying an average of four water-based epoxy paint kits over the life of just one single-part polyurea coating.
Cost per square foot for a single-part polyurea coating averages about twice that of the lowest priced, water-based epoxy garage floor kits. RockSolid polycuramine and the solvent-based Rust-Oleum EpoxyShield Professional coatings are priced midway between.
1 gallon covers approximately 250ft², same as most epoxy paint kits. SPGX by ArmorPoxy covers 300-400ft² per gallon, but the additional square footage is reflected in their price point.
Though the initial cost of single-part polyurea garage floor coating is higher than the typical epoxy paint kits, they are a much better value when you carry that expense out over the many years of use.
For example, you would have to purchase and go through the process of reapplying an average of four water-based epoxy paint kits over the life of just one single-part polyurea coating.
Are polyurea garage flooring kits the best of all garage floor coatings?
One important question that people want to know is how single-part polyurea coatings compare to other garage floor coating systems available. Is it better than epoxy? Is it better than polyurethane? Is this the best garage floor coating I can apply?
A single-part polyurea coating garage floor kit and/or system is the best choice for those that want a professional looking, commercial quality coating that is the easiest to install and at a reasonable price point.
They deliver excellent performance and long life. They are best for the typical residential garage that will see light to medium duty automotive repair, medium to heavy traffic, inclement weather conditions, and other hobby/home improvement projects that are performed in the garage.
Application is easier than the epoxy paint kits and they will not experience the potential peeling, hot tire lift, color fade, and wear over 2-5 years that is typical of such kits.
However, in terms of ultimate performance and durability, nothing really outshines a hybrid coating system. Such a system consists of an epoxy primer, a high solids epoxy color coat, and one or two coats of a high performance polyurethane or polyurea top coat. We discuss the best garage floor coating systems here.
Final thoughts
Needless to say we are impressed with this product. Hands down, single-part polyurea is the easiest of all coatings to apply while still performing to commercial quality standards. It delivers excellent protection and performance at a very reasonable price point.
The large companies that provide inexpensive epoxy paint garage floor kits have been relying on relatively older epoxy coating formulas for years. We would not be surprised if one of them doesn't come out with their own version of this polyurea in the near future. It would eliminate many of the complaints about their products.
Until then, the biggest problem that single-part polyurea will face is lack of exposure to the general public. The smaller companies that sell the higher performing garage floor coatings do not have the budget for the type of national advertising that is required.
Though it's not the cheapest garage floor coating, for the value it's one of the best DIY garage floor coatings available that you can purchase in kit form.